Pumpkin cream cheese baked french toast is a great recipe that you can make the night before you serve it! How about you make pumpkin cream cheese baked french toast for your little goblins for Halloween morning! As a mother of five wonderful children, I know how busy Halloween day can be.
There are parties to attend, and costumes to figure out. Then you have to get the candy that you need to pass out at the door. Then you ask yourself, am I going to dress up? Who is going to take the kids trick or treating and who is going to pass out the candy?
I always loved taking the kids around. and now that my kids no longer go out and trick or treat, I love to get a little movie going on my tablet and then I sit by the door and enjoy watching something fun. Last year, I watched "Good Witch" from the Hallmark channel. It is a series and so I had to finish it after Halloween, but it was a series that I really enjoyed.
It is so strange how when you are in the thick of the thin of things that you think that your kids will never grow up and stop trick or treating, and then one day Bam, it is over. Now I know why older people always say enjoy the moment, and it really is true.
It does seem that there are a lot of different Halloween things to do out there. By the time Halloween gets here the kids have had so many treats that you do not want them to have any more. My grandson even went to the grocery store and he loved it.
At the grocery store, they gave a little can of pop, a donut, string cheese, and a few other things that I do not remember. Good grief, when I was young, we got in the car and drove about 5 miles just to get to go to 20 houses.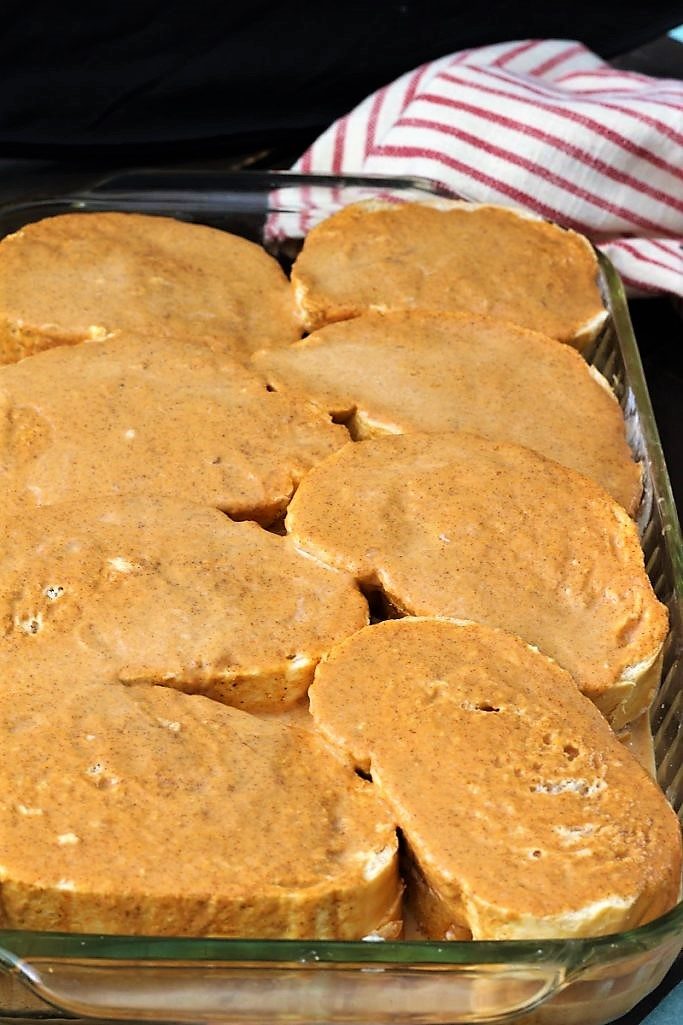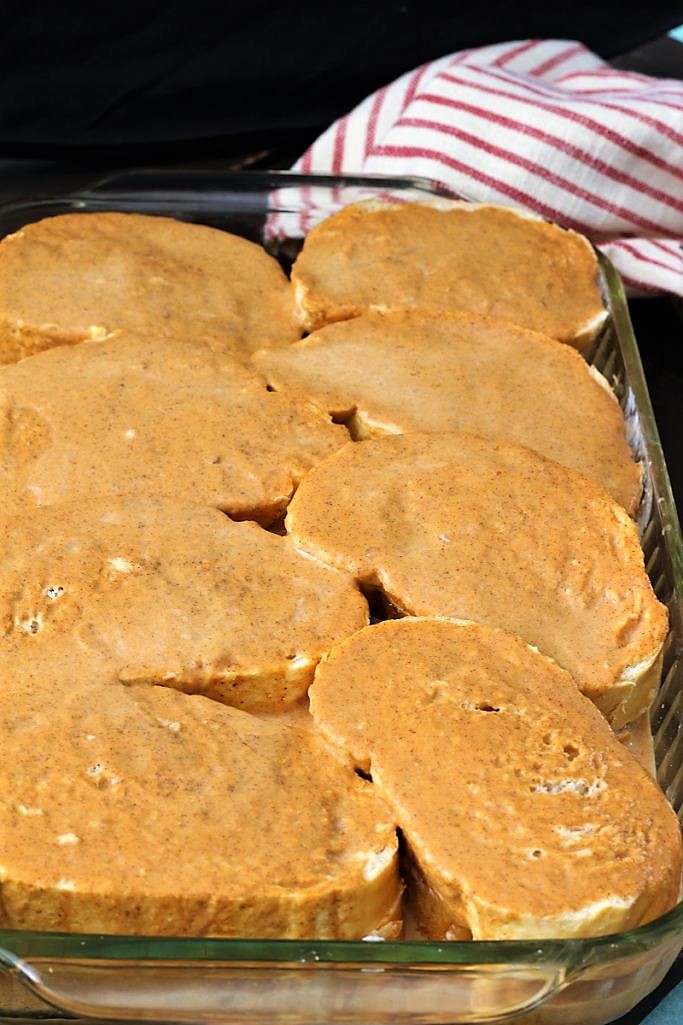 We did live in the country and our neighbors did not live very close. But as I have said before, one of my most favorite things in the world was having a Halloween party at the school. We had home made candy that you could buy. There were about 10 pieces on a plate and they only cost .50 cents.
There was divinity, fudge and caramels. Then we would have a cake walk. If we landed on the number that was called we won a whole cake!! It was the best night ever! I do not remember if I ever won a cake or not, but I know that my brother did one year.
We also had a dart throw and you could win a prize depending on if you popped a balloon. You got 3 different chances. Then there was the fish pond that you would stand in the line for a girl prize or if you were a boy, you stood in the line for a boy prize.
And then your family could go into the kitchen and buy dinner. It was homemade cinnamon rolls, chili and vegetables.  That was one of the best meals ever. I do not know if I would still love the taste of everything like I use to or if it was just plain spending time with my family.
I think that Pumpkin cream cheese baked french toast would have been a good option for a meal, but back then we stuck with breakfast items for breakfast. Now we like to eat breakfast anytime of day. I do like this change.
Oh ya, don't forget the spook alley. I never did care for that place until I was in 6th grade and got to help. I remember when I was in first grade and I saw my brother in a coffin, I screamed and the principal had to take me out. I was sure that my brother that was in that coffin was dead. I was not happy.
So if you will forgive me, I like the fun parts of Halloween, and you better not be scaring me or I might just give you what for. I have been scared one too many times.
What kind of fun things do you do for Halloween? I think that life is so busy now that we no longer make things and take them to the school, everything needs to be bought, however, I know that I have seen a few kitchens and I would not want to eat anything out of anyway. So, we will stick to having a few fun snacks and pumpkin cream cheese baked french toast at grandmas, and as for the school, we will have treats that you buy.
No matter what you do, just have a wonderful time, slow down, do not stress, and things will all work out. Have the best Halloween ever and I hope that you get a chance to make pumpkin cream cheese baked french toast. It's delicious!
Please enjoy your Halloween and be safe. Most important have a great time with your friends and family.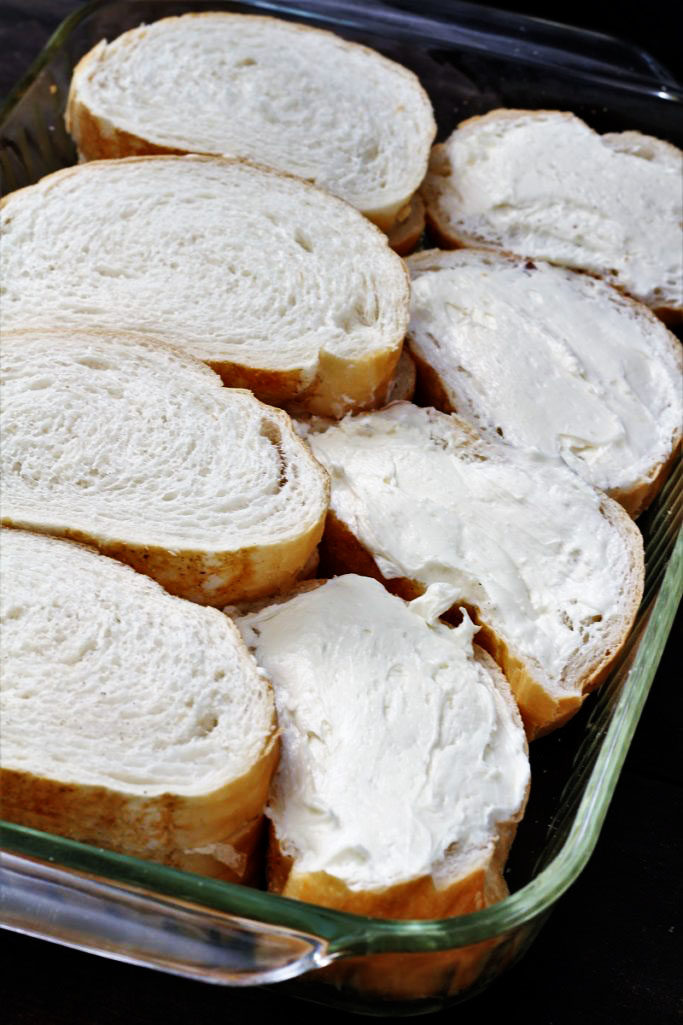 Tips and tricks:
1. Make sure that your cream cheese is room temperature, as it makes it easier to whip.
2. If you do not have time to wait until overnight, let the french toast sit for at least 30 minutes before baking.
3. If you bake the french toast after 30 minutes, you will not need to cook the pumpkin cream cheese baked french toast as long, as it will be a little warmer.
4. Top with syrup, whipped topping, whipped cream, pecans, or fresh fruit like peaches or berries.
5. This recipe can be cut in half and cooked in a 9″ x 9″ pan.


Yield: 8 people
Pumpkin Cream Cheese Baked French Toast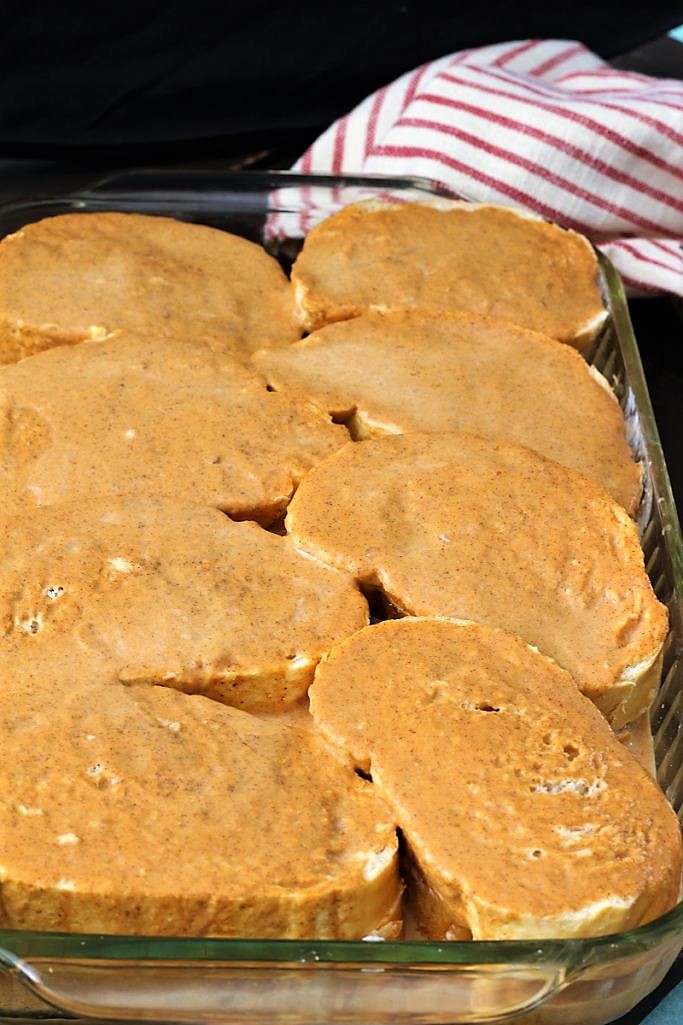 Prep Time 15 minutes

Cook Time 30 minutes

Total Time 45 minutes
Ingredients
Cream Cheese Mixture
1 (8 ounce) pkg cream cheese @ room temperature
1/3 cup powdered sugar
1 teaspoon vanilla
Pumpkin Mixture
4 eggs
1 cup half and half
1/3 cup brown sugar
1 teaspoon ground cinnamon
1/3 teaspoon ground ginger
1/8 teaspoon ground cloves
1/2 cup pumpkin puree
Bread Prep
1 loaf French bread, sliced (about an inch thick)
2 Tablespoons butter
Instructions
Cream Cheese Mixture:
Beat cream cheese until nice and creamy.
Mix in the powdered sugar, and vanilla.
Set this mixture to the side.
Pumpkin Mixture:
In a separate bowl beat the eggs.
Then add in the half and half, brown sugar, cinnamon, ginger, cloves and pumpkin, and whisk it all together.
Bread Prep
Butter or grease a 9" X 13" baking pan.
Slice the French bread into 18 slices.
Spread the cream cheese mixture evenly over 8 slices of the bread.
Then place another piece of bread on top of the cream cheese mixture on each of the 8 slices. (I did not use the heels of the loaf of bread).
Butter one side of each stuffed toast.
Then place each stuffed sandwich into the prepared baking dish, even if it is squishy.
Next pour the pumpkin mixture over the french toast sandwiches.
Cover the french toast mixture with plastic wrap or aluminum foil and refrigerate over night.
When ready to bake, preheat the oven to 400 degrees.
Bake uncovered for 25 - 30 minutes or until the center comes out clean and not sticky.
When it is cooked, you can top with syrup, whipped cream or fresh bananas.
Eat soon after cooking.