Divinity reminds me of the holidays.  It looks as clean and pure as the new fallen snow.  The taste is divine. I also love to make it for people who cannot eat gluten. It is a gluten free treat and one that all can love.
My mother use to make this recipe when I was a little girl, and we just couldn't wait until it was finished. However I do remember one year when she poured the hot syrup into her Kitchen Aid bowl, (it was glass) it cracked the bowl and broke it.
Now a days, we have plastic or metal bowls, and that way, they do not break. I remember that she would even let us lick the bowl, and we were so excited. Divinity is soft, and creamy, it reminds me of the center in a piece of candy. Once you make divinity, you will always want to make it.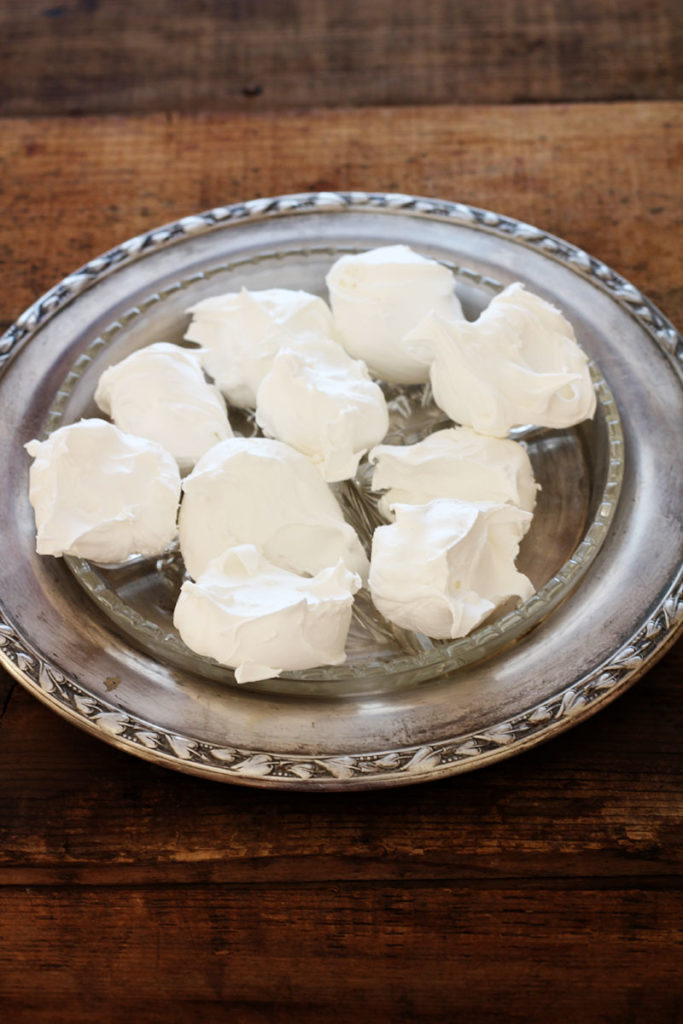 I am not sure where my mom got the recipe, or if my grandmother use to make divinity, but I can tell you that my kids have never made it. It can be just a little tricky, making people afraid to try making it. I have found that if you slow down and take your time, it will work out.
I know that there have been times when I thought that my divinity wasn't going to work out and I just kept letting the mixer mix it on low for a few minutes while it cooled down, then it would start to thicken up and turn out just like it is in the picture.
Divinity was one of my favorite homemade candies growing up. One thing that we have noticed throughout the year is that this candy works the very best when the sun is out, otherwise it will be too humid and then it doesn't set up.
My mom would make it around the Christmas season and then we never really had it the rest of the year. I guess that is why it is so special. You can make it for your family and make a wonderful tradition.
Divinity is so smooth and creamy, and oh so divine that it just melts in your mouth. It is sweet and soft, and beautiful in color; it seems like it is so pure and clean looking that you don't want to eat it, but the taste will lure you in.
Try and save some for others. Divinity freezes well, so you could make some and freeze for gifts for a later time. One reason that I really like this recipe is that the divinity stays soft. It is a great gift for a dear friend, a little work but worth the effort!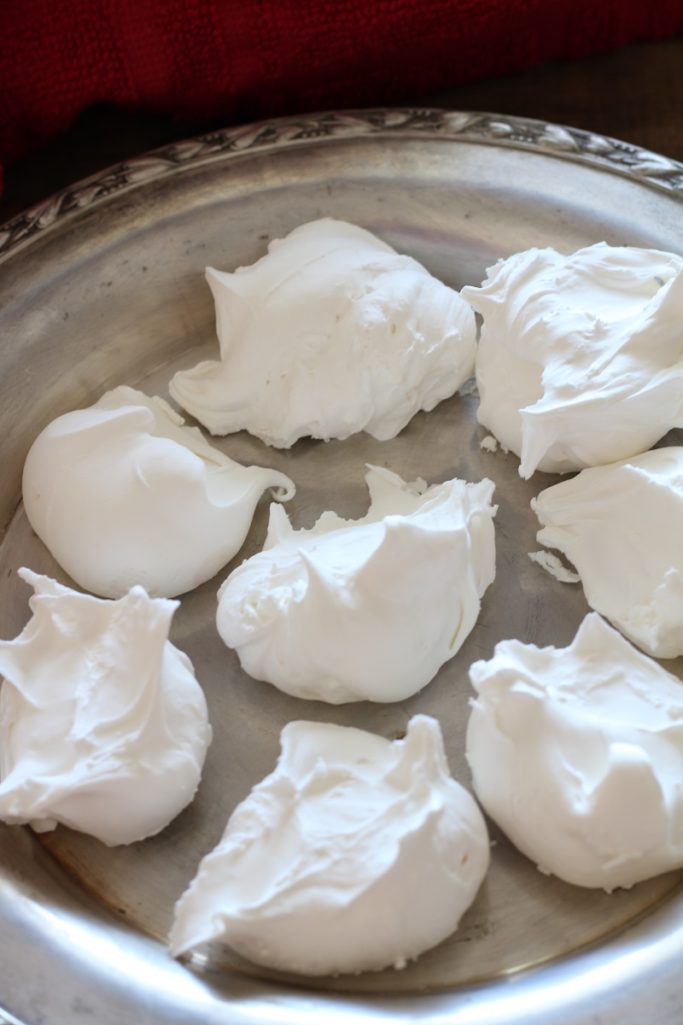 Tips and tricks:
1- Make sure that it is a nice sunny day, for some reason divinity does not work when the weather is cloudy.
2- Mix it on low for a few minutes and when it starts to cool down, it will thicken up.
3- For a different flavor, you can add 1 1/2 ounces of jello of your choice. Cherry or lime for Christmas time.
4- You can also add nuts! Chopped almonds are my favorite.

Divinity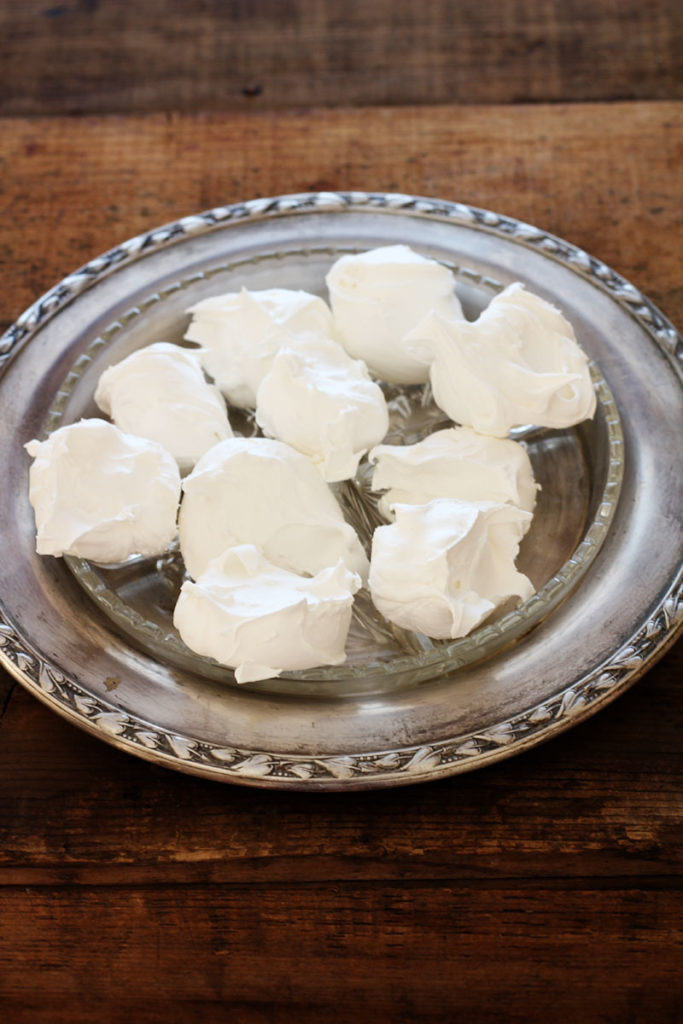 Ingredients
1 cup sugar
1/ 2 cup water
1/8 teaspoon cream of tarter
3 egg whites
2 cups sugar
2/3 cup light corn syrup
1/4 teaspoon salt
1/4 cup water
1 teaspoon vanilla
nuts (optional)
Instructions
In a heavy saucepan, combine 1 cup sugar, 1/2 cup water & cream of tarter, stir, bring to a boil and cook to 240 degrees (medium ball), remove from heat.
Beat the 3 egg whites with a hand mixer until stiff.
In another saucepan combine 2 cups sugar, corn syrup, salt, and 1/4 cup of water.
When first mixture is done, place the second mixture over the heat and boil with occasional stirring until syrup reaches 280 degrees (medium crack stage).
Meanwhile pour the first syrup (240 degrees) while still hot over the beaten egg whites. I use a heavy duty mixer and my cookie paddles because it is hard on beaters.
Set aside until second syrup is done.
When the second batch is done wait 5 minutes, add vanilla (and nuts if desired), add to the 1st mixture and mix until it starts to thicken and it loses it's shine.
When it starts to thicken up, take 2 teaspoons and spoon 3 inches apart on a piece of parchment or wax paper.
If you want to add color, add it at the same time you add the vanilla.