Gourmet Rice Krispies Treats are so soft and chewy, gooey and good! The other day we went with our family to an amusement park, for a fun family reunion.
It was a great day, we started off with a couple of hours in the Lazy River! What is not to love about that? Then we went into their new candy store. It was so beautiful!
The colors were mint green and blues, and the store reminded me of being a little kid. This candy store took me back to my younger years when my grandparents would give us some money and we would get to go and buy some of our favorite treats.
I think that most of my brothers and sisters got the fake cigarettes. We thought that we were so cool. (Better fake than the real deal)! I think that some of my favorites were the wax bottles with the juice in them. Why did we like to chew on wax? Better than tin foil I guess.
Better than the candy, was the idea of just getting to buy whatever we wanted, we felt so grown up and it was very seldom that we had candy. Different than today. Last week we went to a parade and the kids just sat there and let somebody else or nobody get the candy. It was a little strange.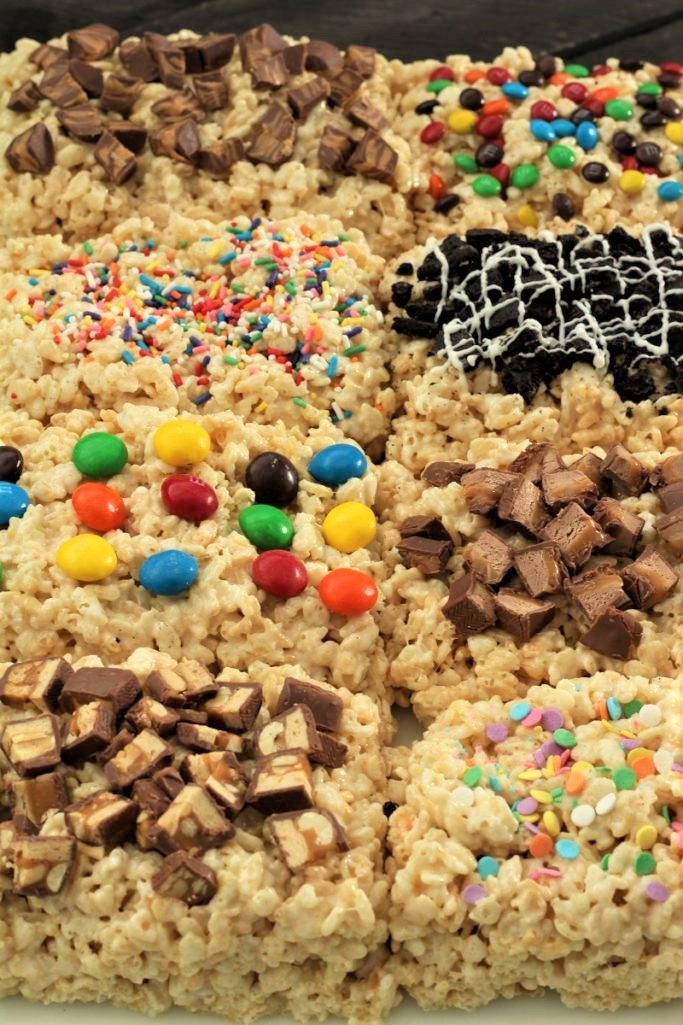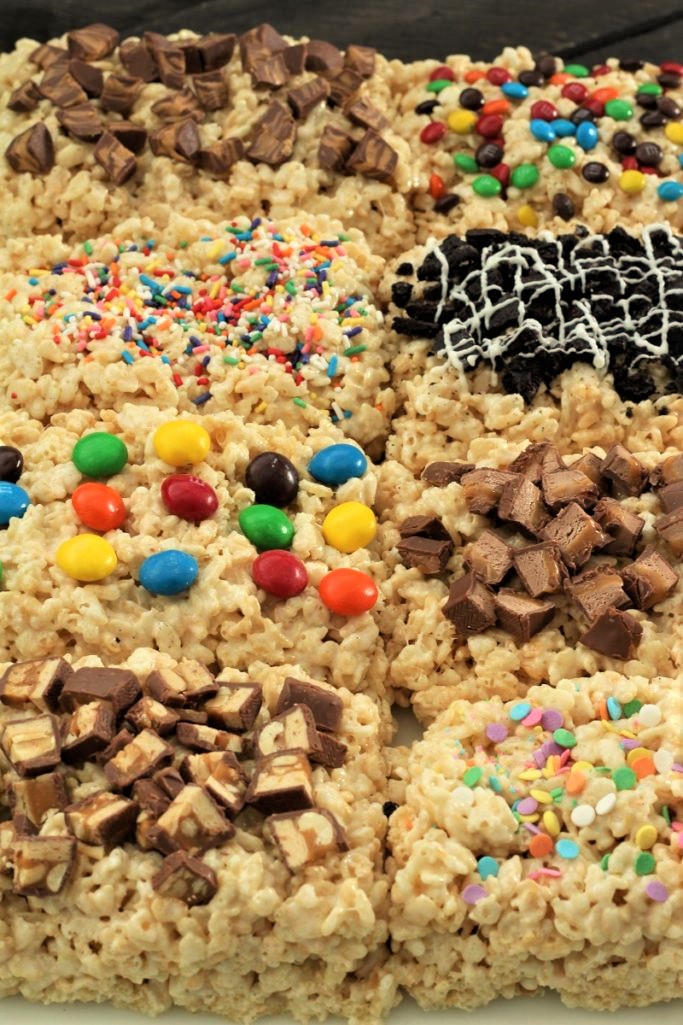 So in this candy store, they had Gourmet Rice Krispies Treats, and they had all kinds of flavors. The only problem was that they were $4.99. They were pretty big, but I decided to come home and make my own; and here they are.
You will have to try them and let me know which one is your favorite? My favorite, I would say, was the one with Oreo's on top or the peanut butter M&M's. Another great thing about Gourmet Rice Krispies Treats are that you can cut them into different squares and put whatever toppings you want on top of them.
If you are having a friend with a birthday, or a fun get together, these are a fun treat to take. Be careful though as they are addicting.
Another idea is that if your kids are looking for something to sell with their lemonade this year, this is what you are looking for. You could sell them for $2.50 or however much you want.
It is different than what kids are use to and some people even love to freeze their Gourmet Rice Krispies Treat, however, be careful if you freeze M&M's because they do get extra hard and we do not want any broken teeth.;)
Another advantage when making Gourmet Rice Krispies Treats are that they make up so quickly, and you do not have to turn the oven on. Perfect for these hot summer days.
Next time I make Gourmet Rice Krispies Treats, I am going to put them on a Popsicle stick. You can cut them out with a cookie cutter the shape of a circle and dip half of the circle into chocolate. That might be a great idea when it gets a little cooler in the season.Then decorate them with some sprinkles.
It would be another fun treat for a birthday as well. The sky is the limit. Have fun creating your Gourmet Rice Krispies Treats, and I hope that you are enjoying your summer.

Gourmet Rice Krispies Treats
Prep time:
Cook time:
Total time:
Ingredients
¾ cup butter, melted
3 (10 ounce) bags mini marshmallows (20 cups)
¾ teaspoon vanilla
12 cups Rice Krispies cereal
Optional Toppings:
Crushed Oreo's
mini M&M's
Chopped Snickers
Chopped Milky Ways
Peanut Butter M&M's
Sprinkles
Reese's peanut butter cups, minis
Instructions
Line a 9" x 13" baking dish with foil, then spray the foil with non-stick cooking spray and set it aside.
In a very large pan or stock pot, melt the butter.
Add the marshmallows and melt them over medium to low heat.
Remove pan from the heat.
Stir in the vanilla and stir until it is mixed in.
Add the Rice Krispies, stir until the cereal is completely mixed in and covered with the marshmallows.
Place the mixture into the prepared pan.
Spray a wooden spoon or spatula with non-stick cooking spray, or butter your hands and press the mixture rather firmly into an even layer.
Let cool for 30 - 40 minutes.
Remove with the foil and place onto a cutting board.
Cut the size that you desire.
I cut mine into 8 pieces, and then I cut the eight in 2, to make a total of 16, but they are very thick and could be cut even smaller.
Optional Toppings:
Then place whatever toppings you desire onto each Treat. I press the topping onto them so that they will stay on better.
Store any remaining treats in an air tight container for 3 - 4 days.