Blonde brownies are one of those amazing brownies that you make on special occasions, or to give someone to let them know that you are thinking of them. These last two weeks have been a little difficult for some of my dear friends. They lost a dad and a grandpa. One of those men was a hair client of mine and he was a great example to all. A month after he lost his wife, he brought me dinner on my birthday! It was amazing. He fixed stuffed pork chops, baked potatoes, green salad, and an amazing carrot cake. Now that was a great meal. He loved to cook and he also loved people, and that is why he always went out of his way to help other people and do something nice for them. He had been a cook in the navy. Those boys can cook! It came as a shock to all of us. He had been in and out of the hospital a few times, but always coming back home. I guess it was his time to go and he had done everything that he needed to do, so on Memorial Day he went home to be with his wife. Let's remember to love those that are dear to us and let them know that they are loved.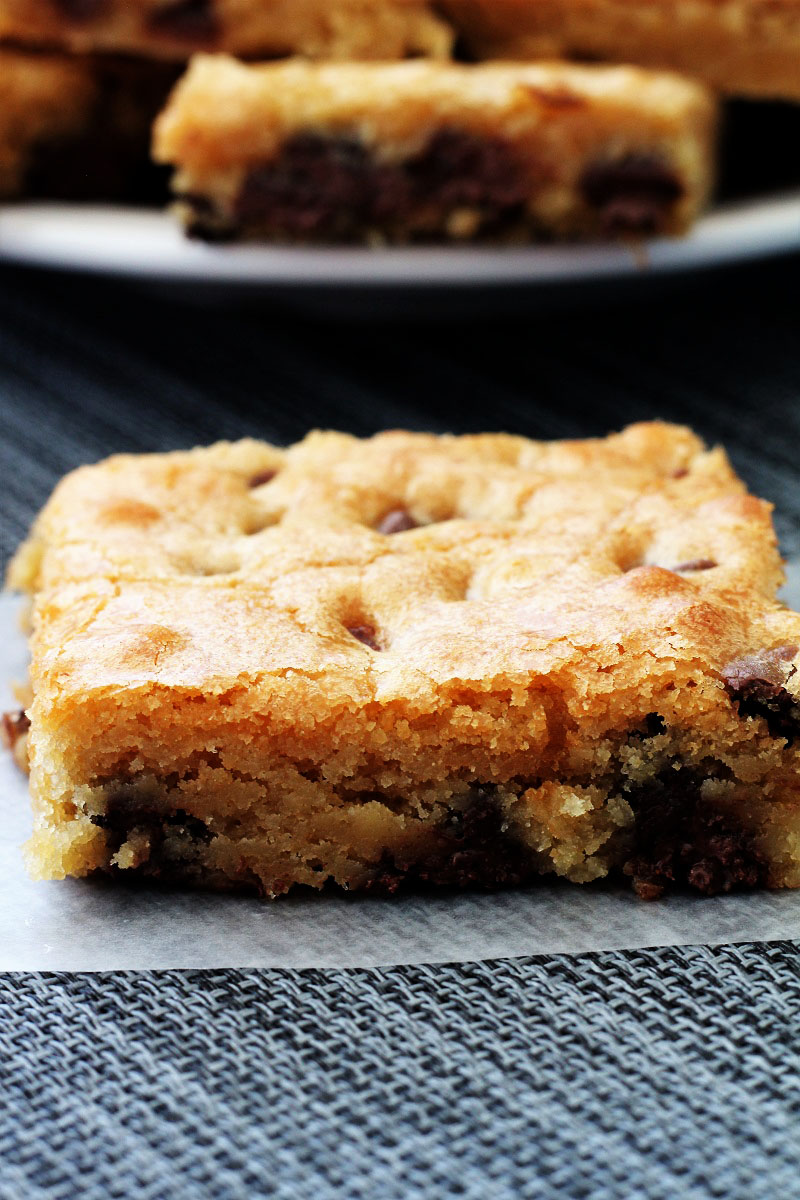 It was fun to make these blonde brownies for his daughter and her family. Her son came to get his hair cut on his way home from school and then he was headed to work. So I took a few off of the plate and sent them with him.You and I both know how hungry you are when you get home from school. You just can't let a poor boy starve. He was so cute; he texted his mom and told her that I had given him some and that they tasted amazing. Isn't it nice when you can do something nice for someone else. I know it sure makes my day better.
Over the weekend, the kids played a game called Bottle Bash. In this game one had to hit the bottle on top of this pole with a Frisbee. The kids loved it, and they played for hours. It was so good to see kids and young adults playing and talking and staying off their phones. I loved seeing them get along and enjoying life. We have another game called Can Jam, where you try to get the Frisbee into a can either through a slit in the side, or your teammate can help by smacking it down through the top. Some liked Bottle Bash better and some liked Can Jam better. Either way, plan to have places of dead grass on your lawn! Another fun idea that I became aware of the past weekend is that they have Italian Ice that you can buy in a box and put in the freezer. I thought that they were mighty tasty. Lemon was my favorite. Blue Raspberry was most popular with the group. I bought mine at Winco. I think that they are going to be a nice little treat for the summer. I'm pretty sure that your kids and grand kids will be very happy if you grab a box today. You will be happy too with these hot summer days ahead.
What kind of games do you enjoy? And what are some of your favorite summer treats? I am pretty sure that if you try these blonde brownies, they will be on your favorites list. The nice thing about them is that they make a lot and you can share them with a lot of people. They are perfect for potlucks,and family gatherings. I know that they do have a lot of calories so just slow down and savor every single bite. I got this recipe from one of my good friends who is an amazing cook. She makes one mean pot roast and also very good white grape juice. I will have to make some of her white grape juice sometime this summer. Now I challenge you to go ahead and make some Blonde Brownies today and you will have all kinds of new best friends. Yes, they really are that good.

Blonde Brownies
Recipe type:
Blonde Brownies
Prep time:
Cook time:
Total time:
Ingredients
1½ cups butter
1 (12 ounce) package of white chips or (you can add 12 ounces of chocolate chips, then you would have chocolate brownies)
6 eggs
3 cups brown sugar
1 Tablespoon vanilla
1 teaspoon salt
3½ cups all purpose flour
1½ cups chocolate chips
Optional
¾ cup pecans or walnuts
1 cup coconut
Instructions
Heat oven to 350 degrees.
In a microwave proof bowl, melt butter and white chips.
In a medium size bowl, mix eggs, brown sugar, vanilla, salt, and melted butter & white chips mixture, until well blended.
Add flour, chocolate chips and any optional ingredients you desire at this time.
Pour onto a baking sheet with 1½ - 2" sides, that has been sprayed with non-stick cooking spray.
Bake for 25-30 minutes. or until a wooden pick comes out clean.
The top should be a beautiful brown color.
Cool before cutting.