Corn flake candy is a perfect candy for these busy holiday weeks. It comes together very quickly and has an amazing taste. This wonderful recipe has been around for years and I know that your guests will be coming back for a second or even a third.
Corn flake candy is just a fun little treat and the fact that it only has 4 ingredients makes it even better. You can always add coconut if you like and even some peanuts or cashews; my family really enjoys that.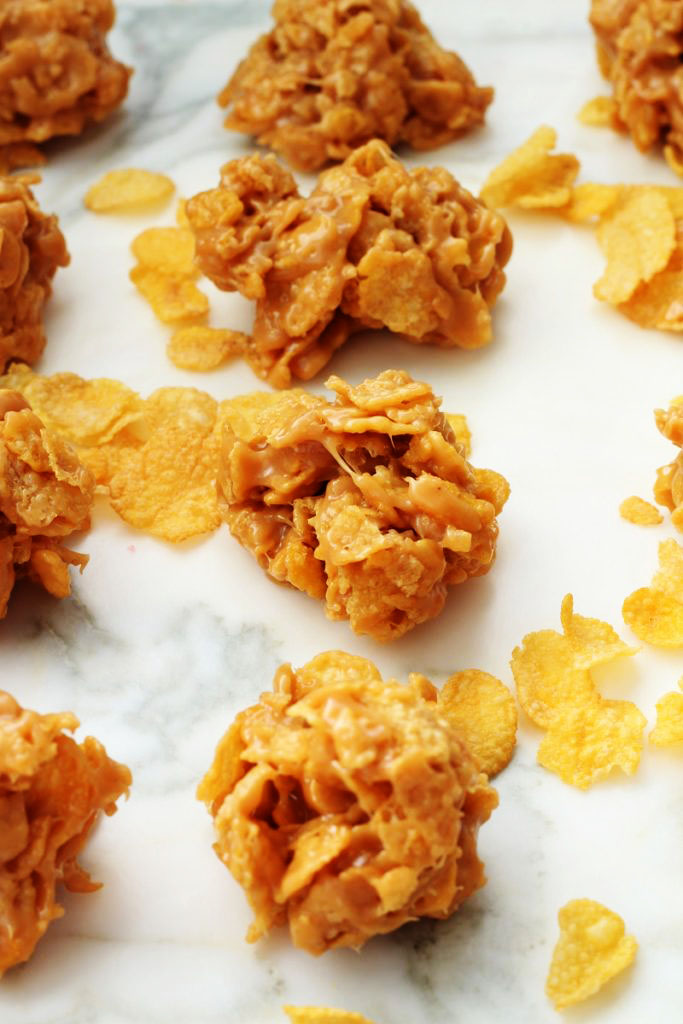 Are you all ready for Christmas, or are you like me and having a hard time getting started? It sure is difficult when your kids are all grown up, trying to figure out what to get them. It seems that the things they want, they get themselves.
I think that my three adult children are keeping the Fed Ex man in business. It seems like we get packages two or three times a week. And I better not complain, I am sure that one of those amazing gifts must be for me! Right?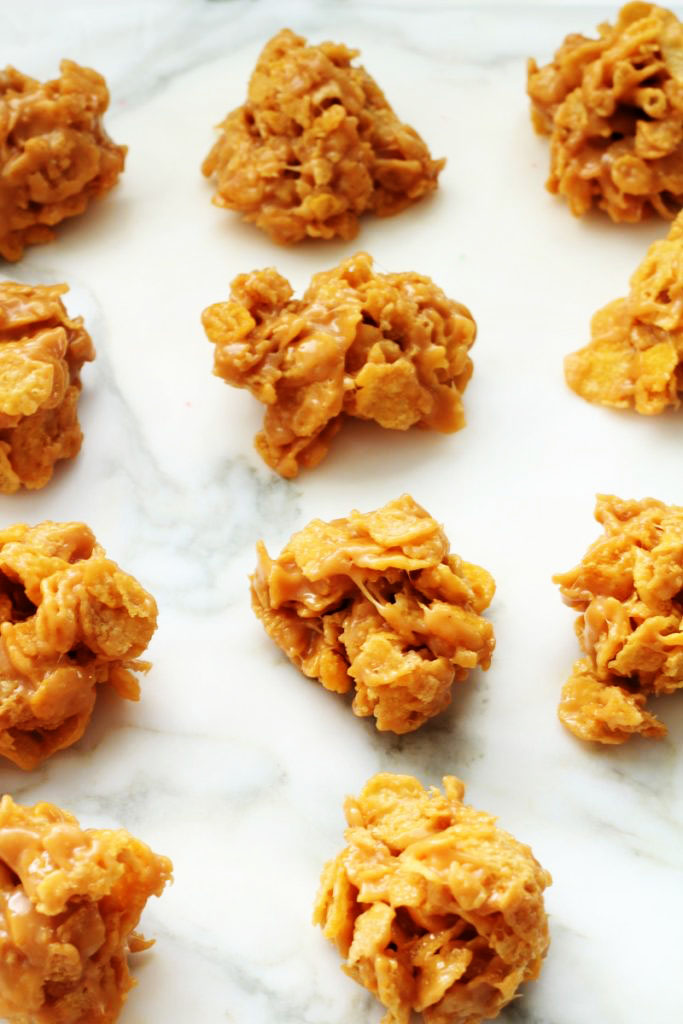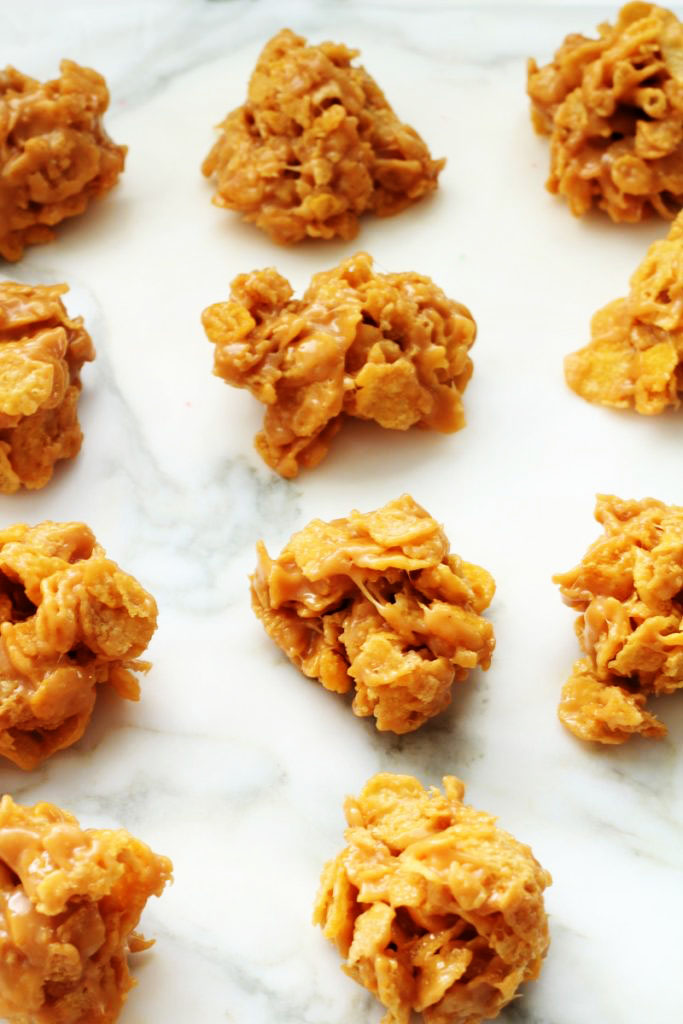 How is your weather?  I don't know if you are like us, but we have had a bad inversion a for a few days, and I am just ready for the sun to come out. It is only 9:00 AM and I feel like I need a nap already.
I guess if every day were so nice and sunny, that we just wouldn't appreciate the sun. It truly makes one feel better when we see it. And also, I seem to shop better when there is a little snow on the ground. It reminds me of years past and that is how I remember December.
However again, I am happy that I haven't had to shovel any snow this year and so for now, I will just rest up. Enjoy your Corn Flake Candy!!
I love corn flake candy because it is different than most of the candy that you see this time of year. Also they are so easy to make, they do come together very quickly. I also want to try and use some Cinnamon Toast Crunch, in place of the corn flakes.
If you like red hot candies, I think that they would add just a little color or you could even add some green or red sugar to make it cute during the Christmas Holidays. They will be such a fun hit with so many friends and family!
My mother in law was a fantastic cook and she would make corn flake candy. I know that everything she made, was made with love, and she truly enjoyed serving her family. I remember that she could take a little of nothing and make the most amazing dishes ever.
Some people really have that talent. Then we are spoiled when we eat something that people that really do not want to cook make. And you very nicely try and swallow it down without gagging!
Tips and tricks:
1- Make sure that your sauce pan is thick otherwise the syrup will burn.
2- If you are like me, I only make corn flake candy with 4 ingredients!
3- You may also want to double the recipe and make it in the shape of a wreath. Add red hots and gum drops to make it festive!


Yield: 30
Corn Flake Candy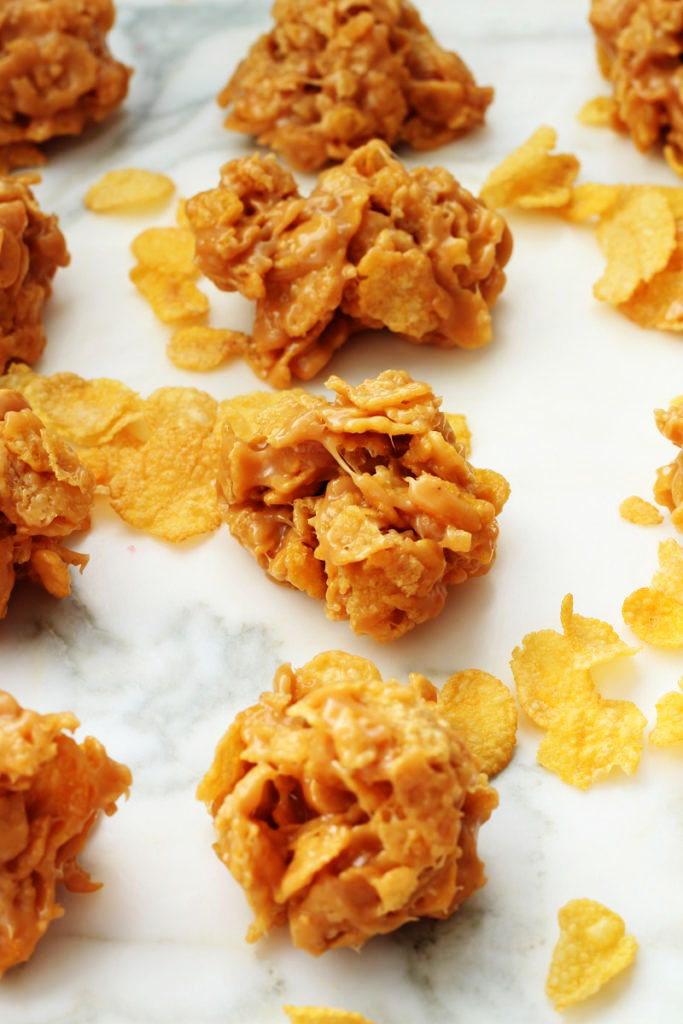 Prep Time 5 minutes

Cook Time 15 minutes

Total Time 20 minutes
Ingredients
1 cup sugar
1 cup corn syrup
1 cup creamy peanut butter
4 - 6 cups corn flakes
1 cup coconut (optional)
1 cup nuts (optional)
Instructions
In a large, heavy (thicker) sauce pan, cook the sugar and corn syrup, on medium heat.
Mix until the sugar is completely dissolved.
Add the peanut butter and stir until nice and smooth.
Remove from the heat and add corn flakes. I like to add mine 1 cup at a time, allowing me to cover the corn flakes completely. Some times it is 5 cups; sometimes it is more or less, depending on how much coating you like on your corn flakes.
Place on a greased cookie sheet or a piece of waxed paper, using a cookie scoop or a spoon.
Store in an air tight container.