Chocolate Brownie Bottom White Cake is a quick go to recipe when you are in a hurry. However it will have your family thinking that you have spent all day in the kitchen. My sister was going to make my son a cake for his birthday and then she called and told me that it didn't work out!
And so I put this together so quickly. When she called me back a 1/2 hour later and told me never mind that the cake she was making was coming together, I told her that I already had another one in the oven. Needless to say we had a lot of birthday cake!
Well I don't know where the years have gone, and how my baby is 18 years old. Sometimes it makes one want to go back and start all over. However I guess if I could feel like I did when I was 30, I would be able to get everything done that I use to and now have the knowledge how to do things better. I would play a little more and enjoy the kids.
My husband and I were talking and we said that when we were younger, we use to have to know how to do everything around the house and how to fix everything. Now it seems that kids are doing things a little different. They play more and they do not fix things, they just go out and buy new things. We wanted to save every penny that we could. Neither way is right or wrong, just different.
Another funny thing is that if my kids ever had a cake from the store it was a real treat. Sometimes however when I would buy all these different candies to make these cute birthday cakes, I decided it was cheaper to buy a cake! Lol. It sure was a lot of fun making them and that was a small way of telling my kids how much I love them I guess.
This Chocolate Brownie Bottom White Cake is the fun cake that I came up with this year for my son's birthday and it really was a lot of fun. Just remember a little goes a long way. Chocolate and more chocolate and you are in heaven. You can use any frosting that you want, this is the one I use for my go to, get it done recipe.
I hope that you get a chance to try Chocolate Brownie Bottom White Cake out, and one thing to remember is that the person that you make this for will be in heaven, because you get the best of both worlds. White and chocolate all wrapped up in one special package. This is truly an amazing combination. Enjoy!



Yield: 20 people
Chocolate Brownie Bottom White Cake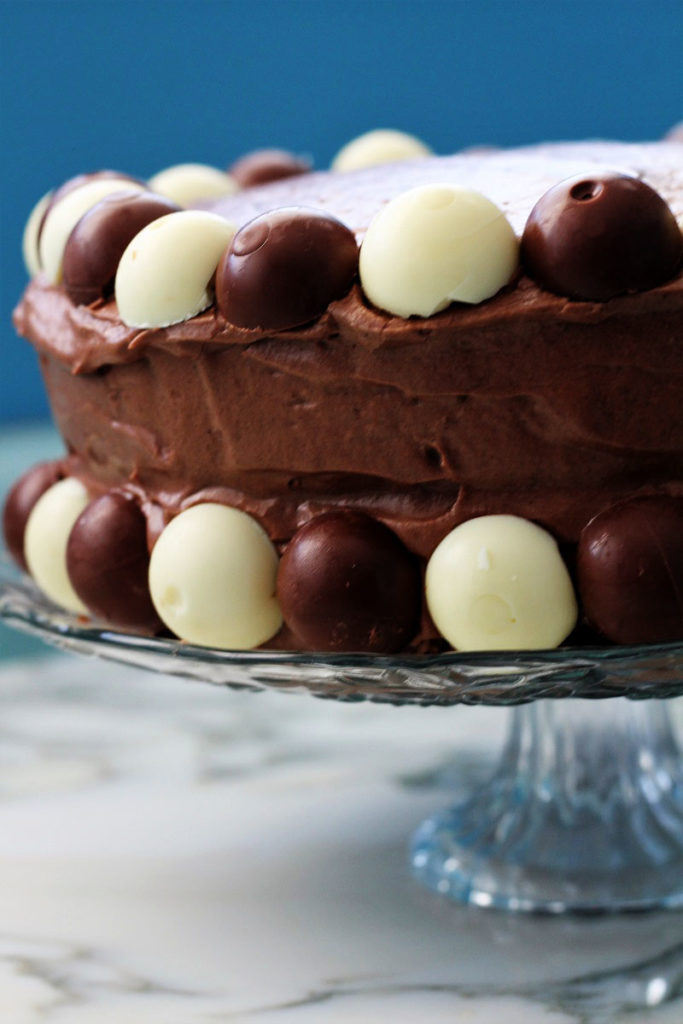 Prep Time 15 minutes

Cook Time 45 minutes

Total Time 1 hour
Ingredients
1 box of brownie mix (make according to package directions)
1 white cake mix (make according to package directions)
Frosting:
1/2 cup butter
4 cups confectioners sugar
6 Tablespoons cocoa
1 tsp vanilla
1/8 cup milk or according to the texture you want
Garnish: optional
Lindor Chocolates; White and milk chocolate cut in 1/2
Instructions
Preheat the oven to 350 degrees.
Make the brownies according to package directions.
In a separate bowl, make the cake mix according to package directions.
Grease and flour 2 - 9" round pans.
Separate the brownies into the two pans equally.
Bake for 10 minutes.
Remove from the oven and place 1/2 the cake mix on top of each of the pans of brownies. Return to the oven and cook for another 30 -35 minutes or until the center comes out clean when tested with a wooden pick or cake tester.
Remove from the oven and cool completely.
Frosting:
In a separate bowl, mix the butter, powdered sugar, cocoa, vanilla and the milk, adding the milk slowly so that it is just the right consistency. Mix well.
When the cake is cooled, place one cake on a plate and frost the top.
Add the other cake and frost the two cakes together.
Garnish: optional
Alternate white and milk chocolate halves around the top and bottom of the cake or any way you desire.