Chocolate sheet cake is moist and such a treat! I love making chocolate sheet cake because it makes a lot and that makes it easy to share with others!! Perfect for a pot luck or a get together with a lot of people. I hope that you are finding time to get together with friends and family this summer. I was sad to hear that some people's kids who are on year round school had already started. I am sure that it is great for the parents, but it seems like when the kids start going back to school, that the summer is almost gone. I am not sure about where you live, but where we live, this summer has been record breaking as far as the heat goes. It is always nice to be able to get a rain storm here and there. Even the deer are coming down out of the mountains. Be careful; one ran in front of my son last night. Poor things must be looking for something green to eat.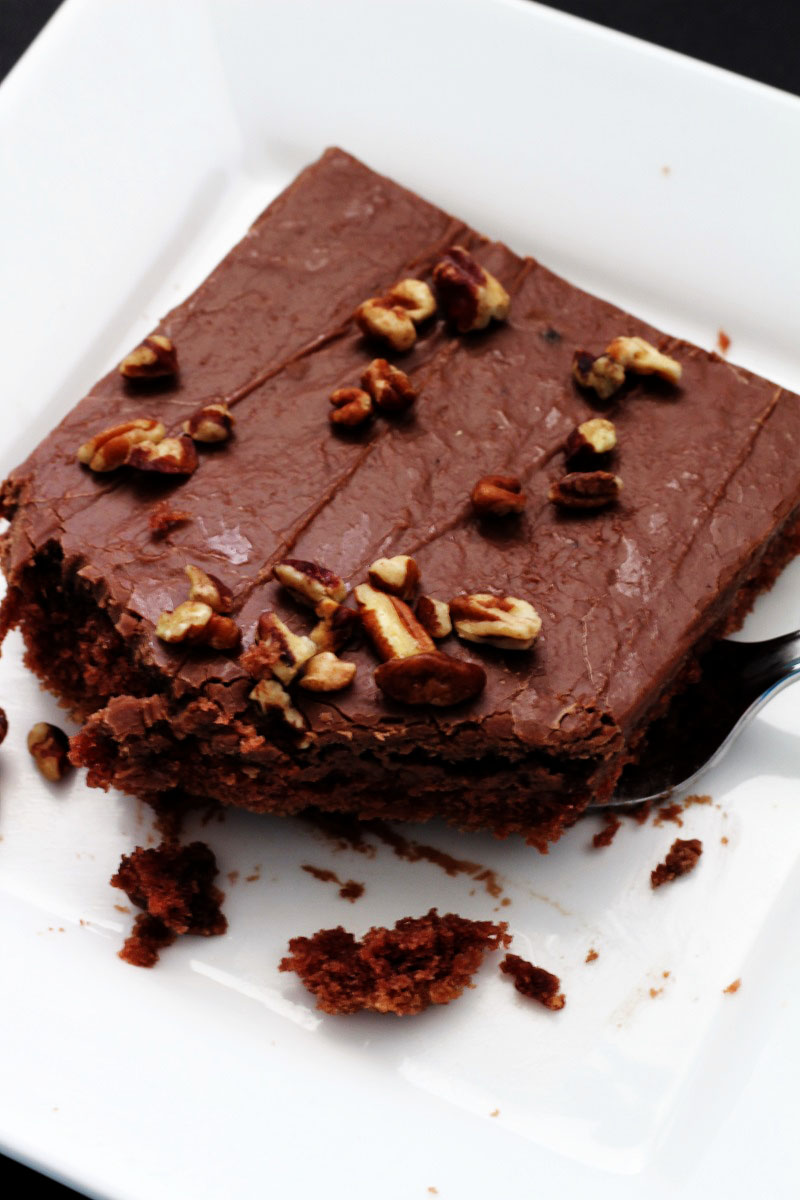 So here is my cute granddaughter story for the week. Her sweet father got up and helped her get ready for church. She picked out a dress to wear and he helped her get it on. Then he took her to church. Her mother came a little later with the baby. Well, the dress that she had chosen was really a Minnie Mouse costume. Ha ha. She looked adorable in it and she has such a happy personality that she can get away with it. My daughter was embarrassed, but she really looked fine and adorable. And I guess you know that Halloween is just around the corner. It never hurts to get ahead of the game. Besides that, kids grow so fast, you need to let them wear things while they fit. Also one day you wake up and they are all grown. If you don't have any funny pictures and stories to remember, then life can get a little boring. However, I think that my daughter would like a little boring once in while. Life never stays the same and so I hope that we can all enjoy every moment of each day.
My friend had a son going to a foreign country to serve a mission for the church, and so I made a big pan of these and took them over to her house. They are so nice to serve because they stay together, and who doesn't like chocolate? I did cut them and put them on a plate so that I could leave just a few home for family that was not able to go to the luncheon. It was a very nice day and things went well for them. The weather wasn't too bad as long as you were in the shade. The chocolate sheet cake did disappear fast. One of my favorite parts to this recipe is that I feel like they work up very quickly. Start to finish, you can have these made in an hour. When you make these, you will have people asking for the recipe. Only once when I made these, the frosting didn't work out. I am not sure what happened. I now dump all the ingredients for the frosting into a bowl and mix it on low with the hand mixer. If the frosting is a little too thick, just add a cap full of milk. Dump it on the cake while the cake is warm, as this helps spread the frosting better. The frosting is so good, it tastes just like fudge. Mmmmm.

Chocolate Sheet Cake
Prep time:
Cook time:
Total time:
Ingredients
2 cups sugar
2 cups flour
1 cup butter
1 cup water
4 Tbsp cocoa
½ cup buttermilk
1 tsp baking soda
2 eggs, beaten
1 tsp vanilla
Frosting:
½ cup butter
6 Tbsp milk
4 Tbsp cocoa
½ tsp vanilla
4 cups confectioner sugar
1 cup of nuts, chopped (optional)
Instructions
Heat oven to 400 degrees.
In a large mixing bowl, mix sugar and flour.
In a pan, melt and bring to a boil, butter, water, and cocoa.
Add liquid mixture to flour/sugar mixture and mix well.
Separately put buttermilk and soda together.
Add beaten eggs, and then the vanilla.
Then add the buttermilk mixture. Mixture will be runny.
Pour into a sprayed baking sheet or pan that is 16" x 11".
Bake at 400 degrees for 20 minutes.
Frost the cake while warm.
Frosting:
Put in a pan, ½ cup butter, milk, and cocoa; melt and bring to a boil.
Remove from the stove and add ½ tsp vanilla and the 4 cups of confectioners sugar.
It will thicken up.
Place on cake when it comes out of the oven.
If desired, sprinkle the top of the cake with chopped pecans or walnuts.