This recipe came from one of my husband's aunts.  Aunt Hip—that is not her given name, but that is the only name we knew her by.  One day when we went to her house, we ate one of her sugar cookies and I knew that I needed her recipe.  So here it is. It is very easy to mix up and tastes amazing.
I heard a great idea the other day. It is that on Valentine's Day your significant other plans that day, and the other one of you plans your anniversary. And you only get them a card if it isn't your holiday. If it is, then you could plan a dinner and get them a gift or just have a date night.
You do what ever works for you. I know that some people go all out for their kids and spouse,for Valentine's Day. I have decided through the years that my kids have too much stuff, and all they really want is your time.
I also had a friend and every Valentines Day, she would leave her kids something wrapped up on their dinner plate and it was always something red. Like a shirt or a new journal or something like that. Not too fancy, but just something simple.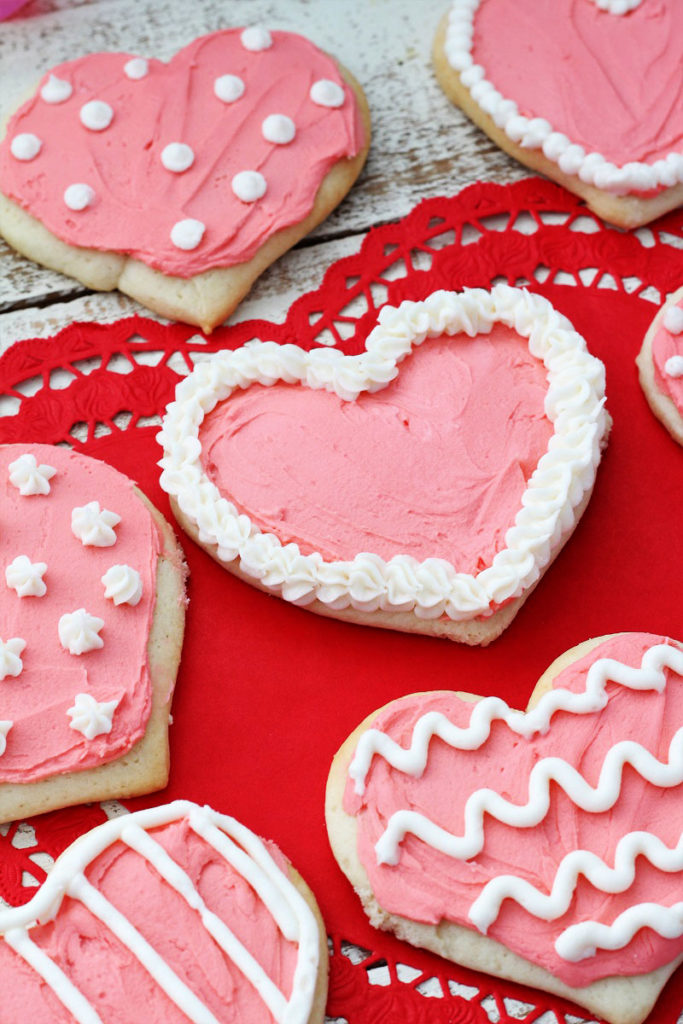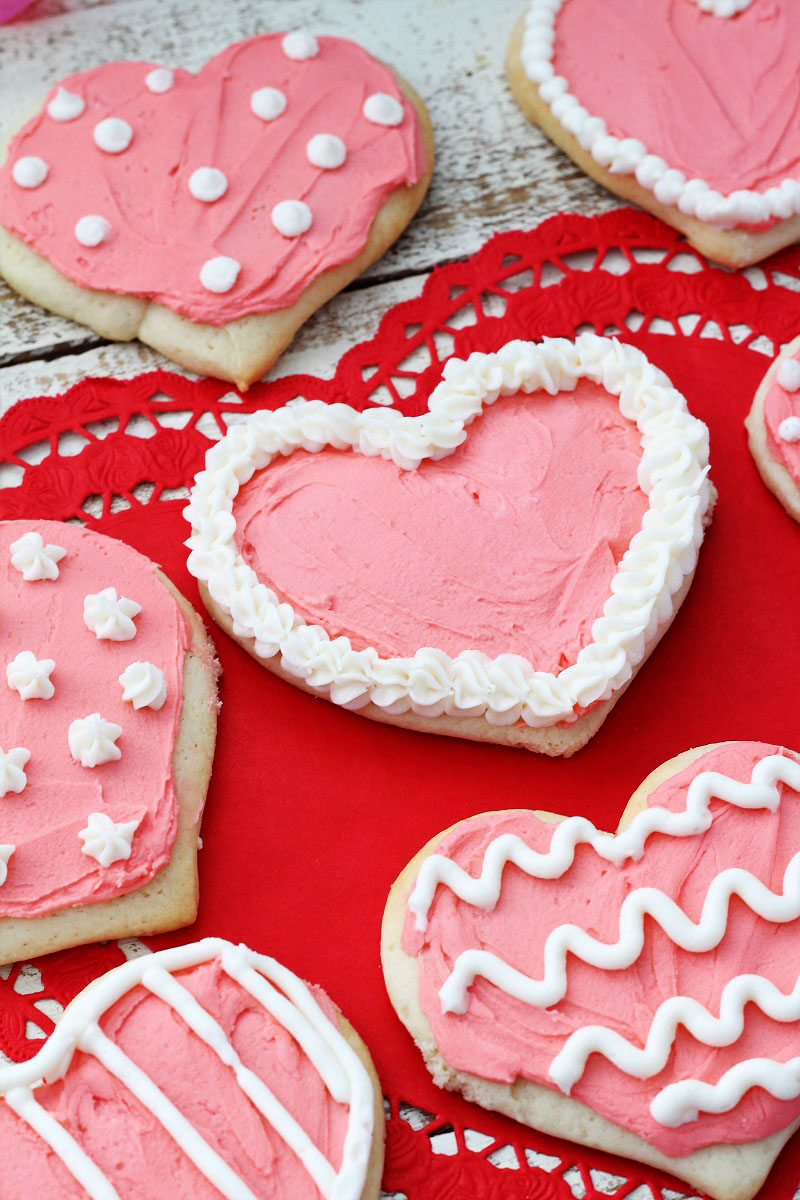 Make sure you have a little flour on the counter, as the dough is a little tacky and likes to stick.  Make sure that you don't over bake them or they won't be as soft.  Bake them just until they are just starting to turn brown.  I like to take them off of the cookie sheet about 1 minute after they come out of the oven so that they don't stick to the pan and so that they don't keep cooking.
I am so grateful for my husband's aunt who shared this wonderful recipe with us. I can still remember the day that I first had one of these sugar cookies, I was only going to eat one. I was expecting and I just could not help myself, I had to have two yummy sugar cookies.
I wish I could make a batch and share with all of my amazing friends, but I know that is impossible, so I hope that if you make these amazing sugar cookies that you will please let me know how they turn out and what you think.
I frosted them with a little frosting, of if you wanted to you could roll them in sugar.  As for me, I like a little cookie with my frosting. Isn't that the best part of being the cook, you can add or take away what ever YOU want!
Tips and tricks:
1- Chilling the dough makes the cookies easier to roll out.
2- Remember to only cook them until they just start to turn brown around the edges.
3- Store in an air tight container.


Yield: 28 cookies
Sugar Cookies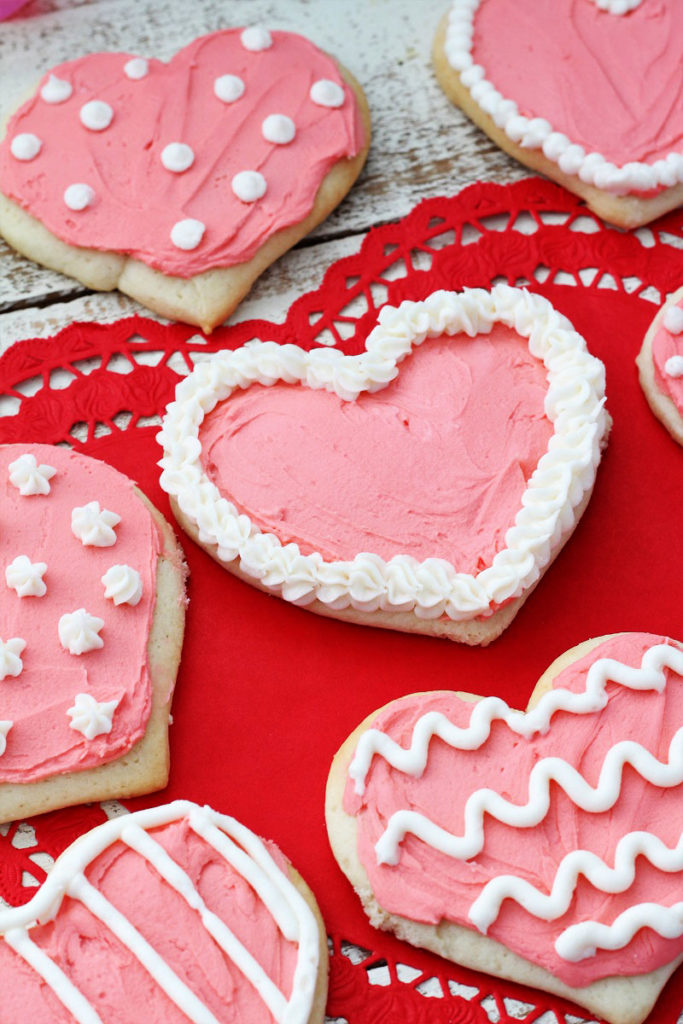 Prep Time 15 minutes

Cook Time 12 minutes

Total Time 27 minutes
Ingredients
1 cup butter
2 cups sugar
2 eggs
1 cup sour cream
1 tsp vanilla
4 1/2 cups flour
1/2 tsp soda
4 tsp baking powder
1/2 tsp salt
Frosting:
1/2 cup butter
3 cups powdered sugar
1 tsp vanilla
4 tablespoons of milk (I used canned) but it doesn't matter
Instructions
In a mixing bowl, cream together butter and sugar.
Then add eggs, sour cream, and vanilla; mix well.
Make sure you have the dough hooks in your mixer and add flour, soda, baking powder and salt and mix until dough is mixed through.
Chill the dough for at least 1 hour.
Then on a floured counter top, roll dough to 1/4" thick.
Cut out dough with cookie cutters of your choice.
Place on a greased cookie sheet and bake for 10 - 12 minutes.
Frosting
Mix butter with an electric mixer.
Add powdered sugar, vanilla and milk.
Mix them all together, until nice and fluffy. I usually mix about 4 - 5 minutes.
Frost and decorate however you want.