We have a student from Germany staying with us this week and so I decided that we needed an after school snack.  So I made a batch of these Neiman Marcus cookies.  They were a hit with my son, his friends, and our special guest.
I must say that I have a problem with this recipe; it is the dough.  It is very tasty and so if you have any dough left to cook it makes really great cookies. I know that we shouldn't eat raw eggs, but I have been doing it for years!  Don't tell anyone!!!
Spring is in the air and so when the kids come home from school, make sure that they have a batch of these cookies while they play outside. They get hungry and they need a good after school snack. I look forward to happy kids in the neighborhood. There is nothing better than happy neighborhood kids and a happy family too.
Along with the sunshine, and a batch of these cookies, Spring is here and oh how great life is!  We are so blessed and we have so much in our lives.  Enjoy some special time with your loved ones.
Another thing that I must tell you is that one thing you have to have when making this rather large batch of cookies is a heavy duty beater! My son did break the beater one year and the center out of my Bosch.
I have had it 30 years, and never had a problem, however, we did make a very large batch. What is a girl to do when her Bosch is broken. We quickly went to the kitchen store! There is no way that I was going to be without my Bosch!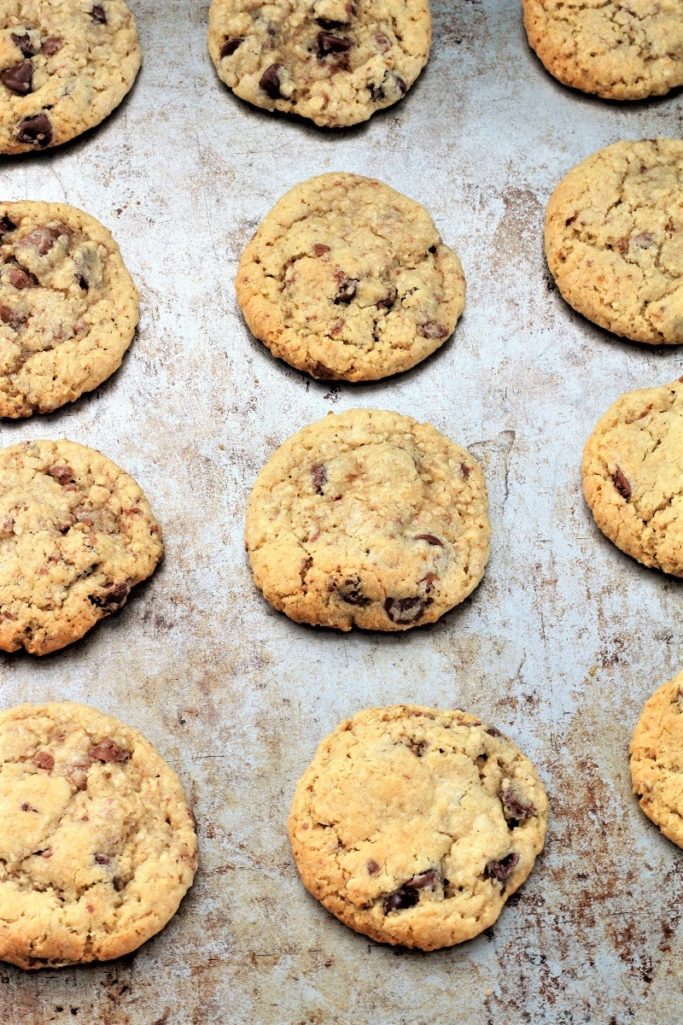 I must say that I was okay with this little accident because at least he was doing something productive. How I love when my kids cook and clean, it makes me feel like I have actually taught them something!
He is by far, the one that likes to cook the most and he does a great job. I know that when the time comes, and he moves out, he will not starve to death!  Even if he lives on cookies. 😉 Right?  No, he likes to cook other things as well.
Okay so today, I am on a gratitude kick. I was listening to something the other day, and it talked about when you are feeling that someone could have done something more for you or different, that we could put those feelings on the shelf, and stop and look for all the things around us that we are grateful for.
There was a lady and she was having a pickle juice Slurpee! Holy Cow that sure sounds grose, at least to me! So she said that sometimes we are so programmed that we are not willing to try something new!
Slurpee's should be sweet right? Not made out of pickle juice. And we would not put gravy on our ice cream. We are programmed to put chocolate syrup on our ice cream. So if you had the neighbors over for dinner and had gravy on your ice cream, pretty soon they are not going to come over for dinner.
When people feel like they are not appreciated, pretty soon, they stop doing nice things for you because they get a feeling that you did not appreciate the last thing that they did for you and so we tend to push people away.
They do not want gravy on their ice cream and we need to appreciate them even if they bring us a pickle Slurpee! So the next time someone does something for you and you feel disappointed, take that emotion and put it aside for a few minutes and try your very best to appreciate all that they have done for you.
I am sure that they thought that you needed something or that what they did for you was just what you needed. We all think differently and that is okay. We are so blessed and sometimes we are disappointed because we already have so much.
Also, if others do nothing and you would have liked them to do something, you can put that emotion on the shelf too. Then one way to let go of that emotion is to write about it or if you are in the car driving by yourself, you can put that person in the seat next to you and have a talk with them and then when you are finished, let them go.
Too many times we hold so many regrets that people have no clue that we are upset about or that we are frustrated about. I hope that this helps you with your day. And one other thing that you can do is to make someone some Neiman Marcus Cookies, and I am pretty sure that you will be their new best friend.
Tips and tricks:
1- Make sure that the butter is softened.
2- The original recipe was doubled, and I cut it in half.
3- This recipe requires some heavy duty beaters or some cookie paddles.
4- If you do not have a Hershey bar, you could also use different kids of chips!

Neiman Marcus Cookies
Prep time:
Cook time:
Total time:
Ingredients
1 cup butter
1 cup white sugar
1 cup brown sugar
2 eggs
1 tsp vanilla
2½ cups oatmeal
2 cups flour
1 tsp soda
1 tsp baking powder
½ tsp salt
1 (12 ounce) bag of chocolate chips
1 (4 ounce) Hershey bar, grated or chopped
1½ cups chopped nuts, pecan or walnuts (optional)
Instructions
Cream together butter, white sugar and brown sugar.
Mix eggs in one at a time and add vanilla.
Place oatmeal into a blender and blend to a fine powder or flour.
Mix oatmeal powder with flour, baking soda, baking powder, and salt.
Add the flour mixture to the creamed butter mixture and mix well.
Stir in chocolate chips and chocolate bar by hand, and then add nuts if desired.
Use a cookie scoop, or roll into balls; place 2" apart onto a cookie sheet.
Bake for 10 - 12 minutes at 375 degrees.