Copycat Crumbl Raspberry Cheesecake Cookies! My daughter brought home a cookie from Crumbl the other day and she says to me, "mom, I am pretty sure that you can make a cookie that tastes even better than this one". We all had a taste and they were pretty darn good. However, after I made these Copycat Crumbl Raspberry Cheesecake Cookies, we decided that we liked these better. The only problem is that it was really hard not to eat more than a few!
They are moist and topped off with a cream cheese frosting, then drizzled with raspberry filling. I hope that you will try them for Memorial Day this weekend. I promise that they will be a hit! We call them cheesecake cookies because the bottom is a delicious cookie made with graham crackers.
The next layer is a fabulous cream cheese frosting. After the frosting goes on, you will want to top it off with some raspberry filling or even some (Junket) Danish Dessert!
Whatever you do, make sure that you do not eat too many. Otherwise you might be like me and wish that you would have never started eating these amazing cookies!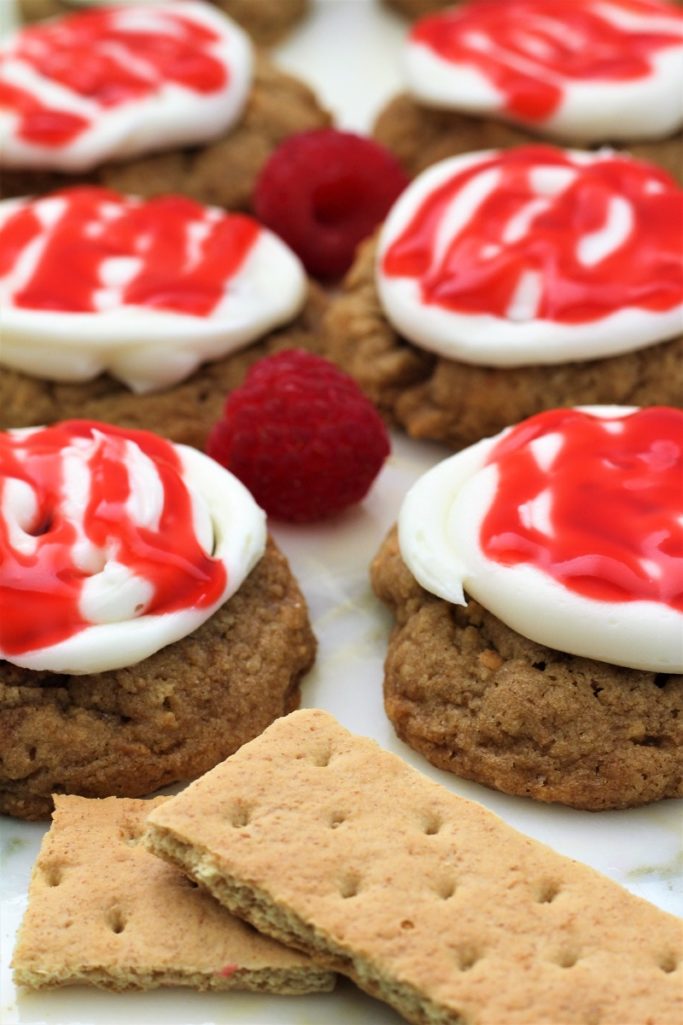 What is the best butter for baking cookies?
The biggest difference in butter is the amount of salt. For baking purposes, the Test Kitchen recommends using unsalted butter so you can better control the amount of salt that goes into the recipe. Salted butter is best for serving at the table with bread or to flavor a dish, like mashed potatoes.
What if I don't have unsalted butter?
Regular butter contains some salt, and most recipes take this into account. But if you want to use salted butter when the recipe calls for unsalted butter, you can decrease 1/4 teaspoon of salt for every stick (or every 1/2 cup) of salted butter required. (Or in the case of this recipe, you can decrease the salt from 1 teaspoon to 1/2 teaspoon).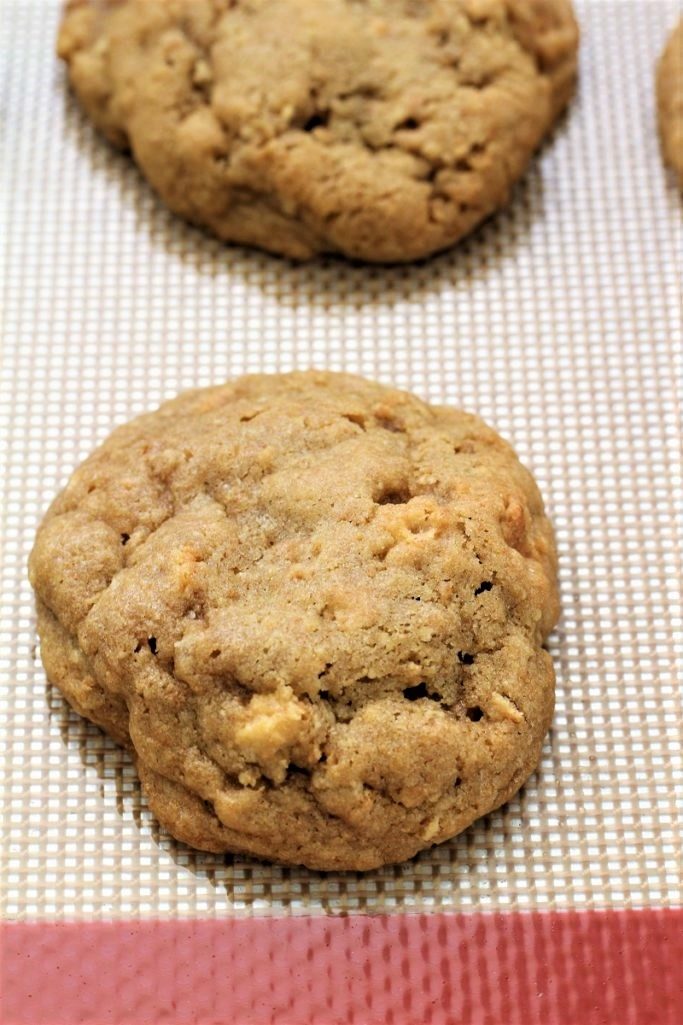 What are the secrets to making the best cream cheese frosting?
This may come as a surprise, but sometimes I do not use butter in my cream cheese frosting. Depending on what I am frosting, I decide whether I want to use butter or just more cream cheese. I usually end up changing the ratio of butter to cream cheese each time I make a recipe. (Maybe it just depends on my mood)! Sometimes I just feel like the frosting would be better without butter, or less butter. Of course, make sure that you don't skip the cream cheese in cream cheese frosting. Also be aware that the amount of butter used changes the consistency of the frosting. Another best tip for the best cream cheese frosting is to make sure that the cream cheese is at room temperature. And finally make sure that your confectioner's sugar does not have lumps in it (sift it if necessary to remove any lumps).
Can I freeze cream cheese frosting if I have some left over from my Copycat Crumbl Raspberry Creamcheese Cookies?
I like to vacuum seal extra frosting and freeze it! You can always put your frosting in an air-tight container and put it in the freezer. You can keep it frozen for up to 3 weeks. After freezing it, make sure to allow the frosting to thaw in the fridge until it is soft. After it is thawed whip the frosting up with a spatula before using.
What other recipes are good with cream cheese frosting?
Yield: 24 cookies
Copycat Crumbl Raspberry Cheesecake Cookies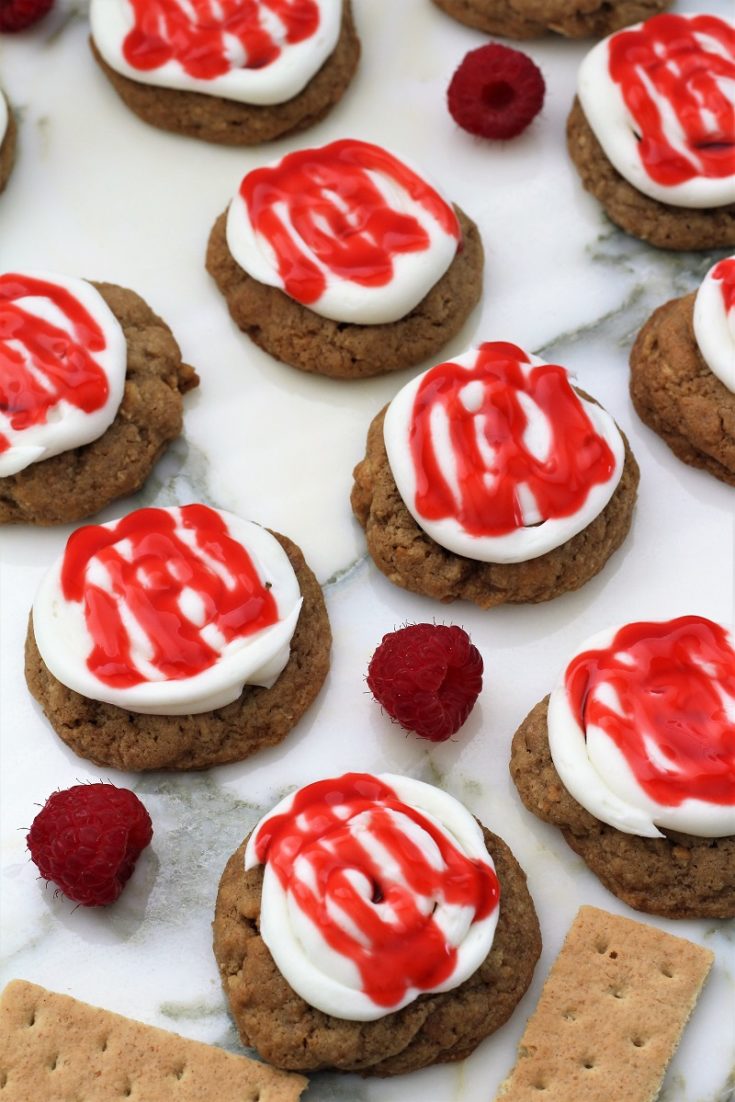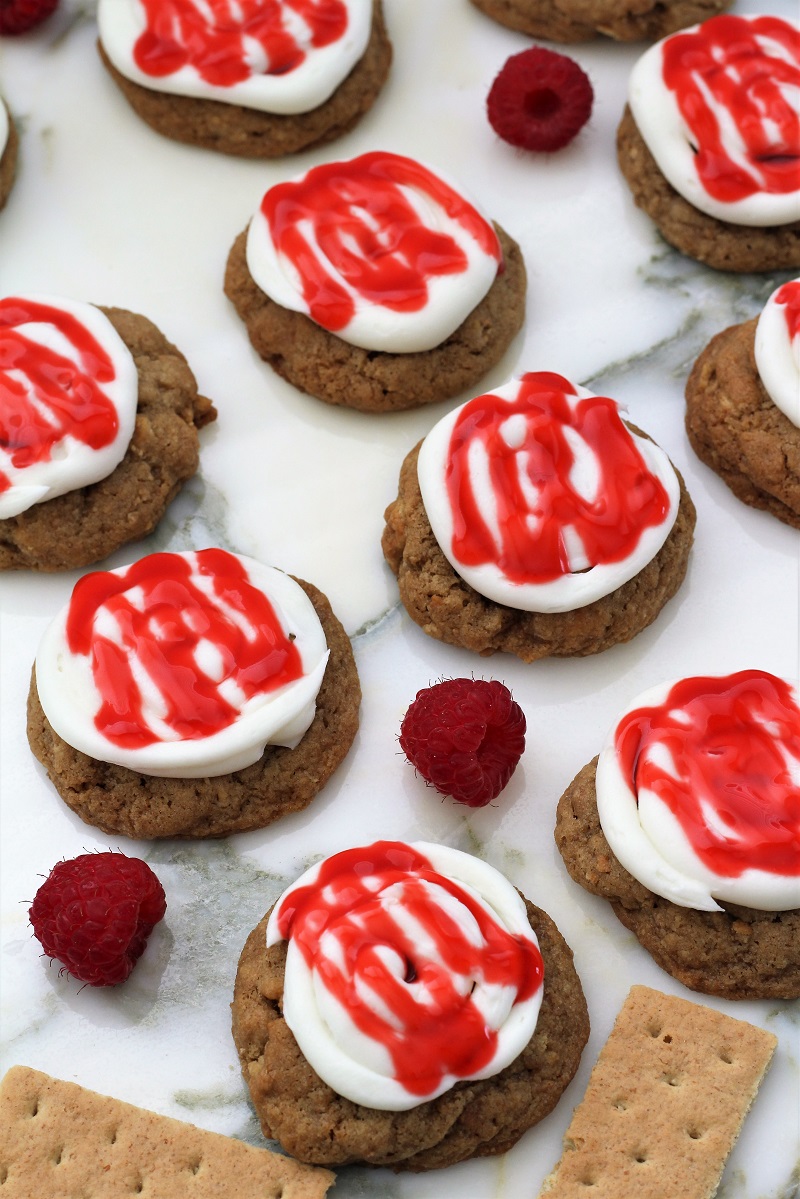 Ingredients
1 cup unsalted butter @ room temperature
2 cups brown sugar
2 teaspoons vanilla extract
2 large eggs
3 cups graham cracker crumbs
2 1/4 cups all-purpose flour
1 teaspoon baking soda
1/2 teaspoon baking powder
1 teaspoon salt
Frosting & Topping:
4 ounces of cream cheese @ room temperature
2 cups confectioners sugar
1 teaspoon vanilla extract
1 - 2 Tablespoons of milk
Raspberry pie filling or Junket Danish Dessert to drizzle on cookies
Instructions
Preheat the oven to 350 degrees.
In a large mixing bowl or standard mixer, mix together the 1 c butter and the 2 c brown sugar.
Cream in the 2 t vanilla and 2 eggs, until they are nice and fluffy.
In a separate bowl, sift the 2 1/4 c flour, 1 t baking soda, 1/2 t baking powder, and the 1/2 t salt.
Add the 3 c graham cracker crumbs to the flour mixture.
Stir them into the butter mixture, just until they are combined.
Make cookies that are 1 - 2" balls, and place them on a baking sheet.
Bake them for 10 - 12 minutes.
Remove the cookies from the oven and allow to cool.
Frosting & Topping:
In a mixing bowl, mix 4 oz cream cheese, 2 c confectioners sugar, 1 t vanilla and 1 - 2 T milk.
Mix well.
Then frost the cookie
Drizzle with raspberry pie filling or Junket Danish Dessert.
Store in an airtight container in the refrigerator.
Nutrition Information
Yield
24
Serving Size
1
Amount Per Serving
Calories

308
Total Fat

12g
Saturated Fat

7g
Trans Fat

0g
Unsaturated Fat

5g
Cholesterol

44mg
Sodium

270mg
Carbohydrates

47g
Fiber

1g
Sugar

29g
Protein

3g
This data was provided and calculated by Nutritionix