This Sparkling Blue Hawaiian Mocktail will remind you of relaxing days on Hawaiian beaches; or for some of us who are not so lucky to have those Hawaiian Beach memories, any beach will do!
Personally I have spent some great times with family and friends on the beaches of Bear Lake, here in Utah.  Can you believe it will soon be June? Summer is just around the corner and I thought you might really enjoy this Sparkling Blue Hawaiian Mocktail while playing at the beach, having a BBQ with a beach theme, or just a fun summer drink!
You will love how it works up so fast. Kids will love the bright blue color and it is so refreshing. And sometimes you just need a break.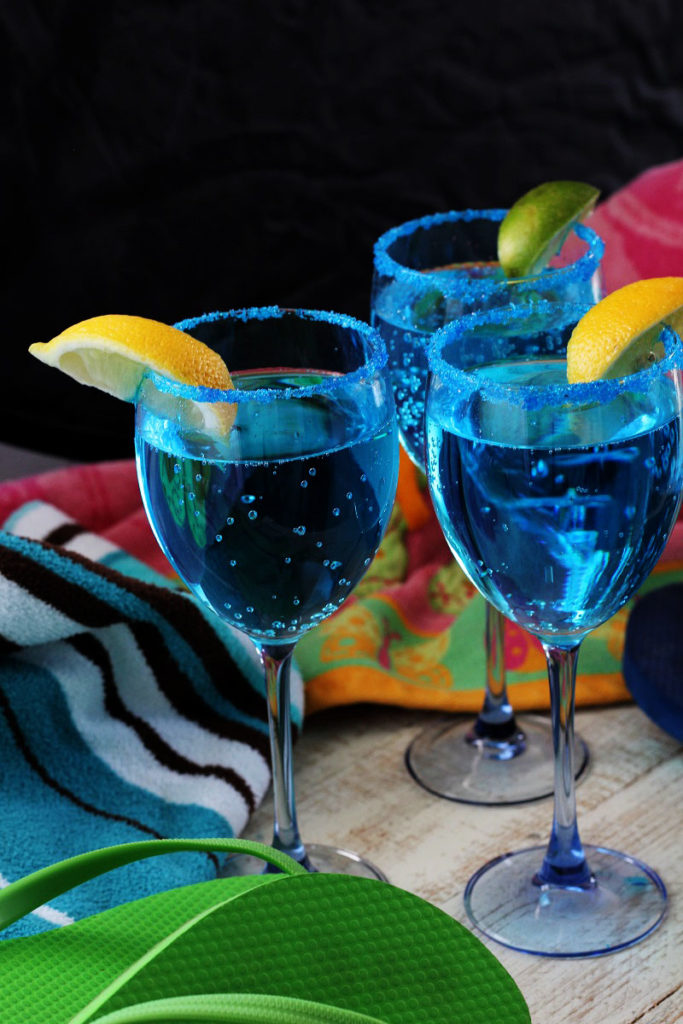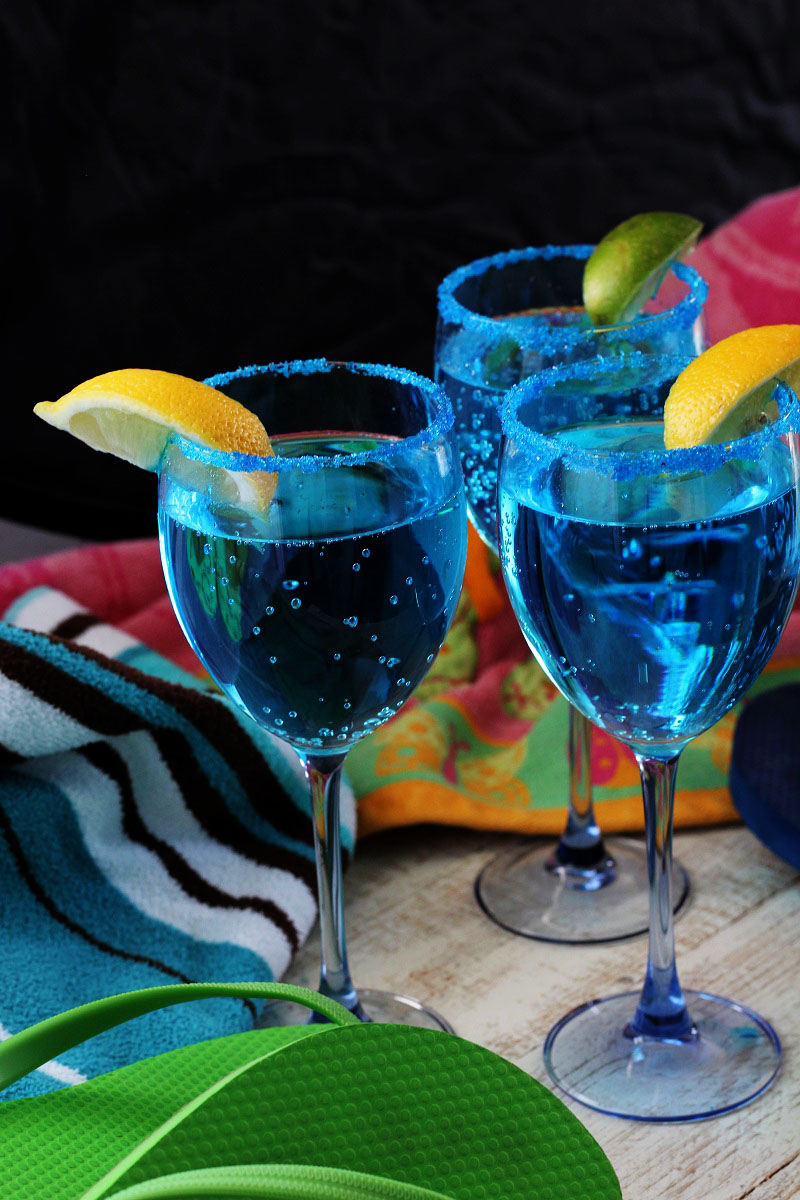 This is the best story ever! The other day my husband was out in the garage painting some boards for our crown molding for our bedroom. My 2 1/2 year old granddaughter was helping?? She let the dog out of the back yard and when you let her out she runs away.
And so my husband bumped the boards and knocked them down into the dirt knowing that the dog was out. He let out a roar and my granddaughter who LOVES Daniel Tiger said "grandpa when you feel mad and you want to roar, take a deep breath and count to four"!
My husband laughed and picked up the dirty boards and went on with his work. She also told him "stomp your foot and say I'm mad, I'm mad, I'm mad". She is a hoot! Grand kids really do make life grand.
How can I get my Sparkling Blue Hawaiian Mocktail the color of blue that I want?
Depending on what color of blue you want your drink to be, use more or less 7-Up or Sprite (more makes it more blue), or more or less White Grape Juice or Sparkling Cider (more makes it more turquoise).
What are the best garnishments for this Mocktail?
Garnish with lemons or limes; you could even use a Maraschino Cherry if you wanted.
Little umbrellas would also be a cute garnishment.
Blue sanding sugar on the rims of the glasses is the perfect touch.
Other Nonalcoholic Drinks that you may want to try:
Sparkling Blue Hawaiian Mocktail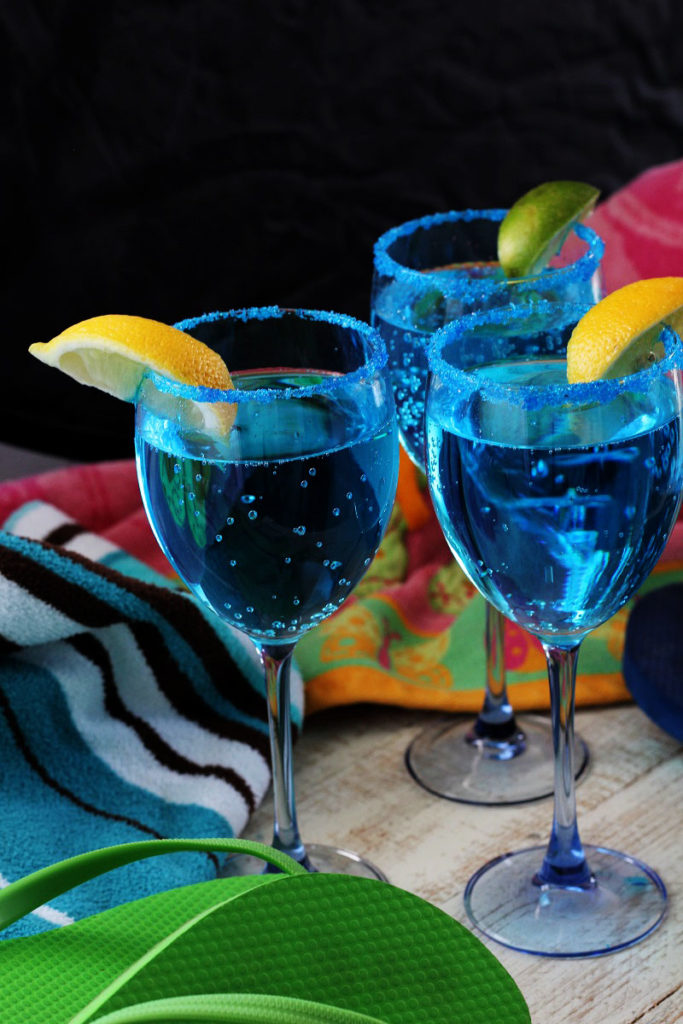 Prep Time 5 minutes

Total Time 5 minutes
Ingredients
2 ounces blue fruit punch (per glass)
7-Up or Sprite
White Grape Juice or Sparkling Cider
Dark Blue sanding sugar
Instructions
Pour some of the dark blue sanding sugar on a plate.
Wet the top of the champagne glass with water, and then dip the top of the glass in the dark blue sanding sugar.
Pour 2 ounces of blue fruit punch in each champagne glass.
Add 7-Up and White Grape Juice or Sparkling Cider until each glass is full.
Note
I wanted mine more blue so I used more 7-Up and less White Grape Juice.
I did make a couple of others with more White Grape Juice and they tasted fantastic but they were a little more turquoise than I wanted, so if you want to use White Grape Juice or Sparkling Cider just plan for the drinks to be a little more turquoise.