Hawaiian haystacks are such a nice dinner for any family, and we love how versatile they are. We really enjoy them on Sunday afternoons. We have about 8-10 different toppings, making it a win win for everyone.
Are you getting together with friends or family for the Super Bowl? Hawaiian Haystacks are the perfect dish. Assign those that are coming to bring a certain topping. All you need to do is cook the rice, chicken and gravy. Let them do the rest.
Hawaiian haystacks are very versatile and there has got be be something for everyone. One thing for sure, is that we always have two cans of mandarin oranges because they seem to be everyone's favorite topping. I know that they sure are mine.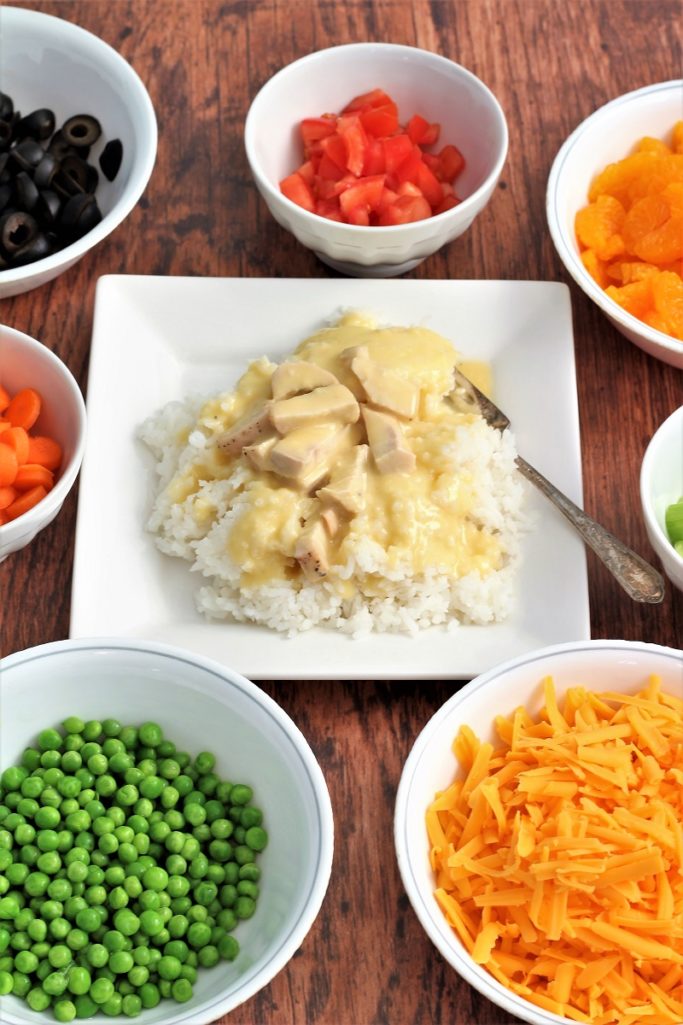 What Ingredients Do I Need For Hawaiian Haystacks?
Haystacks:
Chicken
Rice
Mandarin oranges
Chow Mien Noodles
Celery
Green peppers (optional)
Pineapple tidbits
Grated cheese
Sunflower seeds, almonds or nuts
Coconut
Frozen peas
Tomatoes
Broccoli
Cauliflower
Gravy:
Cream of Chicken Soup
Chicken broth
How Do I Make Hawaiian Haystacks?
Cook the rice according to package directions.
In a medium pan, combine the soups and the broth, then add the chicken to the gravy, stir to blend.
Start by putting the rice on each person's plate, then add the gravy.
Then add the cheese, as it tends to melt a little.
Then add the rest of your toppings; whichever ones you like.
Enjoy.
Hawaiian Haystacks Are Such a Versatile Dish:
You can use whatever kind of rice that you like.
Some people like white sticky rice, brown rice, or even minute rice.
We love to have cheese as our number one topper, then we like mandarin oranges, chow mein noodles, tomatoes, sun flower seeds, coconut, frozen peas, cauliflower, broccoli, and carrots.
Some people even like to have green onions; I usually do not have green onions, but you might just love them.
I also like to have black olives.
Also, you can put your chicken in the gravy, or you could put it in a bowl, and let people put it on their Hawaiian haystacks themselves.
I just feel that the chicken is better distributed if you put it in the gravy. You be the judge.
Another thing or two that people like are craisins, or grapes! The sky is the limit.
Hawaiian Haystacks are A Quick Meal to Put Together:
Another reason that I like Hawaiian haystacks is because they can come together so quickly.
I always love when I can get a meal ready and on the table in less than 1 hour.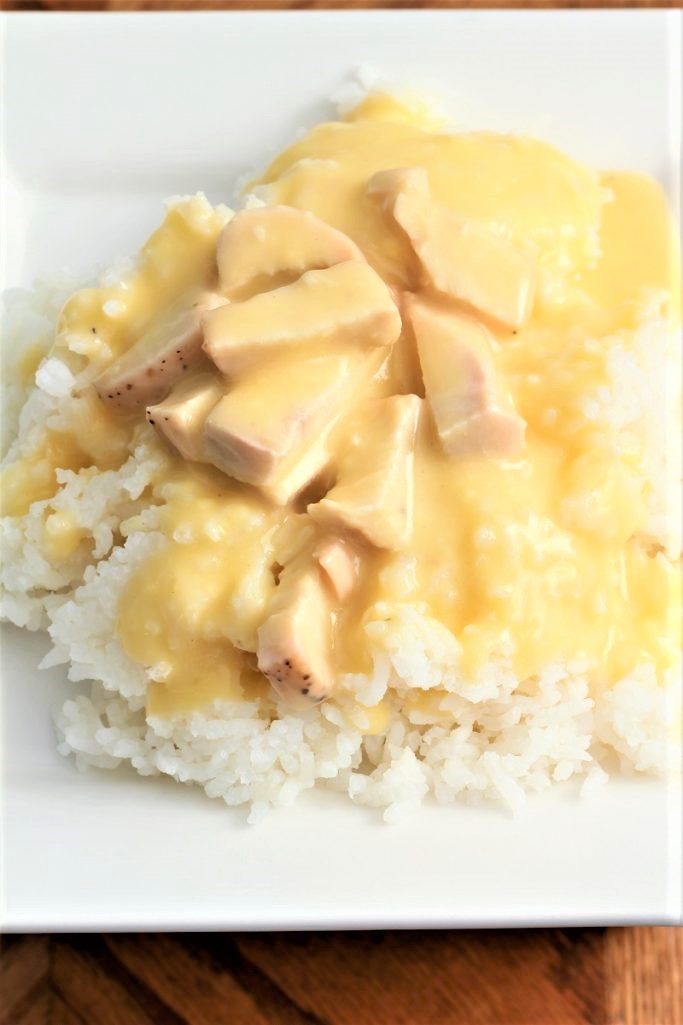 There has been some things going on in our lives that has helped me learn some "golden nuggets"! Just like our government, each person has the way they look at things. They each have their own opinion and people assume things that are not right.
There was a girl who decided to copy something from a movie that just came out, where you are blind folded and then you try to do different things. This girl pulled her beanie down over her eyes and asked her friend where to drive the car!
There was so much controversy, I was amazed. Some people said that the girl was so dumb, and who does something like that? What kind of kid is she, my kids would never do that! There were all kinds of comments.
I saw on social media, that there were comments from both sides and it kind of boils down to this, my neighbor said "unless you are the judge or on the jury, keep your mouth shut". So many times we have to put our opinion out there just because we can.
What are Hawaiian Haystacks?
Hawaiian Haystacks are a convenience dish composed of a rice base and several toppings based on Hawaiian Cuisine.
At first I was impressed that people were saying that we need to give the girl and her family a break, that they are hurting enough. But, this is what happened as she drove with her eyes covered; she broadsided another car. The guy in the other car lived; thank heavens.
But as the comments went out, whether they were nice or not nice, I decided that when we are not the jury or the judge, that whatever our opinion is, it makes the other person wrong. I at first thought that we do need to be nice and stop saying things like my kid would never do that!
Then the more I thought about it, I had a lot of emotions come up and I realized that when I was 16 years old, my dad died by a hit and run driver and I became more and more frustrated. Thinking that people can tell others that their opinion is right and the other person's is wrong.
Yes, I do think that there is not a point in saying rude things, the damage has been done, and nobody died in this incident, thank heavens. But what happened to teaching our kids that there is a better way to work out your feelings than forcing them on others.
I have been taught a few things that we would do well to try before we go spew our opinion on others, because it ended up just as I thought, people arguing their point of view as the right one and that others do not understand.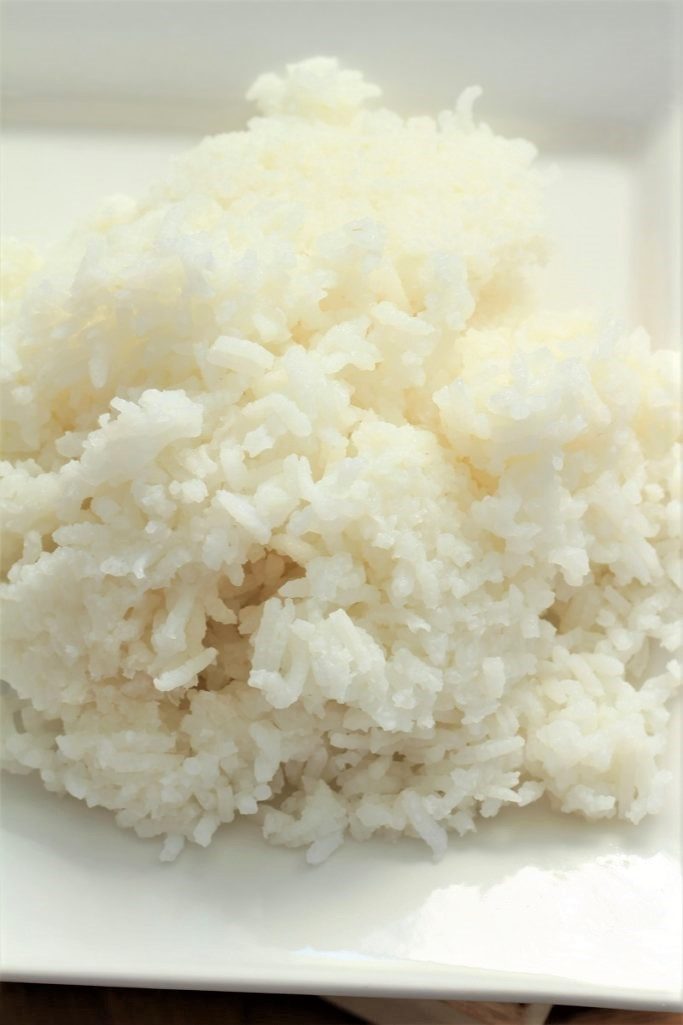 Thoughts on Easing Tension:
Take a piece of paper and write down how you are feeling; when you are finished you can shred it or burn it.
On a farm you learn to work; find windows to wash or vacuum the house while you work your thoughts out in your mind.
Go on a walk.
Talk to your higher power or God and let them have the worry.
This way I feel that we would have less tension in the world; you never know why a person feels the way that they do. Let's all be a little more understanding and ask a few more questions before we jump to conclusions that our opinion is right.
Tips and Tricks for Hawaiian Haystacks:
Cook your chicken ahead of time, cut it into chunks, and freeze it, then when you make Hawaiian haystacks, it makes it a lot quicker.
If you have left over rice, you can freeze it as well. When you are ready to use it, place it in the microwave and enjoy.
If you have a get together, assign other people to bring a topping.
More Hawaiian Recipes to Enjoy:
Sparkling Blue Hawaiian Mocktail
Yield: 8 people
Hawaiian Haystacks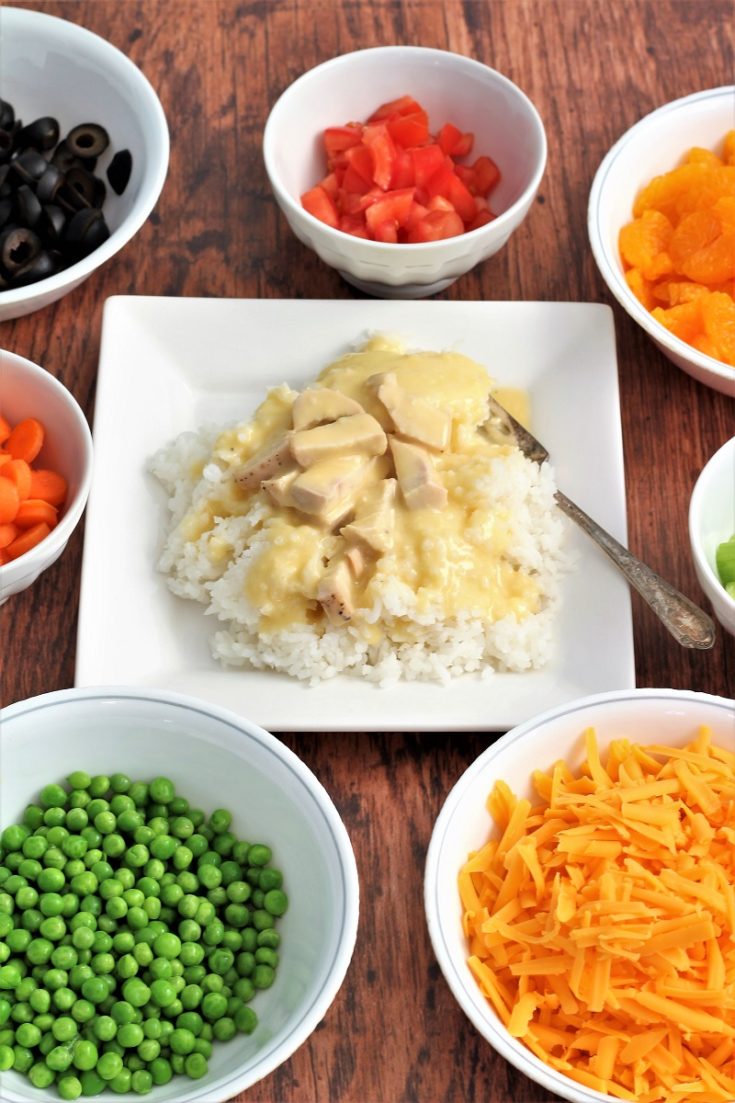 Hawaiian Haystacks are a convenience dish prepared by topping rice with toppings such as chicken, chicken gravy, diced pineapple, diced tomatoes, Chinese noodles, cheese, and celery.

Prep Time 15 minutes

Cook Time 25 minutes

Total Time 40 minutes
Ingredients
2 cups of cooked and cubed chicken
4 cups cooked rice
1 or 2 cans of mandarin oranges (we like a lot)
1 small can of Chow Mien Noodles
1/2 cup chopped celery
1/4 cup chopped green peppers (optional)
1 can pineapple tidbits
4 ounces of grated cheese (or more) 😉
1/2 cup sunflower seeds, almonds or nuts
1/2 cup coconut
1 cup frozen peas, thawed
1/2 cup tomatoes, chopped
1/2 cup broccoli, chopped
1/2 cup cauliflower, chopped
1 tomato, chopped
Gravy:
2 cans Cream of Chicken Soup
1 1/2-2 cups chicken broth (depending on how thick you like your gravy)
Instructions
Cook the rice according to package directions.
In a medium pan, combine the soups and the broth, then add the chicken to the gravy, stir to blend.
Start by putting the rice on each person's plate, then add the gravy.
Then I like to add the cheese, as it tends to melt a little.
Then add the rest of your toppings; whichever ones you like.
Enjoy.
Nutrition Information
Yield
8
Serving Size
1
Amount Per Serving Calories 480Total Fat 22gSaturated Fat 8gTrans Fat 0gUnsaturated Fat 12gCholesterol 54mgSodium 1577mgCarbohydrates 51gFiber 5gSugar 13gProtein 21g

This data was provided and calculated by Nutritionix