Pumpkin pecan muffins are perfect with Fall just around the corner. I see pumpkins in the fields and even though they are still green, it truly excites me for the end of Summer. I love all the fruits and vegetables that are ripe and it is always nice to have a little cooler weather at night.
We have had such bad smoke in the air lately that we are not even able to see the mountains. The air quality is really bad right now, as a lot of smoke from fires, even from other states has blown in here. I feel bad for all those who have lost everything to fires and such. So if all we have to deal with is the smoke, I will take that instead. We are truly blessed and I am so grateful for all that I have.
So in order to lift my spirits through all the smoke, I decided to make some of these amazing pumpkin pecan muffins. I really like pumpkin and so I love the fall season when I am reminded that it is a great time to make more pumpkin recipes.
How many time do we think that we are so picked on? One of the things that I have learned in the last few days is that adversity helps us build character. If you think about all the Disney stories, even the Princess' had to overcome adversity.
There was Cinderella, and she had to work night and day, do all the chores, and then on the night that she was to go to the ball, she ended up not having anything to wear. It didn't stop her, and she ended up with her handsome prince.
What about Belle who had to live with a beast in a scary castle. She had to put up with him day after day and his grouchiness. Then it turned into a dream come true, he was not a beast after all but a nice handsome Prince who had learned his lesson.
It  is not our adversity that defines who we are, but the way we handle adversity, and that is how we grow and become a better person.  I hope that you do not have any adversity when it comes to making Pumpkin Pecan Muffins. And I hope that you truly enjoy them.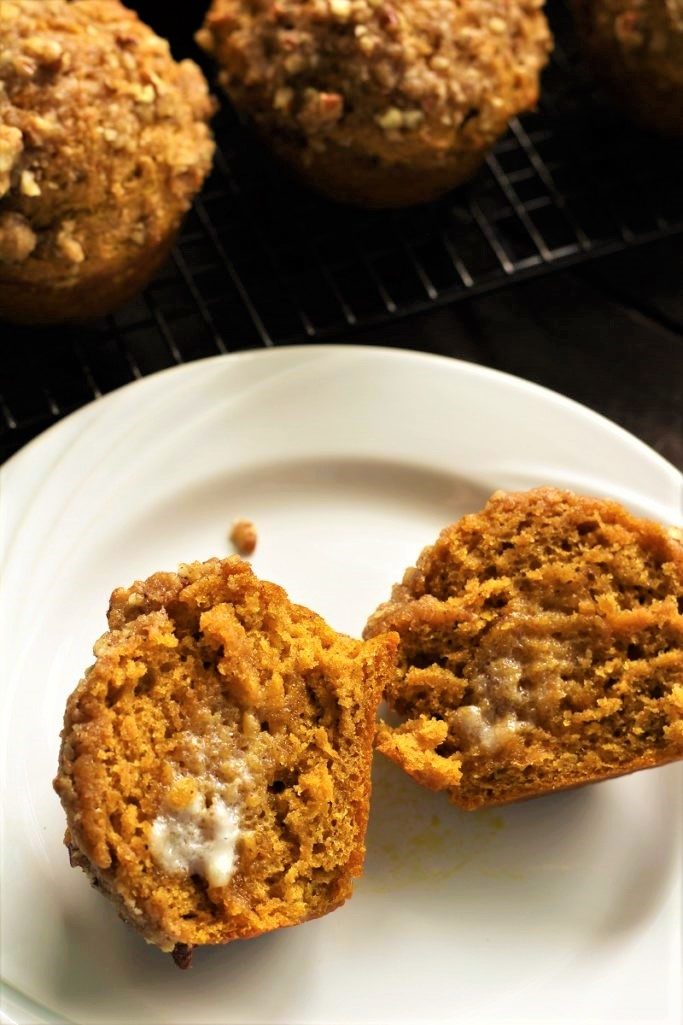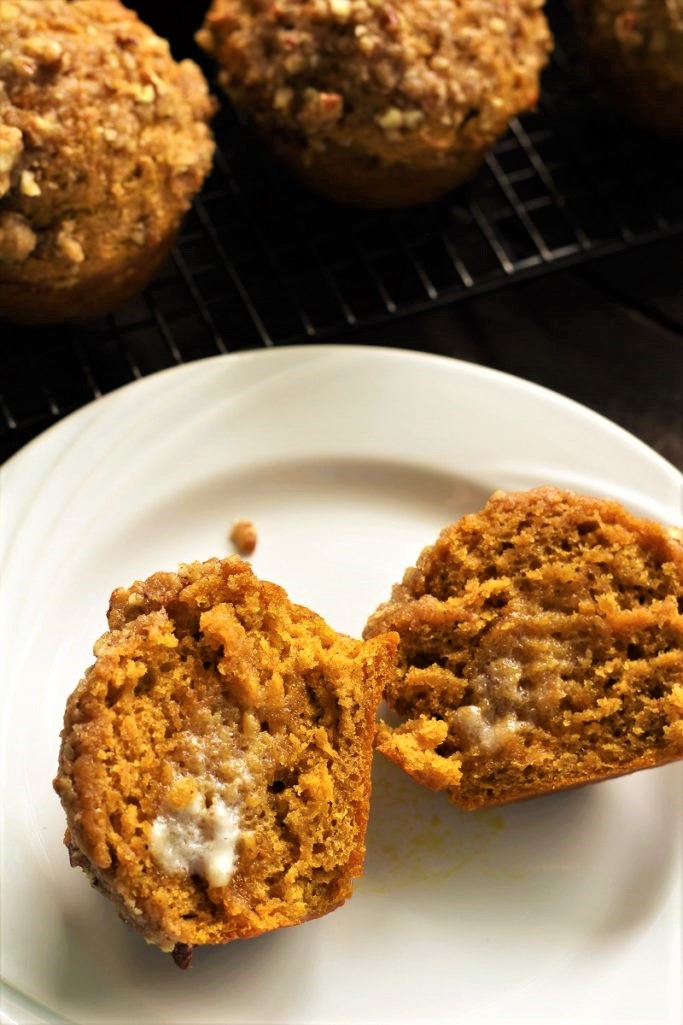 What is your favorite recipe? I am always looking for fun new ideas. Is it a cake, muffins, bread, or cookies?  One of my favorite is my pumpkin dessert, it takes a little time to make, but believe me it is so worth it.
What I love about these muffins is the crumbly top, mixed with the pumpkin muffin. It was fun to have a new muffin. My family's favorite is still the pumpkin chocolate chip muffins. My family can eat a batch of these in a day. And it makes a pretty good sized batch. I invite you to try one of these amazing recipes this week and let me know what you think.
Muffins make a great after school snack, or why not send the recipe with your college student as they go off to their own apartment at college? They do like to sleep in and they can store these in an air tight container and have these for a few days, or they could even put them in the freezer and take a few out the night before and they will be nice and thawed and ready to eat the next morning. Enjoy the pumpkin pecan muffins.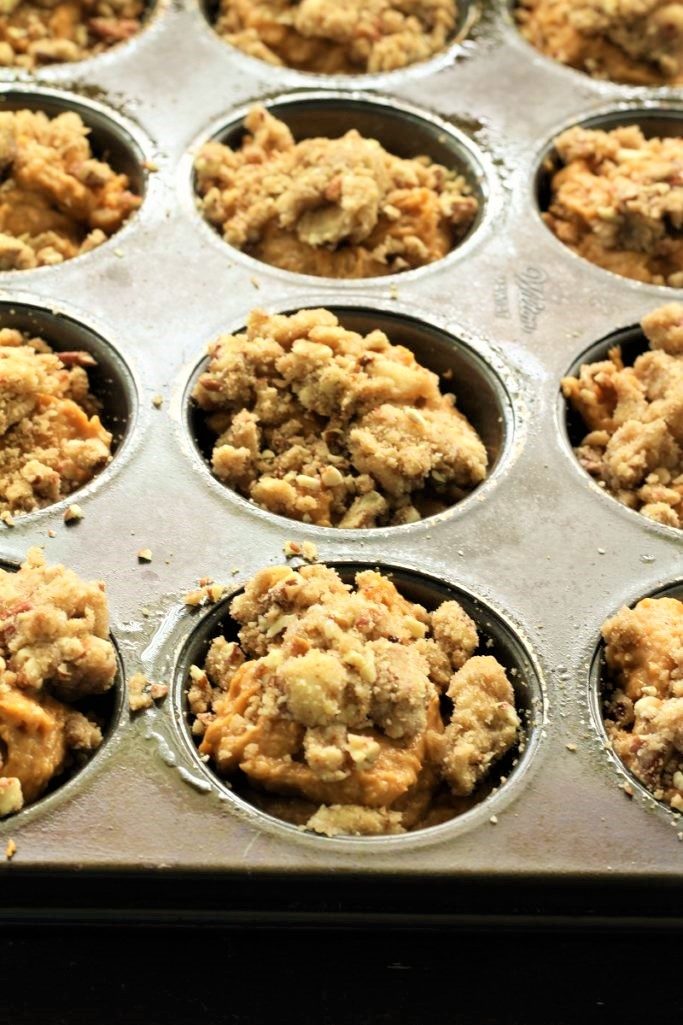 Tips and Tricks:
1- If your family is not big on pecans, you can substitute them for a different kind of nut or even chocolate chips.
2- Leave the muffins in the pan for about five minutes before removing them.
3- Have the ingredients at room temperature.
4- If you do not have buttermilk, make it by placing the milk in a cup and adding one tablespoon of vinegar.
5- After adding the flour, do not over mix. Mix only until blended.
6- Fill the muffin cups 3/4 full.
7- Do not over bake.


Yield: 12 muffins
Pumpkin Pecan Muffins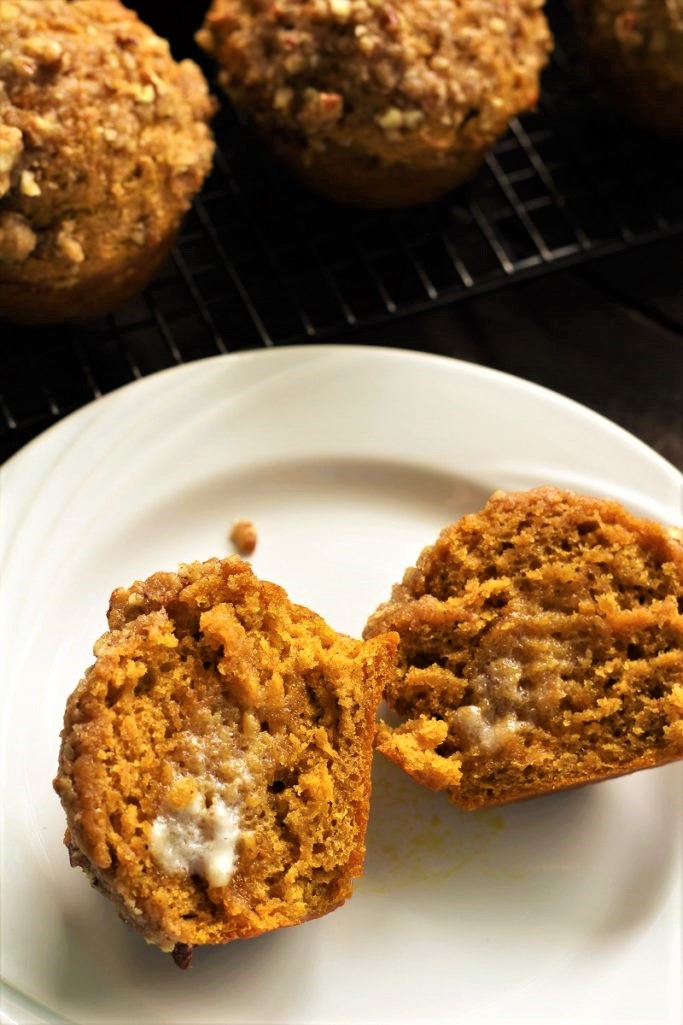 Prep Time 20 minutes

Cook Time 18 minutes

Total Time 38 minutes
Ingredients
1/4 cup coconut oil, (melted and cooled), or vegetable oil
3/4 cup brown sugar, (packed), or white sugar
3 eggs
1 teaspoon vanilla extract
1 cup pumpkin
1/2 cup buttermilk
2 1/2 cups all-purpose flour
1 teaspoon baking powder
1 teaspoon baking soda
1 1/2 teaspoons pumpkin spice
1/2 teaspoon cinnamon
Topping: (optional)
1/4 cup packed brown sugar
1/3 cup finely chopped pecans
1/4 cup all-purpose flour
1/4 cup cold butter, cubed
Instructions
In a mixing bowl, mix oil, sugar, eggs, pumpkin and vanilla.
Add the buttermilk on slow speed.
Then add the flour, baking powder, baking soda, pumpkin spice, and cinnamon, mixing just to blend.
Do not overmix.
Grease or line a muffin tin that holds 12.
Topping: (optional)
In a smaller bowl, place the brown sugar, pecans and flour, and stir with a fork.
Place the butter in the bowl and mix until crumbly.
Sprinkle the topping over the muffin batter, equally.
Bake in a 375 degree oven for 18 - 20 minutes, or until the center comes out clean when checking with a wooden pick or a cake tester.
Cool in the pan for 5 - 7 minutes and then cool on a wire rack.
Enjoy.