Overnight breakfast casserole, loaded with flavor and truly the best breakfast casserole we have ever eaten. I like to butter some white bread, and place it in a 9″ x 13″ pan. Cook the sausage, mix the rest of the ingredients, and put that mixture in the pan. Cover the overnight casserole and place it in the fridge for the night.
In the morning you get up, turn on the oven and place your overnight breakfast casserole in the oven. I remember when my friend Sandra, gave me this recipe. I tried it on Christmas Eve, and now it is a must. Every one knows that we will be having overnight breakfast casserole for breakfast Christmas morning.
We use to buy our kids their favorite cereal, and then let them eat it for breakfast, then I got to the point that I only wanted to be making food one time on Christmas and the cereal just wasn't filling them up. They were hungry 2 hours later.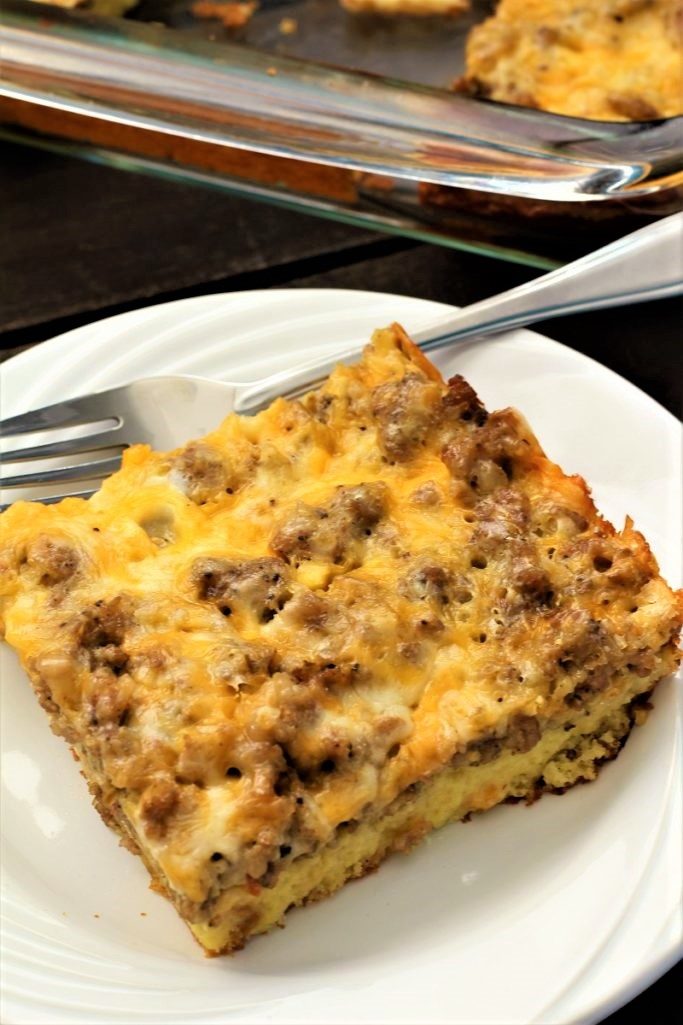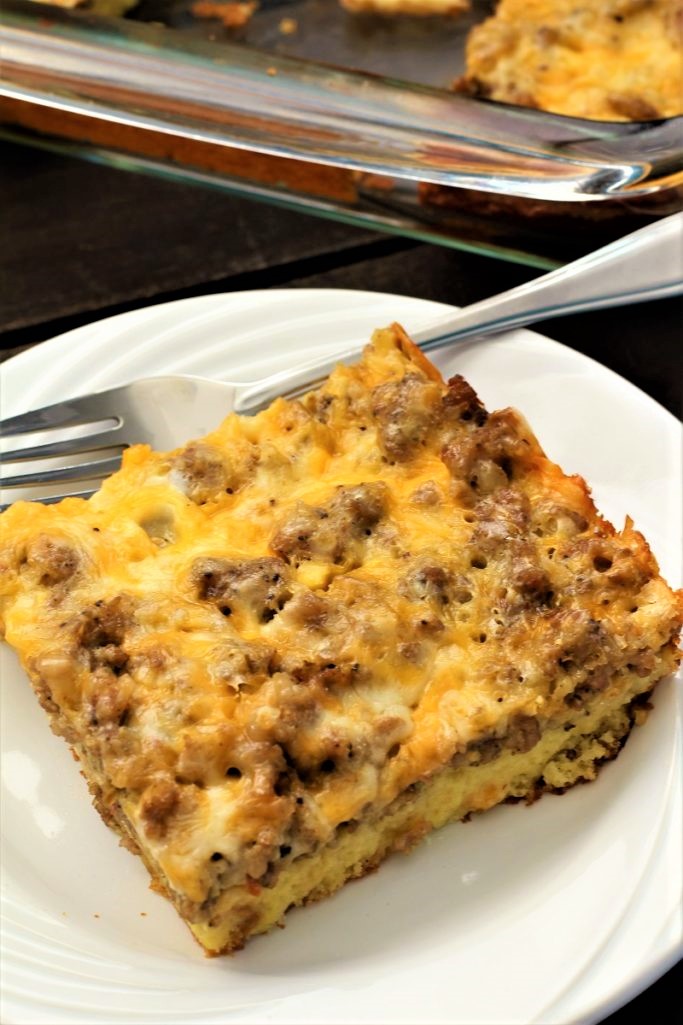 So I was very happy to get the overnight breakfast casserole recipe. Everyone in the family loves it. Last year when our church had a morning get together for Christmas, I took the overnight breakfast casserole and I had one of our friends come up and say, this is the best breakfast casserole I have ever eaten, better than my wife's, would you share the recipe with her?
So I was going to tell her to go to the blog and she could find the recipe, and when I looked, it was no where on the blog. I couldn't believe it. So here it is for my family and friends. I hope that you enjoy it as much as we do and that it will make your life less hectic!
Can you reheat breakfast casserole?
Yes, it will store in the refrigerator in an air tight container for up to 3 days, and can be reheated.
I love the saying "life is to be enjoyed, not just endured"! (Gordon B Hinckley) Sometimes, it is some of both. But I hope that most of it is enjoyed! We like to get a puzzle, usually no more than 500 pieces. Once in awhile we do a puzzle with 1000 pieces, but it seems like we get burned out before we get it finished.
My sister use to get so mad at me when I was little, she would get a puzzle for Christmas. She would work on it and if she didn't get it finished, she would leave it and go to school. I was young and I had no idea that she wanted to finish the puzzle, I thought that I was helping! I would finish about the last 15 pieces for her. I know that you are all on my side, and that you agree with me, I was just being nice.
Some times when you are a youngster, you do not think about stuff like people wanting to finish their own puzzles, or that moms get tired and that sometimes they just do not want to cook dinner because they can't think of anything to cook. Does this sound familiar?
I went out of town this week, and I was sure that when I got home my two youngest would be dead from starvation. However, my daughter fixes her own food a lot, but my youngest, not so much. They were alive and well when I saw both of them.
Then, I went to scouts, that is because I am a den leader over the bears, and while I was gone, my oldest son came to get his mail. I hadn't even fixed any dinner. He was probably hoping that I had something, but I didn't. So, he came in and had a bowl of cereal. That is not what I like to hear my kids eating for dinner. At least at my house.
In fact, we just do not even eat much cold cereal around here any more, so I guess it was a good thing that he came and ate some before it went stale. However overnight breakfast casserole is one thing that doesn't go stale.
I loved that I had some cereal on hand. That night my same son came over for a minute and I had left over lasagna, or overnight breakfast casserole, and he chose the overnight breakfast casserole. I think it was because he is not a big lasagna fan. He eats really fast and I think one day he ate too much and too fast! Oh well, more for me!
Tips and tricks for overnight breakfast casserole:
1- First I cook all the sausage. You could save the left over sausage and use it in the healthy egg muffins.
2- If you do not care for sausage, use ham or bacon.
3- If you like green peppers, you could also add them to the sausage.
4- This will store in the refrigerator in an air tight container for up to 3 days.
5- I have always used white bread so I do not know how others taste, but I am sure that they are great!
Yield: 12 people
Overnight Breakfast Casserole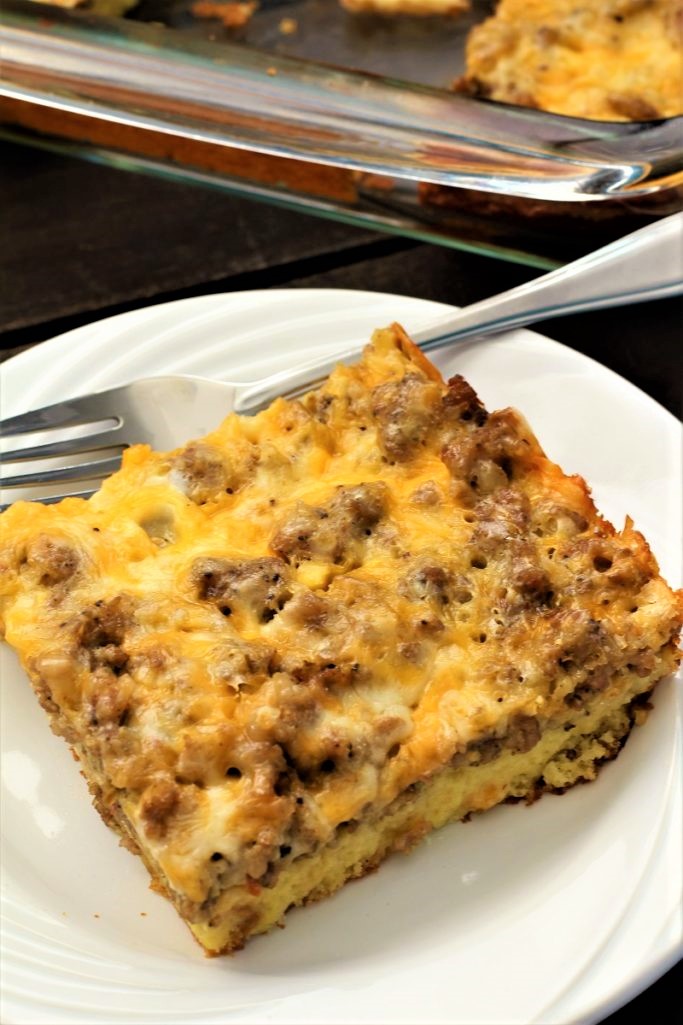 Prep Time 10 minutes

Cook Time 45 minutes

Total Time 55 minutes
Ingredients
8 eggs
1 - 2 (16 ounce) packages of ground sausage (I use 1 regular and 1/2 sage or use all of both)
1 (2.64 ounces) package country gravy (Dry)
1 1/2 - 2 cups cheese, grated
1 cup milk
8 slices of bread
butter
Instructions
Butter one side of the slices of bread and place them in a 9" x 13" pan, butter side down.
Cook the sausage in a skillet, and when the sausage is cooked, drain it on a paper towel.
In a mixing bowl, whisk together 8 eggs, dry country gravy mix, and 1 c. milk.
Then stir in the 1 1/2 - 2 c. cheese and the sausage, make sure that the sausage is not too hot, (or you can sprinkle the sausage on the bread).
Pour the mixture over the bread.
Cover with aluminum foil.
Place in the refrigerator overnight.
In the morning, preheat the oven to 350 degrees.
Leaving the foil on, place it in the oven and cook for 40 - 50 minutes or until the center comes out clean.
I check mine with a butter knife or a toothpick.
Nutrition Information
Yield
12
Serving Size
1

Amount Per Serving

Calories 290 Total Fat 19g Saturated Fat 9g Trans Fat 0g Unsaturated Fat 8g Cholesterol 165mg Sodium 497mg Carbohydrates 14g Fiber 1g Sugar 2g Protein 15g

This data was provided and calculated by Nutritionix