Mountain man crock pot breakfast is the best breakfast ever!! The thing that I enjoy the most about this delicious breakfast is that it cooks while you sleep!! That is exactly right. Place it in the crock pot and in the morning when you wake up your breakfast is hot and ready to eat. This is the best secret ever.
I like to make Mountain Man Crock Pot Breakfast on mornings that I have to get up early and get out of the house. I made this the other morning because it was my son's birthday and I had to work. So I just put this in the crock pot the night before and in the morning when we got up, there it was all beautiful and delicious. The house smelled so good and I was happy that all we had to do was EAT!
One thing that you might enjoy is to put some salsa on top. One other thing that you can do if you want, you could get a flour tortilla shell and place some mountain man crock pot breakfast in the middle, and make a breakfast burrito. We also have another breakfast burritos recipe on the blog. Breakfast burritos are one of our favorite meals.
What if I don't care for ham?
You can substitute precooked bacon or sausage in your Mountain Man Crock Pot Breakfast.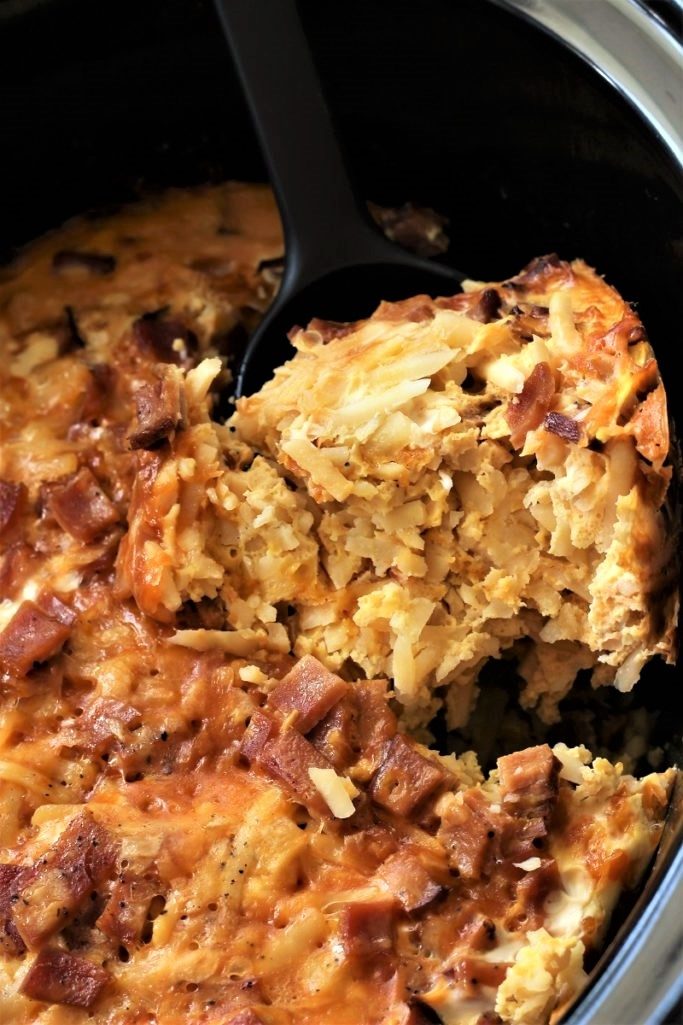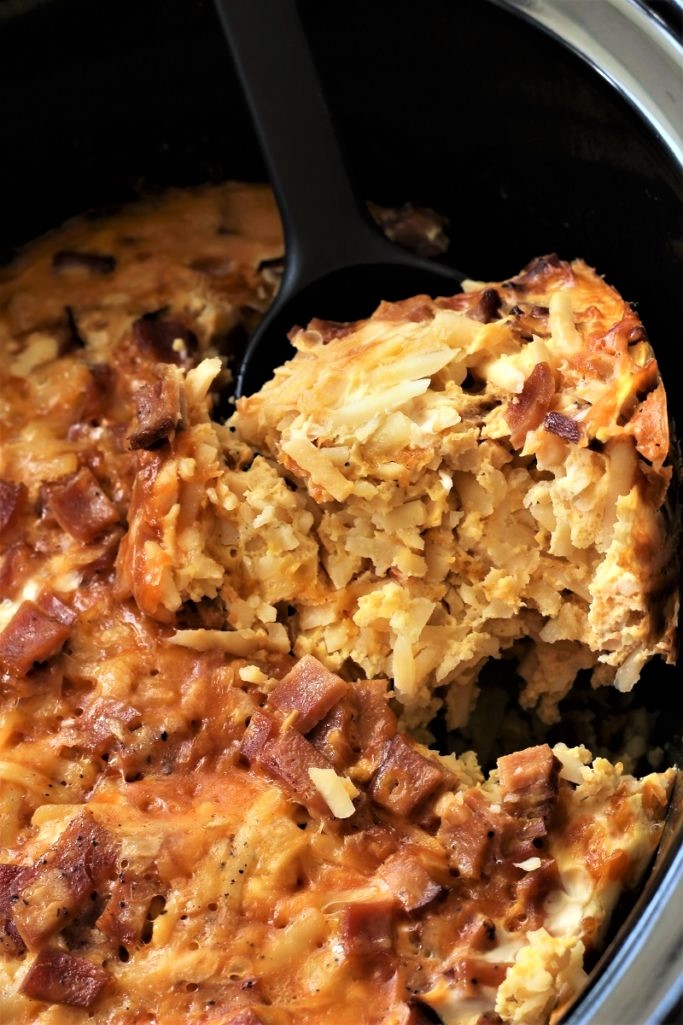 One of my favorite things that I did on my Alaskan Cruise was to go out on the deck of the boat. It was a lot of fun because we got to see some whales in the distance. The water was coming out of their blow hole. Even thought we didn't see them up close, it was still a lot of fun to experience seeing them from a distance.
And I did love every day seeing what they would be serving for dinner. It was nice not to have to think about what you were going to fix that night. Don't you agree that it would be so easy if someone would grocery shop for you and have the food on the counter. Then they would give you a recipe and say here you go!
Well this is extra hard lately because my husband and I are trying to see if we can eat better and feel better. So some of the recipes that I post will be healthy, and some of them won't be, because you need to enjoy life. The joy of eating well and the joy of having a treat once in awhile.
On our cruise, we ate whatever we wanted. Ooops! That must be why I gained a few pounds. I just love their desserts. I was pretty good and I didn't eat the rolls. (Only because they were hard rolls and my favorite are soft). I just can't resist soft rolls.
And another reason is because my daughter is trying to get rid of SIBO and so if she is eating healthy, I figure that I can too. This is the time of year that you will want to eat fresh fruits and vegetables.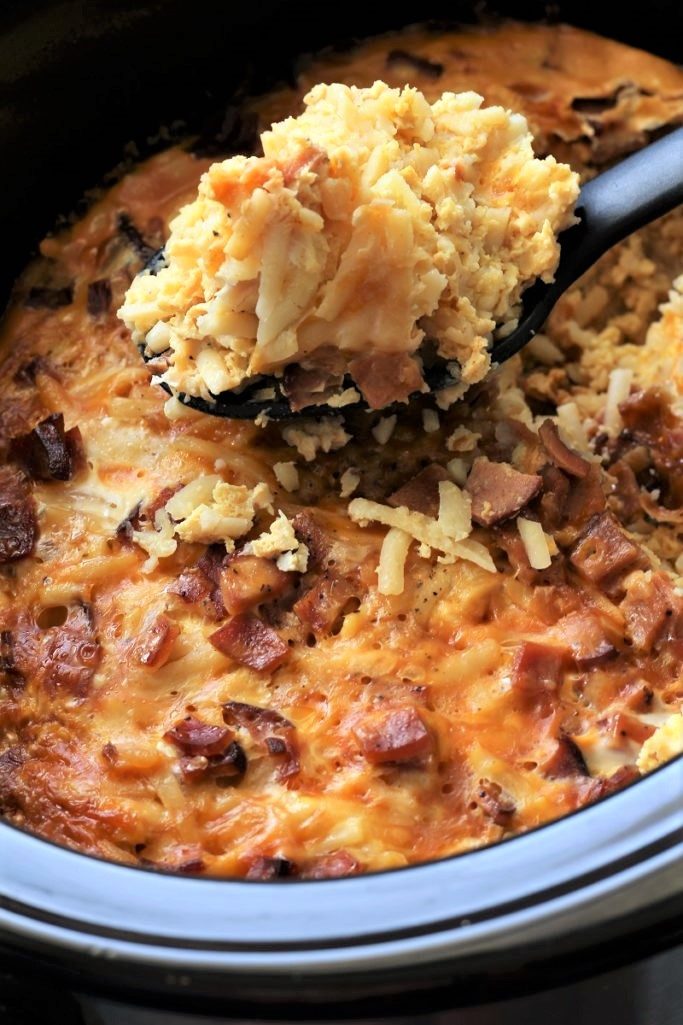 What are some of the fruit and vegetables that you like to eat? I love watermelon, grapes and blueberries! I also love zucchini, however, we will not be having zucchini from our garden this year because my son's dog keeps getting into my vegetable boxes and eating the leaves off of my zucchini and cucumber plants.I guess that we will have some tomatoes because he doesn't seem to chew on those!
Anyway I hope that you get a chance to try mountain man crock pot breakfast! I enjoyed mine with a glass of V-8 and a piece of toast. I hope that you enjoy it as much as we do. Also, since we have some leftovers, I am going to turn the rest into breakfast burritos for dinner.
One last thing that I need to tell you; in my picture, I did not have green peppers because it was my son's birthday and he doesn't like green peppers and that is why they are not in my picture. Next time, for sure I will be adding the green peppers. Happy Fourth and be safe.
Tips and tricks for Mountain Man Crock Pot Breakfast:
1- You could also use mild cheddar cheese or I also have used Colby.
2- Every crock pot is a little different, so if yours tends to cook faster than normal, you may want to try this recipe during the day and eat it for dinner before trying it overnight.
Yield: 10 people
Mountain Man Crock Pot Breakfast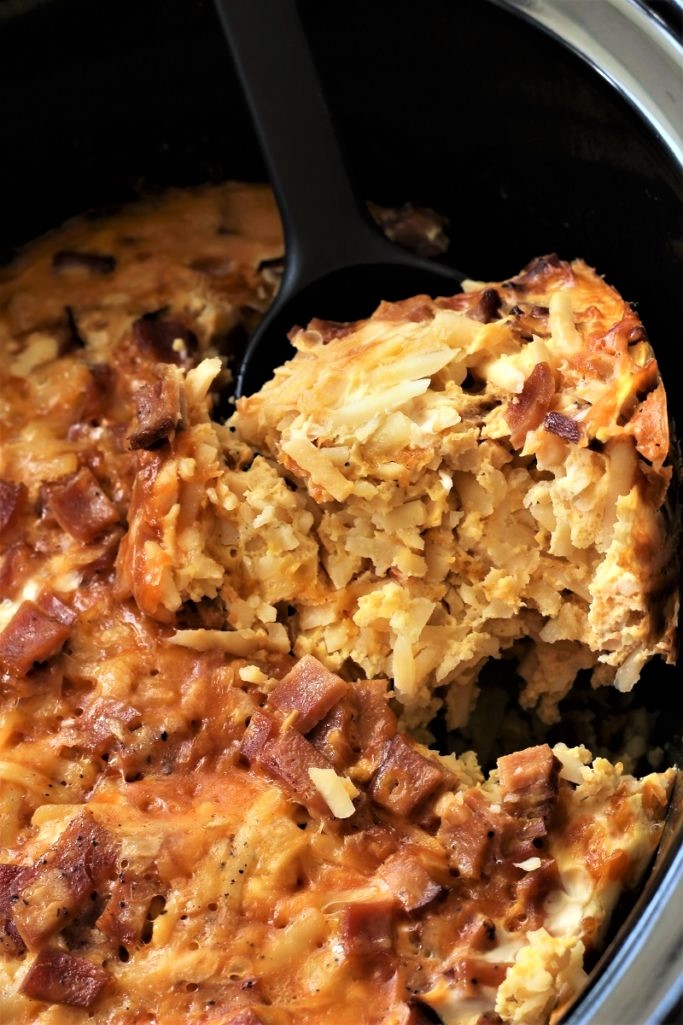 Prep Time 15 minutes

Cook Time 8 hours

Total Time 8 hours 15 minutes
Ingredients
1 (32 ounce) bag frozen hash browns
1 pound precooked ham or bacon
1/2 onion, chopped
1 green pepper, chopped (optional)
1 1/2 cup grated cheese, medium cheddar
12 eggs
3/4 cup milk, (we use whole)
salt
pepper
Instructions
Grease or spray the inside of a slow cooker. I use a 4 quart size.
Place 1/3 of the hash browns in the slow cooker.
Then add 1/3 of the ham or bacon, 1/3 of the onion, and then sprinkle salt and pepper on top of all of it.
Sprinkle 1/3 of the cheese on top of that.
Repeat the steps, hash browns, meat, onion, salt, pepper and cheese.
Repeat the steps one more time.
In a medium sized bowl, add the eggs and milk, blend until completely mixed.
Pour over the mixture.
Place the lid on the crock pot and turn onto low heat and cook for 6 - 8 hours.