Orange cream cheese filled pull aparts are one of my go to recipes when I am feeling a little bit pressed for time. We love orange rolls, but sometimes there just isn't enough time. These pull aparts come together in a jiffy. They are so sweet and filled with cream cheese, making them a treat for everyone.
Two times a year, our church has its meetings on TV and we usually try and have cinnamon rolls for breakfast. I was feeling a little extra tired this year and it was Easter as well. I took advantage of quickly putting these together. I also thought that with some Easter candy, we could just enjoy these orange cream cheese filled pull aparts with a smoothie as well. It turned out to be a very nice breakfast.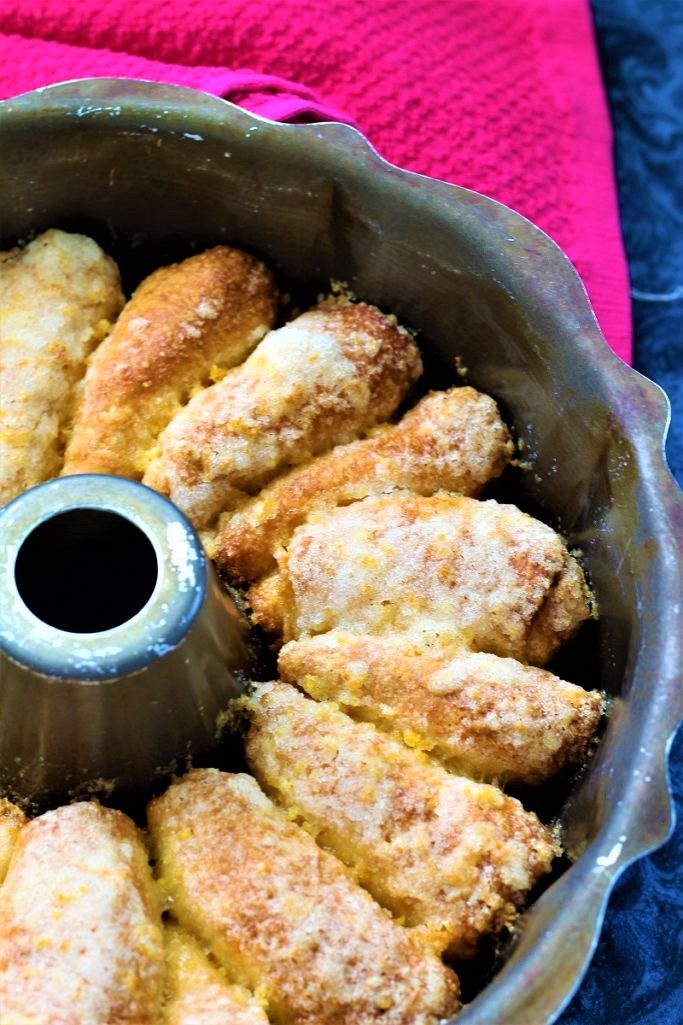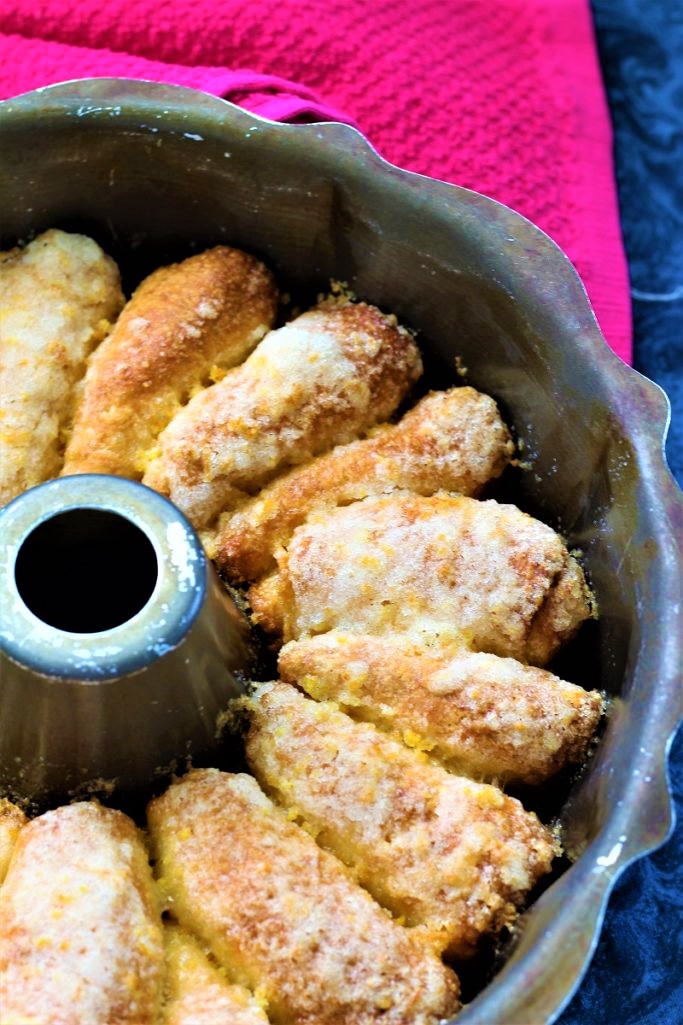 We did have a very nice weekend. The weather was perfect and it was so nice to have all the kids home. Our cute little grandson that is 18 months old, loves motorcycles. His grandpa took him out to see the motorcycles without his shoes on. My husband told him that they needed to go back in the house because grandpa didn't have his shoes on.
When they got into the house, my grandson went to our closet and came out with one of my husbands shoes. Ha ha. Then he turned around and went and got the other shoe. It was so funny. He is a thinker and pretty smart for a 1 1/2 year old!! It is so amazing how they pick up on more things than you ever think they do!
My other grandson who is 8, was outside because yesterday he found a snake and he had put it in a box in the shed and it got away. So he was wondering where his garter snake was. He came into the house and told his mom that he had stepped on a nail that was in a board. She asked him where in the world this nail and board were and he told her "in the neighbors back yard".
Yikes, even kids must think that the grass is greener over at the neighbors. I hope that your weekend was wonderful and that your Easter Sunday was wonderful. Next time you get a chance, I hope that you make these orange cream cheese filled pull aparts for breakfast and that you enjoy them.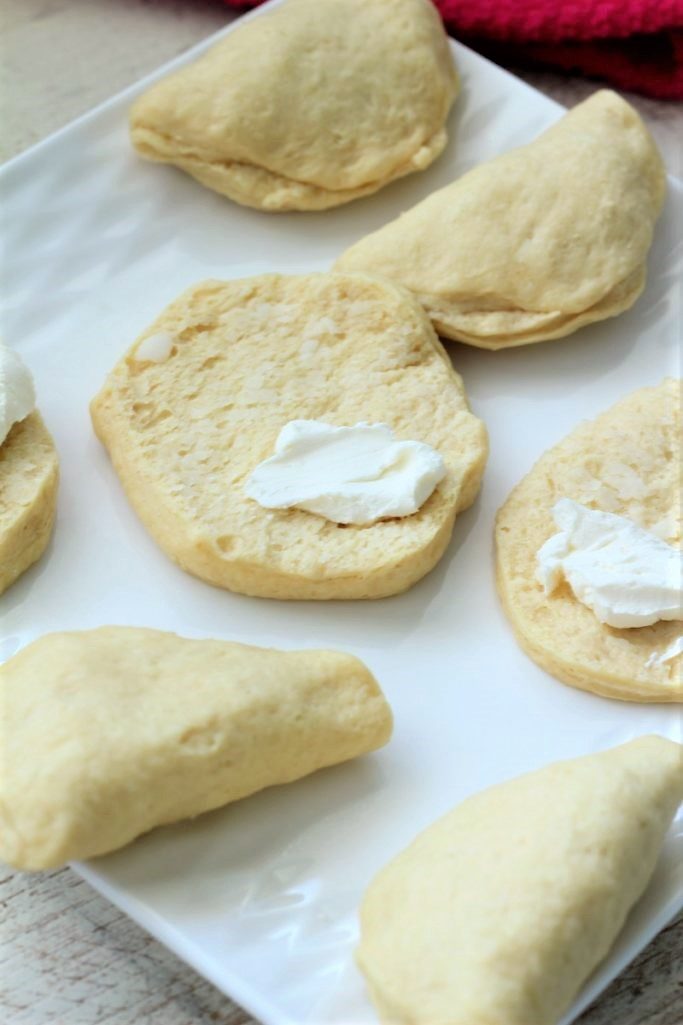 I chose to leave the nuts out because little kids don't always like nuts and then I did not put the glaze on because I feel like this recipe is sweet enough without the glaze. You can make it just how you want it though and I hope that you thoroughly enjoy them!
There are so many wonderful recipes that you can make the night before and then in the morning, place them in the oven. This one is also one of those awesome recipes. I am not sure what it is about getting up and making breakfast lately, it seems that I have a hard time getting going?
So if I can pull something out of the fridge and put in into the oven, that is the way to go! Another recipe that I love, is the mountain man crock pot breakfast. It is also one of those awesome breakfasts that you can make the night before and it is ready and waiting for you first thing in the morning.
I think that maybe, I will rename it sunshine breakfast. It is like waking up and having the sun shine. It helps you get your day going and you feel like you have accomplished a lot  before you have even done a single thing.
Wouldn't orange cream cheese filled pull aparts be perfect with the mountain man crock pot breakfast!!! Now we are thinking. The easier, the better and I know that your family is going to love both of these recipes!
Tips and tricks:
1- Use fresh orange zest, once I used dried and I did not care for the taste!
2- If you like, go ahead and use walnuts!
3- Brown sugar and white sugar both work!


Yield: 6 people
Orange Cream Cheese Filled Pull Aparts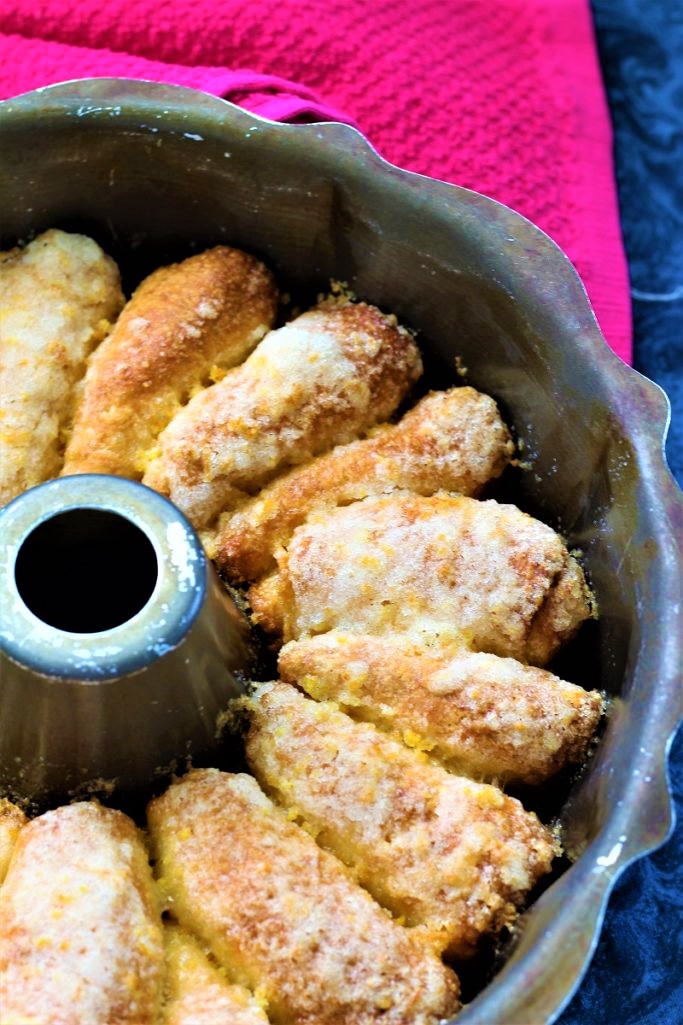 Prep Time 5 minutes

Cook Time 30 minutes

Total Time 35 minutes
Ingredients
3/4 cup sugar
2 Tablespoons orange zest
2 cans Pillsbury Buttermilk Biscuits
4 ounces cream cheese
1/2 cup melted butter
1/4 cup chopped pecans, (optional)
Optional Glaze:
1 cup Powdered sugar
2 Tablespoons orange juice
Instructions
In a small bowl, combine sugar and the orange zest and set it aside.
Cut the cream cheese into an equal number of squares as there are biscuits.
Place one square of cream cheese into the center of the biscuits and fold them in half making them the shape of a half-moon, then pinch the edges.
Melt the butter and then dip each biscuit into the butter then dip into the sugar mixture.
Place in a greased Bundt pan with the curved side down in a single layer, do not stack then on each other, and try to fill in the gaps.
Drizzle with remaining butter and sugar mixture.
Bake @ 350 degrees for 30 - 35 minutes, or until golden brown.
When finished, invert onto a platter.
Optional Glaze:
If you like, you can add the following glaze:
Mix 1 cup powdered sugar and 2 Tablespoons of orange juice together.
Drizzle over hot rolls.
Serve warm. (We like it without the glaze because it is already very sweet).