Mint brownies are the best for St. Patrick's day. We have a fun holiday coming up and I know that you will be looking for some fun ideas. So put these amazing mint brownies on your must make list. I love how moist and chewy they are.
I do love mint, however one day I used peppermint and I did not get very good reviews from my family. Now I always use mint flavoring and I get smiles and thumbs up. Including myself. I do not care for a brownie that tastes like toothpaste.
My sister went to Brigham Young University and they are famous for their mint brownies. I received this recipe from a friend, and we love it. It is tricky to like to bake because sometimes you just have these little things that you do while you are baking.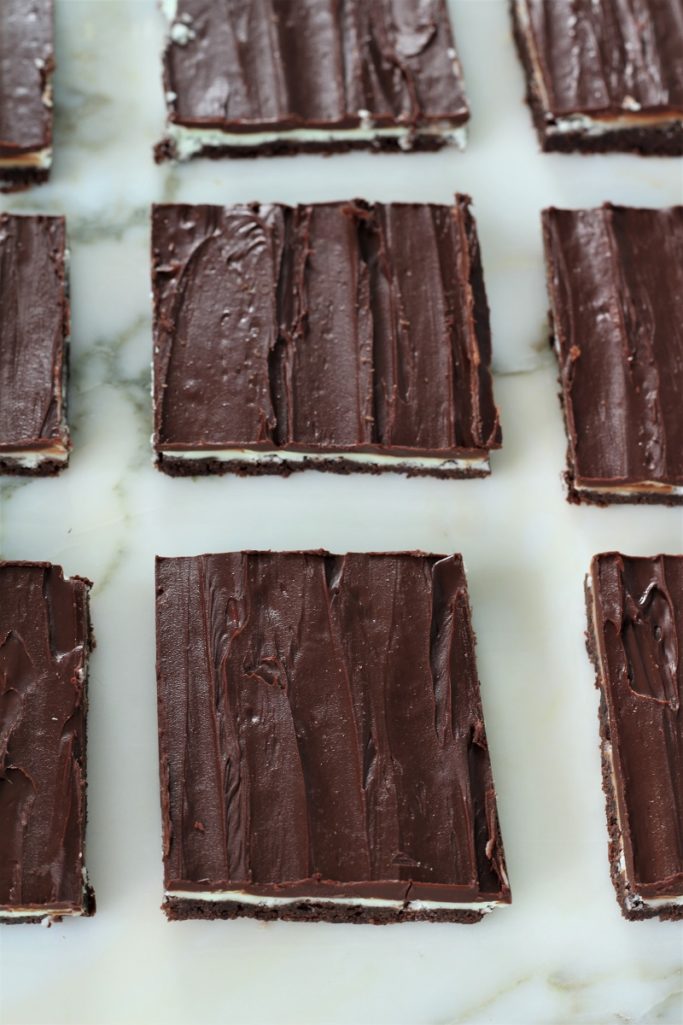 Maybe you add a little salt one time and the next you do not, or vanilla or no vanilla. I know one time I used peppermint and I never did that again. My family said that they felt like they were eating toothpaste.
I must tell you a crazy story. My husband was taking a walk last evening with my son's dog, (his name is Apollo, my son's dog that is) ;). It was dark and there was a slight drizzle of rain going on. Our neighbor bought a new trailer and so my husband wanted to see it.
They went and visited for a few minutes and then my husband headed home. They went around the corner and all of a sudden they thought they saw a cat. My son's dog is only 10 months old and even though he looks big, he is still a puppy!
He is a German/Dutch Shepard. Well guess what, he decided whatever it was, he wanted to play with it. The only problem was that it was not a cat, but it was a RAT!  Yikes! My husband was not very happy to have an encounter with a rat.
Once he looked at it, he knew that it was a very fat rat. Apollo did want to play with it, however my husband did not let him because he did not want the dog to get rabies or anything like that. They quickly moved along and came home.
Another scary part of this story is that the rat was so fat that my husband thinks that the rat was about to have babies. Double Yikes!! I think that I will stay in the house and eat some yummy mint brownies.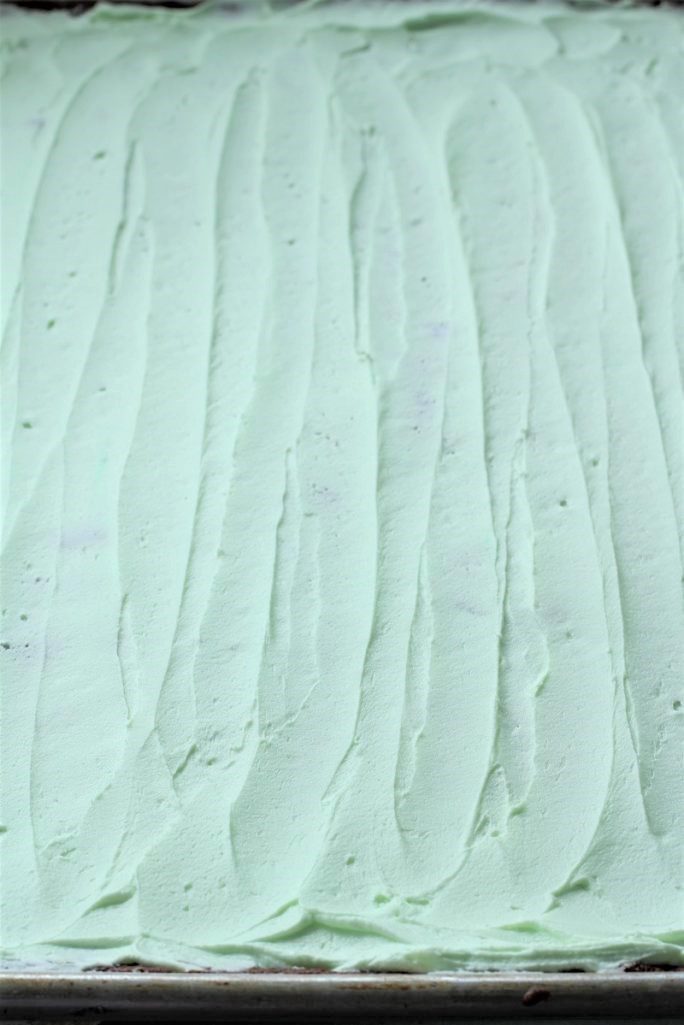 And this leads to my funny story. My grandson reads this card that his parents received from the neighbors. It says something like "Congrats on your new baby we are so happy for you. We are very excited to meet this new baby sister". However this is how my grandson reads the card.
"Rats, on your new baby sister, we do not want to meet her". Ha ha. He is a funny two year old. There is truly never a dull moment with him around.
And I must say the same about my granddaughter that is almost 2, she is always getting into something, and this morning, she even called grandma. I guess that she was just missing me.
She colored on a doll that we have had for 20 years. She used a pen and I have not been able to get it off! What in the world am I to do? I thought hair spray would take it off, but it never even touched it. She is a little monkey and she can get into something before you even know that she has slipped away to get into mischief.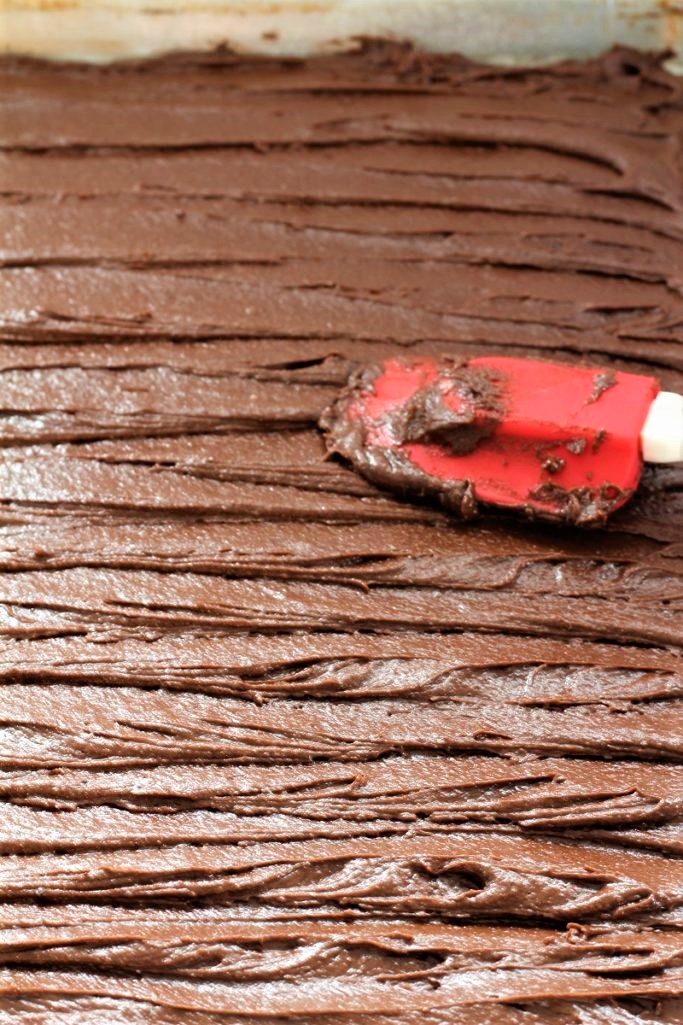 Oh wow, it is time for a mint brownie. Look at how good these look. I know that if I was home alone for a few days and I had a good movie to watch, I could finish a batch of these by myself. And I must say that they do make a large batch.
It is amazing how the flavors all just blend so well together. I do love mint and chocolate. And I know if you try these mint brownies that you will really enjoy them too.l
Tips and tricks:
1- My best trick for these mint brownies, is when they have cooled off and you frost them with the green frosting, set them in the fridge and allow the frosting to get cold. That way it is easier to spread the chocolate that goes on top of the green frosting.
2- If you are a big mint fan, you may want to use 1/3 teaspoon or 1/2 teaspoon of mint flavoring. I tend to like my mint brownies a little on the milder side.
3- For a fun St Patrick's idea, you might want to melt some mint green chips and drizzle over the top of the brownies!


Yield: 20 people
Mint Brownies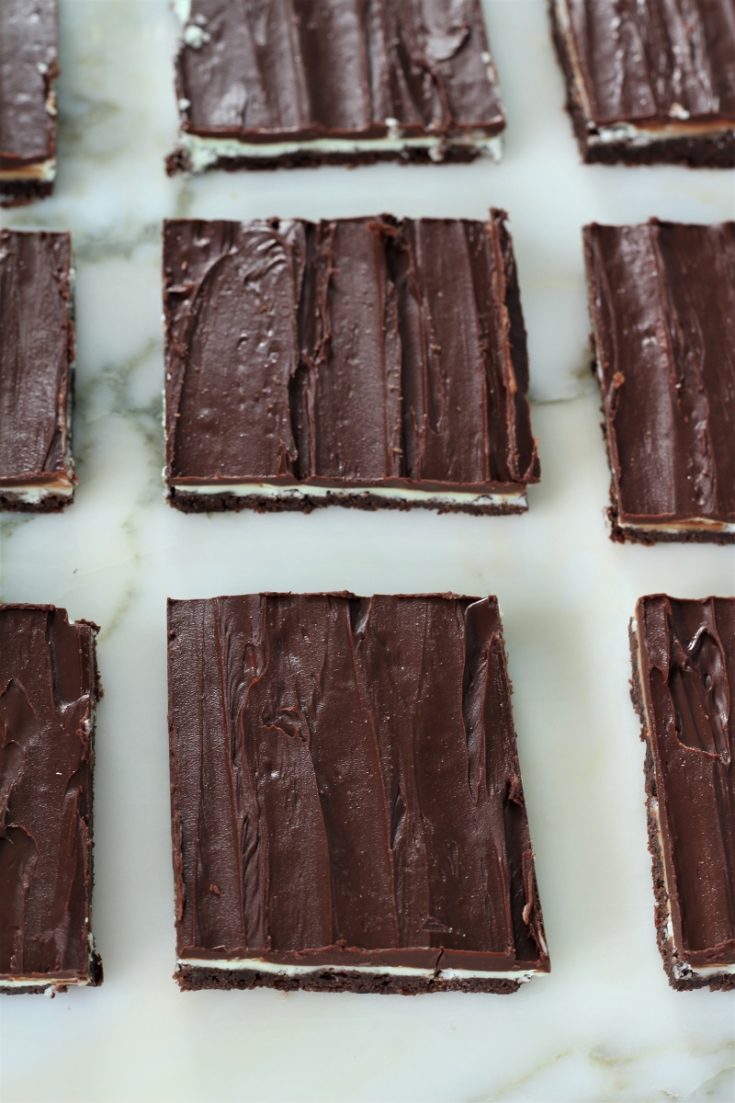 Prep Time 20 minutes

Cook Time 18 minutes

Total Time 38 minutes
Ingredients
Brownies:
1 cup butter
1 1/2 cups sugar
1/2 cup cocoa
2 Tbsp honey
4 eggs
1 teaspoon vanilla
1 1/2 cups flour
1/2 teaspoon baking powder
1/2 teaspoon salt
Mint Icing:
1/2 cup butter
2 Tablespoons milk
2 cups powdered sugar
1/2 teaspoon mint extract
2 drops green food coloring
Chocolate Topping:
1 cup chocolate chips (I use semi sweet)
6 Tablespoons butter
Instructions
Brownies:
Preheat the oven to 350 degrees.
In a large mixing bowl mix the butter, honey and sugar, until creamed together.
Then add the vanilla and eggs, one at a time.
Add in the cocoa, flour, baking powder and salt just until combined.
Place in a jelly roll pan or a baking sheet that has been greased and floured.
Smooth the batter with a knife or a rubber scraper.
Bake for 17 - 20 minutes, or until the center of the brownies comes out clean when tested with a wooden pick.
Remove from the oven and allow the brownies to cool.
Mint Icing:
In a medium bowl, place the softened butter and the powdered sugar.
Then add the milk and the mint extract, (Not peppermint) and mix with a hand mixer on high until very well blended.
Add 2 - 3 drops green food coloring and blend in.
Spread the mixture over the baked brownies, then place them in the refrigerator.
Chocolate Topping:
In a microwave safe bowl place the butter and the chocolate chips.
Microwave on power level 5 for 30 seconds.
Remove from the microwave and stir until the chocolate mixture is nice and smooth.
Place it on top of the green frosting and smooth.
Allow the mixture to cool or place it back into the refrigerator.