Instant Pot Beef Stroganoff is a great dinner when you are in a last minute hurry and not sure what to have. I have had a few of you asking for an Instant pot recipe. I was a little skeptical because my Instant pot is a different brand and I have had it for about 10 years.
So I decided today to go ahead and try this instant pot beef stroganoff and I must say that it is truly a keeper. The only problem with this blog post is that when I went to take the picture, one side of the legs gave way on the table that I had the pot sitting on, and most of the stroganoff ended up on my laundry room door and floor.
I must say that I was not very happy to have instant pot beef stroganoff all over the laundry room. My son called me and asked me how I was doing and I told him that I was mad. He told me that that was a waste of time, and I knew that he was right, but sometimes you just gotta stew a little.
Then I thought to myself you can laugh or be mad. I really should have taken a picture of my door and posted it on the blog, but I did not want that picture in all of your minds or you just might not have wanted to try this amazing instant pot beef stroganoff.
My son also told me that his son isn't minding him lately. I told him that what comes around goes around. I tell him all the time that he needs to eat his greens, and he tells me that he would rather not. I told him that his son is showing him how it feels when your children don't mind you. You don't eat your greens and your son doesn't want to stay in bed. I told him that if he will start eating his greens, his son will start minding him!!!
Maybe it is the day when things just aren't sitting right. I did wake up at 4:00 AM and I couldn't go back to sleep. Don't you just love those mornings. However, I think that I will be sleeping well tonight.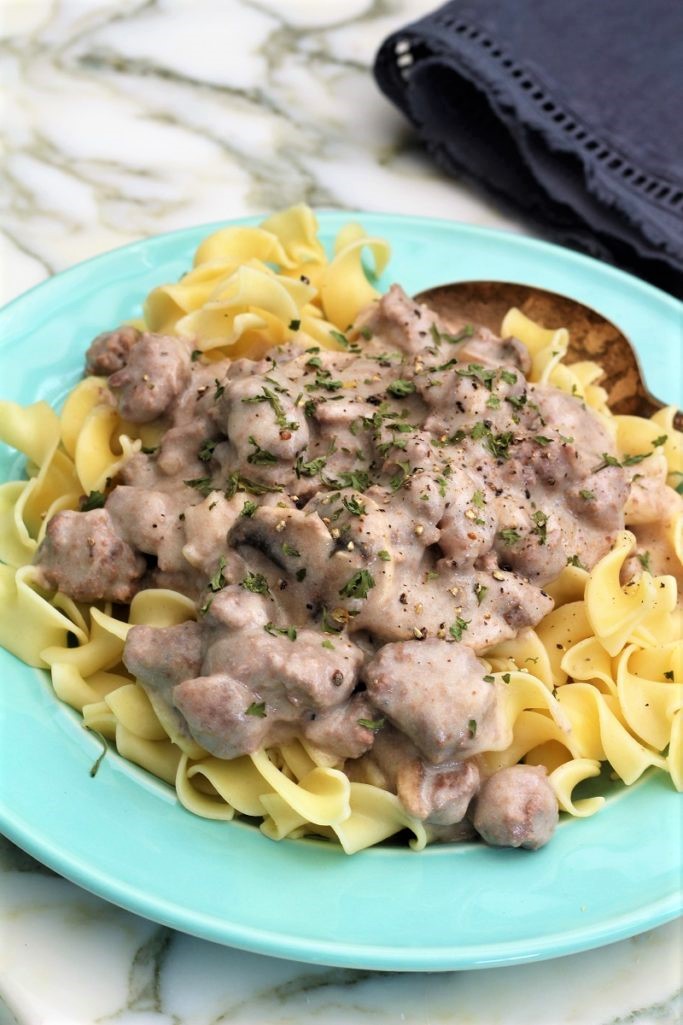 Then again, maybe it is something in my house. Last week the laundry room light gave up the ghost and last night when my husband turned on the kitchen light, it did the same thing! What is going on? That was just too weird. I know that we have lived in this house for 22 years, but it was strange that they would go out at the same time.
I guess it is a good thing that they went out at the same time, that way you can get in the light fixing mood and fix a couple of lights at the same time. It sure is funny how we are just use to having things at our fingertips and when you go to turn on the light and it is not working, it is a big inconvenience.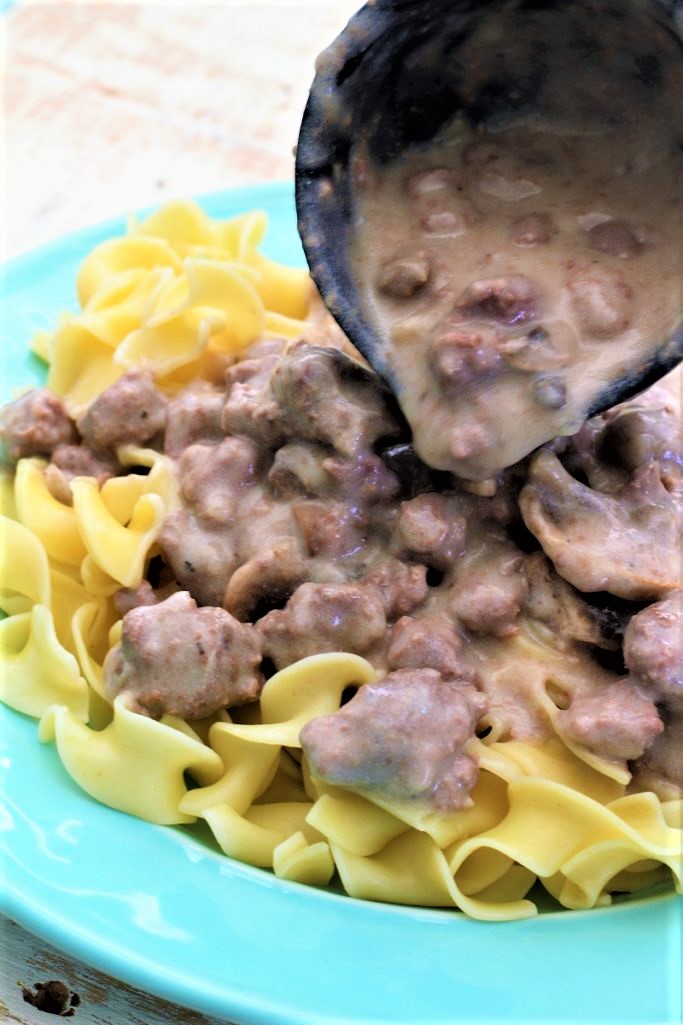 Well if you look at my instant pot beef stroganoff and think that the pictures are all very much the same. They are!! It is hard to take a picture when most of the dinner is in the trash! 🙁 I must say that I do know things will only go up from here.
I went the other day to visit my grand kids and I took the 4 year old a book. She was so cute about it, and she was excited that she could read some of it. I really think that most of the reading was memorizing, but who cares, at least she was excited and thinking that she was pretty big.
After the fourth time reading it, I had it memorized too. It was a cute little book about Daniel Tiger, and she has always loved Daniel Tiger. It was about going to the library. They do have fun books for kids to read.
Her brother, all he wants to read about is spiders and sharks. I think that I will stick to Daniel Tiger, as that is more my speed. I also love the "Little Critter Books". They are a lot of fun and he reminds me of all of my kids mixed together.
Well, I hope that you get a chance to try instant pot beef stroganoff, let me know what you think of it and if you have any different twists to stroganoff. Thank you for stopping by and I hope that you have a wonderful day!
Tips and tricks:
1- You could use onion salt if you do not have an onion to chop up, (Use 1/2 teaspoon).
2- You could also use plain yogurt in place of the sour cream.
3- If you have left over roast, you could use that chopped up in place of the stew meat.
4- If you do not care for mushrooms, leave them out.


Yield: 6 people
Instant Pot Beef Stroganoff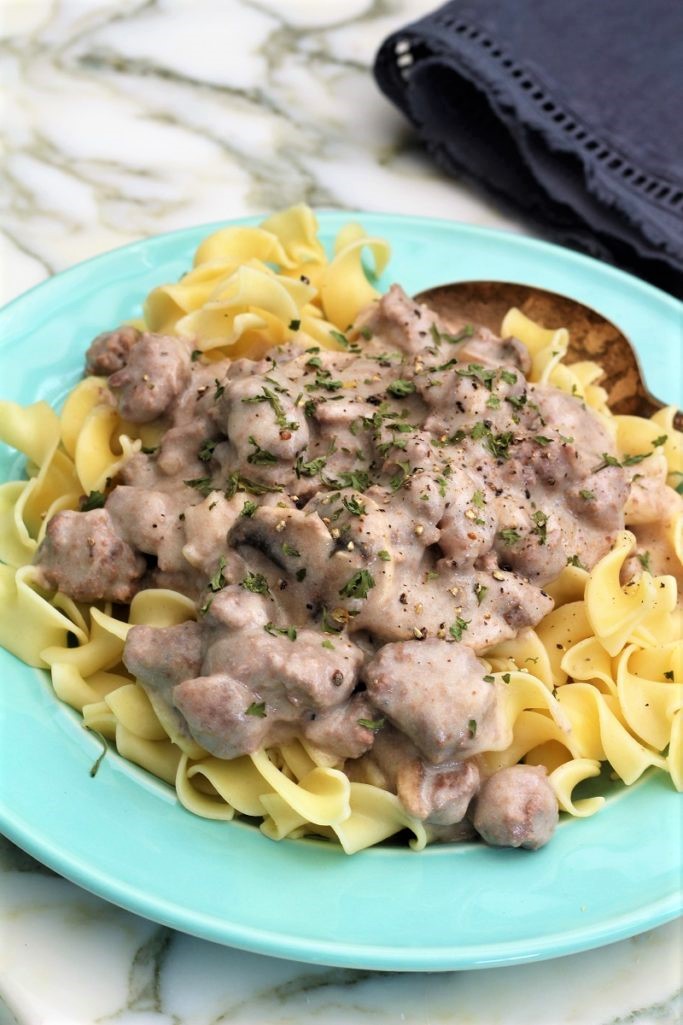 Prep Time 10 minutes

Cook Time 30 minutes

Total Time 40 minutes
Ingredients
2 pounds stew meat
3/4 teaspoon salt
1/4 teaspoon black pepper
1/2 onion, chopped
1/4 teaspoon garlic powder
1 Tablespoon Worcestershire sauce
1 1/2 cups beef broth
1/3 cup flour
1/2 cup water, broth, or apple juice
1/2 cup chopped mushrooms
1/2 cup sour cream
Instructions
In the insert of a Instant pot, place the stew meat, salt, pepper, onion and garlic powder, Worcestershire sauce, and broth.
Stir to season the meat.
Secure the lid and turn the valve to pressure for 30 minutes.
After the 30 minutes, allow the cooker to sit for 10 minutes letting the pressure start to go down on its own.
After 10 minutes turn the dial to quick release.
Stir the mixture with a wooden spoon, breaking up anything that has cooked together.
In a small bowl mix the flour and liquid. Whisk very well.
Then add the sour cream and pour the mixture into the pot.
Cook for about 2 minutes or until the mixture starts to thicken, stirring the whole time.
Add the mushrooms if desired.
Then you can serve it over pasta or rice.
Garnish: Parsley and fresh black pepper