Cheesy potato chicken instant pot soup is one great soup to make in your instant pot! I took my cheesy potato soup recipe and added some chicken, parsley, and some garlic, and it turned out delicious. Even my son that is the pickiest eater, asked me if I had ever made this soup before. I told him, yes all the time, except I added some chicken and a garlic. He loved it, and so did the rest of us.
I did use Yukon Gold potatoes; that way when you cook them, they stay in chunks. They are a firmer potato that the Russet. You could try red potatoes as well. The texture was great and the cheese made it perfect.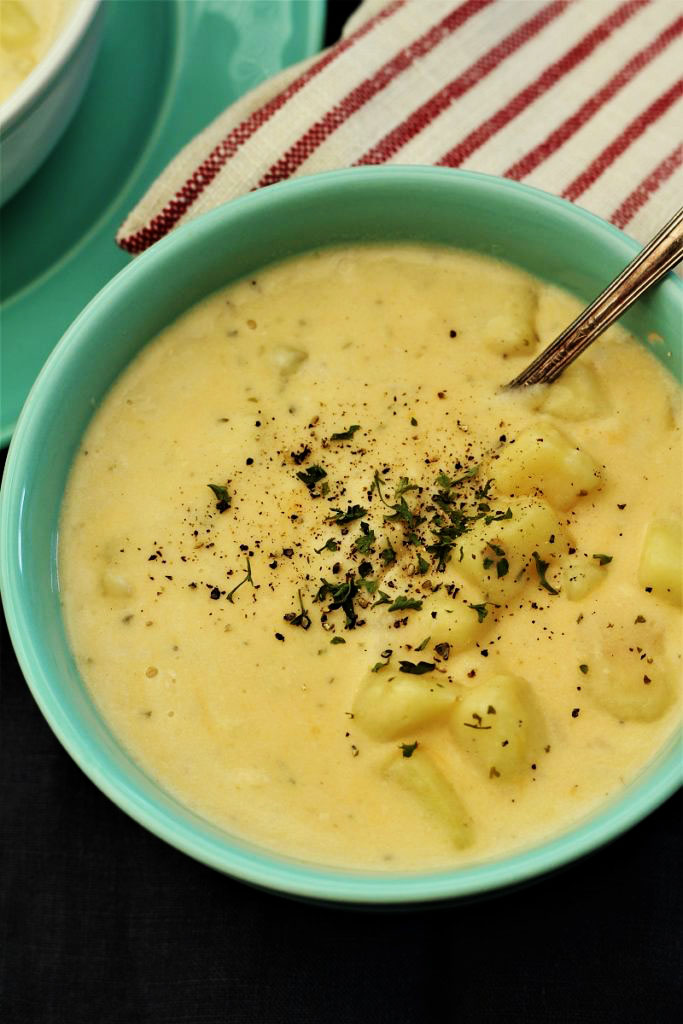 I made soup because it is almost the middle of February and Spring will be here soon. Some of the flowers are starting to come up already. I can't believe it. We have had a very mild winter. I think that it has only snowed two times and one of them, we didn't even shovel the snow.
And get this, my son told me that they were mowing the lawn at his work today. Who mows the lawn in Utah in February? I guess I better hurry up and get my spring cleaning done before it is time to get outside and weed the flower beds.Well, I better do that next week, because some of my flowers are starting to come up already. Yikes!
Well, whatever the case, it is time to make some of this amazing cheesy potato chicken instant pot soup. The weather is still a little cool and perfect for a nice bowl of soup. Add some bacon to the top or just dip some bread in it. One of my sons ate a few crackers with his (one package).
Another side dish that would be good with this is some cornbread. You can try our fluffy cornbread recipe that I posted a few weeks ago. It is our favorite go to recipe for cornbread. I would have loved a slice of home made bread, but I didn't get around to making it. What are you thinking about making for your Valentin's Dinner? It is in a few days. Something simple or something hard. I guess I better get figuring it out soon. Enjoy your Cheesy Potato Chicken Instant Pot Soup!!!
Cheesy Potato Chicken Instant Pot Soup
Prep time:
Cook time:
Total time:
Ingredients
2 Tablespoons butter
½ cup onion, chopped
1 clove garlic, minced
6 cups peeled, cubed potatoes
3 cups low sodium chicken broth
¾ teaspoon salt
¼ teaspoon pepper
2 teaspoons dried parsley
¼ cup all purpose flour
2 cups or 1 pint half and half
2 cups shredded or grated cheddar cheese
2 cups cooked chicken, shredded
Bacon bits and additional parsley for garnishing
Instructions
Set your Instant Pot on saute or browning. Place the butter, onion, and garlic in the Instant Pot and saute for 2 minutes.
Boil chicken in 2-3 cups of water until the chicken is cooked through on the stove top.
Add 1 cup of the chicken broth, and all of the potatoes. Put the lid on the instant pot and cook on high pressure for 4 minutes. Use the quick release.
In a separate bowl, mix together the flour, half & half, and the other 2 cups of chicken broth. Add this mixture, and the salt and pepper to the instant pot. Saute until thickened.About 3 minutes.
Stir in cheese and then the chicken and leave on low heat until cheese is melted and soup is warmed through.
Garnish with bacon bits and more parsley if desired, serve immediately.
This recipe can also be made on the stove top. The only difference would be the cook time on the potatoes. (about 25 minutes on the stove top instead of the 4 minutes in the instant pot).