Instant pot ham and bean soup is a perfect way to use up that leftover ham. I don't know about you, but I know that we have leftover ham after New Years. So I knew that it was time to use some of it up on some instant pot ham and bean soup.
I must say that I was so happy not to soak my beans overnight. And within an hour, I had Instant pot ham and bean soup. It was wonderful. I have always loved making navy bean soup, but I was really happy to make instant pot ham and bean soup.
So I must say that New Years day was not what we expected. It has been a bit rough the last two months. First we lost my husband's father and New Year's Day, we had to put our dog down. I must say it was a little harder than I thought it was going to be.
Her name was Bridgette and she has been with us for almost 14 years, her birthday was in March. She came from a pack of wild dogs and her mother was killed, the pups were found and my son brought Bridgette home to live with us.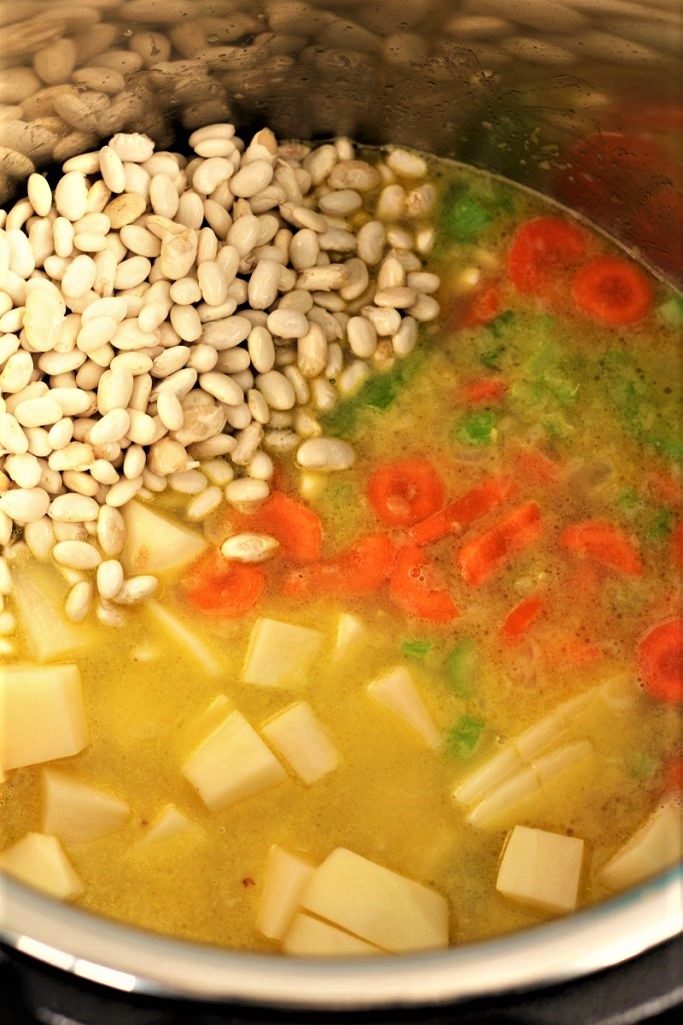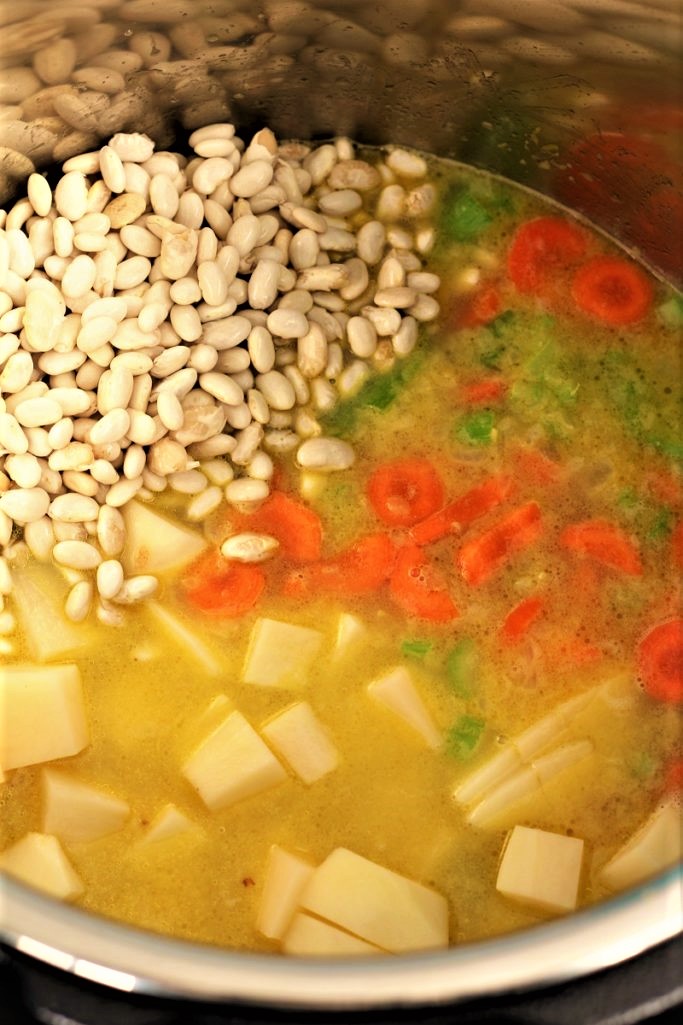 We have allergies to dogs and so I finally agreed to let them keep her and she would be an outside dog. She was a cute little puppy and I remember the first two nights that we had her, she cried all night.
Bridgette has been a great guard dog and a friend to all of my haircuts that come to the house. (Except 3 people). For some reason, there was a couple of people that she just did not like. I have no clue why.
She has made sure that no one that she doesn't trust comes in our back yard. And she also had a hard time with little yappy dogs. She wanted all to know that the back yard was her domain.
I have had a couple of older ladies that just loved and adored Bridgette, in fact one of them passed away about 9 months ago. This cute lady use to think that we never fed Bridgette even though Bridgette was a little chubby at the time, and so Betty would bring her food.
I think that Betty use to clean out her fridge and bring it to Bridgette on a paper plate. Then my husband and my son told me to tell her not to bring any more food. I think that they did not like cleaning up the mess after she had eaten some of the things that Betty brought.
Betty was sad, but she finally agreed. Then there is Miss Olive; she loved to bring Bridgette treats every week. Then my son got a new dog, Apollo. Apollo, is still just a pup, and he loves to jump on people. He is Mr. Friendly.
Well, I must say that a 60 pound dog jumping on a lady that is 83 years old, does not work. So we had to have Miss Olive stop bringing treats. That way Apollo is better about not jumping on Miss Olive to get a treat.
Miss Olive is a little scared of Apollo because he is a German/Dutch Shepard. I think that she has seen too many movies where that kind of dog gets the bad guy. And his face can be a little intimidating. He is really a big teddy bear unless another dog comes around.
Anyway, it is always hard to lose a pet, however, I must say that it sure was nice of my son to buy a dog for my husband to take care of, or not. I do think that Bridgette will go to dog heaven other than she did bite my nephews dog, and in self defense, the dog is a yappy dog and its name is Bacon.
For sure Bridgette will be missed, and I think that Apollo is going to miss her the most. He did bug her too much, but I know that he is feeling a little lonely today. If we can teach him to not chew everything up and to not jump on people, I think he will be a great dog too.
There were times that I know Bridgette made things a lot safer at our house, even if it was a cat trying to come into the back yard. I must say, that I am happy for her, she was getting so that she could hardly walk, she had  a hard time seeing and hearing. So happy that she is out of pain. She will be missed.
So now if you have those days like I did today, and you just do not feel like cooking, get out the Instant pot and make yourself a batch of Instant pot ham and bean soup. It really is very tasty and very quick.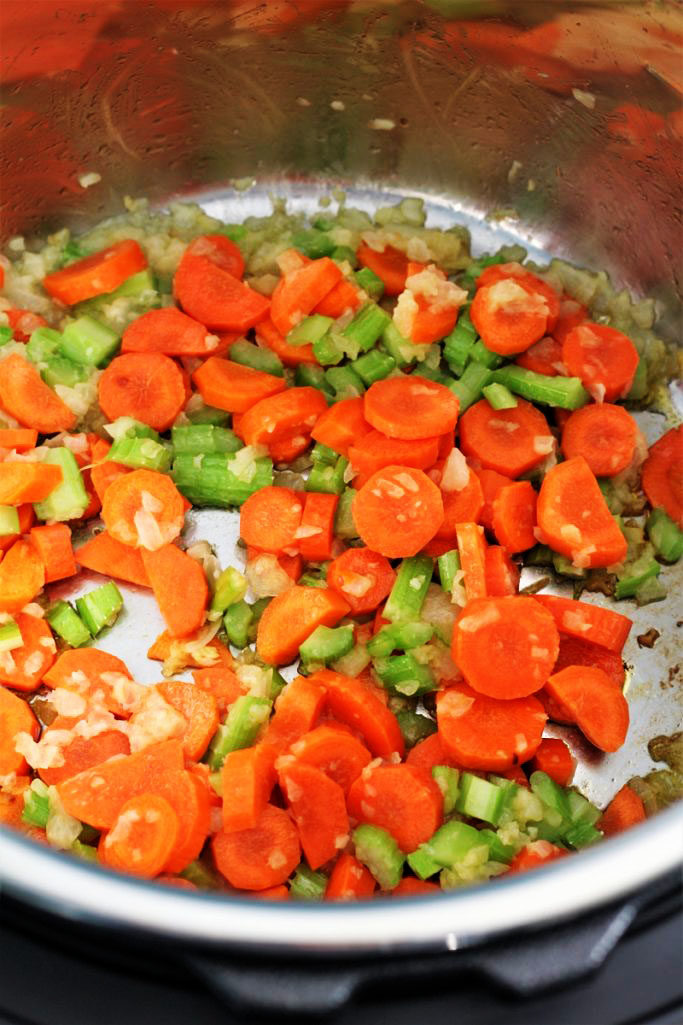 Tips and tricks:
1- Like I said, the bean and chili setting was not quite enough time for the navy beans, so if you do not soak them, turn the Instant pot back on and cook the soup for another 5 minutes, just on the regular setting.
2- Use leftover ham; it makes it wonderful.
3- If you have a ham bone, you can soak the beans overnight, and then using a heavy kettle, place the bone and the beans adding 3 quarts of water, and simmering for 2 hours. Add the potatoes, onions, celery, carrots, garlic, parsley, salt and pepper. Simmer for 1 more hour. Remove the ham bone; cut off the meat and chop it fine. Add more salt and pepper if needed, and enjoy.
4- Newer beans cook better than older beans that you may have had for awhile.


Yield: 8 people
Instant Pot Ham and Bean Soup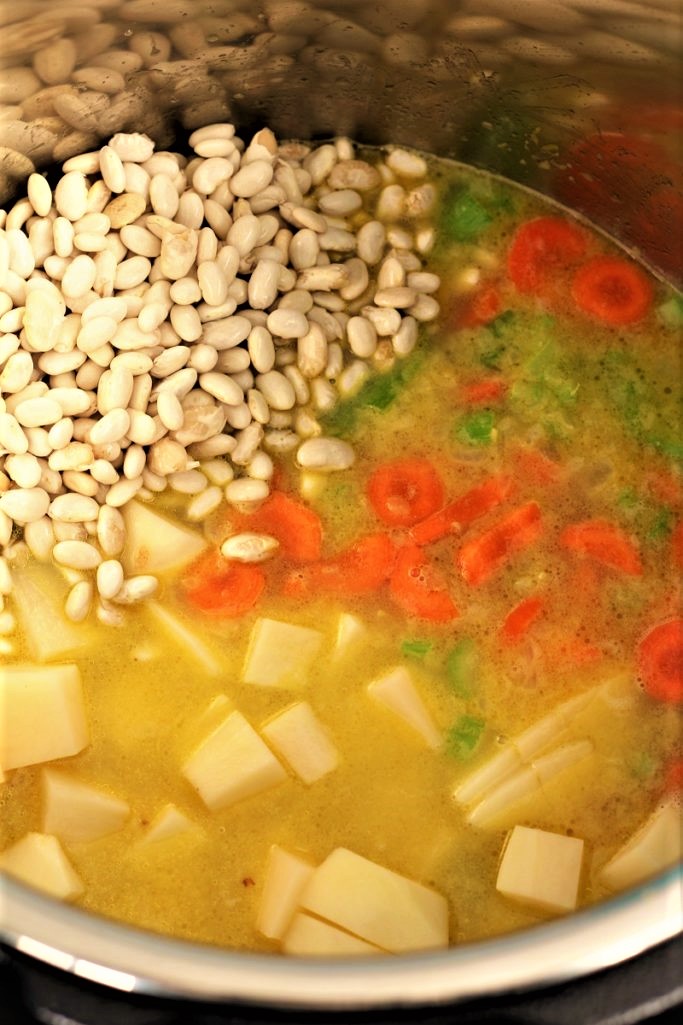 Prep Time 5 minutes

Cook Time 35 minutes

Total Time 40 minutes
Ingredients
1 - 2 Tablespoons butter
1/2 onion diced
1 Tablespoon minced garlic (about 2 large cloves)
1 1/2 cups potatoes, peeled and diced
3 carrots, peeled, and sliced or diced
1/2 cup celery
1 Tablespoon minced garlic (about 2 large cloves)
1/2 - 1 teaspoon salt (depending on how salty the ham is)
1/2 teaspoon pepper
1 Tablespoon dried parsley
2 cups ham, diced
1 lb. dry navy beans
4 cups chicken broth
3 cups water
Instructions
Rinse and sort through the beans.
If possible soak them for an hour or two before adding them to the pot.
Set the instant pot to saute. Place the butter in the bottom and let it melt. Then add the onions and the garlic. Stir until they are translucent.
Add the potatoes, carrots and the celery.
Cook for 2 - 3 minutes.
Then add the broth and water.
Add the salt and pepper, and stir until mixed.
Push cancel. Then use the bean and chili button.
If you do not have time to let your beans soak ahead of time, you may have to add 4 more minutes after using the bean and chili setting.
Then let the pot use a natural release for about 10 - 15 minutes.