Frosted sugar cookie bars are so soft and chewy you will not be able to resist eating them. So I decided that it will be a long time until I make these again, only because they were so delicious; I had a hard time not eating the whole pan.
As we all know, Valentines Day is just around the corner and if you don't have a clue how to show your Valentine that you love them, whip up a batch of these! My Valentine will have to get something else, remember, I can't make another batch. 😉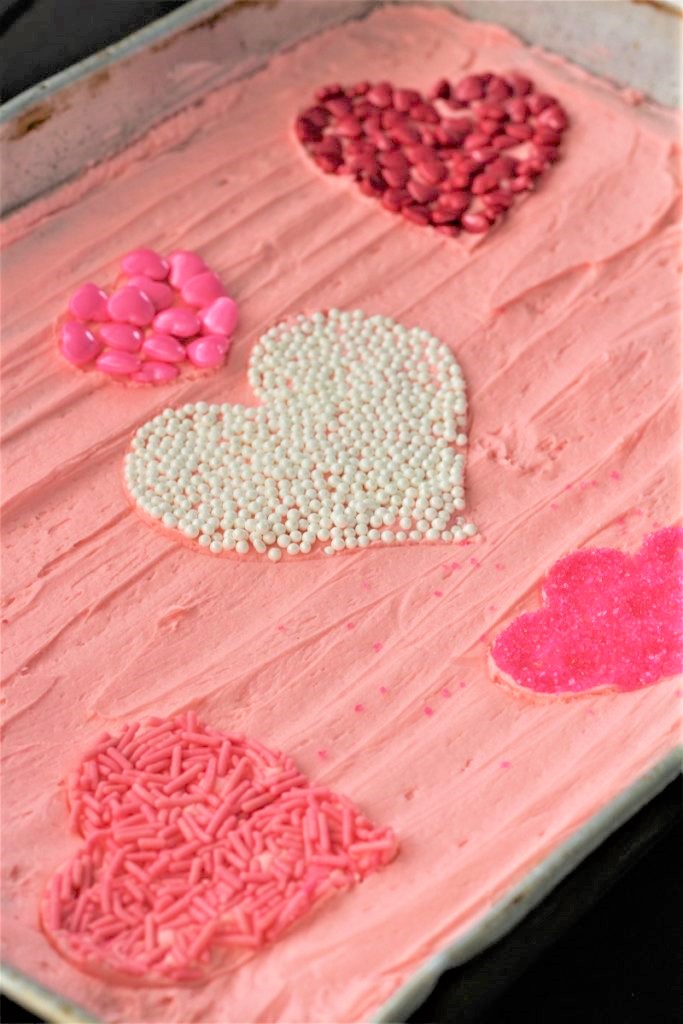 I had someone ask me what we do for Valentines Day and I said, "not a lot", we are a little boring around here. My husband almost always gets me a very nice card, but I came from a family that money was scarce and my sweet mother would say, "here is $2.00 instead of a card, you just throw the card away".
And so we didn't grow up giving cards, and when people got married, she would make her own out of recycled paper. The cards worked very well and she is right, eventually we just throw them all away. But I have come to realize that it is really important to let people know that you love them and that you are thinking about them and so I am trying to get better at doing so.
Come to think about it, everything we have will go to someone else or they will throw it away, but we still give gifts. I guess that is why the older we get, the more we realize that people matter; stuff, not so much. Do something nice for your Valentine, unless it is going to get you in trouble, then take my advice and buy them something!!!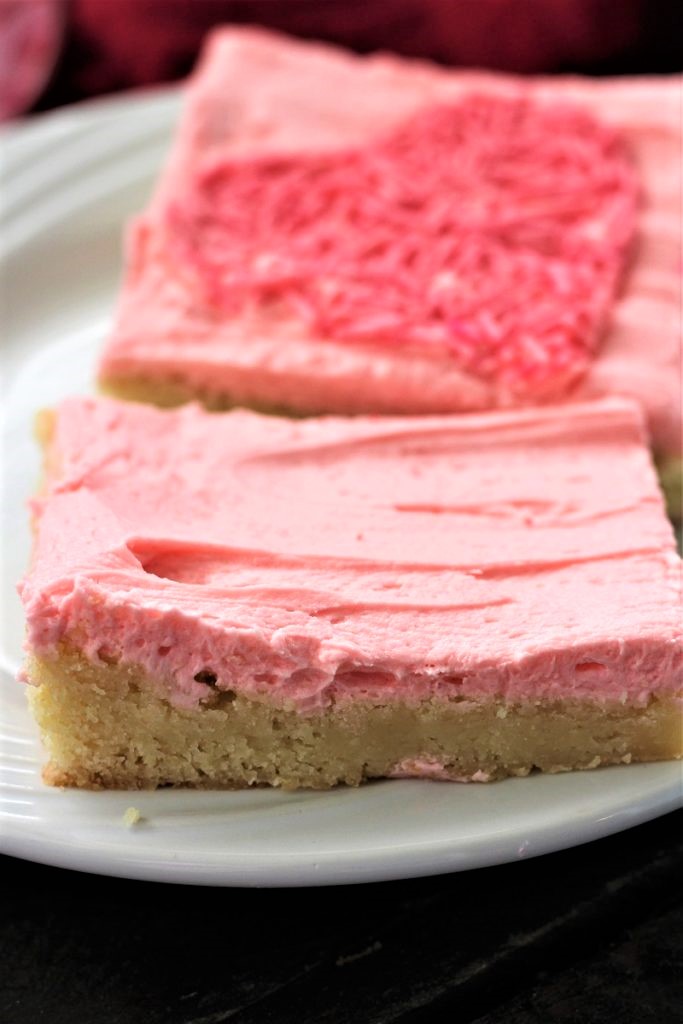 So my little grandson that is almost 18 months old was here the other day, and his dad was trying to get him to howl like a coyote. Sunday afternoon they all laid down in the same room to take a nap, in my son's old bedroom. It still has some animal border wall paper on it and one of the animals just happens to be a wolf.
They are laying there and all of a sudden my grandson stands up, looks at the wall, and starts howling at the top of his lungs. Ha ha. They ended up putting him in a different room for a nap. I sure am glad that there weren't any pictures of wolves or coyotes at church…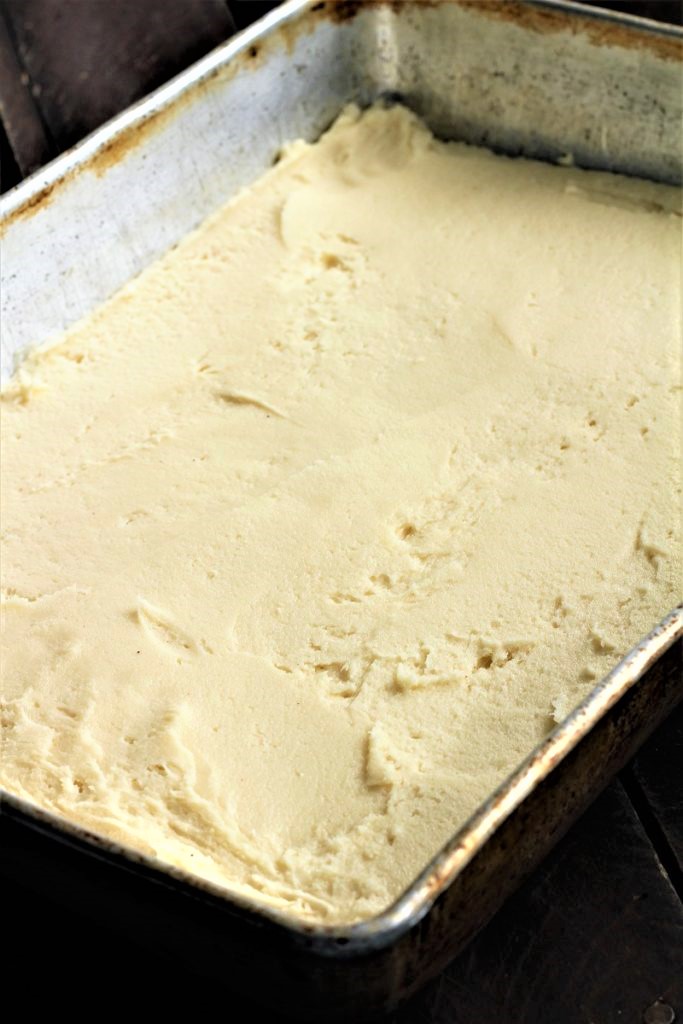 It is always nice to have a good laugh. And it is always nice to do something nice for your Valentine so go ahead and make up a batch of these yummy frosted sugar cookie bars. I love sugar cookies, but I just don't like rolling out the dough and cutting out the cookies.
These frosted sugar cookie bars are a great way to go. Also I just took my cookie cutters shaped like hearts and set them on top, that way you can make cute little heart shapes on top of your bars. If you like, you could put a small heart on each piece. Just have fun! PS This is my favorite OLD pan!!


Yield: 16 bars
Frosted Sugar Cookie Bars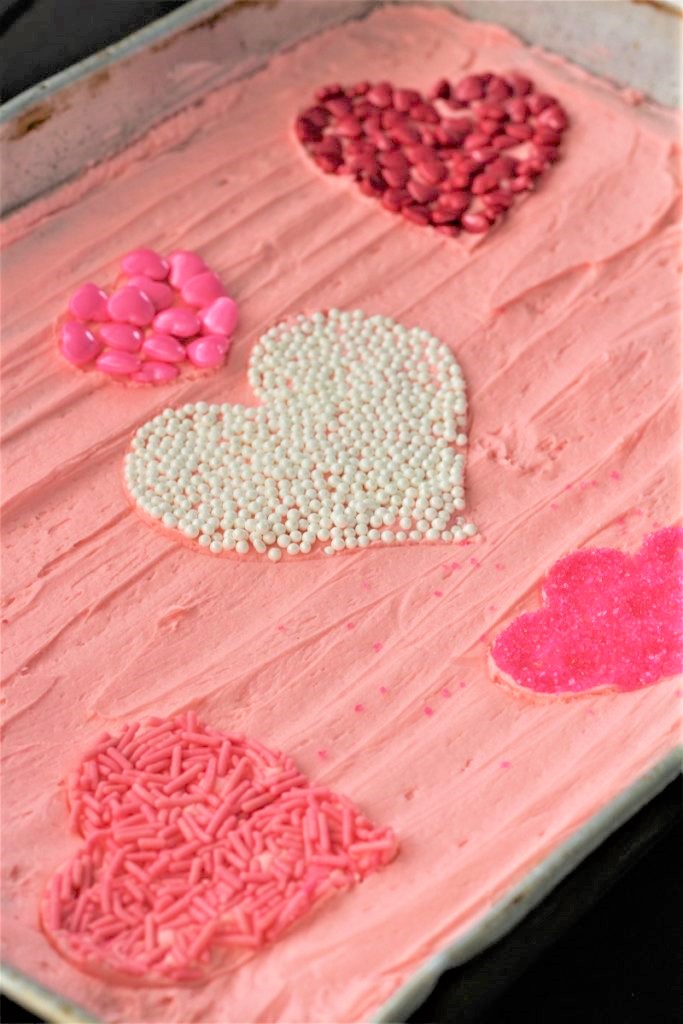 Prep Time 10 minutes

Cook Time 30 minutes

Total Time 40 minutes
Ingredients
3/4 cup butter, @ room temperature
1/2 cup sour cream
1 1/4 cups granulated sugar
1 egg
1 teaspoon almond flavoring
2 1/2 cups all-purpose flour
1 teaspoon baking powder
1 teaspoon baking soda
1 teaspoon salt
Frosting:
1/2 cup butter, softened
1 teaspoon vanilla or almond flavoring
2 1/2 cups powdered sugar
enough milk to make it creamy
Instructions
Preheat the oven to 350 degrees.
Spray or grease a 9" X 13" baking pan.
In a medium to large bowl, mix the butter, sour cream, and the sugar.
Add the egg and almond, mix until fluffy.
Add the baking powder, baking soda, salt, and flour, stirring just until blended.
I mix mine in a BOSCH. Make sure the mixture is completely mixed.
Using a scraper, place the dough into the pan.Smooth as even as possible.
Bake for 25 - 30 minutes, or until a wood pick or cake tester comes out clean.
Remove from the oven and let cool completely.
Frosting:
Using a mixer, place the butter, flavoring, and the powdered sugar into a bowl.
Mix on low and add just enough milk to make your frosting nice and creamy. I usually use about 1/8 cup; not too much. Mix it for a good 4 - 5 minutes.
Then I added red food coloring, and mixed it about 30 seconds more.
Frost the bars and decorate to your liking.