Easy raspberry almond muffins just in time for summer break. Are you looking for ideas of what to feed your kids this summer? Easy raspberry almond muffins are great for breakfast, lunch or dinner. You might even want to have them for a snack.
It is about time for raspberries and if you have raspberry bushes (that your dog didn't eat,):( you just might want to make some of these amazing muffins. I love pumpkin chocolate chip muffins in the fall, but in the spring, you just cannot beat easy raspberry almond muffins.
However if you have felt lazy like me lately, you just might want to try mountain man crock pot breakfast. It is fast and easy and it cooks all night; that way when you get up in the morning, your breakfast is hot and ready to go.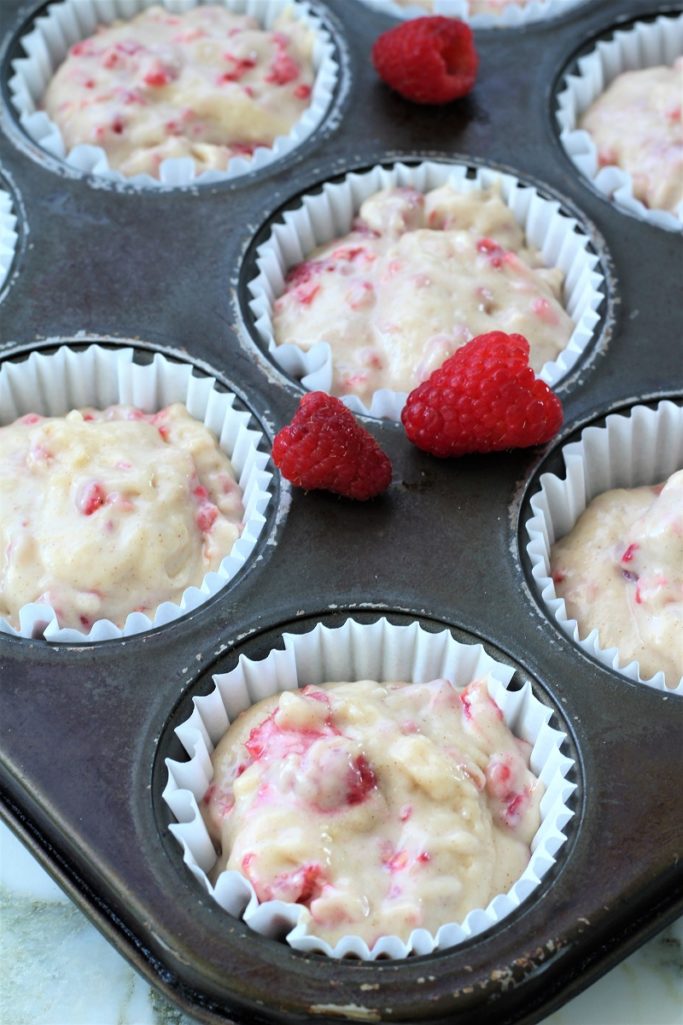 Can I use frozen raspberries instead of fresh ones?
Generally, speaking, you can use fresh and frozen berries interchangeably in your baking recipes, but you may need to make a few tweaks to ensure it comes out perfectly. Frozen berries will lower the temperature of your mixture considerably, so you may need to increase cooking times by 5 minutes to make sure it is cooked through.
For best results in your baking, don't defrost the berries before use but instead toss them in flour. The flour will stop them from sinking to the bottom of your mixture in the oven and can also stop them from bursting or their color from bleeding.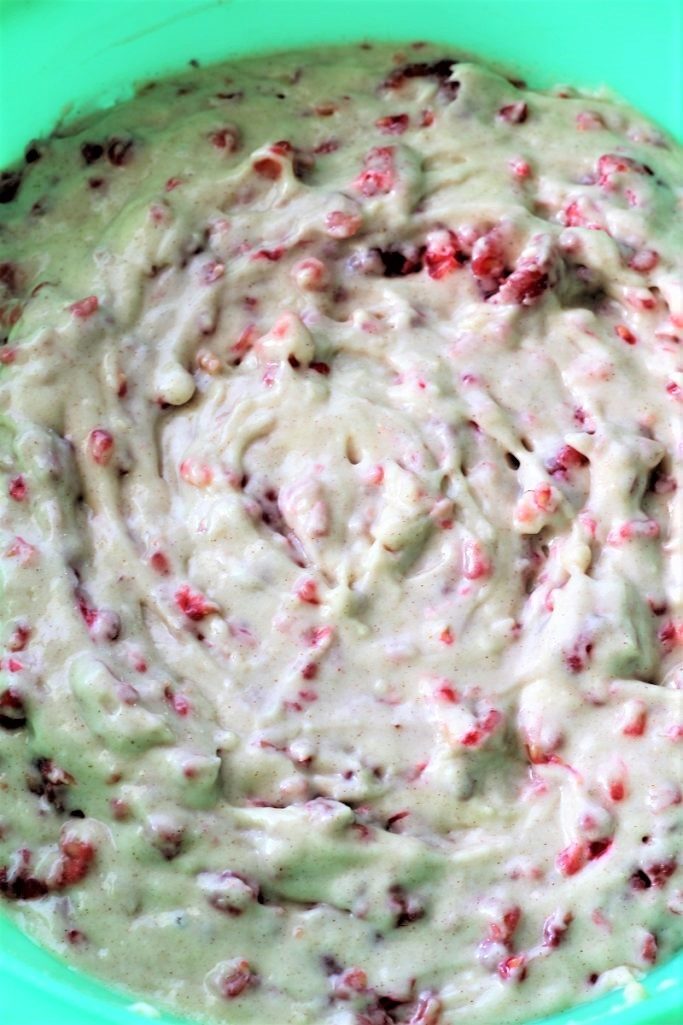 Should I grease nonstick muffin pans?
Yes. Spray the nonstick muffin pans lightly with nonstick cooking spray and then run a paper towel around the muffin cup so it is not too saturated. If you spray too much, the bottom of your muffins can go soggy.
Why did my muffins stick to the cupcake liners?
The liners stick to your muffins due to a lack of moisture inside the oven. To prevent the liners from sticking you can add a rimmed sheet pan to the bottom rack of your oven with a small amount of water in it to create the moisture needed so the liners won't stick.
Why did my easy raspberry almond muffins go flat?
First of all, make sure that you put all of the ingredients in (like the baking soda and baking powder). If you did not leave out any of the ingredients and your muffins still went flat, something went wrong in the cell structure of the muffins. This could be caused from the oven not being hot enough. If this happens adjust the temperature of your oven up from 375 to 400. You may need to reduce the baking time, so watch the muffins carefully.
Enjoy your easy raspberry almond muffins and your summer!
Yield: 24 muffins
Easy Raspberry Almond Muffins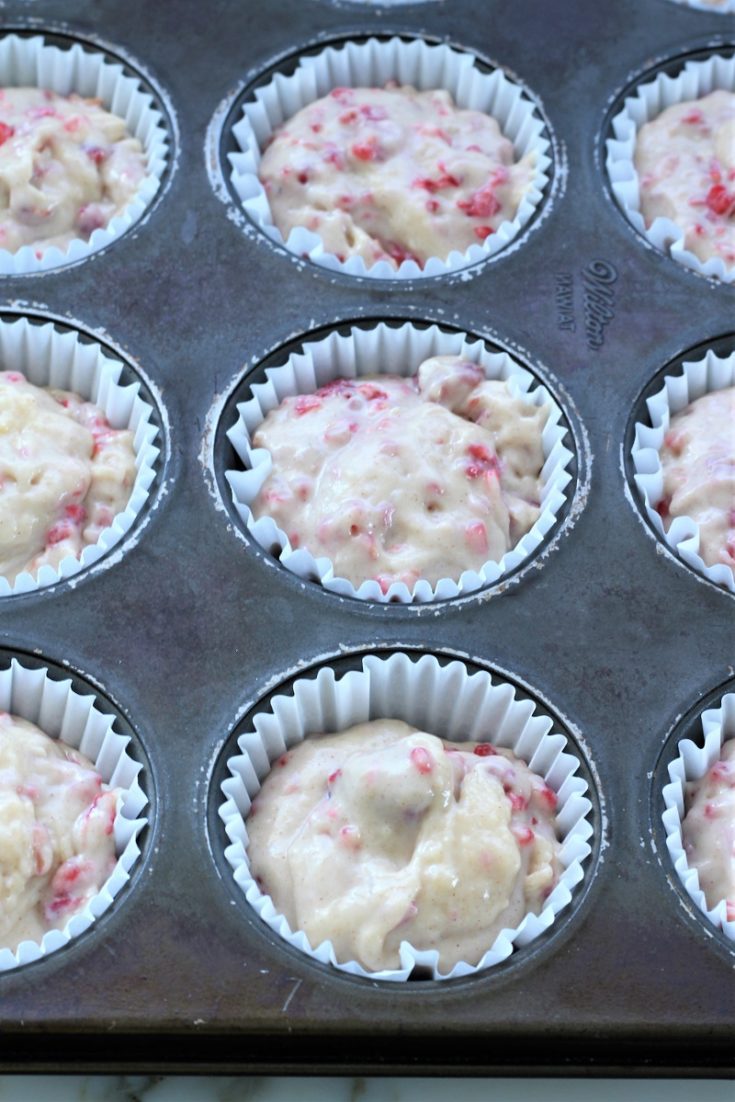 Moist and delicious easy raspberry muffins are a great way to start the day off right. You will have the whole family smiling.
Ingredients
6 Tablespoons unsalted butter, softened
2 Tablespoons avocado oil
1 cup white sugar
1/3 cup packed brown sugar
2 large eggs
1 teaspoon almond extract (or if you don't care for almond, you can use vanilla)
3/4 cup milk
1/3 cup full fat plain Greek yogurt
3 cups all-purpose flour
1 teaspoon baking powder
1 teaspoon baking soda
1 teaspoon cinnamon
1/2 teaspoon salt
2 cups of fresh raspberries
Instructions
Preheat the oven to 375 degrees.
Spray a regular sized muffin pan or line with papers.
In a large mixing bowl combine the 6 T butter, 2 T avocado oil and the 1 c sugar, 1/3 c packed brown sugar, and mix well.
Then add the 2 eggs and the 1 t extract.
Stir in the 1/3 c yogurt, then slowly add the 3 c flour, 1 t baking powder, 1 t baking soda, 1 t cinnamon, 1/2 t salt, and 3/4 c milk, alternating just until they mixture is combined.
Fold the 2 c raspberries in gently.
Fill each muffin cup about 3/4 full.
Bake the muffins for 18 - 20 minutes depending on your oven, test with a wooden pick or a cake tester.
Nutrition Information
Yield
12
Serving Size
1
Amount Per Serving
Calories

280
Total Fat

9g
Saturated Fat

5g
Trans Fat

0g
Unsaturated Fat

3g
Cholesterol

53mg
Sodium

235mg
Carbohydrates

44g
Fiber

2g
Sugar

17g
Protein

6g
This data was provided and calculated by Nutritionix