Cranberry guacamole is a nice change from the regular guacamole. I also love how colorful it is. If you are looking for a appetizer for your New Year's party, and if you are like me, kind of done with so many sweets, this is just the appetizer for you.
You may want to serve your cranberry guacamole on corn chips or even some crackers, we like Town House crackers or even Wheat Thins. Can you believe it is time to start those New Year's goals already.
I ask myself where in the world did "2018" go? And even better, what does "2019" have in store? I hope that I can slow down and enjoy life just a little bit more. Play a few more games with the grand kids and make a few more phone calls than I did last year.
Maybe, this will be the year that I get Christmas cards out, however if I were you, I wouldn't hold my breath, that just isn't one of my most favorite things to do. I do love to get Christmas cards, but I sure do not enjoy making them, or writing them.
I do not know why, because they are not that big of a deal. Sometimes, I just do not know what to tell about and what not to tell about so I stick with the latter, not telling anything. And I guess I do tell a little bit about my family on the blog.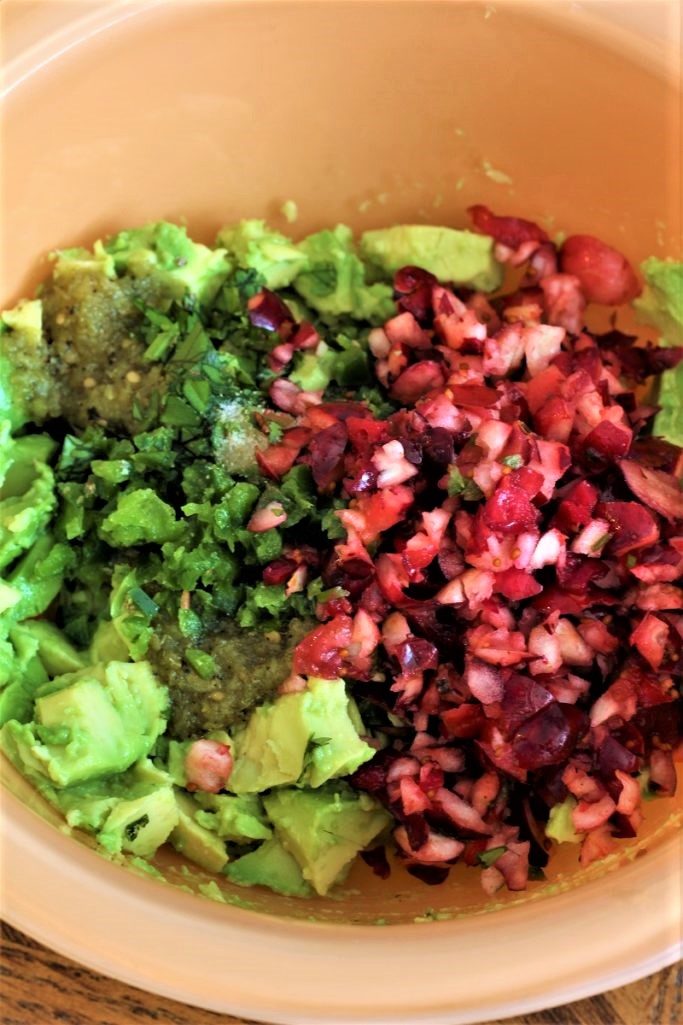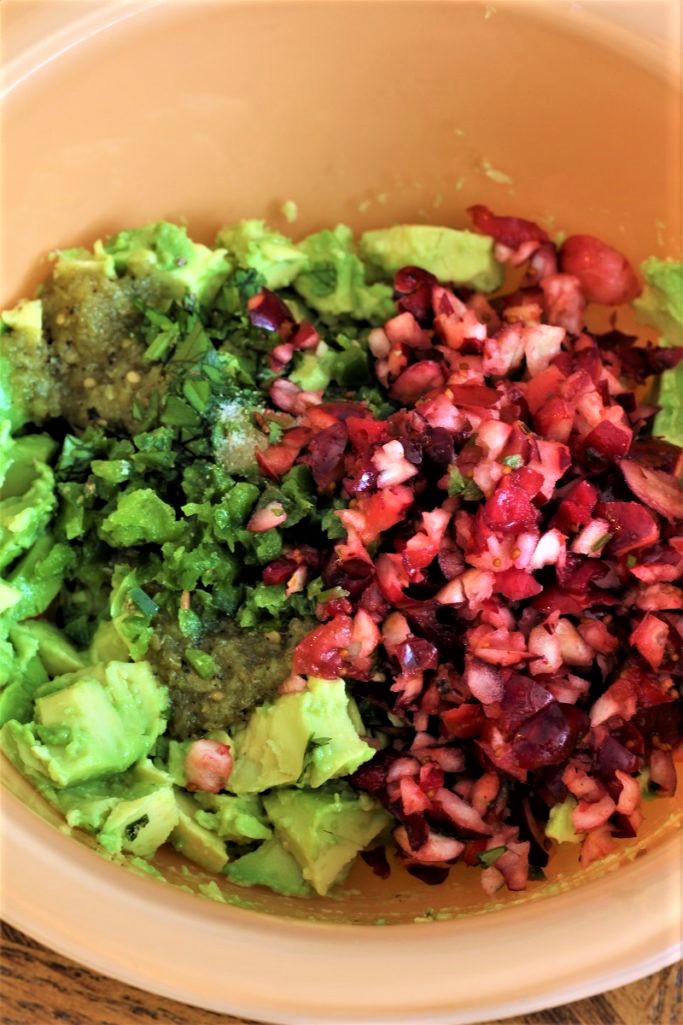 What Ingredients Do I Need For Cranberry Guacamole?
Here's a list of ingredients you'll need to make this Appetizer (scroll down for the full recipe):
Avocado
Salsa Verde
Fresh cilantro
Jalapeno
Coarse garlic salt
Sugar
Fresh squeezed lemon juice
Dried, chopped cranberries
Corn chips
How Do I Make Cranberry Guacamole?
Here's the simple steps you'll follow to make this Appetizer (scroll down for the full recipe):
Coarsely mash avocado.
Fold in the Salsa Verde, cilantro, jalapeno, garlic salt, sugar, lemon juice and cranberries.
Serve with chips or crackers.
Our 10 top Events of the Year.
Our Children:
Our oldest son bought his first house. He didn't live in it for seven months because he let his older sister rent it until her house was finished! What a nice brother. I have been very impressed with how clean he keeps it and how he likes to fix things and make them better.
Our youngest daughter moved back home. Mostly because she did not like paying rent. (And probably because she has the nicest parents in the world;)
Our oldest daughter and her husband are expecting their 4th child and my middle son and his wife are expecting their 2nd child.
Our youngest son got a good job that I am sure he just loves!;) And he sold his car and is looking for another one.
Our middle son has been working like crazy to help get his boss' robotic barn up and going and it is coming along really well. It is amazing at how you can have a robot milk the cows. Where were those robots when I was getting kicked by a sassy cow when I was younger?
Travel with Family:
My husband, sister and brother-in-law, father-in-law, his wife and I, all went on an Alaskan cruise. It was a lot of fun and I am so glad that we all got that opportunity.
My sister took my daughter and me to Florida where we went to Disney World for 4 amazing days. I think my favorite thing was watching the Fantasmic. Yes, I am getting older, and rides and me do not agree so much. I did love seeing all the amazing shops and how amazing and big Disney is.
I got to go to Las Vegas with my husband and spend a few days, as he had a Conference with his work. It was fun to get away, and just chill out!
My Father-in-Law:
My sweet father-in-law passed away the end of November. We sure were glad that my husband and I went to Alaska and spent that extra time with him. Also my husband, spent one night in the hospital with him before he passed away. He was a great man and he will surely be missed. We were so sad when we heard the news, but we are so glad that he did not have to suffer too long.
Christmas Party:
Our family and my sister and our extra son, (my son's friend) were able to have a really fun Christmas Party. We played the game where you wrap up prizes in plastic wrap and then have people put on oven mitts (of course) and then unwrap the prizes. We had a lot of noise and good laughs. We also played Family Feud, and Scattergories! I hope that we can continue to have fun family memories.
I know that we do not have too much planned for New Years and it might just be my husband and myself, but we will be enjoying cranberry guacamole. And here is my little secret, if you want a little sweeter appetizer, this is our most favorite one of all: cranberry salsa!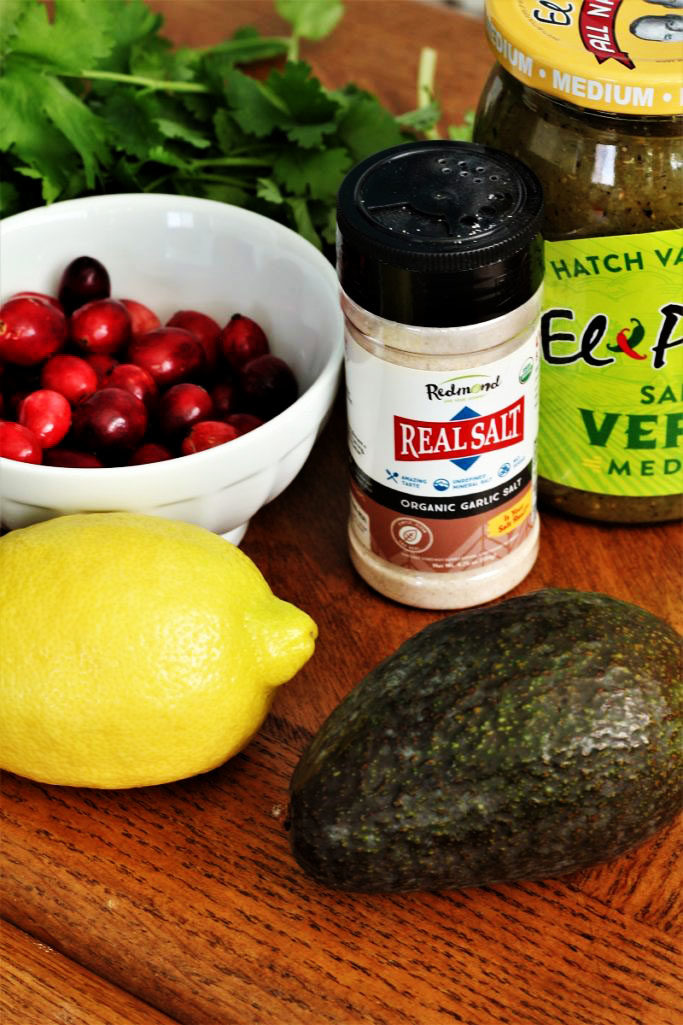 Happy New Years to all of you and thank you so much for all your love and support and for helping us make "2018" such a fun year!
Tips and Tricks For Cranberry Guacamole:
I use medium Salsa Verde, not hot.
If you want your cranberry guacamole not as spicy, use less jalapeno.
Add the avocado just before serving!!
More Fun Appetizers For You:
Yield: 4 people
Cranberry Guacamole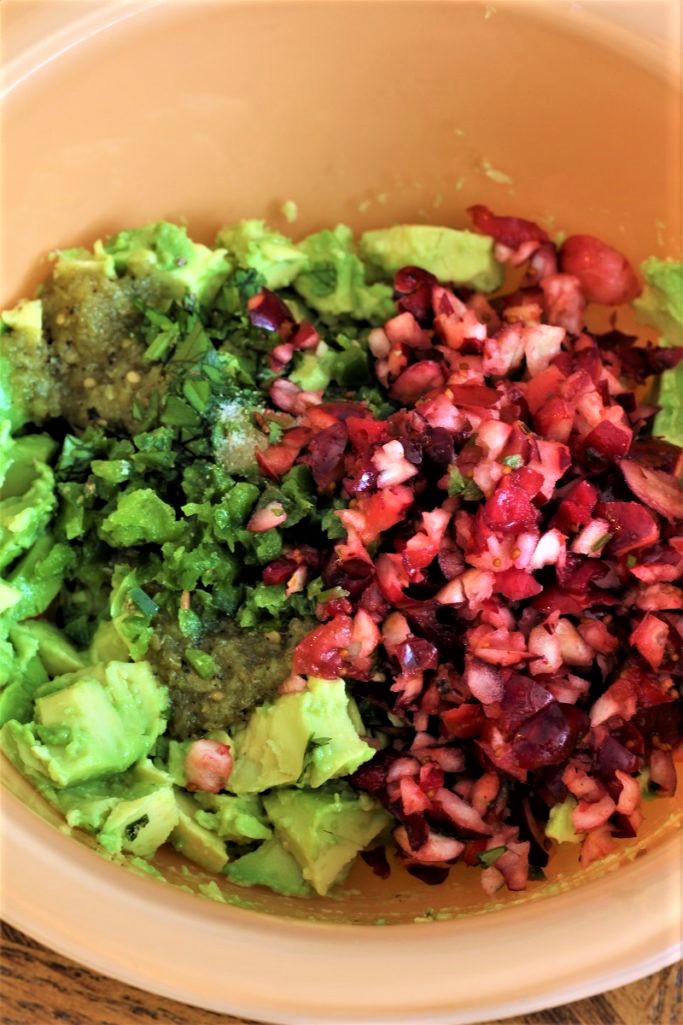 Cranberry guacamole is a nice change from the regular guacoamole. And the beautiful colors are perfect for any get together.
Ingredients
1 ripe avocado, peeled, and coarsely mashed
1/4 cup Salsa Verde
1 1/2 teaspoons fresh cilantro
1/4 jalapeno, seeded and deveined, finely chopped
1/3 teaspoon coarse garlic salt
4 Tablespoons sugar
2 teaspoons fresh squeezed lemon juice
1/3 cup dried, chopped cranberries soaked in hot water for 5 minutes, drained and squeezed dry
Corn chips
Instructions
Coarsely mash avocado or cut into small squares. Fold in the Salsa Verde, cilantro, jalapeno, garlic salt, sugar, lemon juice and cranberries.
Serve with chips or crackers.
I save my avocado pit and put it on the bottom of the bowl. It helps the avocado from losing it's color so quickly. Also the lemon juice helps with this as well.
Nutrition Information
Yield
4
Serving Size
1
Amount Per Serving
Calories

178
Total Fat

10g
Saturated Fat

1g
Trans Fat

0g
Unsaturated Fat

8g
Cholesterol

0mg
Sodium

263mg
Carbohydrates

23g
Fiber

4g
Sugar

14g
Protein

2g