A Cheese and Meat tray is an excellent way to lighten up on the sugar! So if you are just needing a little snack or maybe you just need a last minute treat for that Christmas get together, you need to try this Cheese and Meat tray. Whatever the occasion, this is perfect.
I bought some different types of cheese at the nearby Smith's, that were on sale, and then I headed down the cracker aisle. I really had a hard time deciding which crackers to buy. There are so many choices.
Then I grabbed some grapes, and then for an extra touch, I garnished it a bit with some fresh thyme. It was delicious and very appealing to look at. I was also happy because I know that I have eaten way too many treats and I didn't have to feel guilty eating this appetizer.
Also it would be a fun idea to put a little plate together for a few neighbors. And won't they be so happy that they can eat it for a snack between those last minute shopping moments and all that gift wrapping. I know that there is so much to do and sometimes a little snack can keep us going.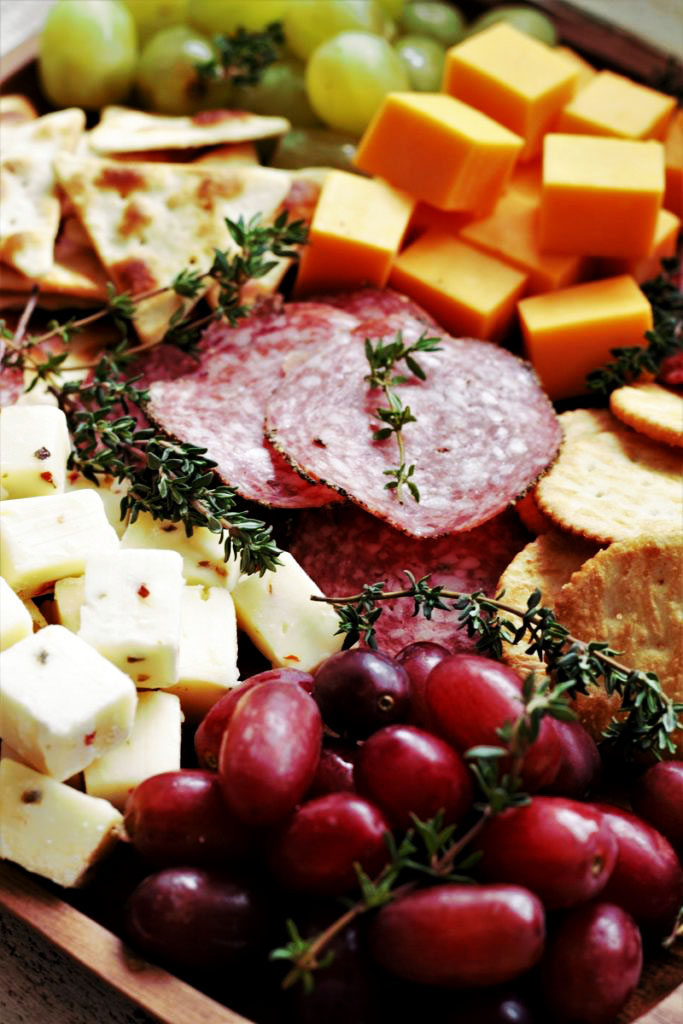 Have fun putting this together! It is really a nice idea for appetizers for any get together. I can't wait to add this to my holiday baking list and watch as everyone's face lights up. There is something for everyone on this beautiful Cheese and Meat Tray.
So grab a cracker, add some cheese and a little meat and what do you have? The most amazing little snack ever! Also, you could put a little bowl of nuts in the center of the tray. These are also a healthy little snack that all will enjoy.
What are some of your favorite treats? What are your favorite crackers? I must admit, my son-in-law loves Pepper Jack Cheese and so does my husband, but me, not so much. I had a little chunk and I remember that I had not eaten that cheese in awhile and now I remember why. It is a little hot for me. Wowzer. Yep, I made up that word, but it works with Pepper Jack Cheese.
Well, my friends, I hope that you are almost ready for the big day. It is coming so fast, and I am always so excited. I do love the lights and the fun Hallmark movies, even though I haven't watched too many this year.
However, when I looked at my calendar this morning, it said June. Yes, somehow it had fallen to June, however, I know that that is not the case because it is 30 degrees right now. I guess that is another reason we can enjoy December; the nice cozy fireplace can warm us up from the cold temperatures outside.
And it is time to watch the "Polar Express" with the grand kids and drink hot chocolate. I think I might just have to make another meat tray. I know that the grand kids will love it. Enjoy!!
Tips and tricks:
1- If you do not have a tray to make a cheese and meat tray, use a nice plate or even a plastic plate from the dollar store.
2- Add some herbs for color and smell, like rosemary, dill or thyme.
3- Try adding some olives or even some little green pickles if you need other ideas.

Cheese and Meat Tray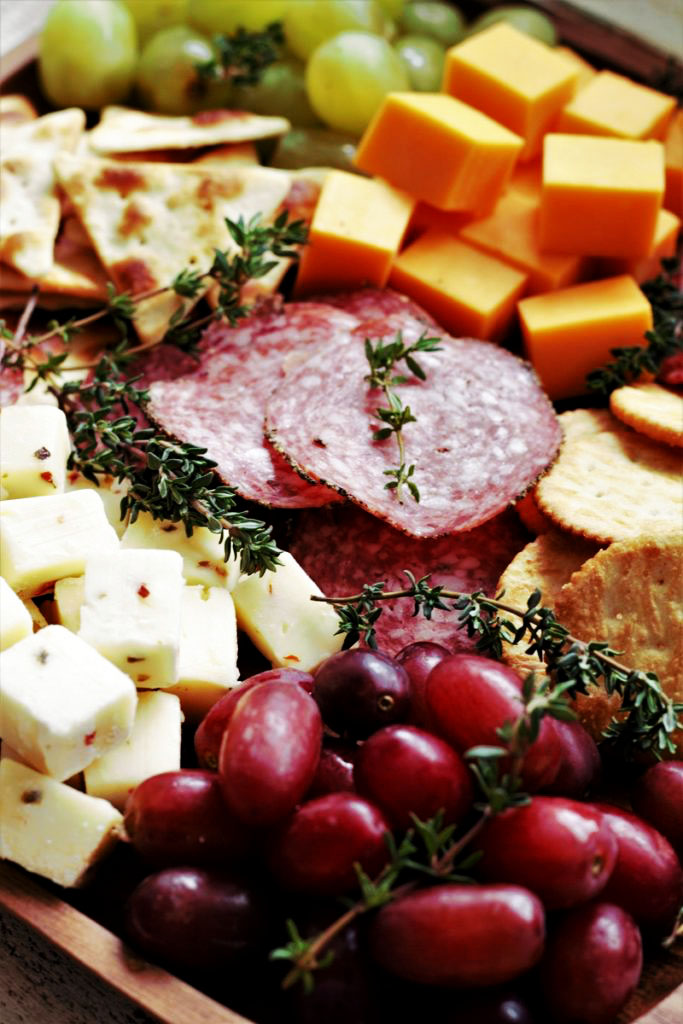 Ingredients
Green grapes
Red grapes
Pepper Jack Cheese
Sharp Cheese
Italian Dry Salami
Peppered Salami
Calabrese Salami
Ritz crackers
Pita Crackers (sea salt) Town House
Mixed nuts
Instructions
Wash and dry the grapes.
Cut cheeses into small squares.
Slice Salami to your desired thickness.
Use Crackers of your choice. We used Ritz and Town House Pita Crackers.
Add some mixed nuts for a nice touch.