Breakfast Cookies are the best way to start the day. They are the perfect combination of a lot of healthier things. I love the oatmeal in them and the pineapple mixed with the craisins, and if you are feeling very healthy you can always add stevia sugar instead of the brown sugar.
I gave one of these breakfast cookies to my granddaughter that is 3 years old and she ate the whole thing. To be honest, I was really surprised. #1 She is very picky and # 2 I wasn't sure if she would like the grape nuts. But she did!!! Maybe it is because I told her that she could have a cookie for breakfast. And who doesn't like that?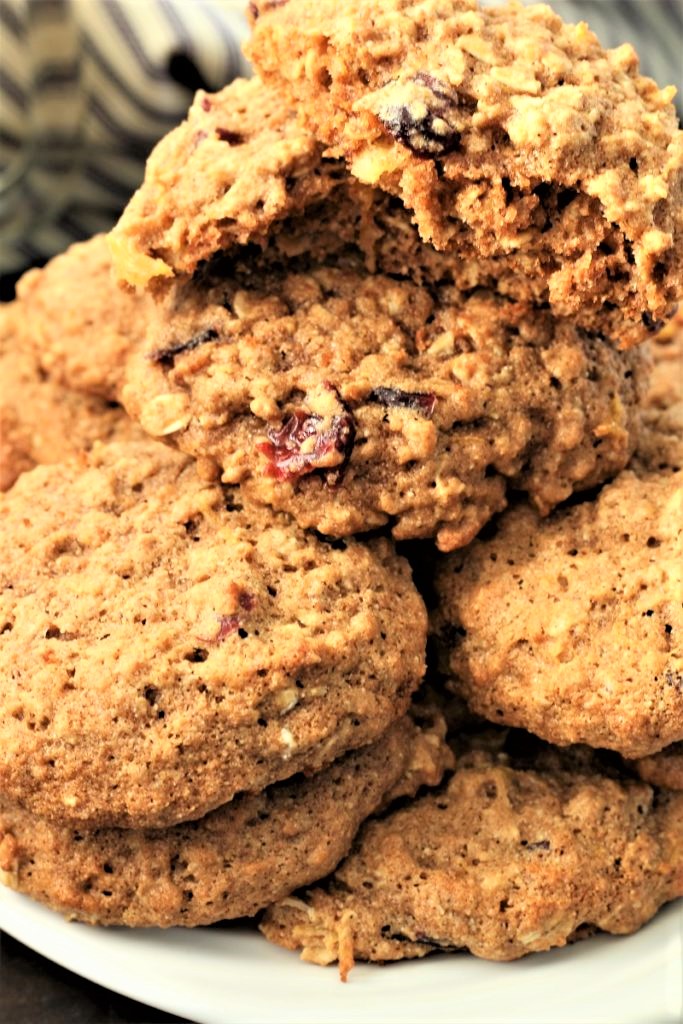 How is your January going? I hope that all is well and that you are all staying warm and healthy. I was a little under the weather yesterday. But this morning, I am doing much better.
We haven't had much snow this winter, and I know that back East, they are getting snow again. It is almost as if we have all changed places in the universe. They are getting the snow and we are not.
However, we did have some nice little rain yesterday and as I look at our beautiful mountains, there is still snow on them. That is a good place for the snow. That means that I don't have to shovel it. And the sun is trying to come out. Wahooo!!
The other day I was changing the sheets on my bed and I asked my granddaughter to help me. She was so proud of herself when I let her put the pillow cases on the pillows. She looked at me and said, those look so nice.
I think that it is a great thing when kids can learn to work and then they can look at what they have accomplished and they are so impressed with the work that they have done. As adults, sometimes I think that we forget to look at all the thing that we have accomplished in a day, and we focus on the things hat we didn't get done.
So today, I challenge you to focus on all the things that you have done, and don't look back. Just keep trying and don't forget to give yourself some much needed celebrating of the things that you did do. Have a wonderful day! Enjoy your breakfast cookies, and don't forget you can save the leftovers in the freezer.

Breakfast Cookies
Prep time:
Cook time:
Total time:
Ingredients
¾ cup butter, softened
1¾ cup brown sugar
1½ teaspoons vanilla
3 eggs
8 ounces of crushed pineapple (with the juice)
1½ cup reduced sugar craisins
2¾ cup whole wheat flour
2¾ cup oatmeal, regular oats
2 cups Grape Nuts Cereal
2 teaspoons of cinnamon
2 teaspoons of baking soda
½ teaspoons salt
1 cup walnuts (optional)
Instructions
Preheat the oven to 350 degrees.
In a large mixing bowl, mix together butter, sugar, vanilla, and eggs, and mix very well.
Stir in the crushed pineapple with the juice and the craisins.
Add flour, oats, cereal, cinnamon, baking soda, and salt. If adding nuts, add them at this time. Mix until blended.
With a large cookie scoop place 12 scoops onto a lightly greased cookie sheet.
Slightly flatten cookie dough.
Bake for 10 - 12 minutes or until they are lightly browned.
Cool the cookies on a wire rack.
Store in an air tight container.
You can freeze the extra until ready to use.
Can be warmed up in the microwave.