Blue ribbon yellow cake is a moist, delicious cake that our grandparents use to make. Sometimes there is just nothing like a good cake that grandma use to make. This is a recipe that I found that is a bit older. I found it in one of my older cookbooks.
To tell you the truth, my grandmother has been gone for so long, I am not sure what she use to make, when it came to birthday cakes. And we are so blessed now a days that we have so much at our fingertips. I know that my grandmother raised 11 amazing children and that my mother was the oldest. There was not a lot of time to make birthday cakes, as they were busy helping on the farm a lot of the time. In a few weeks, we are going to get together with some of my cousins and celebrate my uncle's 90th birthday. My mother would have been 92 this September, if she were still alive.
One thing that is for sure, my grandparents and parents taught me to work. Not leaving much time to play. We spent most of our summer, hauling bales of hay, picking wild huckleberries and doing things on the farm.
Once or twice in the summer, we would go swimming or to an amusement park, (where I worked a few weeks ago) simply because the milk company that we sold our milk to, gave us tickets that we could use to ride the rides and free parking. It was called Dairy Days. We also got free ice cream, which we all really loved.
If you were really lucky, you could win a 5 lb block of cheese! I remember when we won it. That was pretty special! We would get up early and milk the cows, then we would head for the amusement park that was 1 1/2 hours away. Then we would ride some rides and then we would leave at 3 or 4 o'clock and go home to milk the cows. That was our big outing for the summer. I wish that my kids had a clue what it was like to grow up on a farm. No need to wish, it is what it is.
We did have a birthday cake for our birthdays each year and we were very blessed. I remember having blue ribbon yellow cake, and I do not know how but somewhere along the way, I fell in love with frosting. It is so addicting.
Also if you can see in this picture, I use an old towel to wrap around the outside edge of my pans, because it makes the top of the cake a lot smoother and more even. But you must wet them, and they have some that you can wet and use for the same purpose at different stores where cake decorating supplies are found. They might be a better idea because I do not want anyone to catch their oven or cake on fire. It is not worth it.
You can also purchase a saw and freeze the cake and cut the top off. So when you have a special birthday that is coming up, I hope that you will take time to make this blue ribbon yellow cake, because it truly is a winner! I would give it a blue ribbon, every time.


Yield: 20 people
Blue Ribbon Yellow Cake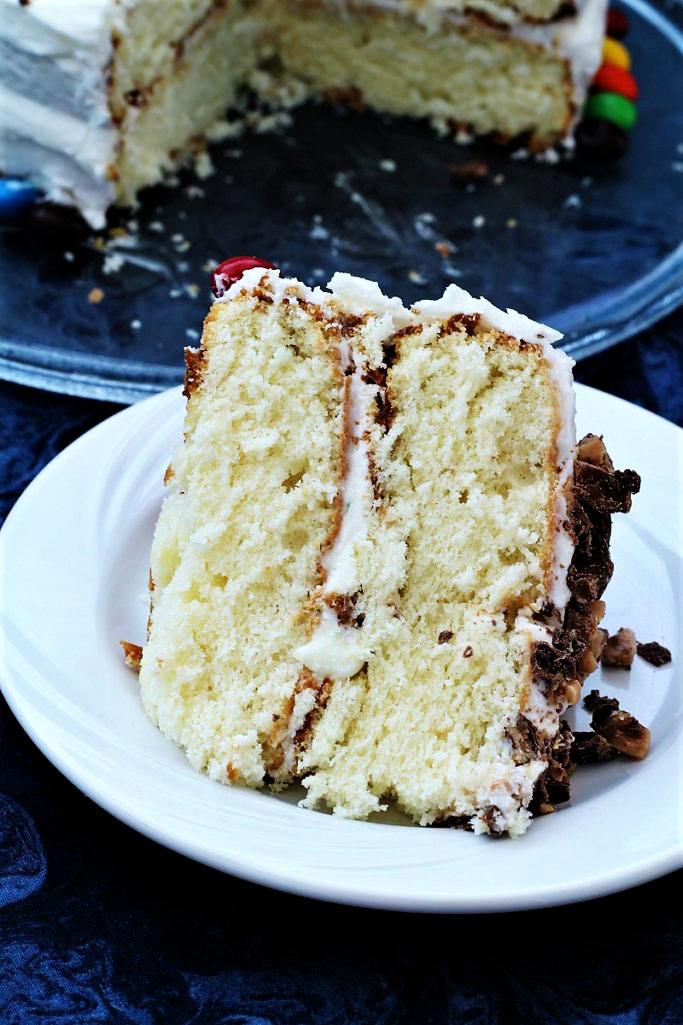 Prep Time 20 minutes

Cook Time 30 minutes

Total Time 50 minutes
Ingredients
2 1/4 cups cake flour
2 1/2 teaspoons baking powder
1/2 teaspoon salt
1/2 cup butter
1 1/2 cups sugar
2 eggs
1 teaspoon vanilla
1 cup milk
Garnishments
Peanut Butter M & Ms
Toffee Pieces
Instructions
Sift the flour, baking powder, and salt. Set it aside.
In a large mixing bowl, cream the butter and sugar until light and fluffy.
Add the eggs, one at a time, mixing well after each egg.
Then add the vanilla.
Very slowly, add the dry ingredients, alternating with the milk.
Mix until it is creamed together.
Grease and flour 2 9" round pans, or you can cut a circle the same size as the bottom of the pan out of wax paper and use that.
Divide the dough into the two pans equally.
Bake at 375 degrees for 25 - 30 minute,s or until a metal or wooden pick comes out clean.
Cool in the pan for 10 minutes.
Remove from the pan onto a wire rack and let cool completely.
Then place the cake into plastic wrap and freeze for 1 - 2 hours.
Remove from the freezer and frost with your favorite frosting.
Granishments
Garnish with peanut butter m & ms and toffee pieces.