Zucchini chocolate chip cookies are the very best recipe to use up those zucchinis. Packed with goodness, chocolate chips, oatmeal, zucchini and cinnamon. What is not to love?
I tell my grand kids that the green is to make these cookies more colorful. Who thinks about having squash in a cookie? Not kids because if they knew what it really was, they might not eat it. I will; these cookies are a real treat for breakfast, lunch, and dinner.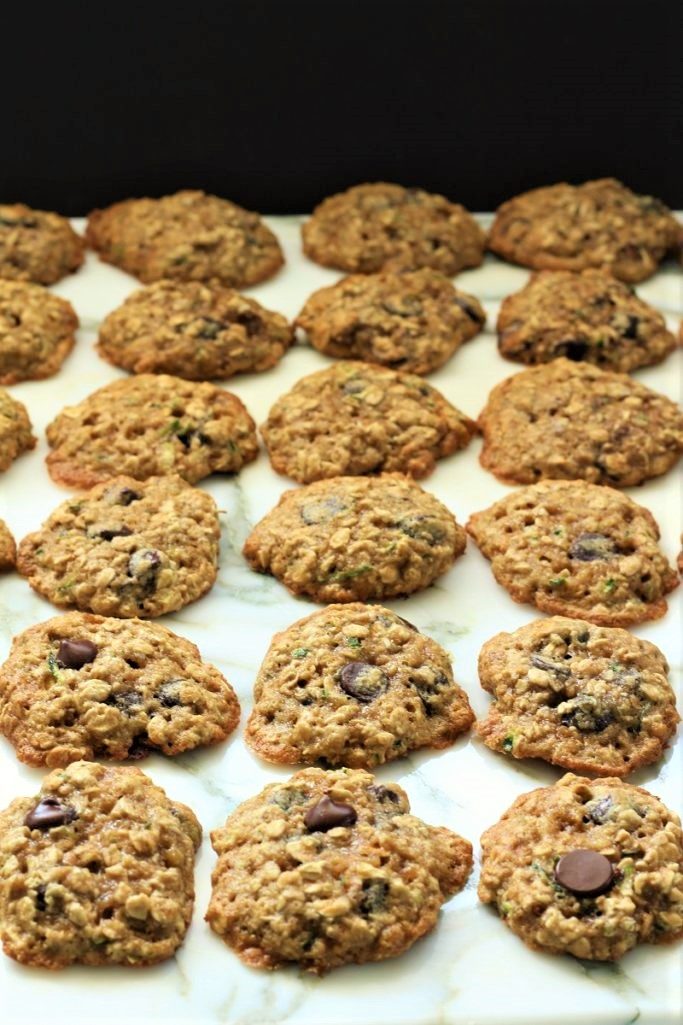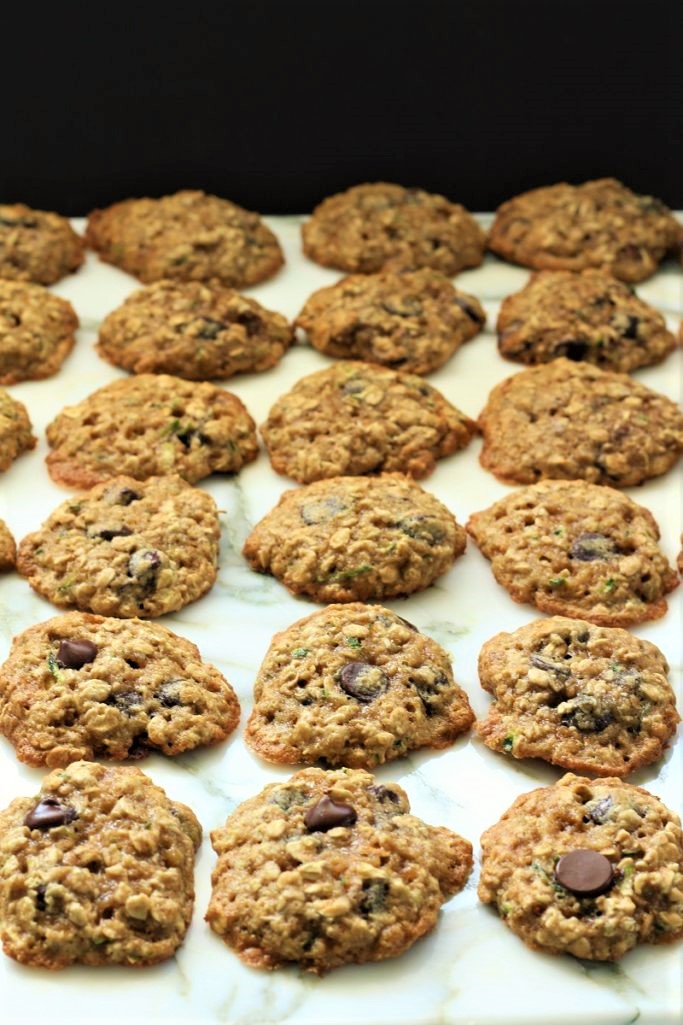 I wish that I could tell you that this beautiful zucchini was from my garden, but you know the saying "my dog ate my homework"!  ;( Well, my dog ate my zucchini plant. Actually it was my son's dog! Yep, he ate my zucchini plant and my pepper plant. I guess that I will have to get a tall fence to go around my garden.
I am very blessed and I have a couple of wonderful neighbors and friends that have given me some wonderful zucchinis and I am always happy to have them bring me some. If I get any more, I will shred it and then freeze it, as it works very well in recipes like cakes, cookies, brownies and pancakes.
I must tell you that my favorite recipe for a main dish with zucchini is: Easy Zucchini Yellow Squash Casserole ! The other day every one of my grand kids ate it and they loved it because it is really good.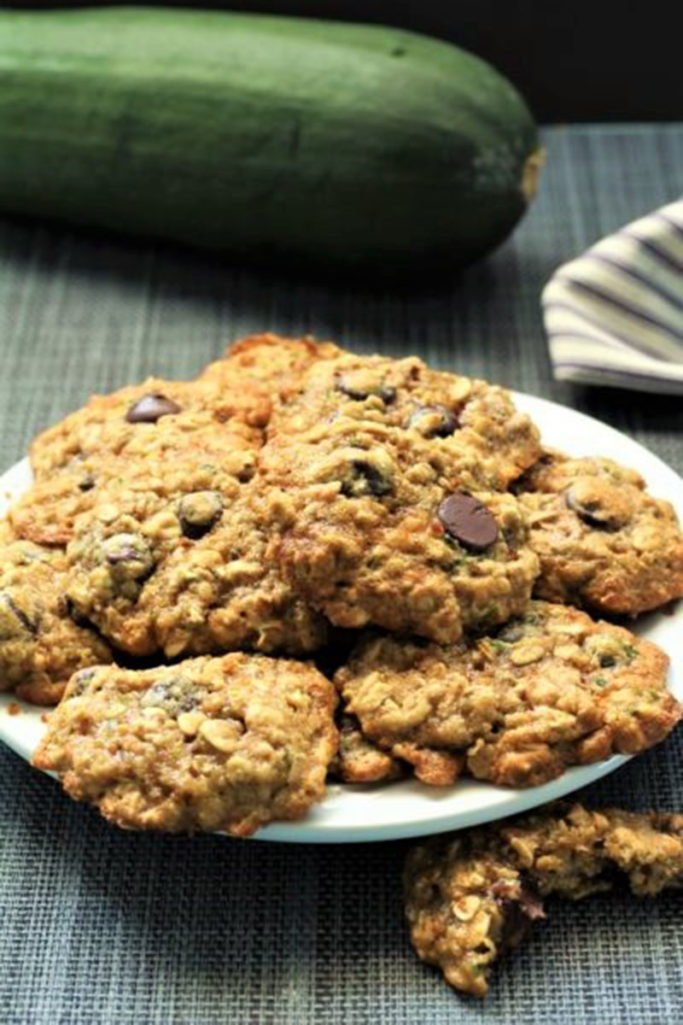 This is another great recipe for an after school snack. And as a mother or grandmother, you can feel good about how healthy these cookies are, for you and the little ones. Feel free to change this recipe any way you want, you could add raisins, or any kind of nuts like pecans or walnuts. Add some nutmeg or even mini chocolate chips instead of big chocolate chips.
Let me know what you like in your cookies. I hope that you enjoy these zucchini chocolate chip cookies as much as we do. And instead of putting some zucchini on my neighbors porch for "National Sneak Some Zucchini Onto Your Neighbor's Porch Day"! (Who thinks up this stuff?) I am putting these zucchini chocolate chip cookies on their porch.
Thank you all so much for your support, it really means a lot to me, and enjoy your Zucchini Chocolate Chip Cookies. xoxo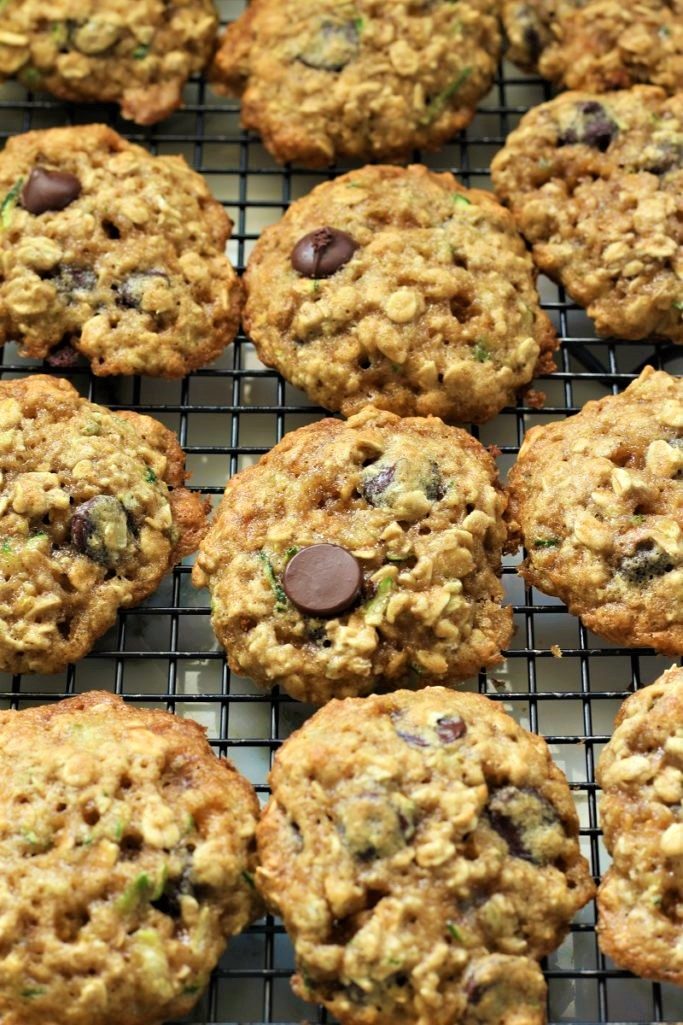 Yield: 40 cookies
Zucchini Chocolate Chip Cookie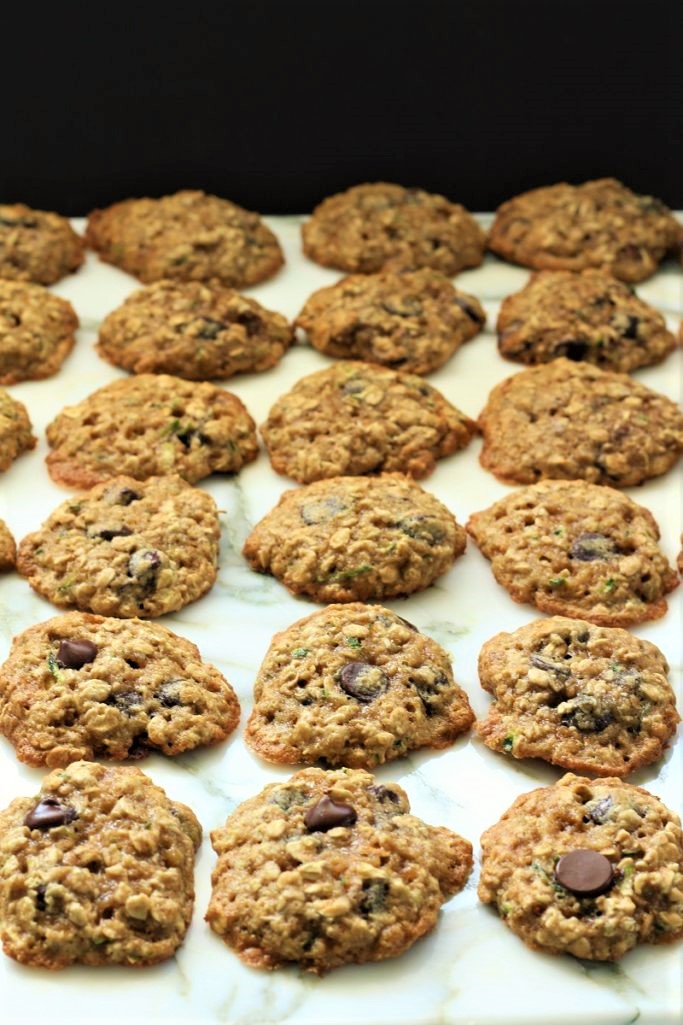 Prep Time 15 minutes

Cook Time 12 minutes

Total Time 27 minutes
Ingredients
6 Tablespoons of coconut oil, melted and cooled
3/4 cup brown sugar
1/4 cup white sugar
2 eggs
1 teaspoon vanilla extract
1 1/2 cups zucchini, finely grated
1 3/4 cups flour
1/2 teaspoon salt
1 1/4 teaspoon baking soda
1 teaspoon cinnamon
2 cups old fashioned oats, (grind one cup in the blender)
1 cup semi sweet chocolate chips
Instructions
In a medium bowl or mixer, mix together, coconut oil, brown sugar, and white sugar. Mix until nice and smooth, scraping the sides of the bowl.
Add the eggs one at a time and then the vanilla.
Add the zucchini and mix gently.
Gently add the flour,oat flour that you ground in the blender, soda, salt, and cinnamon.
Add the regular oats, and chocolate chips, just until mixed.together.
Place them on a cookie sheet about 2" apart. I use a small cookie scoop.
Bake @ 350 degrees for 10 - 12 minutes.