Chocolate swig cookies with cookie dough frosting are such amazing cookies. Swig is a place where one can go and get a soda with different flavors mixed in, and different flavored cookies. They have regular sugar cookies that I will have to make sometime.
But they also have these chocolate cookies that they call dirt balls. I am okay with chocolate cookies, but I love cookie dough, so I made the dirt balls and then I made cookie dough frosting for them!!
And let me just say that these Chocolate Swig cookies with Cookie Dough Frosting turned out fantastic! These could be my new favorite cookie!!! The only problem is that I am pretty sure that I just gained 5 pounds, as these cookies are irresistible!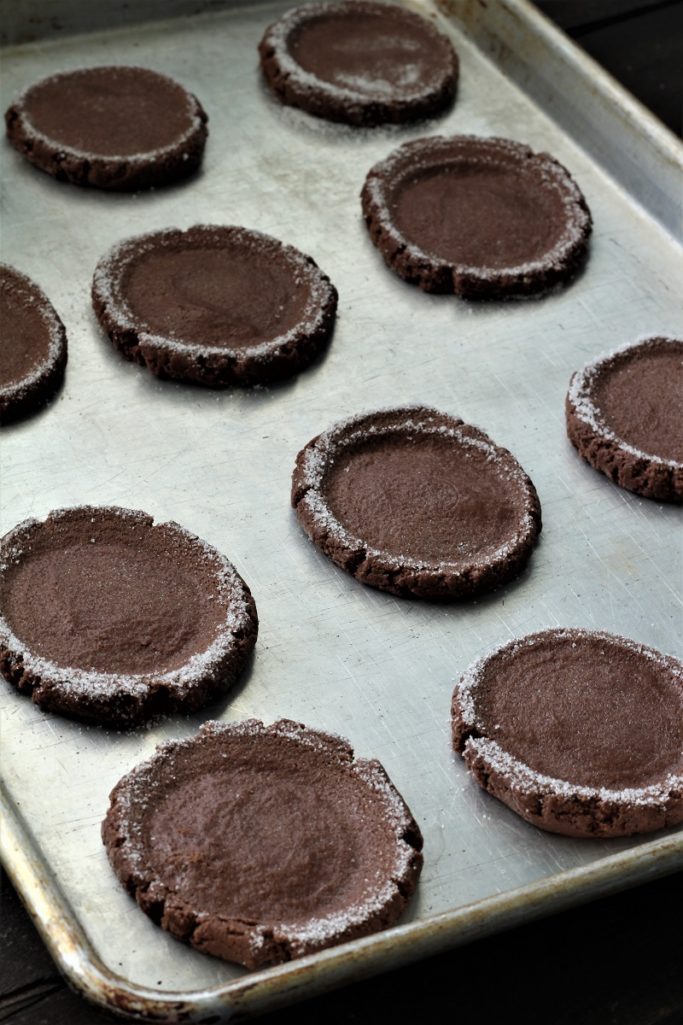 What are Chocolate Swig Cookies with Cookie Dough Frosting?
Chocolate Swig Cookies are basically a chocolate sugar cookie. They were inspired by the cookies that a place called Swig makes, but they call their cookies Dirt Balls.
I love cookie dough and frosting, so I decided that I would make these cookies even better by adding a Cookie Dough Frosting!
I worked for an amusement park for 9 days just until the school kids got out of school. Let me tell you, i have a whole new respect for the kids that work there all summer.
And I have a new respect for all of the people that work fast food! It is hard work to stand on a hard floor for that many hours day in and day out! One day, I will buy some inserts for someone that doesn't have the best of shoes that works in fast food. I would come home at night and my feet hurt so bad. I am older than they are, but feet are kind of a big deal.
So one day I got to work at 9:15 a.m. We had school kids come that were celebrating their Senior year and we had a lot of schools come to the amusement park. The kids would come starting at 10:30 a.m. and leave at 3:00 p.m. One day, we made 800 drinks with pop! Wow, that is a lot of pop and boy was I tired when I got home.
I grew up on a farm and we were poor. When we ate out 2 times a year, we would order the cheapest thing on the menu and we always ordered water. Also we would never think about paying $3.00 for a cookie. That being said, sometimes it is just fun to get to have a pop and a cookie once or twice a year!
So, I hope that you get a chance to make chocolate swig cookies with cookie dough frosting. Another thing is to treat those who work, with love and respect. They are tired and it is hard work that they are doing. I am glad that they are working and taking care of the rest of us. A big shout out to all who work so hard to make the rest of our lives fun and a lot easier.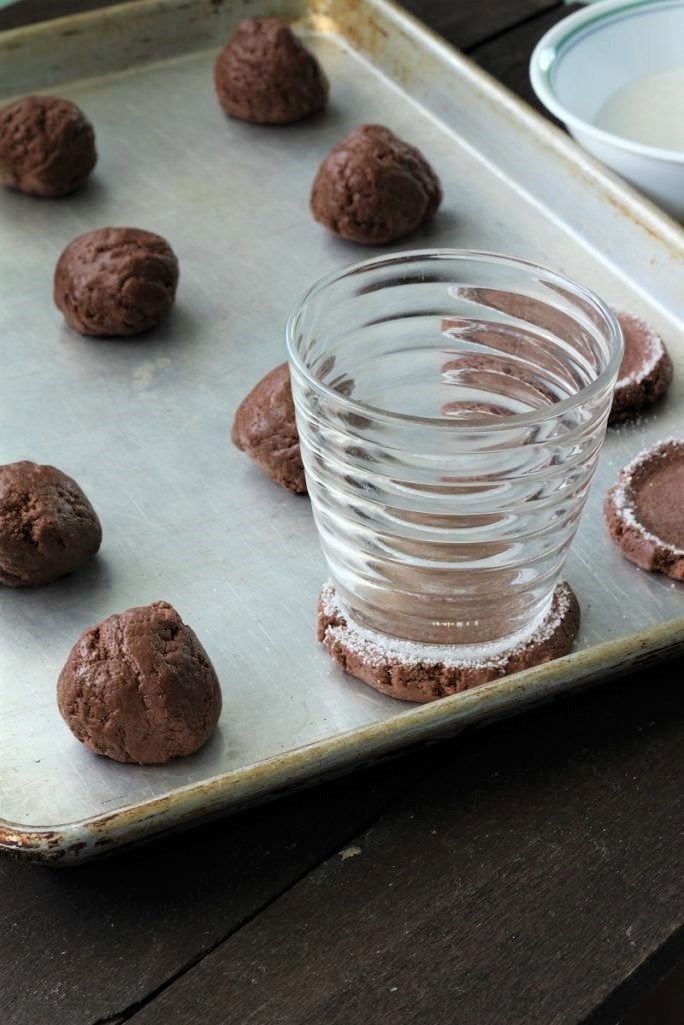 I hope that this recipe makes your life easier and that we can all help each other out. I know that you are really going to love these chocolate swig cookies with cookie dough frosting. And one other thing about working, I met some of the nicest ladies ever! I am grateful for them and the good people that they are.
It made it so nice to be able to go to work and it is fun to get out and meet new people. Best of luck to all of you and thanks for whatever it is you do to help others! Have the best week ever.
Tips and Tricks For Chocolate Swig Cookies with Cookie Dough Frosting:
If you do not have mini chocolate chips for the frosting, you can chop up some larger chips or grate a bar of chocolate.
Chocolate Swig Cookies with Cookie Dough Frosting freeze well, just wait until you are ready to serve them to frost them, so that they do not go soggy.
If you want a more milk chocolate cookie, use 1/3 cup cocoa instead of the 2/3 cup.
More Cookies That You May Enjoy:
Melt in Your Mouth Sugar Cookies
Copycat Crumbl Raspberry Cheesecake Cookies
White Chocolate Macadamia Cookies
Yield: 36 cookies
Chocolate Swig Cookies with Cookie Dough Frosting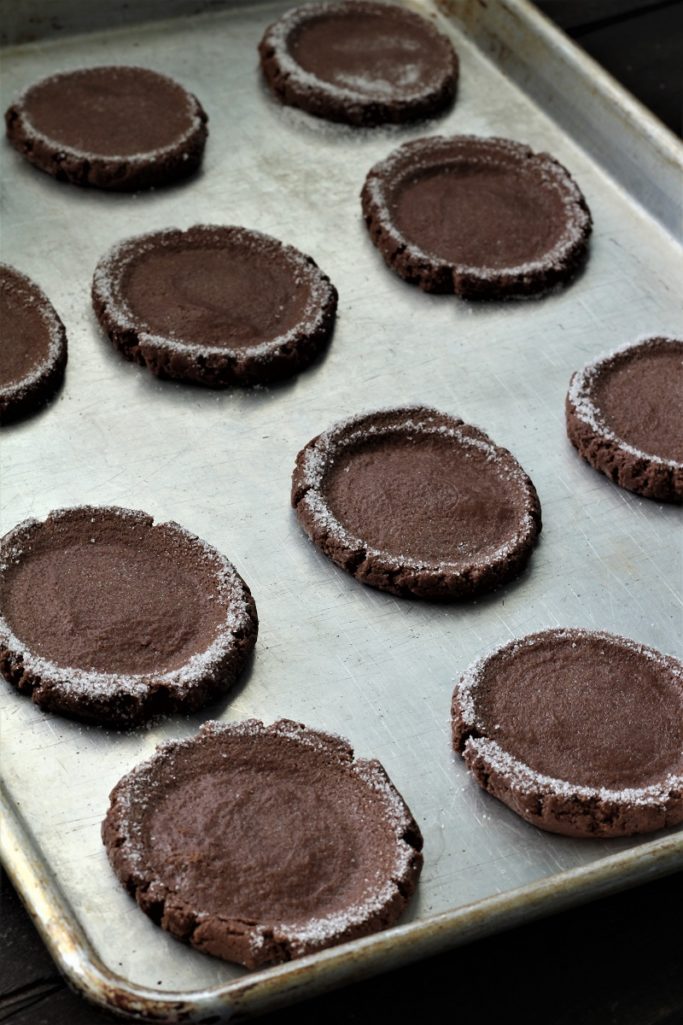 Prep Time 20 minutes

Cook Time 10 minutes

Total Time 30 minutes
Ingredients
1 cup butter
1 cup sugar
1 cup powdered sugar
2 eggs
1 teaspoon vanilla
2/3 cup coconut oil (liquid or I melt mine down on power level 2 in the microwave)
4 cups flour
1/2 cup cocoa powder
1/2 teaspoons cornstarch
1/2 teaspoon baking soda
1/2 teaspoons cream of tarter
1/2 teaspoon salt
Additional: 1/4 cup sugar
Frosting:
1/2 cup butter
3/4 cup brown sugar
1 cup powdered sugar
1 cup flour
1 teaspoon vanilla
2 - 4 teaspoons cream (can use regular milk)
3/4 cup mini chocolate chips
Instructions
Preheat oven to 350 degrees F.
In a large mixing bowl, cream the butter, 1 cup sugar and the powdered sugar.
Add the eggs, one at a time, then the vanilla and the coconut oil. Make sure the oil is not hot.
In a separate bowl, add the flour, cocoa powder, baking soda, cream of tarter, and salt; blend to mix.
Add the flour mixture to the butter mixture and mix just until they are blended.
Use a large cookie scoop or make dough balls into 2" balls.
Place onto a cookie sheet.
In a dish, add the 1/4 cup sugar.
Grease the bottom of a cup and dip the cup into the sugar then press the glass onto each cookie dipping into the sugar after pressing down each cookie.
Bake for 8 - 10 minutes.
Cool on a wire rack.
Frosting:
Cream the butter, brown sugar, and powdered sugar. Mix well!
Then add the flour and the vanilla, Mix again, making sure that the frosting is nice and smooth.
Add cream until it is the desired consistency that you like.
Stir in the chocolate chips.
*If you are frosting all of the cookies, double the frosting.
Nutrition Information
Yield
36
Serving Size
1

Amount Per Serving

Calories 261 Total Fat 14g Saturated Fat 9g Trans Fat 0g Unsaturated Fat 3g Cholesterol 31mg Sodium 114mg Carbohydrates 33g Net Carbohydrates 0g Fiber 1g Sugar 19g Sugar Alcohols 0g Protein 3g

This data was provided and calculated by Nutritionix