Witch Fingers make a fun trick-or-treat, or just a fun treat for Halloween time. They are creepy, but they are delicious.  They are made with creamy peanut butter mixed with a little butter, then you have a pretzel in the middle; kind of like a bone. 🙂
You can use slivered almonds or even whole almonds, depending on what you want. The whole almonds look like a really bad manicure. We also put just a little raspberry or strawberry jam on the end so it looks like someone cut those fingers off of an old witch.
i always love when my kids say "when are you going to make witch fingers"? They are a family tradition around here. Since we are so into almond butter, maybe this year I will have to try almond butter. What do you think?
Start by rolling the dough about the size of your finger, then place the pretzel rod in the middle and try and smooth it over with your fingers. Take a tooth pick or a thin spoon and make marks on the finger making them look like real fingers. EEEKKK!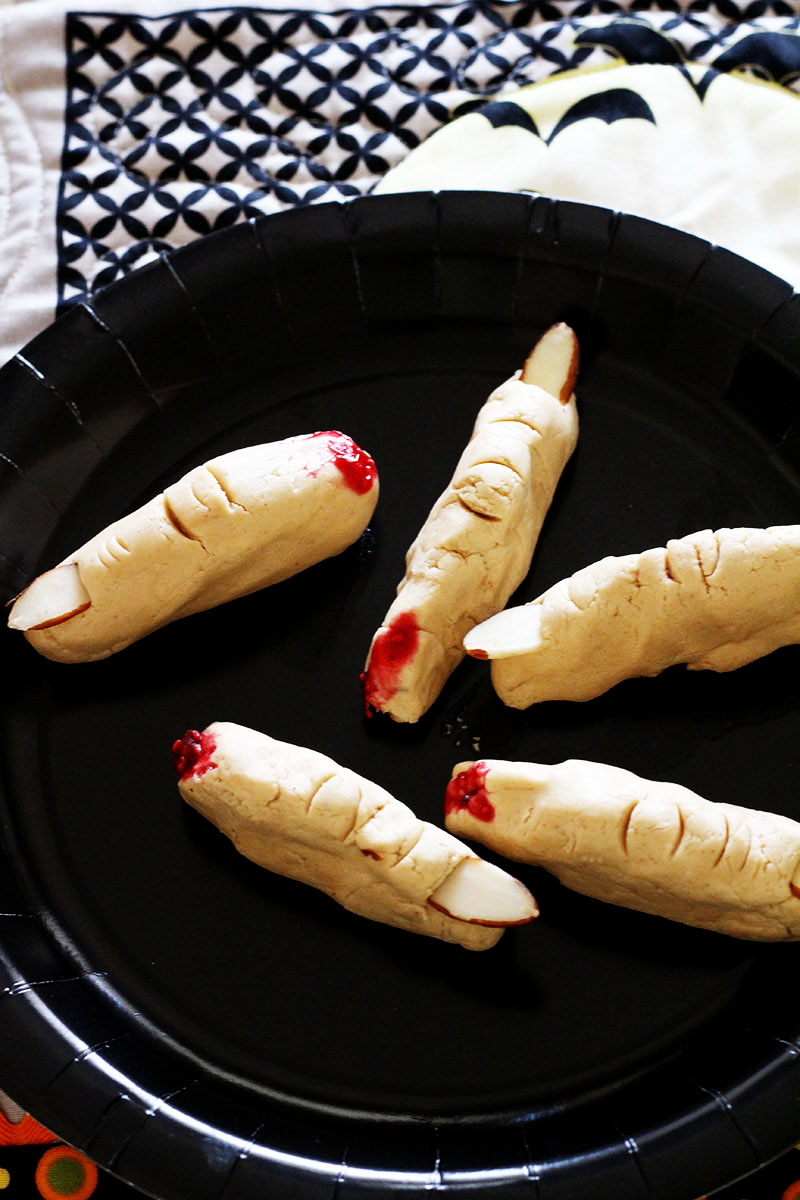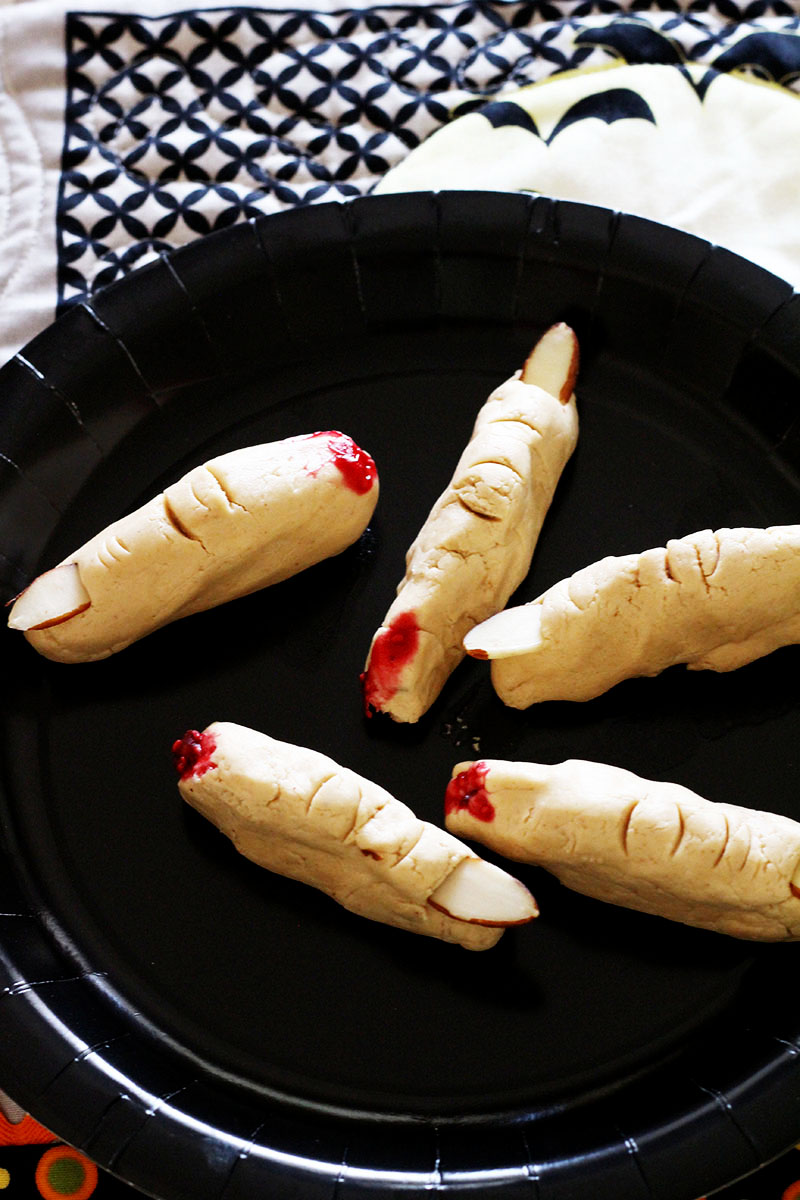 When I was little, I just loved Halloween, but now that I am older and I basically answer the door, it is just not as fun as it use to be. So when the family gets together, that is when I have fun with Halloween. There are a few fun things that we do. The first is Dinner in a Pumpkin, and this is a must for my family every year!
Another one of our favorite traditions is Home made Root Beer! This is also a must, and since it makes so much, sometimes I sit outside and give it to the neighbors that come by. They all love it!
I realize that life is suppose to be enjoyed, and that is why we have these fun traditions. Traditions take us back to the days that we were young and they help tie our families together. I invite you to start today and try making a few traditions of your own. You will be glad and so will your kids, even if you have to make witch fingers every year.
Remember, it doesn't have to be scary, it can be fun. I have been scared a few times and I do not like it. So enjoy the fun part of Halloween and do not scare people.
You will love making these crazy witch fingers for your friends and family.  It is part of our Halloween tradition.  They are very rich and a little goes a long way.
Kids and grand kids will love making these.  My children and their friends have enjoyed competing with each other when making them, to see who can make the most realistic witch finger.  They tell me that the pretzel is the witch's bone in her finger.
This is about as much creepy as I like for Halloween. Have fun with these and let the kids have a great time making them. Halloween will never be the same without witch fingers. The funny thing is, I just had a little surgery on my thumb today and I guess we take things for granted. I never realized how many things I use my thumb for. Happy Haunting!
Tips and Tricks:
1- Make sure that the butter is soft.
2- We use jam for the ends because you know that peanut butter and jam go well together!
3- Use small pretzels rods and make the fingers just a little bit bigger than the rod.
4- You can use peanuts in place of the almonds if you like.

Witch Fingers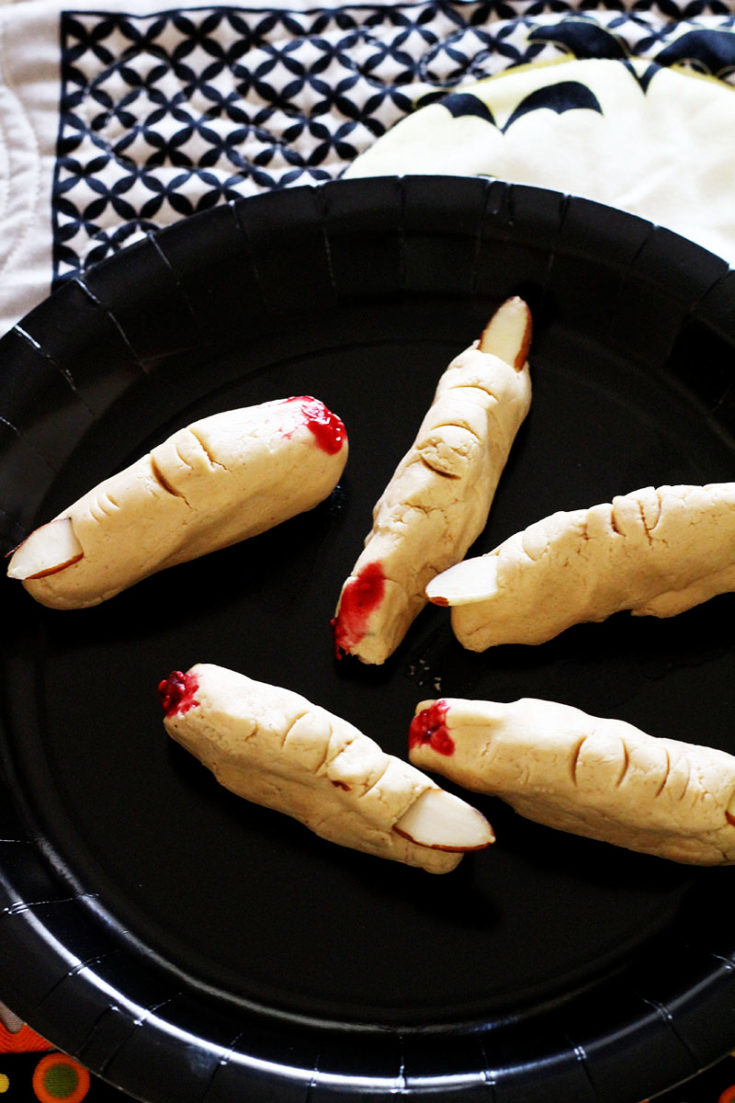 Prep Time 20 minutes

Total Time 20 minutes
Ingredients
1/2 cup creamy peanut butter
1/2 cup butter (softened)
1/2 tsp. vanilla
3 cups powdered sugar
1 small bag pretzel sticks
slivered almonds
Instructions
In a medium mixing bowl, cream together, peanut butter, butter and vanilla. You can use a hand mixer.
Add powdered sugar until mixture reaches a play dough texture.
Form the dough around the pretzel sticks, making it the same size as a finger.
Using the end of a spoon, make some marks on the fingers that look like knuckles and wrinkles. (2 on top and 2 in the middle or whatever); just have fun with it.
Place a slivered almond on one end for a finger nail.
Then place some raspberry or strawberry jam on the end so that it looks like blood. (Leave this off if it grosses you out).