Dinner In A Pumpkin is such a wonderful family tradition for your family.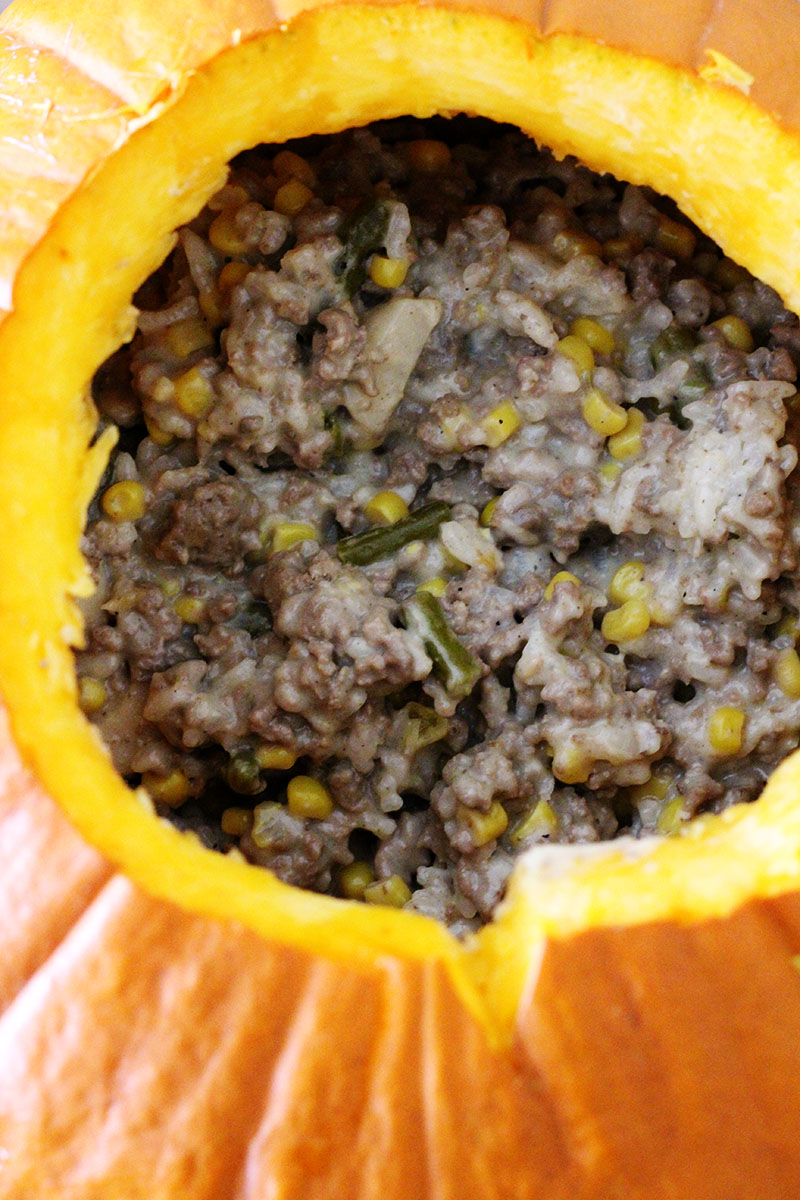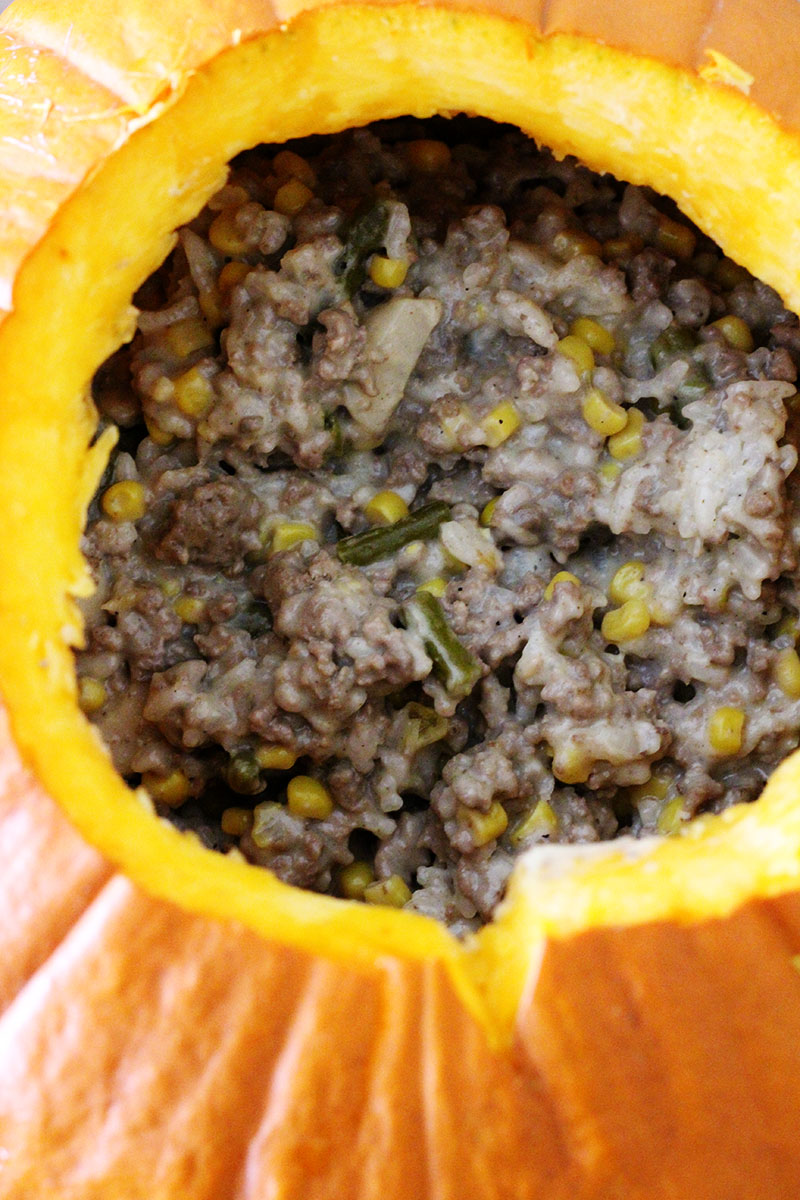 This is a fun meal for this time of year.  We love to make this every year around Halloween.  It has become a treasured family tradition that we all look forward to.  It is fun to look for just the right pumpkin, draw a face on the pumpkin, and then share it. Have fun with this dish!


Yield: 8
Dinner In A Pumpkin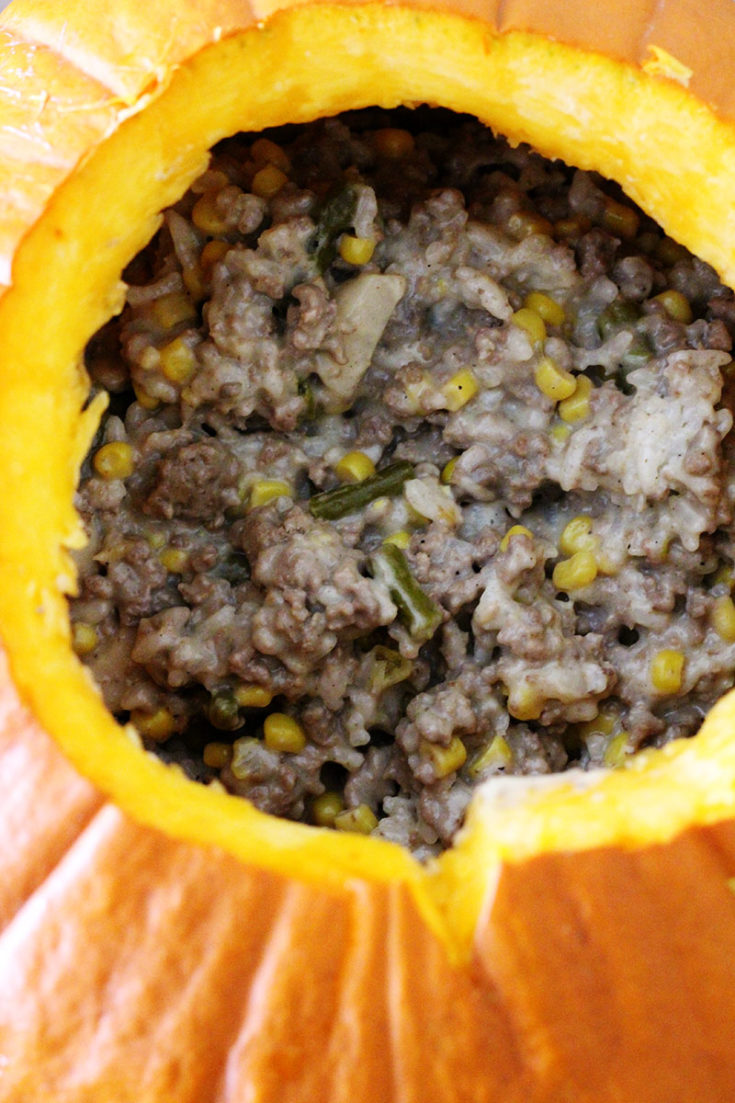 Prep Time 1 hour

Cook Time 1 hour 30 minutes

Total Time 2 hours 30 minutes
Ingredients
1 medium pumpkin (thoroughly cleaned inside and out)
1 - 2 lbs ground beef (cooked)
1 small onion or 2 Tbsps dried onion
2 Tbsps brown sugar
2 Tbsps soy sauce
1 (10 1/2 oz) can cream of chicken soup or mushroom
1/2 soup can of milk
1 (15 oz) can green beans or corn or both
1 (4 oz) can mushrooms (drained) optional
1 1/2 cups cooked rice
1 (8 oz) can water chestnuts (drained)
Instructions
Find a pumpkin that sits nice and level. If you can, find one that isn't too thick so it is easier to clean out.
Cut off the top, I like to cut a little V shape in the front and also angle the knife inward at a slant, so the top doesn't fall in when cooking.
With a permanent marker draw a cute face on the pumpkin.
In a large skillet, brown the ground beef and the onion. Remove any excess oil with paper towels.
Add brown sugar, soy sauce, soup, milk, green beans or corn or both, and mushrooms.Stir well. Let simmer for 10 minutes.
Add rice that has been cooked, and chestnuts.
Place mixture into the cleaned out pumpkin. Set the top of the pumpkin on and place pumpkin on a baking sheet.
Place on the bottom rack of oven that has been preheated to 375 degrees. Bake 1 1/2 hours or until the inside of the pumpkin is soft. You can test it by removing the lid and poking with a fork.
Place pumpkin on a large thick plate and serve the casserole that is inside the pumpkin.
We also like to eat the pumpkin. We just eat it like squash; with butter, salt and pepper.