Twice baked potatoes are the perfect side dish for just about any meat. I got this recipe from my friend Michelle. She is an awesome cook and I know that you will love these!
I also had a dear friend who took my husband and myself and a few other friends to a charity concert the other night. Before we went, we had steak, twice baked potatoes, green salad, green peas and eclairs for dessert! It was a delicious dinner.
We watched Lexi Walker, David Osmond, and Marie Osmond! It was just a fantastic night and such beautiful voices. It is so nice to have great friends that will reach out and share such wonderful experiences. We are blessed.
Lexi is just 16 years old and she has an amazing voice. She is going to do well with her career. If you get a chance, it is fun to listen to her on You Tube singing "Let It Go".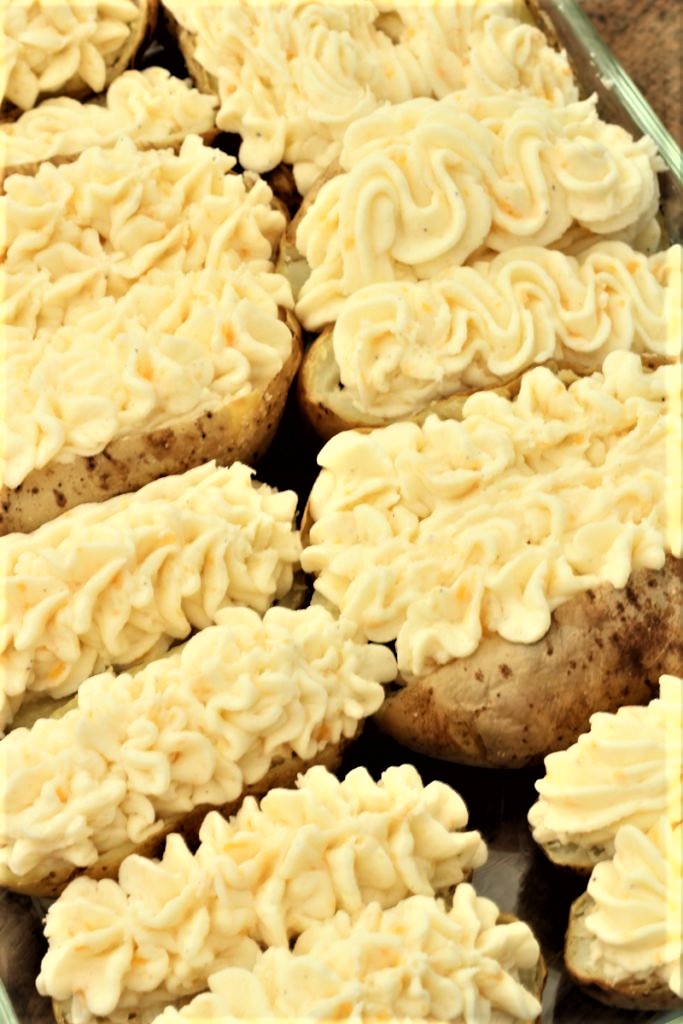 Also we have been shopping for grand kids and a few gifts that are for Sub for Santa. I am always amazed by the generosity of people. Some people in my neighborhood donated some money for some less fortunate families. That is such a kind gesture.
These people could keep the money for themselves, but instead they think of others and reach out and share. That is truly the reason for the season. And it is really great that we have Christmas and can take time out of our busy lives to reflect on our Savior and do as he did, by putting others first.
Another part of the season that I love, is seeing Christmas through the eyes of a child. I had a doll here at the house to give away and my 3 year old granddaughter got so excited when she saw it.
The first thing that she did was pick it up and give it a kiss. Their little laughs and smiles are so sweet. And she is so excited to see Santa tomorrow! Aren't we ALL!
It just makes me want to be a kid again. (No Worries)! Kids have it all figured out. We adults worry way too much, but I just don't know how to stop.
So for now, I will learn from the little children, and I know that I can figure it out, because I use to be one. Happy shopping and enjoy, making these wonderful, twice baked potatoes!
Tips and tricks:
1- Bake your potatoes ahead of time, so that they are not so hot to scoop out!
2- An easy way to fill the potato skins is to use a large cookie scoop.
3- You can also use 1/2 sour cream and 1/2 cream cheese!
4- Garnish with extra cheese and chives or little green onions!


Yield: 6 people
Twice Baked Potatoes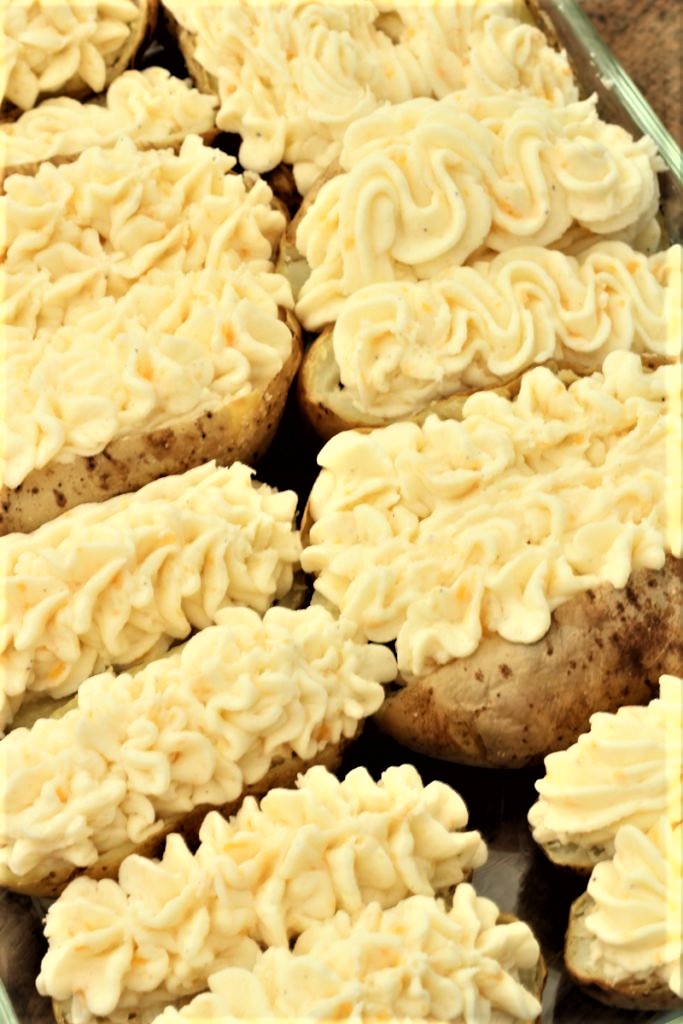 Prep Time 20 minutes

Cook Time 1 hour

Total Time 1 hour 20 minutes
Ingredients
6 medium potatoes (scrubbed)
1 cup cheddar cheese, grated
1/2 cup butter or margarine, softened
Salt and pepper
Parmesan cheese
1 pint sour cream
1/2 cup chives or chopped green onion, (if desired)
Instructions
Rub cooking oil on potatoes with a paper towel, poke each potato a couple of times with a fork.
Bake unwrapped @ 375 degrees for 1 hour.
Cut in half lengthwise.
Scoop out both halves. (Reserve the skins).
In a large bowl, whip the potatoes together and add salt and pepper to taste, about 3/4 teaspoon salt and 1/3 teaspoon pepper.
When smooth, add sour cream, chives or onions, cheese and butter. Whip till blended.
Scoop mixture back into the skins.
Sprinkle with a little Parmesan cheese.
May be held in fridge for 24 hours, or wrapped for freezing.
Immediately prior to serving, place potatoes on a cookie sheet and bake at 325 degrees for 30 minutes or until golden.