Italian potatoes with Parmesan cheese is a wonderful side dish. I am having these potatoes tonight with a bit of salmon! You remember I told you that I have a lot of potatoes this time of year. I am so excited when I get our bags of potatoes!! They are big and beautiful.
In fact, next time I make Italian potatoes with Parmesan cheese, I will only use five potatoes. They were packed pretty tight in my 10″ skillet. I feel that if you spread them out a little bit more, they would cook a bit faster. Fall is in the air and that means I get to try all kinds of potato recipes. I like Russet and Red potatoes for mashing, and Russet and Red for baking in the oven. Yukon Gold are my favorite in soups and pot pie!
I know that there are a lot more varieties, but since I am from Idaho and that is where we get our potatoes, these are the kinds of potatoes that I use. When it comes to hash browns, I have only ever used Russets, but I think that any of them would be great.
I love the look of the red potatoes in the Italian potatoes with parmesan cheese. The red gives the dish a bit of color. Hey, maybe next time I will use one of each and see how that turns out. That would also be fun and give this dish some color.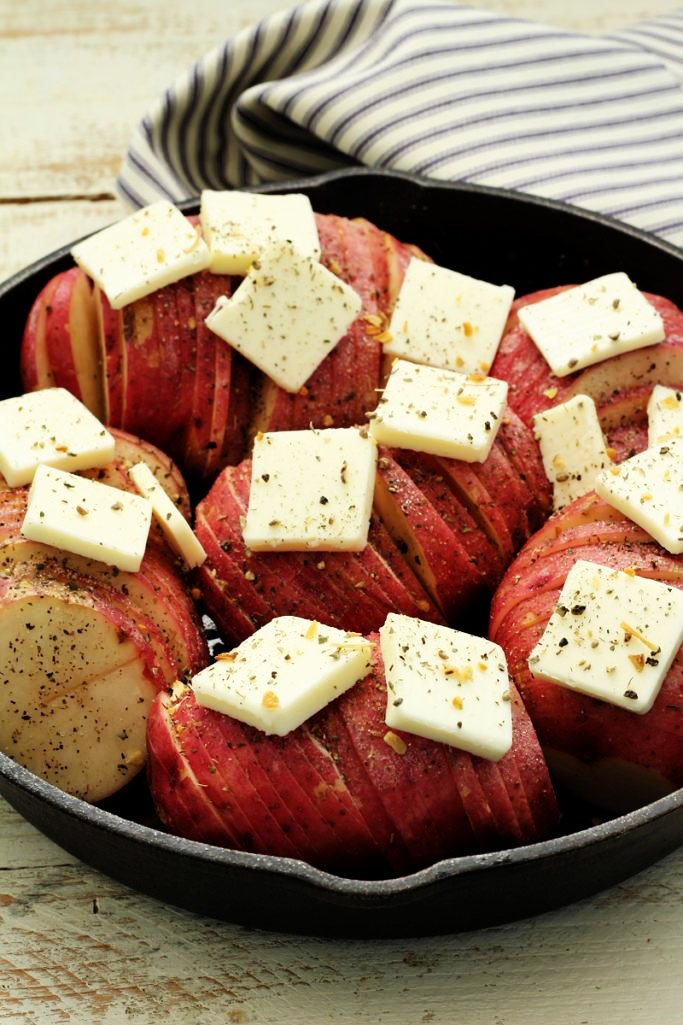 I must tell you, I wasn't sure how this day was going to go, when I went to take a picture of the finished product, I took four pictures and then I decided to move the pan a little bit. Yep, you guessed it; it fell on the floor.
I was a little bit bummed, but first of all my tile did not break. That would have been really bad or sad or just not good. I can replace some potatoes a lot easier than a tile that I have had for 22 years!
Then I went to physical therapy to see what was going on with my back, and he gave me some exercises to do that will strengthen my back and then he told me, do you know that you have scoliosis, ever so slightly.
I thought to myself, no I don't, I have just been walking crooked for so long my back is stuck in a little s curve. So, it is time for me to stop being so immobile and get working out more. I use to work on a farm lifting bales of hay and now that I have gotten a few years older, I can hardly lift my kitchen skillet!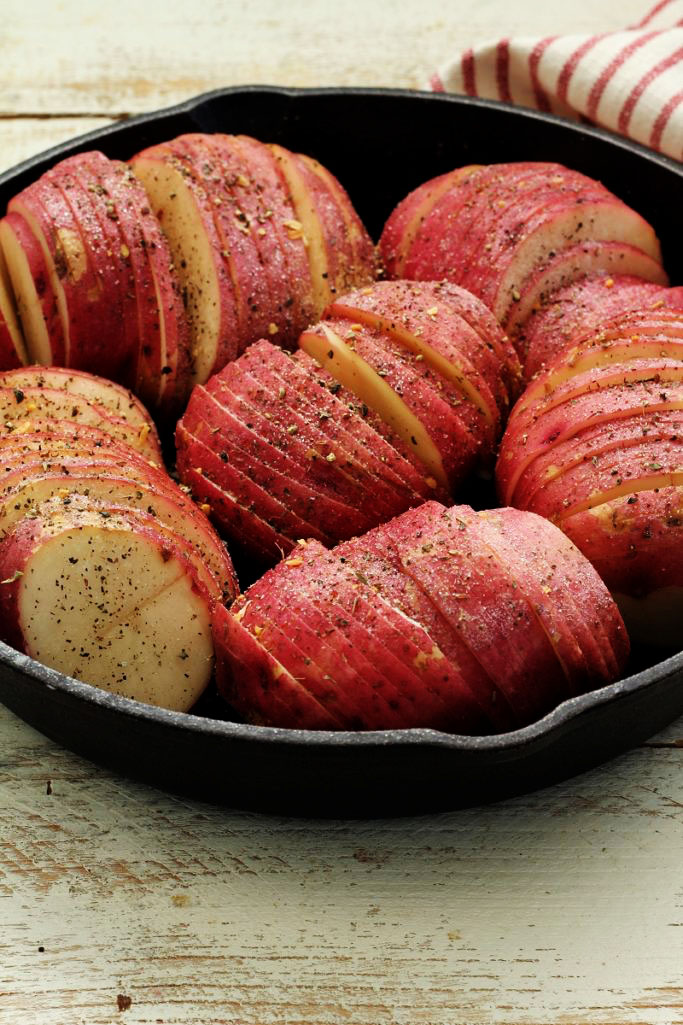 Give me a month, and I am going to be in great shape! I do enjoy exercising and one always feels better after they are done. What are some of the exercises that you enjoy doing, or the programs that you exercise too? I will start out by walking and stretching, then who knows, maybe I will be able to do some running like I use to?
Yep that is right, I use to run the mile in track. One time my coach asked if I would run the 2 mile in district, and then at the very end of the meet, run the 1 mile. I only did that once. I did not do so well in the mile because I wasn't use to running 2 miles and it made me tired.  I think that I have run a 5K one other time and that is the extent of my more than one mile experiences.
Now, back to potatoes. I really am partial to potatoes; I guess that that happens when one grows up in Idaho, especially in the part of Idaho where lots of those Spuds are raised. I kind of like coming up with new ways to use potatoes, and Italian potatoes with Parmesan Cheese is a good one!
Tips and Tricks:
1- Don't use the biggest potatoes that you can find. 😉 ( they are easy to scrub, but they take a longer time to bake).
2- Place some olive oil in the bottom of the pan and brush it around so that your potatoes do not stick.
3- Fan the potatoes apart before sprinkling with salt, pepper, and seasonings.
4- Cut the butter into thin squares before placing on top of the potatoes.
5- If you like the potatoes more season, add just a little more salt, pepper and Italian seasoning on top of the buttered potatoes.
6- When you put the potatoes back into the oven without the foil, you could also add  another cheese if you like.


Yield: 6 people
Italian Potatoes with Parmesan Cheese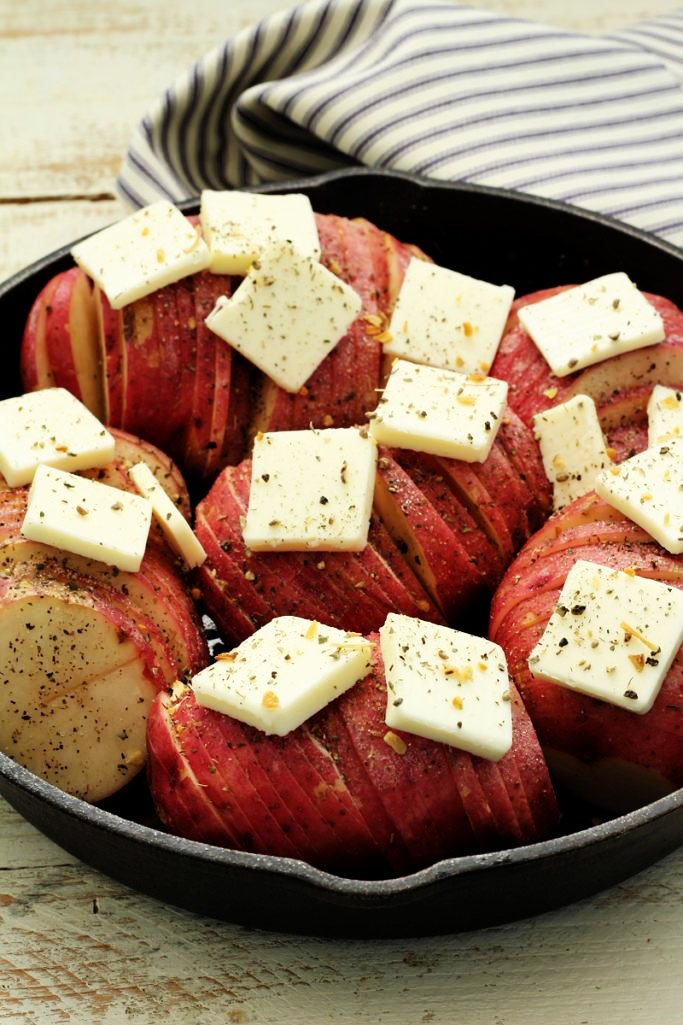 Prep Time 15 minutes

Cook Time 1 hour 15 minutes

Total Time 1 hour 30 minutes
Ingredients
2 - 3 Tablespoon of olive oil
6 large Red or Yukon potatoes
1 1/2 teaspoons garlic salt
1 1/2 teaspoons Italian seasoning
1/2 teaspoon salt (or to taste)
1/4 teaspoon pepper (or to taste)
1/3 cup butter sliced into thin slices
1/3 cup Parmesan Cheese
Instructions
In a small skillet, brush the olive oil.
Preheat oven to 400 degrees.
Scrub potatoes and slice into thin slices.
Place the potatoes into the skillet.
Sprinkle the Italian seasoning and garlic salt on top of the potatoes.
Add salt and pepper.
Place slices of butter on top of the potatoes.
Cover with foil.
Place in the oven for 1 hour and 15 minutes.
Remove the potatoes from the oven and remove the foil.
Sprinkle with 1/3 cup Parmesan cheese, (shredded).
Place back into the oven without foil and bake for an additional 5 - 10 minutes.