Sweet Potato Souffle is one of our family's Thanksgiving traditions.  I could hardly keep my family from eating it long enough to take a picture! The rich golden topping made from brown sugar, pecans, flour, and butter, make these sweet potatoes even sweeter. I think that this sweet potato souffle could almost be put in the pie category, or even dessert.
Some people like to use yams, but you can use either sweet potatoes or yams.  Sweet potatoes are light like you see in the picture, and yams are a more orange color.  You can even use some of both.
When I go to the store, I look for a littler colored potato, and not the ones that are dark orange. They are on sale this time of year, but they need to be kept in a cool dark place so that they do not go bad so fast. This dish is very sweet, but remember, sweet potatoes are good and healthy. Right?
I had to laugh once when my sister-in-law told my brother-in-law that he needed to try two bites, she loves them, but since he knew that they were sweet potatoes, he told us that he didn't like them. What's not to like? So you have my permission to call this what you want. You just might have to keep the truth from some people!
I remember the first time that I made these, my family was so thrilled, and so was I that they were happy to be eating sweet potatoes. I know that some people think that yams are the same, but to me, they are not! Yams seem to have a different texture and they flavor is not as sweet to me.
When I was  growing up, we would have yams with marshmallows on top. My siblings loved these, I am not big on marshmallows unless they are in rice crispy treats.  So, when the yams came around, I would usually pass them up.
The same with stuffing, I just have a bit of a hard time enjoying the texture. I do not care for it even if it is a little crunchy. However, my daughter had a request for stuffing this year. She told me that she was craving stuffing and that she would bring a box.
What?  I told her that I would make stuffing even though I do not eat it, but I am pretty sure that my husband would not be happy with boxed stuffing. However, it is great for some people, but when it comes to making a great Thanksgiving dinner, I can not have stuff made out of a box. I am a blogger, and we usually do not do that!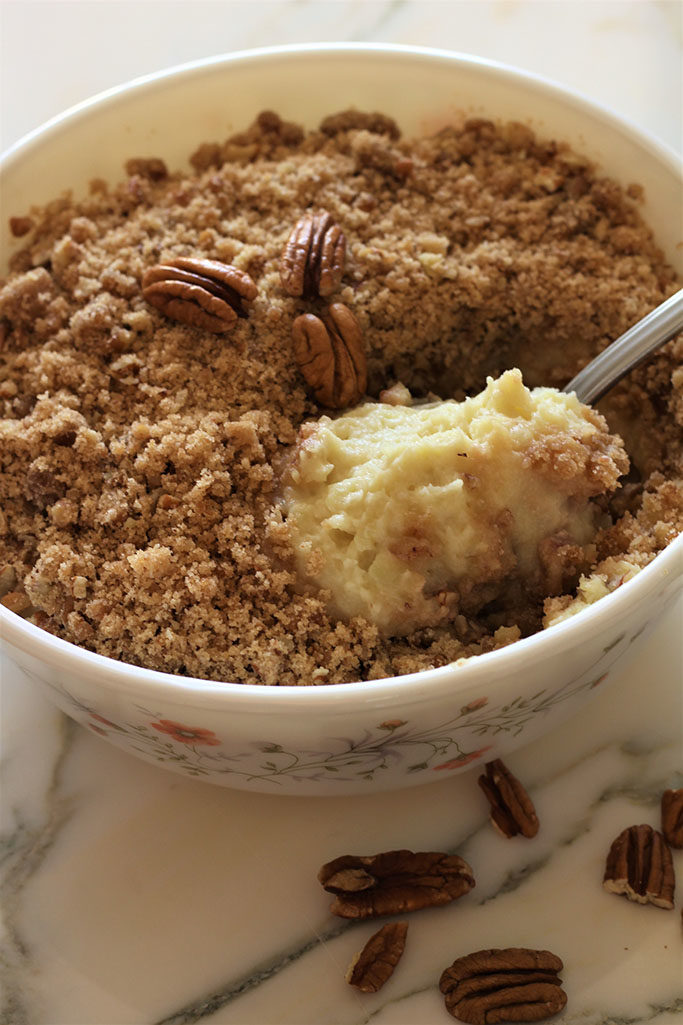 One thing that I do know for sure is that I will be having seconds when it comes to sweet potato souffle. And I am pretty sure that my son who is the picky eater, will also be having seconds of sweet potato souffle. In fact, I usually have him help me make them. He likes them that much.
Tips and trick:
1- You can cook your sweet potatoes in the oven for an hour on 375 degrees; just make sure that you poke them with a fork 3-4 times. We do not want any exploding going on!
2- I like to cook my sweet potatoes the day before, so that they are cooled off and easy to handle, then I peel them. In fact you can make the recipe the day before and warm them up the next day.
3- When the sweet potatoes are cooled off, it makes it so that you do not worry about your eggs starting to cook.
4- This recipe can easily be halved.
5- I have used walnuts before, but I prefer pecans.


Yield: 10 people
Sweet Potato Souffle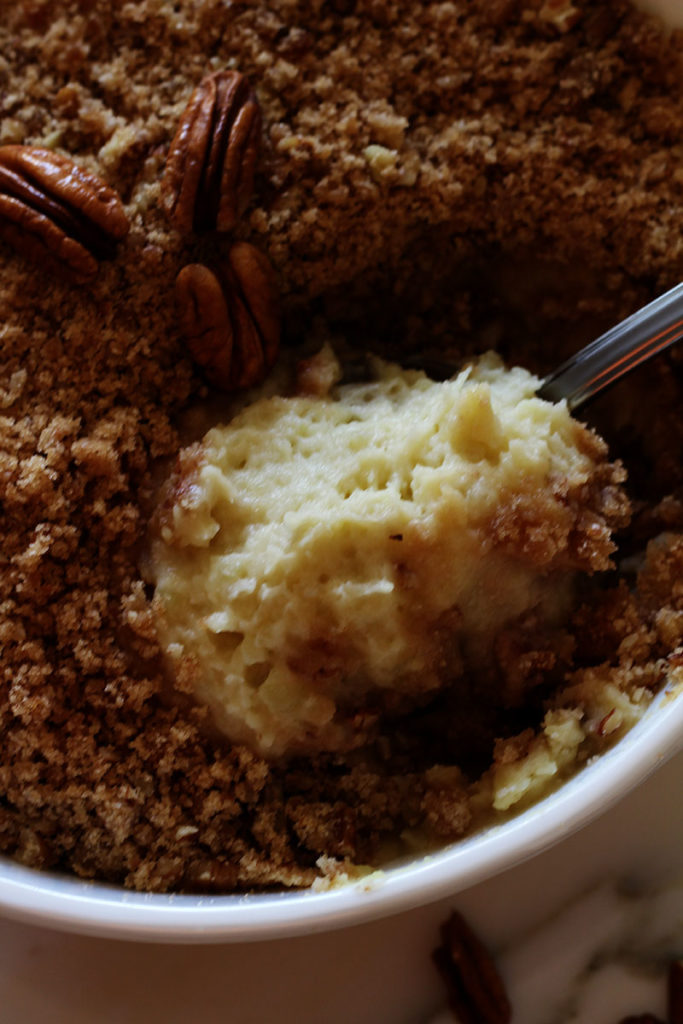 Prep Time 1 hour 15 minutes

Cook Time 30 minutes

Total Time 1 hour 45 minutes
Ingredients
3 cups sweet potatoes (about 2 large)
1/2 cup sugar
1/4 tsp salt (optional)
2 eggs, lightly beaten
1/3 cup butter, melted
1/3 cup milk
1 tsp. vanilla
Topping:
1/2 cup brown sugar
1/4 - 1/2 cup pecans or walnuts, chopped
3 Tablespoon butter, melted
1/4 cup flour
Instructions
Scrub sweet potatoes and cut into smaller pieces. I don't peel mine until after they are cooked.
Cook in a large pot of boiling water for about 30 minutes, or you can bake them in an oven @ 375 degrees for about 1 hour.
Peel the sweet potatoes after they have cooled, then place place them in a bowl.
Mix on low with an electric mixer until smooth.
Add sugar, eggs, 1/3 cup melted butter, milk and vanilla.
Place in either a 9" X 9" pan, or a 2 1/2 quart baking dish.
Topping:
In a small bowl combine 1/2 cup brown sugar, chopped nuts, butter and flour.
Spread on top of potato mixture.
Bake uncovered @ 350 degrees for 30 minutes.