Surprise Strawberry Yogurt Cake! Strawberry whipped topping is the perfect way to start Spring. And guess what, that is tomorrow! Yahoo, I can't wait!! Even though I know that we are still suppose to get more snow, I know that Spring will be here soon.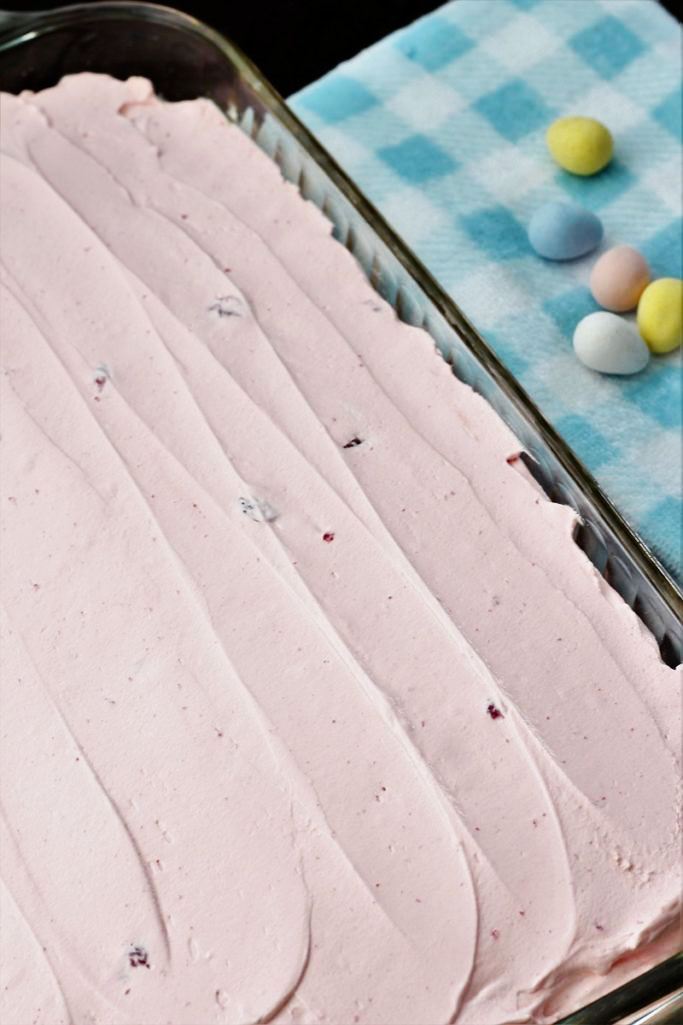 The nice thing about this surprise strawberry yogurt cake is that you get a Cadbury egg in each slice of cake. I put mine in when the cake was warm, but I wouldn't recommend it. Put them in after the cake is cooled. One can never get enough of those Cadbury eggs. Then we topped it off with nice light frosting, of yogurt and whipped topping. It is so easy almost anyone can make the frosting. So get your kids to help and I am pretty sure they will even ask to lick the bowl!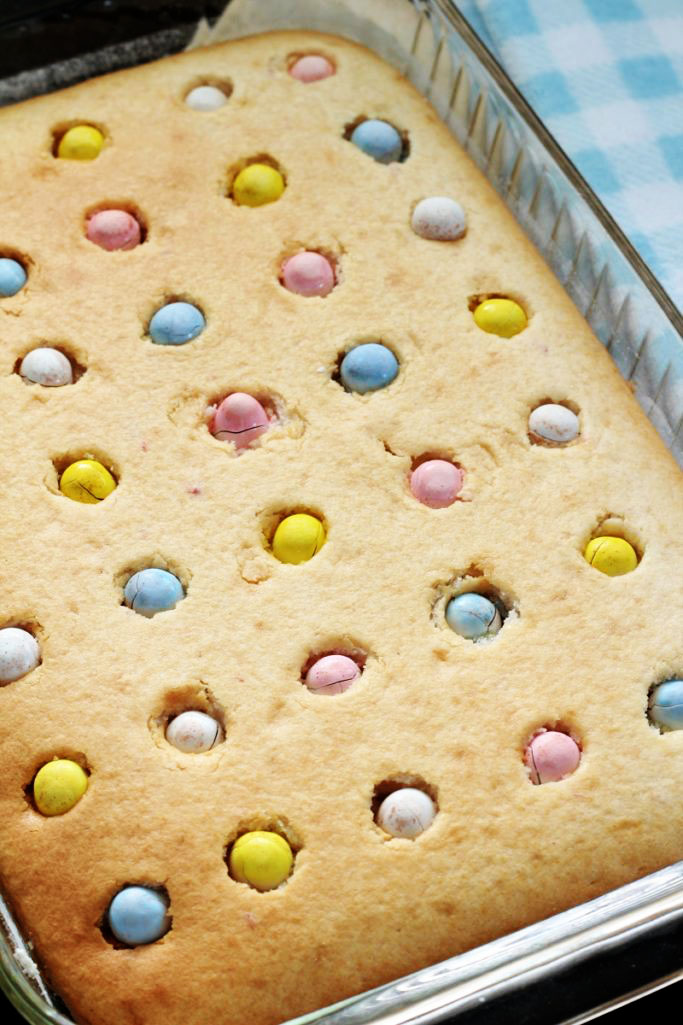 The surprise strawberry yogurt cake frosting is a nice change from the regular frosting, it is just so nice and light. However, I did get a few comments. I think my children prefer the good old butter cream frosting. I was just pleased that this frosting made up in about 2 minutes. And you know next time, I just might try and make the cake plain white and then have the strawberry frosting. But the strawberry cake is so mild, that the Cadbury eggs where still a surprise and a hit. Try and eat the cake when it is finished, otherwise, I am not sure what the Cadbury eggs will do. And we do not want our surprise strawberry yogurt cake to have soggy Cadbury eggs. Enjoy!!

Surprise Strawberry Yogurt Cake
Prep time:
Cook time:
Total time:
Ingredients
1 (15.25 ounce) boxed white or yellow cake mix
¾ water
⅓ cup vegetable oil
3 egg whites
1 (8 ounce) container of strawberry yogurt
1 package of Cadbury eggs
Frosting:
4 ounces of frozen whipped topping
1 (8 ounce) container of strawberry yogurt
Red food color, if desired
Instructions
Heat oven to 350 degrees.
Grease and flour a 9" x 13" pan.
In a large mixing bowl, add dry cake mix, water, vegetable oil, egg whites and 1 container of yogurt.
Mix on low for 1 minute.
Then beat on medium for 2 minutes.
Pour into the pan and smooth to level.
Bake for 30 - 35 minutes, or until the center of the cake is done. Insert a cake tester or a wooden pick into the center of the cake; if the tester comes out clean, your cake is done.
When the cake is done, cool the cake completely.
Insert a Cadbury egg in every few inches or as many as you like!
Frosting:
In a medium bowl, mix 4 ounces of whipped topping, 1 container of yogurt, and food coloring (if desired).
Spread over the cake.
Enjoy.
Refrigerate any leftovers.