Oatmeal Chocolate Chip Cookie Cake. Yum! Do you want to make this cake for a birthday or for Father's Day? I made it for my son's birthday and it was wonderful. We all love the flavor of oatmeal chocolate chip cookies.
So if you love oatmeal chocolate chip cookies, you will really enjoy oatmeal chocolate chip cookie cake. We really enjoyed our get together. We also enjoyed shrimp macaroni salad and some quick buttermilk corn bread.
Then we also had some ribs, however, they need a little work before I post them, because they were not our favorite. The best part of dinner was good family and friends. Food is simply the frosting on the cake.
You will love making this amazing oatmeal chocolate chip cookie cake. It might take a little while to put the cake together, but it is worth every bite.
Some fun garnishments for this Oatmeal Chocolate Chip Cookie Cake are:
1. chocolate chips
2. whole cookies, or
3. cookie crumbs.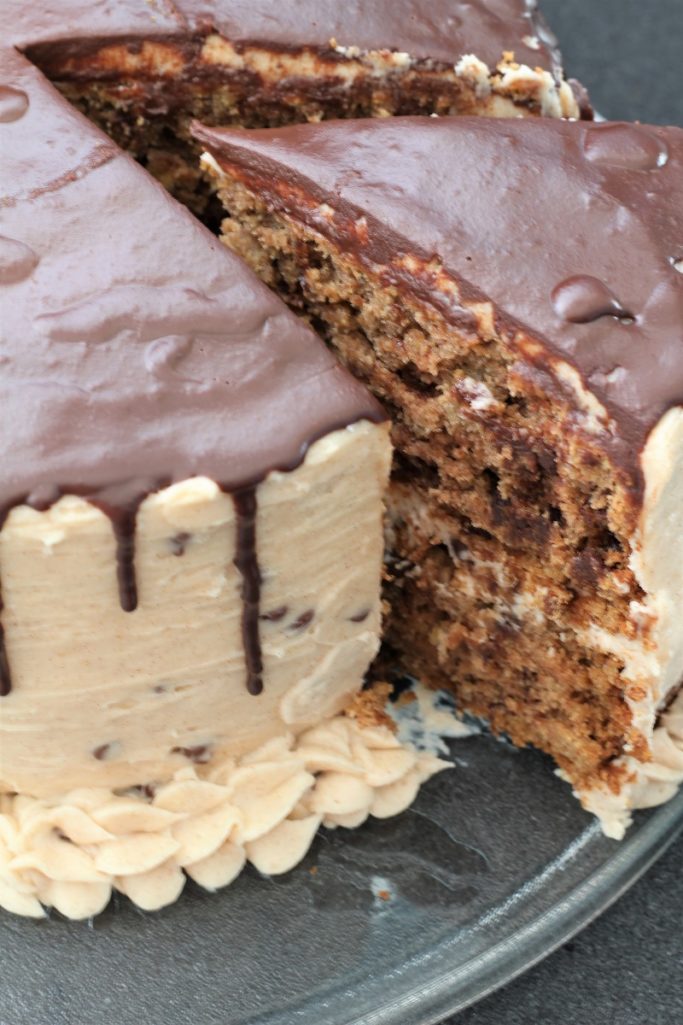 I hope that you enjoy your Father's Day. Do dad a favor and make him an oatmeal chocolate chip cookie cake. I hope the weather is great and that all Father's have a wonderful day!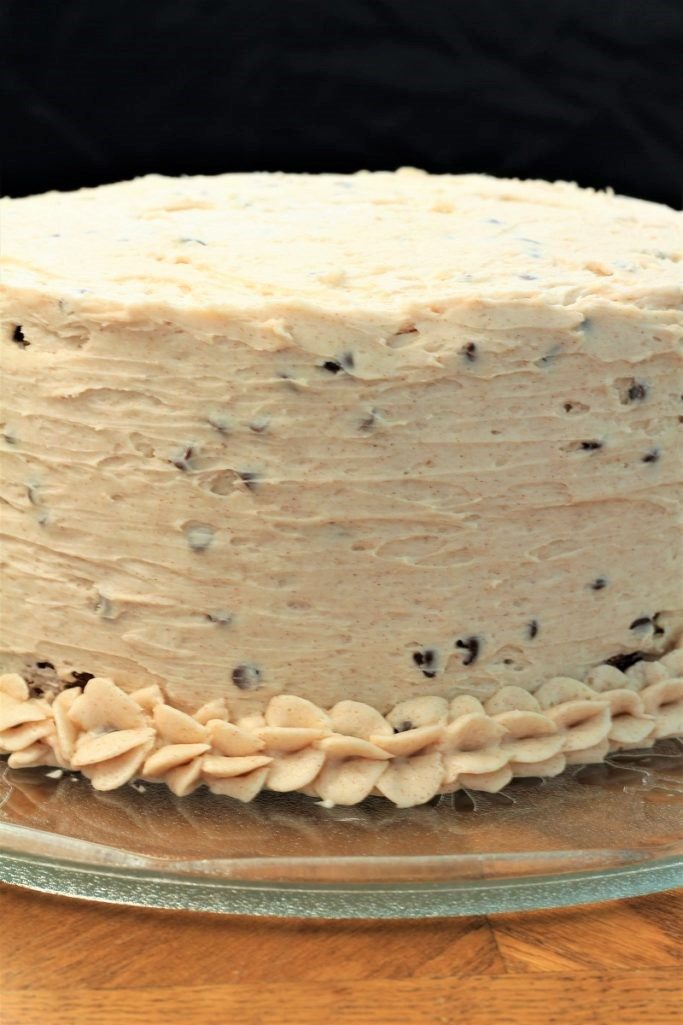 How do I prepare the pan when making a Cookie Cake Recipe?
Spray the bottom of the pan with nonstick spray. Place a piece of parchment paper or wax paper, cut into a round to fit the pan, on top of the parchment or wax paper. This will help to ensure that the cake doesn't stick.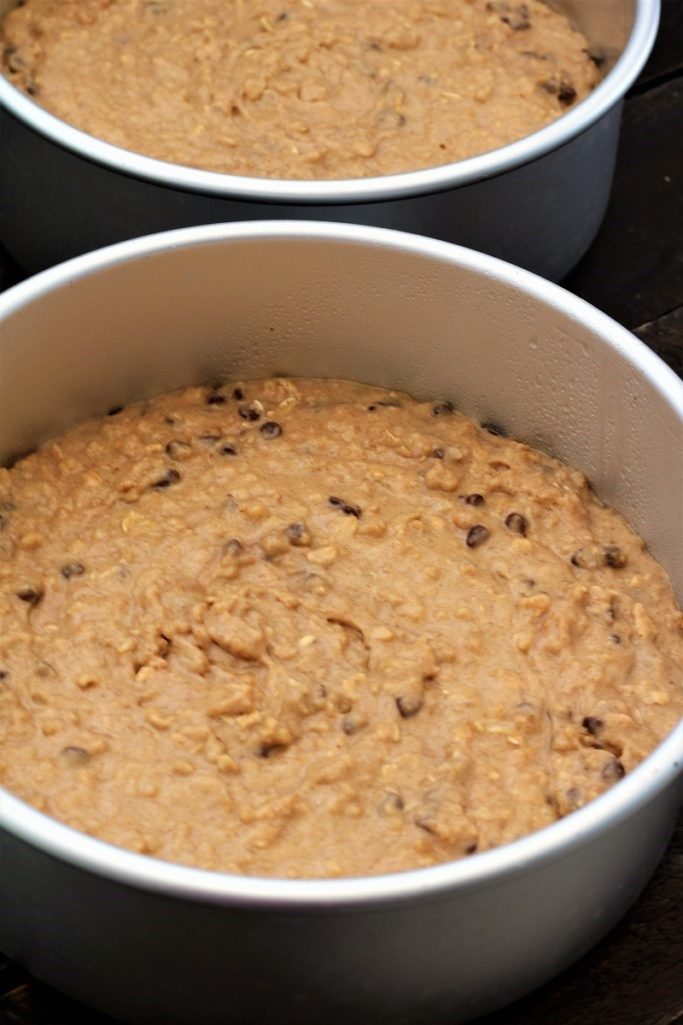 Can I make this Oatmeal Chocolate Chip Cookie Cake ahead of time?
Yes, this cake actually keeps quite well. It does soften a little with time, but it tastes the same.
How long can I store the leftover Cake?
Leftovers will be good for 3 – 4 days when stored in an airtight container. The cake will soften slightly, but otherwise holds up quite well.
Yield: 20 People
Oatmeal Chocolate Chip Cookie Cake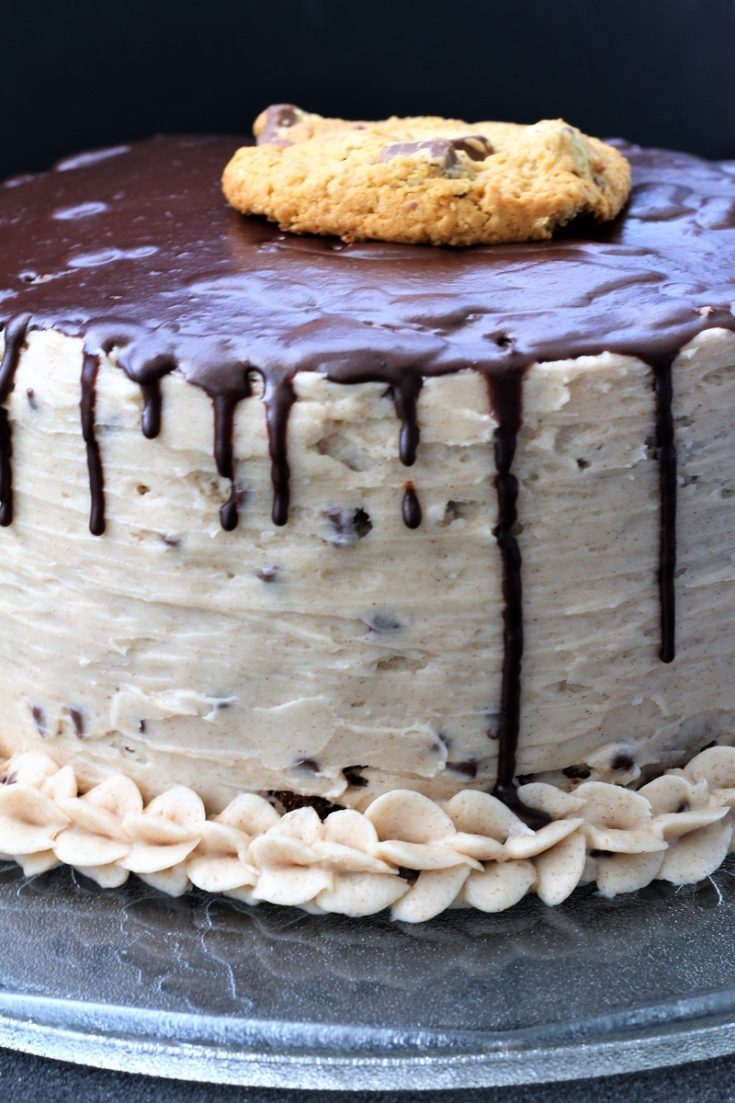 Total Time
1 hour
30 minutes
Ingredients
2 1/2 cups water
2 cups uncooked rolled oats
1 cup butter
1/4 cup sour cream
1/2 cup granulated sugar
1 cup brown sugar
1 1/2 teaspoons vanilla
4 eggs, @ room temperature
1 teaspoon salt
2 teaspoons baking soda
2 1/2 teaspoons cinnamon
3 cups all purpose flour
Frosting
cup butter
5 cups powdered sugar
2 teaspoons cinnamon
1 teaspoon vanilla extract
6 - 8 Tablespoons cream
1/2 cup mini chocolate chips
Chocolate Drip
1/2 cup cream
1/2 cup semi sweet chocolate chips
Instructions
Preheat the oven to 350 degrees.
Spray two 9" round cake pans with cooking spray. You may also want to cut a piece of wax paper the same size as your cake pan and place it in the bottom.
In a medium bowl, boil the water in the microwave, about 2 1/2 - 3 minutes.
Place the oatmeal in the water and set it aside, about 15 - 20 minutes; this allows the oatmeal to absorb some of the water and the mixture to cool a bit.
In a standard mixer, mix the butter, and sugars, and sour cream on medium speed for about 1 1/2 minutes.
Then add the eggs and vanilla, then scrape the sides of the bowl.
Next, add the oatmeal mixture.
In a medium bowl, add the flour, salt, baking soda, and cinnamon. (I sift mine).
Add the flour mixture to the butter mixture and mix well.
Add the chocolate chips, just until combined.
Place equal amounts of batter in each pan.
Place them in the oven and bake for 25 - 30 minutes, or until the center of the cake comes out clean when tested with a pick.
Remove from oven and allow them to cool, completely.
Frosting
Make the frosting by placing the butter in to a medium sized bowl.
Add the powdered sugar, cinnamon, vanilla, and cream and mix very well.
Then fold in the mini chocolate chips.
Place one cake on a large plate and frost the top of that cake.
Place the second cake on top of the first and frost the entire outside of the cake.
Chocolate Drip
In a microwave safe bowl, warm the cream on power level 5 for 1 1/2 minutes.
Remove from the micro wave and add the 1/2 cup chocolate chips. Let them sit for about 3 - 4 minutes and then stir them together until they are well blended. (I like to wait about 5 minutes before putting on the drip so that it gets a little thicker.
With a drip bottle, drizzle the chocolate over the cake.
Garnish with an oatmeal chocolate chip cookie or how ever you like.
*Adapted from Cakes by Courtney
Nutrition Information
Yield
20 people
Serving Size
1
Amount Per Serving
Calories

528
Total Fat

28g
Saturated Fat

17g
Trans Fat

1g
Unsaturated Fat

9g
Cholesterol

101mg
Sodium

402mg
Carbohydrates

68g
Fiber

2g
Sugar

46g
Protein

5g