Shish Kabobs are the perfect main dish for these summer months. We made these for the Fourth of July and they turned out perfect. The only problem was, we all wanted some more. I took my meat and placed it in the marinating sauce. The beef I put into a bag, and the chicken I placed into a quart bottle.
Then I placed them into the fridge and let them marinate for two hours. If you want, you can always let them have more time. My son told me that that was the best steak that he had ever eaten! Isn't it wonderful when you get a nice compliment like that?
I was going to place some zucchini on my Shish Kabobs, but I decided to put mushrooms on instead. Next time I make these, I will do both for sure. I love how fast these worked up, however, they are just a little bit messy to make, but well worth the mess.  I will for sure, 100 percent be making these again soon.
As I have told you before, I am not big on putting things on the grill and that is why I put them in the oven. I used baby Bella mushrooms and that is why they are so dark. They may look overdone, but they were perfect. I think that they just might have been my second favorite thing after the meat.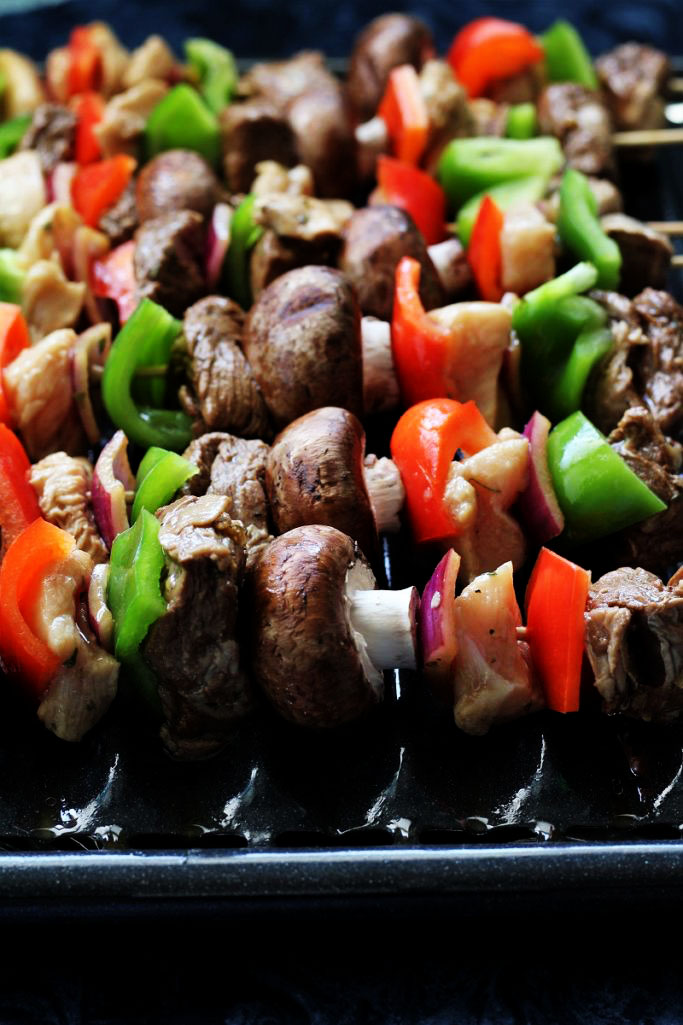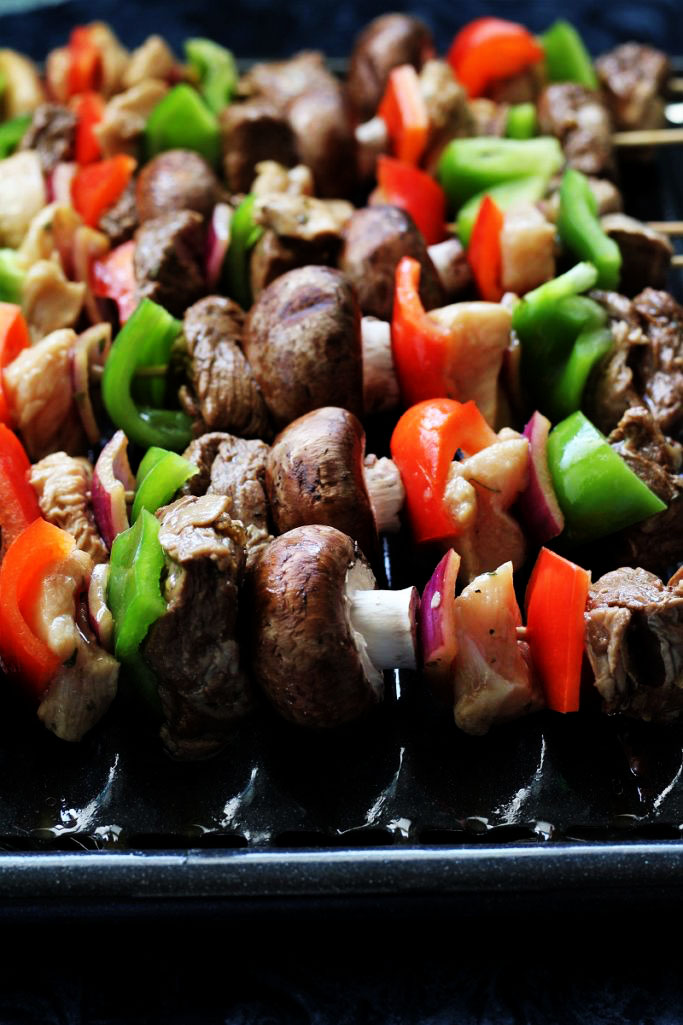 My friends; if I were you, I would get into my car asap and go get some vegetables and meat as soon as possible. Take the time to let the meat marinate because it makes it so delicious and tender.
I promise that your family or friends are going to thank you over and over again, after they get a taste of one of these. I am looking forward to hearing from you.
Please comment and let me know how you enjoy these amazing shish kabobs. Let me know what your favorite part of them is. And if there is something that I forgot to add to my shish kabobs that you enjoy, I am always open for new ideas.

Shish Kabobs
Prep time:
Cook time:
Total time:
Ingredients
Marinade Sauce
1¼ cups oil (I used peanut oil)
¼ cup Soy sauce
⅛ cup Worcestershire sauce
2 teaspoons dry mustard
1 teaspoon salt
½ teaspoon pepper
½ cup red wine vinegar
1 clove garlic minced
½ teaspoon parsley, (chopped)
½ cup lemon juice
Shish Kabobs
½ pound steak of your choice, (cubed)
1 - 2 medium chicken breasts, (cubed)
1 green bell pepper and one red bell pepper, cut into squares
¼ purple onion, cut into cubes
16 ounces mushrooms of your choice
cherry tomatoes, optional
Instructions
Marinade Sauce
In a bag or glass jar, place the oil, soy sauce, Worcestershire sauce, dry mustard, salt, pepper, vinegar, garlic, parsley, and the lemon juice.
Mix it very well.
Divide the mixture into 2.
Shish Kabobs
Place the chicken in one part of the marinade mixture, and the steak into the other.
Allow them to marinade for at least 2 hours, in the refrigerator.
After the meat has had time to marinade, get some wooden skewers or some metal skewers.
Alternate the meats, onions, peppers and mushrooms however you want.
You can either grill them until the meat temperature reaches 160 degrees or place them in the oven on a broiler pan in a 350 degree oven for 12 - 17 minutes or until the meat reaches 160 degrees.
Remove from the oven and enjoy.