Red White and Blue Ambrosia is a quick and easy salad to put together for a 4th of July get together. I am Amy's sister and have been wanting to put together a red white and blue ambrosia salad since I first saw the red, white and blue Kraft "Starmallows".
The marshmallows were so cute and I love ambrosia so I thought that it would be fun to put the Starmallows in an ambrosia salad. Staying with the red, white and blue theme, I went with strawberries, blueberries, red apples, coconut, and maraschino cherries.
The ambrosia turned out so creamy and sweet. It is hard to believe that there is only 1 Tablespoon of sugar in it. Isn't it wonderful how naturally sweet fruit can be? I can't wait to share this red white and blue ambrosia salad on the 4th of July in a few days.
What is Ambrosia?
The word "ambrosia" means delicious or fragrant. Ambrosia was also the magical fruit of the gods in ancient Greek mythology. The gods on Mount Olympus ate ambrosia to maintain immortality and without it, they became weak. I can pretty much assure you that you will not become immortal by eating this Red White and Blue Ambrosia, but I do think that you may feel like you are eating like a God,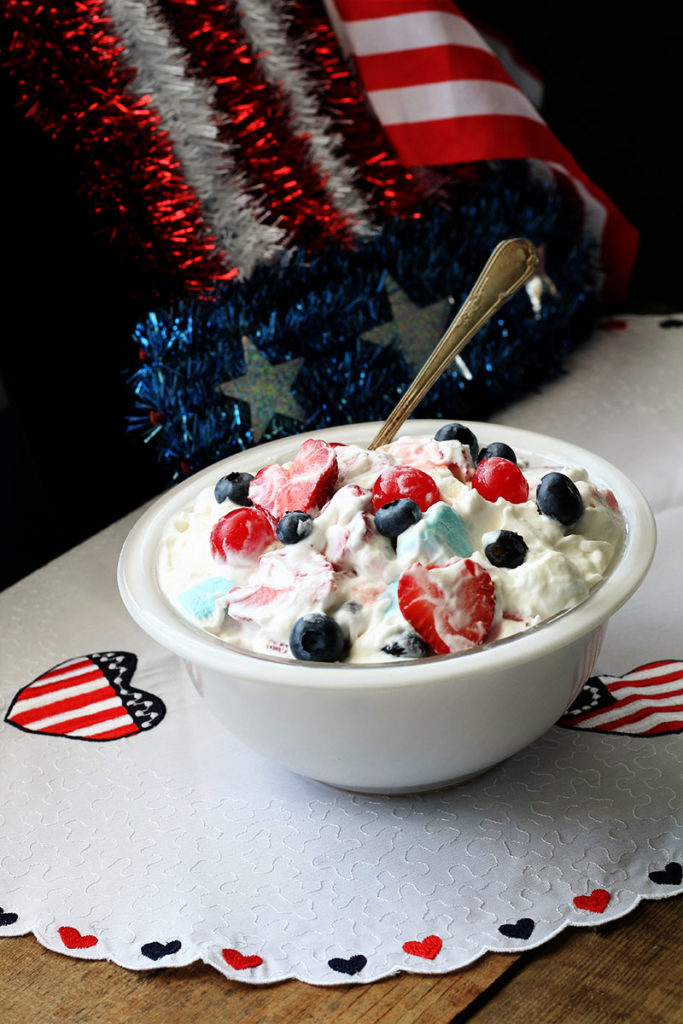 How do you celebrate the 4th of July? We are so blessed to be able to have the freedom to an equal opportunity for life, liberty, and the pursuit of happiness.
One of my brother's was born on the 4th of July. It was funny, when he was young, he thought that there was a parade for his birthday every year. We usually went to the parade in the county seat where we went to school.
It was about 30 miles to the parade, but it was so much fun. We always knew a lot of the people that were in the parade and we got candy from people who threw it from the floats. There were always a lot of floats and horses in the parade.
And drill teams from the 3 high schools that were in the county always participated in the parade. The Caribou county rodeo royalty for the upcoming county fair always rode their horses in the parade. It was fun to get away from the farm work for a few hours, but we had to go home and haul hay after the parade.
Have you ever heard the phrase "make hay while the sun shines"? We lived that phrase. When I was a child, the weather forecasts were not as sophisticated as they are now, and did not project out more than a day or two. We knew that the hay needed to be stacked and stored before it got rained on.
My brother eventually decided that a Summer birthday had it's drawbacks on the farm, because he never got any birthday parties. It is kind of interesting, but this brother still has to work on the 4th of July and he isn't even a farmer anymore.
He now delivers and unloads food related products for a large company. He goes in early in the morning so he usually does get home in time to have a nice cookout with his family. And every so many years the 4th of July falls on a Saturday and he doesn't have to work like he did on the farm. What 4th of July memories do you have?
What are the best fruits to include in Ambrosia?
Traditionally ambrosia salad contains coconut, pineapple, maraschino cherries, and mandarin oranges. But one of the best things about ambrosia is that you can basically add any fruit that you want. Obviously for my red white and blue themed ambrosia I chose fruits that are red white and blue; thus, the blueberries, strawberries and apples, in addition to the coconut and maraschino cherries.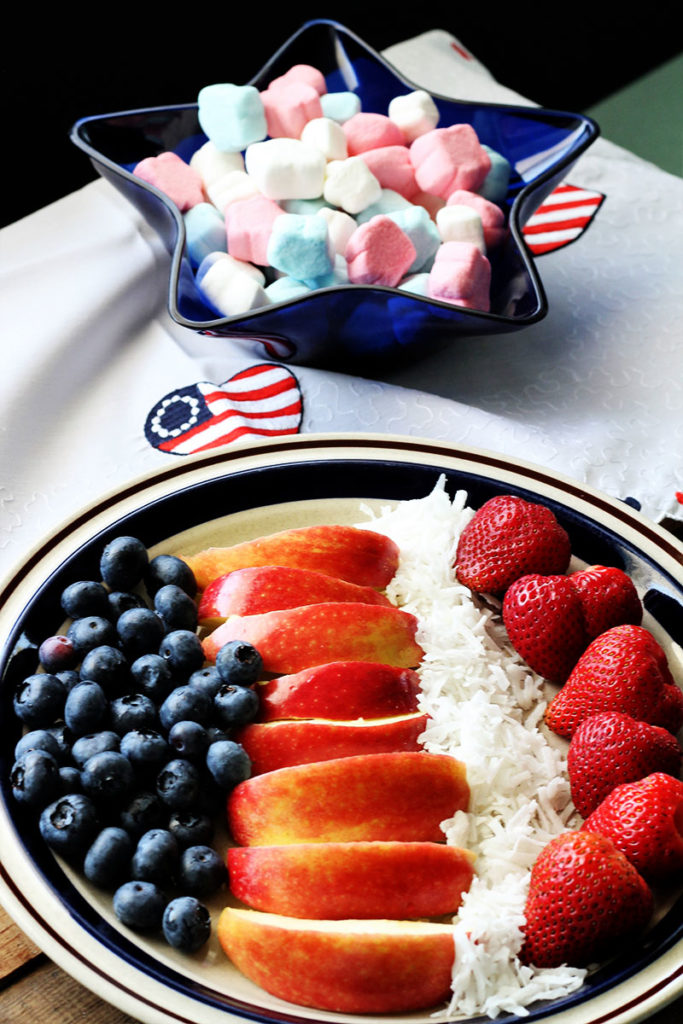 Hopefully, you get a holiday on the 4th of July and are able to enjoy some nice festivities. But if you don't, I hope that you at least get to share a nice meal with family and friends. With any luck someone will show up with a nice red white and blue ambrosia salad for you to enjoy.
Here are some other fruit salads that you may enjoy:
Yield: 8
Red White and Blue Ambrosia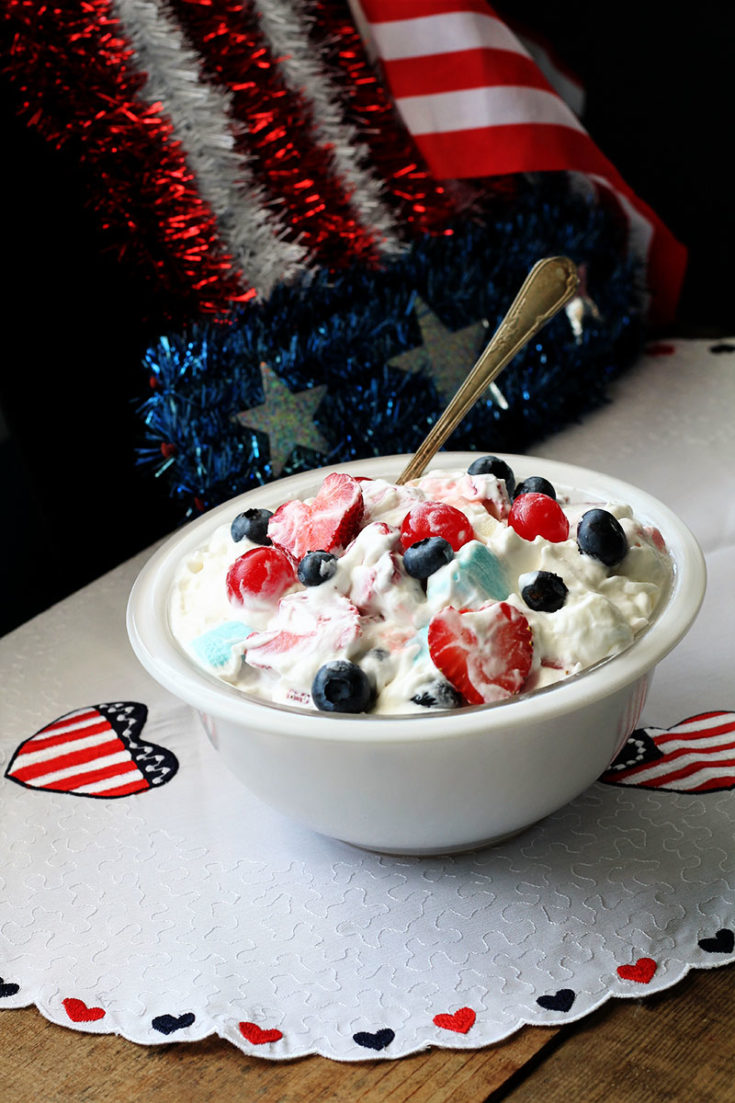 Prep Time
2 hours
30 minutes
Total Time
2 hours
30 minutes
Ingredients
1/2 cup heavy cream
1 Tablespoon powdered sugar (or use granulated sugar)
4 ounces sour cream
2 cups miniature marshmallows (we used Kraft Jet Puffed Red, White & Blue StarMallows)
1 cup sliced strawberries
1 cup blueberries
1 cup diced red apples
1 cup grated coconut
1/2 cup drained maraschino cherries
Instructions
Place the cream into a bowl and whip until peaks are formed, then mix sugar in.
Add the sour cream and whisk to combine.
Add the marshmallows, sliced strawberries, blueberries, apples, coconut and cherries and stir until mixed.
Cover and refrigerate for 2 hours before serving.
Nutrition Information
Yield
8
Serving Size
1
Amount Per Serving
Calories

212
Total Fat

11g
Saturated Fat

8g
Trans Fat

0g
Unsaturated Fat

3g
Cholesterol

25mg
Sodium

50mg
Carbohydrates

28g
Fiber

3g
Sugar

21g
Protein

2g
This data was provided and calculated by Nutritionix