Oriental chicken salad is a great salad for a large gathering, or you can cut the recipe in half and make it for your family. I love to make a big salad and eat on it for a few days. Some may say that it goes a little soft or soggy, but I have never had a problem with this recipe. I love to add cashews, but you can use almonds. They both taste amazing with the dressing and the chicken.  I do leave a few chunks of Raman noodles, but most people like them pretty crushed up. You will want to crush them pretty good the first time that you make this oriental chicken salad, otherwise, the noodles tend to be crunchy. I think that it is the dressing that makes the Raman noodles nice and soft. I know that sauteing them for a few minutes in the butter, helps too. All that I can say is that Oriental Chicken Salad is wonderful. So my amazing sister took me to Disney World last week. I can truly say that it was a great time. Since I am not big on riding thriller rides, it was nice that Disney World has plenty of rides that are scenic, not thriller. I don't know if it is age, or because I have had vertigo before, or if I am just a wimp? Whatever the reason, I don't do crazy rides. My very favorite thing was Fantasmic. It was fantastic! We went to Magic Kingdom, which truly was magical; Hollywood Studios, Animal Kingdom, and Epcot. I must say that I cannot believe how many different things there are to do. I bet Walt Disney is looking down on all of it and thinking that he never dreamed that what he started would grow so big.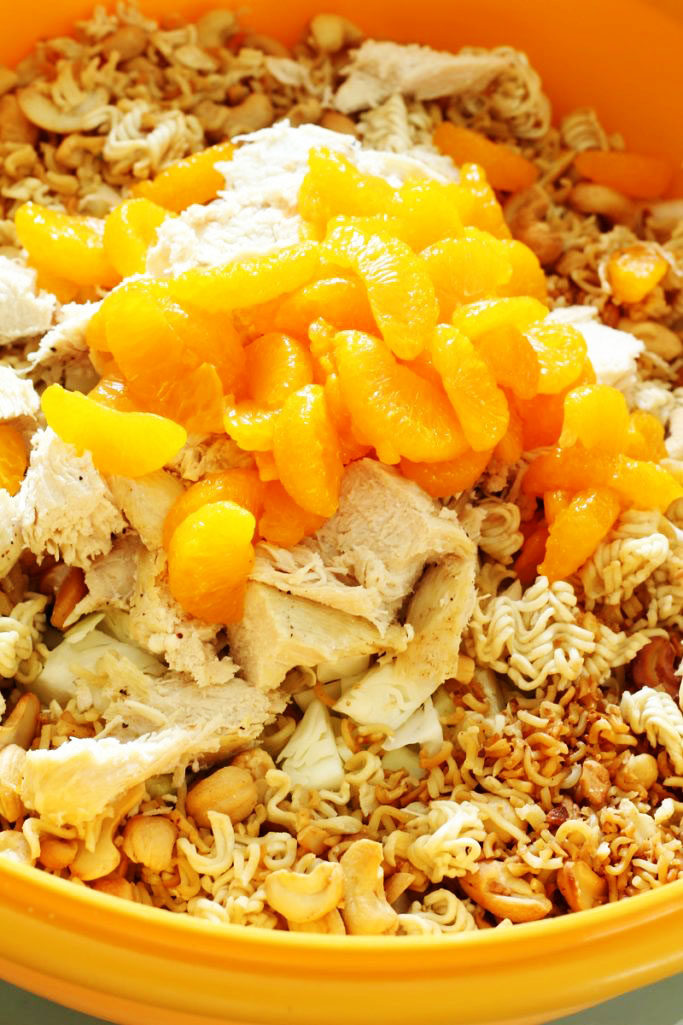 Then there was the weather! One minute the sky would be shining and then the next minute, there was a downpour. I live in the desert and our storms are in and out before you know it. I did love the temperature, but I must admit, I did not love the humidity. Wow, that was like riding a wild roller coaster in itself. However, I was amazed, I hardly even saw any bugs. It must have been because of all the little geckos running around. When I typed that last sentence, it felt like one ran up my leg. Well, let me tell you, that is not something to laugh about, the first night in our hotel room, there was one on the wall. We never saw him again after my sister tried to catch him? So if you ask what to do and what not to do, I am probably not the person to ask, simply because we all have different ideas of fun. However, I hope that you all get to go and experience it one day. It is great and there is something for everyone! Just like oriental chicken salad, I hope you all try it and love it. Like I said, it does make a nice big bowl full and it is great to take when you need a big salad.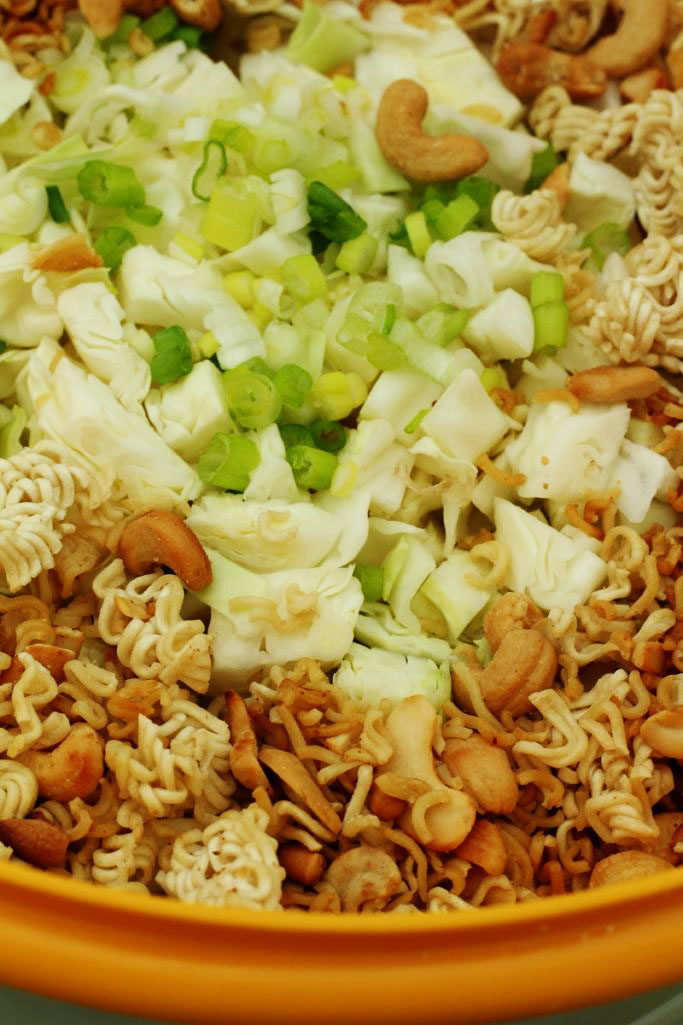 Tips and Tricks: 1- Cook the chicken and let it cool for a few minutes before cutting into cubes. 2- Saute the noodles and nuts together in a skillet with the butter. 3- Cut the cabbage or lettuce and then figure out what size of bowl you need. 4- I like to put the dressing on right before serving. Just don't forget the dressing.;)  (I did that once.) 5- I like to smash the Raman noodles by breaking them with my hands and then smashing them with the bottom of a plastic glass.
Oriental Chicken Salad
Prep time:
Cook time:
Total time:
Ingredients
3 boneless, skinless, chicken breasts, cooked and cubed
1 cup sliced or slivered almonds, or cashews
2 packages Raman noodles, broken into small pieces
¼ cup butter
1 head cabbage, or 3 heads Romaine lettuce, chopped
2 - 3 green onions, chopped
1 or 2 (8.25 ounce) cans mandarin oranges
Dressing:
½ cup sugar
½ cup oil
½ cup cider vinegar
1 Tablespoon soy sauce
Instructions
In a skillet, cook the chicken until the center reaches 160 degrees.
Cube the chicken and then set it aside.
Saute the almonds and Raman noodles that have been crushed in the butter, and set those aside.
Prepare cabbage or lettuce and place in a very large bowl.
Dressing:
Mix the sugar, oil, vinegar, and soy sauce, and add to the chicken after it has cooled.
Pour over cabbage, add sauteed noodles and nuts.
Add mandarin oranges, and onions if desired.
Toss gently and serve immediately.
I enjoy it even the next day, but some might think it is too soggy.