Chopped Greek salad is perfect for those times when you just are not sure what to have for dinner. This salad comes together in about 10 minutes. And if the temperature is getting warm where you live, like it is at my house, this might just be what you are looking for.
One other thing that you might want to do is to cook you up a chicken breast and add it to the salad. This is especially a great idea for men who need a little bit more to hold them over. Serve your salad with a slice of fresh baked french bread and you will have a very nice meal without it costing a lot.
Is Greek Salad Really Greek?
The Greek salad is one of the most popular and well-known Greek dishes outside and inside Greece.
While there are variations around Greece, it is basically a salad made with tomato, cucumber, olive oil, olives and feta.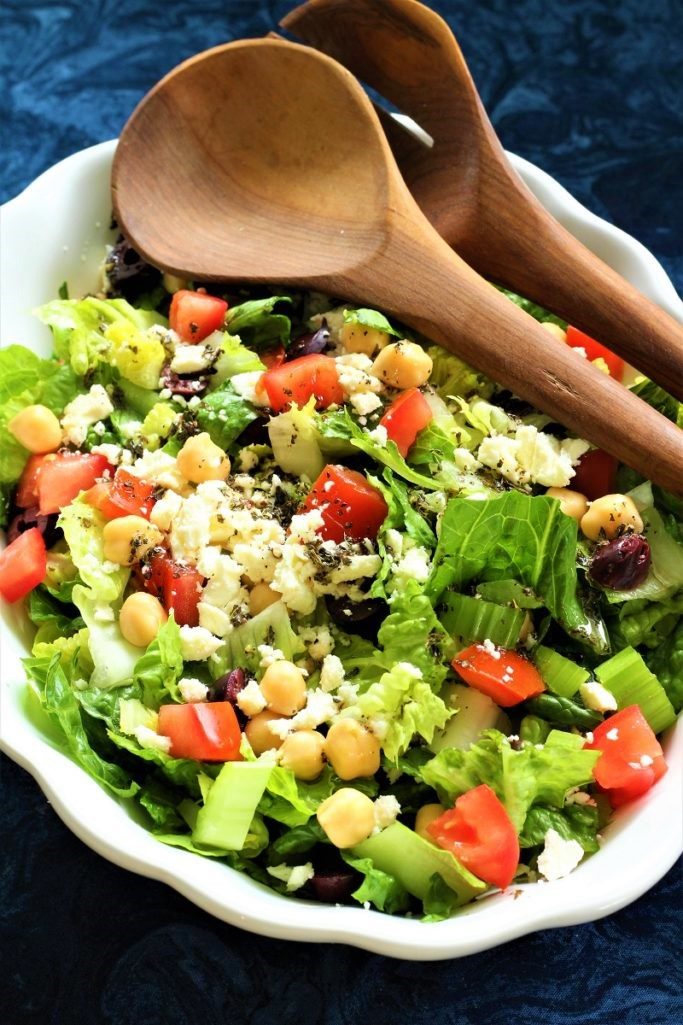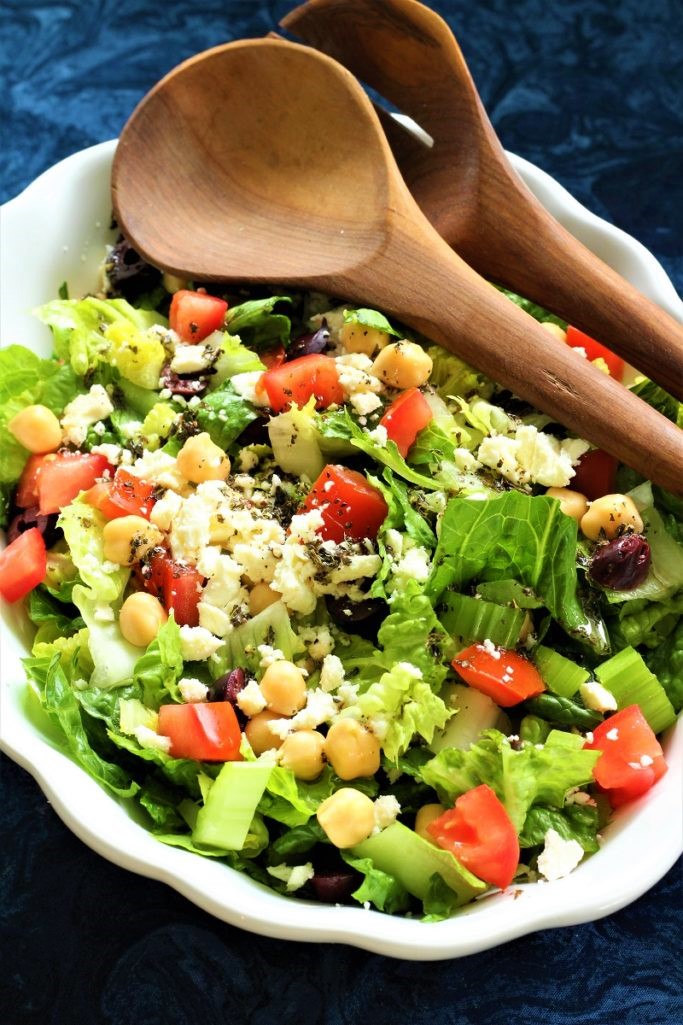 What Ingredients Do I Need For Chopped Greek Salad?
Here's a list of ingredients you'll need to make this Salad (scroll down for the full recipe):
Salad:
Romaine lettuce
Celery
Romaine tomatoes
Garbanzo beans
Greek olives
Feta cheese
Pepperoncini
Dressing:
Fresh basil
Pepperoncini juice
Extra virgin olive oil
Fresh lemon juice
Salt
Pepper
Purple onion (optional)
How Do I Make Chopped Greek Salad?
Here's the simple steps you'll follow to make this Salad (scroll down for the full recipe):
Salad:
In a large mixing bowl, place the romaine lettuce, celery, romaine tomatoes, garbanzo beans, Greek olives, feta cheese, and the pepperoncini.
Dressing:
In a medium mixing bowl, whisk together basil, pepperoncini juice, olive oil, lemon juice, salt, and pepper.
Slowly pour the dressing over the salad ingredients, then lightly toss and serve immediately.
Celebrating Birthdays:
My Grandson's Birthday:
We had a great time today, taking my grandson to the Fun Center for his birthday.
We started out by rock climbing! I went part of the way up, but then I was so scared coming down, that I started climbing back down. My husband said to just bounce off of the wall and let go.
I was scared! I finally did, but then it was a little late and the rope stopped just as I hit the floor. Specifically, I fell on my bum and then I could not get up because I was laughing so hard. But, I did it; I tried something new and that was rock climbing.
Then next thing that we did was roller skate! Now I must say that it has been 35 years since I last put on a pair of roller skates. But, again, I did it and I even went around the floor two times. I was a lot nervous, but I did it, and I am a lot slower than I use to be!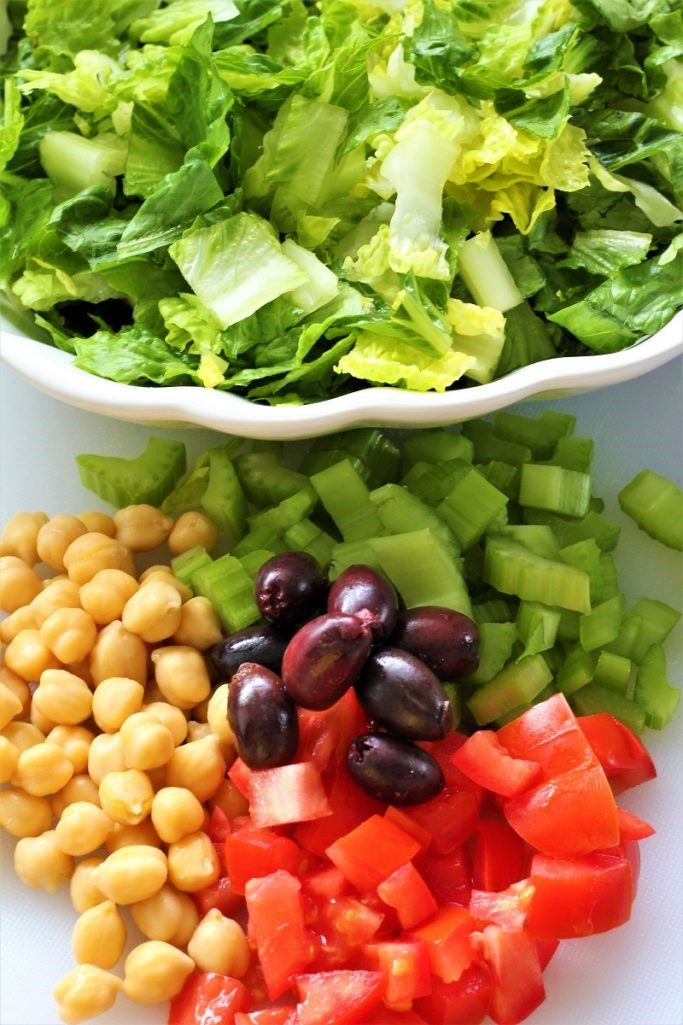 Do You Celebrate Birthdays with Food, go Do Something, or Both?
By this time, I was thinking that maybe our idea of celebrating my grandson's birthday at the Fun Park was pushing me too far out of my comfort zone.
But he seemed to be having fun and I think that he was enjoying that I would do something that he was good at.
And he seemed to be enjoying urging me to do these fun activities too.
Then I asked my grandson if he wanted to go up and ride the Go Karts and he said "no, I don't like them much"! I was very surprised and so then we went and played laser tag. That was a blast. The first time I got 3rd place, but the next time I got 2nd place. It is hard to beat my husband because he is so smart!
Then I said to my grandson, lets go look at the Go Karts, and then we took a ride and that was all it took. He was hooked and wanted to drive them the rest of the time that we were there. We didn't even have time to go bowling or mini golfing!
I do think it was a great day and we had a great time with my grandson. Then after that, we took him to Crown Burger to get a burger. Well he loved that and he also loved the Oreo shake. I even got two bites.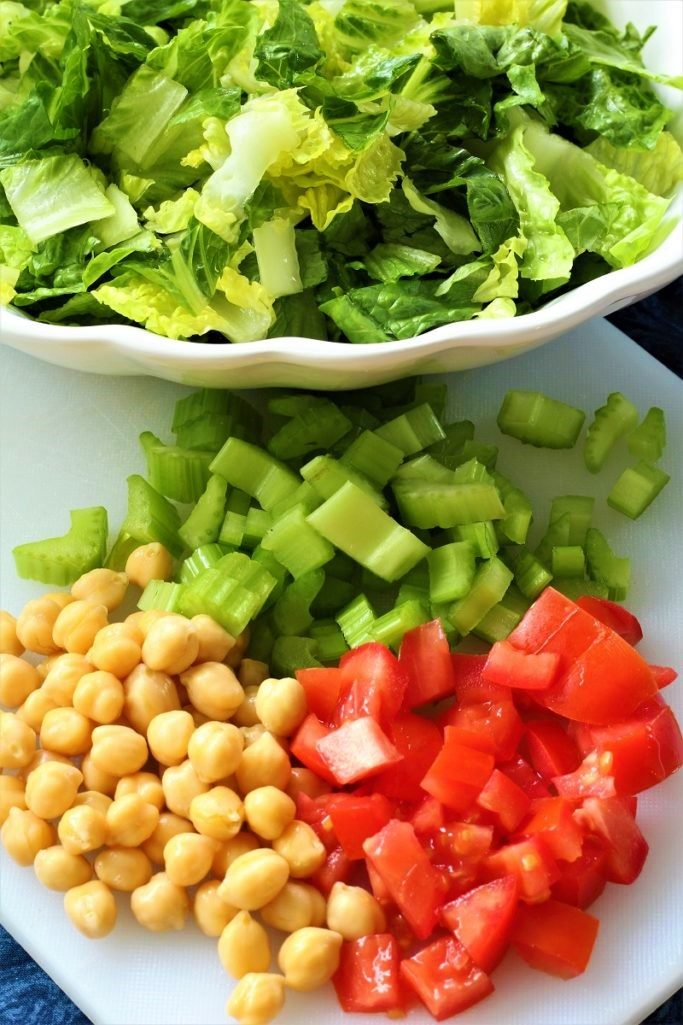 Is Chopped Greek Salad Healthy?
Greek salad is low-calorie and nutrient-dense, also providing you with a healthy dose of vitamins A and C, as well as potassium and iron.

It also contains phytonutrients and antioxidants, which reduces the risk of health problems such as heart disease and cancer.
Best Tips for Chopped Greek Salad:
Make sure that you dry your vegetables after washing them. The dressing, with that exquisite extra virgin olive oil, should be the lubricant for your salad, not water.
Soak up any of the extra dressing with a piece of crusty bread, like our french bread. In doing so, you soak up particles of feta in a salty residue of oily tomato juices and extend that delicious salad just a bit longer.
Be brave and try something new today. Maybe it won't be rock wall climbing or roller skating – or maybe it will. Try making this Chopped Greek Salad and if there is something more that you want to add to it, go for it!
Links to More Really Good Salads:
Yield: 6 people
Chopped Greek Salad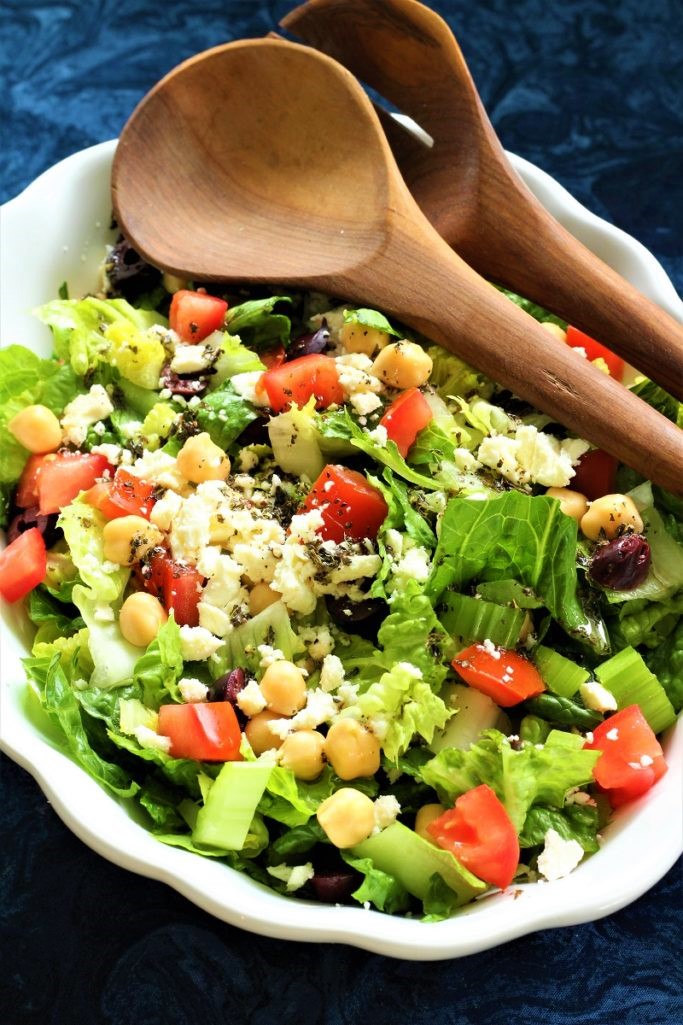 Chopped Greek Salad with Feta is a great dinner to put together when you are in need of an idea and it is too hot to turn on the oven.
Ingredients
4 cups romaine lettuce, chopped
1/2 cup celery, sliced
2 medium romaine tomatoes, cubed
1 (15 ounce) can garbanzo beans (chick peas) rinsed and drained
1/4 cup sliced Greek olives
1/3 feta cheese, crumbled
1/4 cup chopped pepperoncini
Dressing:
2 Tablespoon fresh basil
1 Tablespoons pepperoncini juice
2 Tablespoons extra virgin olive oil
1 Tablespoon fresh lemon juice
1/4 teaspoon salt
1/8 teaspoon pepper
Garnish with a purple onion (optional)
Instructions
In a large mixing bowl, place the 4 cups romaine lettuce, 1/2 cup sliced celery, 2 medium cubed romaine tomatoes, 15 oz can garbanzo beans, 1/4 cup sliced Greek olives, 1/3 cup crumbled feta cheese, and the 1/4 cup chopped pepperoncini.
Dressing:
In a medium mixing bowl, whisk together 2 T fresh basil, 1 T pepperoncini juice, 2 T olive oil, 1 T lemon juice, 1/4 t salt, and 1/8 t pepper.
Slowly pour the dressing over the salad ingredients, then lightly toss and serve immediately.
Nutrition Information
Yield
6
Serving Size
1
Amount Per Serving
Calories

191
Total Fat

8g
Saturated Fat

1g
Trans Fat

0g
Unsaturated Fat

6g
Cholesterol

1mg
Sodium

380mg
Carbohydrates

26g
Fiber

9g
Sugar

11g
Protein

7g