Moist Chocolate Zucchini Brownies are some of those brownies that you can feel good about eating, because they at least have healthy vegetables in them. I was so excited to get a zucchini and so the first thing I did was make brownies.
And you guessed it, I still have extra zucchini. I must say that these brownies are simply irresistible. They are moist and delicious and as you guessed, the frosting tastes just as good as it looks. Yep, just like fudge.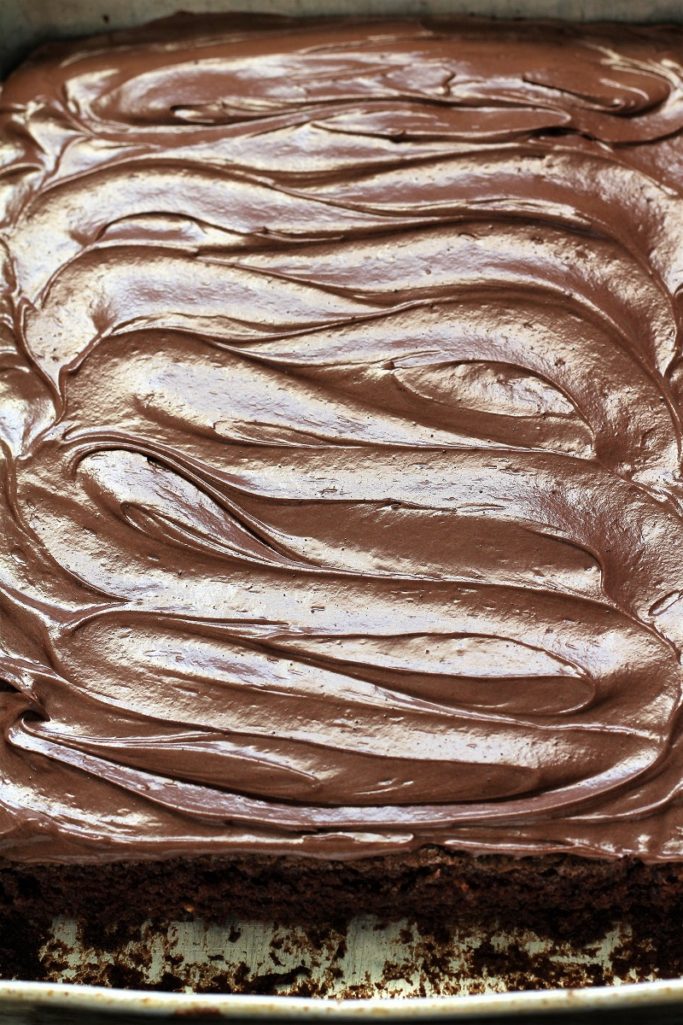 Tips for Baking with Zucchini:
Does the size of the Zucchini that I use, make a difference?
Different sizes of zucchinis have different moisture content. Large zucchinis tend to be drier, whereas, small zucchinis tend to have more moisture. Different recipes work best with different sizes of zucchinis. I used a larger zucchini in these moist chocolate zucchini brownies, in addition to soaking up the excess moisture from my grated zucchini, and I ended up needing to add 1/4 cup of buttermilk to get my brownies as moist as I wanted them. If you use a smaller zucchini and don't soak up the moisture from the grated zucchini you will probably not need to add the buttermilk.
How fine or coarse should I grate my zucchini pieces?
If you want the zucchini pieces to blend in more, use the fine side of your grater. If you want the zucchini pieces to have more texture and a slightly more noticeable flavor in your finished recipe, use the coarse side of your grater.
Do I really need to pat my grated zucchini dry?
Many times a recipe using zucchini will tell you to pat the zucchini with a paper towel or a clean towel to soak up any excess moisture to keep whatever you are baking from ending up soggy. Make sure that you pay attention to the other ingredients in the recipe that you are making using zucchini, as the amount of moisture that those other ingredients provide is important. For example, this recipe only has 1/2 cup oil and 1 egg that will provide moisture, (unless you add the 1/4 cup of buttermilk). Depending on what size of zucchini that you use, you may not want to pat the moisture out of the zucchini if you do not want to add buttermilk.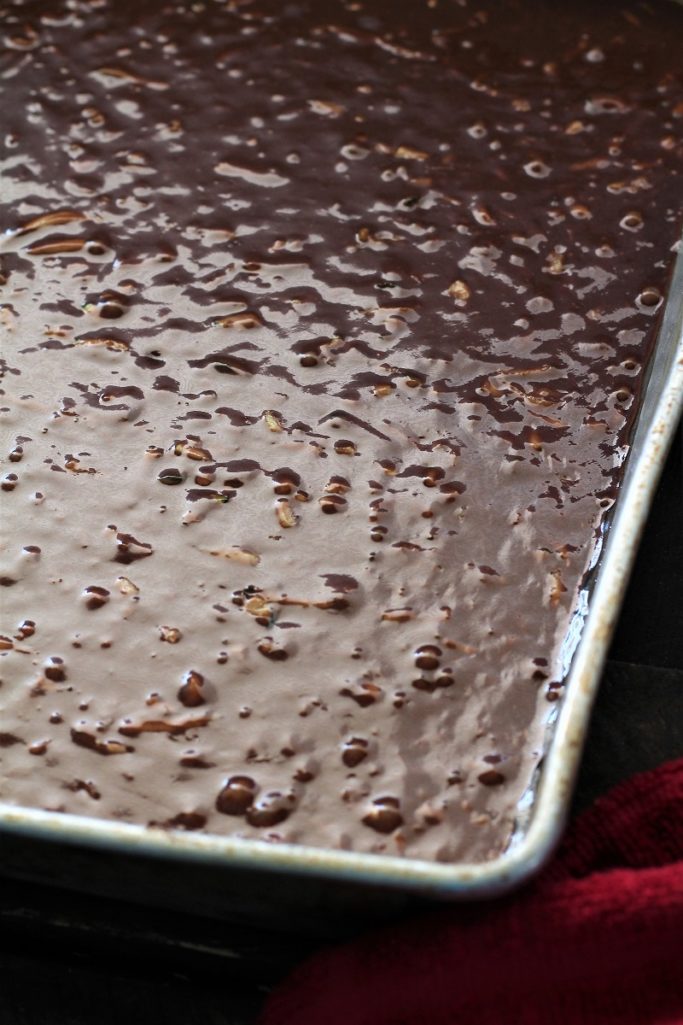 If you are not sure if you need the buttermilk, it will not hurt the brownies, just go ahead and add it. When I made my brownies, they were still lumpy and so I added the buttermilk and you can see how smooth they ended up!
More Zucchini Recipes for you:
Zucchini Carrot Oatmeal Muffins
Easy Zucchini and Yellow Squash Casserole
Zucchini Chocolate Chip Cookies
If you want a Brownie Recipe that does not have Zucchini, you can find one here because sometimes Zucchini is not in Season:
Yield: 16 people
Moist Chocolate Zucchini Brownies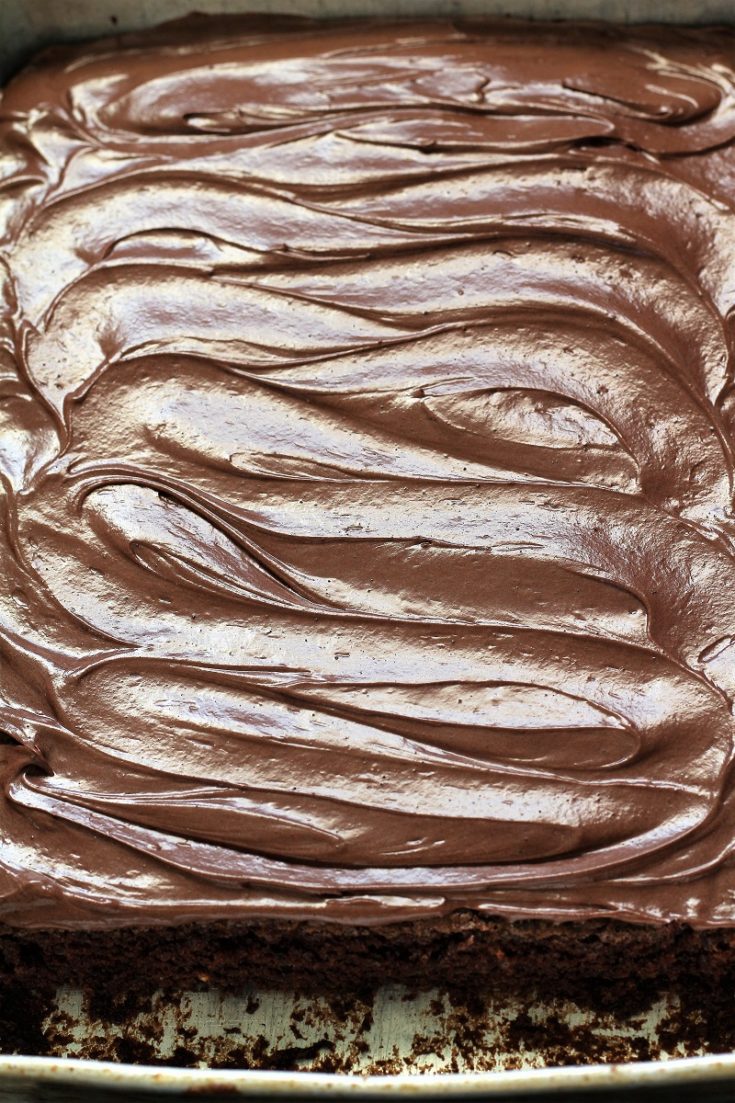 Prep Time 10 minutes

Cook Time 30 minutes

Total Time 40 minutes
Ingredients
1/2 cup oil (I use avocado oil)
1/3 cup unsweetened cocoa powder
1 1/2 cups sugar
1 egg
1 1/2 teaspoons vanilla extract
2 cups finely grated zucchini (excess moisture removed with a paper towel)
2 cups all-purpose flour
1 teaspoon baking soda
3/4 teaspoon salt
1/4 cup buttermilk (optional)
Frosting:
1 1/2 cups powdered sugar
4 tablespoons butter (softened)
2 - 3 Tablespoons milk
1/4 teaspoon vanilla extract
1 1/2 Tablespoons unsweetened cocoa powder
Instructions
Preheat the oven to 350 degrees.
In a large mixing bowl, add 1/2 cup oil, 1/3 cup cocoa, egg, and 1 1/2 teaspoons vanilla.
Grate the zucchini with a fine grater. Pat it dry removing the excess moisture. (I got mine too dry and so I added 1/4 cup buttermilk). If you do not have buttermilk use regular milk and add 1 Tablespoon of vinegar to the milk).
Next add the 2 cups flour, 1 teaspoon baking soda, and 3/4 teaspoon salt.
Gently fold in the 2 cups zucchini.
If the brownie mixture is spreadable, do not add the buttermilk; if they are a little dry, add the buttermilk. (It depends on how moist your zucchini is).
When it is blended, place the batter in a greased 9" x 13" baking pan.
Bake at 350 degrees for 30 minutes.
Frosting:
Combine 1 1/2 cups powdered sugar, 4 Tablespoons softened butter, 2 - 3 Tablespoons milk, 1/4 teaspoon vanilla extract, and 1 1/2 Tablespoons unsweetened cocoa powder.
Mix to desired consistency.
After brownies have cooled, spread frosting on top of brownies.
Nutrition Information
Yield
16
Serving Size
1

Amount Per Serving

Calories 278 Total Fat 11g Saturated Fat 2g Trans Fat 0g Unsaturated Fat 7g Cholesterol 20mg Sodium 215mg Carbohydrates 43g Net Carbohydrates 0g Fiber 1g Sugar 30g Sugar Alcohols 0g Protein 3g

This data was provided and calculated by Nutritionix