Zucchini carrot oatmeal muffins are a great way to get a whole lot of goodness in one muffin. Don't you just love that these muffins have zucchini, carrots, applesauce, oatmeal, raisins and even nuts if you like, and don't forget the whole wheat!
Now that is a whole lot of goodness in a muffin. It is just amazing all the healthy foods that you are able to pack into these zucchini carrot oatmeal muffins; it is kind of like some smoothies are.
These zucchini carrot oatmeal muffins make a nice breakfast or a nice side to soup or salad. Ha ha I had to laugh, my son that is married doesn't like to eat very healthy and he ate one of these and said that he was going to have to move out because these muffins were way too healthy for him, and that they had some good substance to them.
He is living with us for a couple of weeks until he moves and takes my adorable grandson to Idaho. I am so excited for him to try a new adventure. But it sure is hard to let those little ones move. XOXOXO!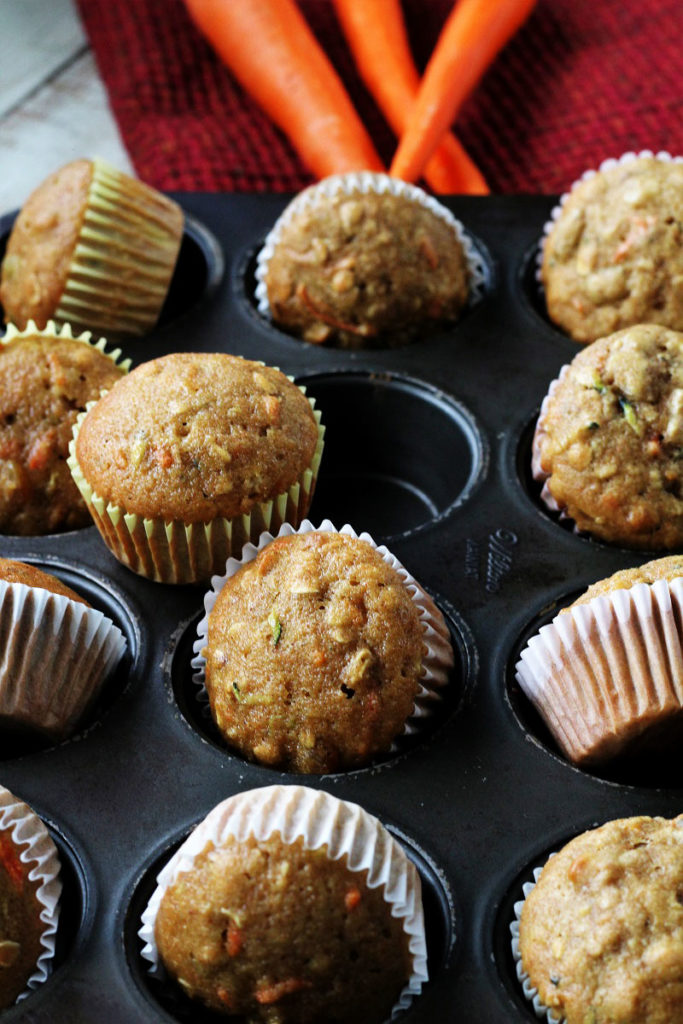 However, I must say that I am not sure that I will miss his dog quite as much, as his dog is causing havoc in my garden. Also, I am a hairdresser and when some of my older clients come, the dog is so excited to see them, that he jumps on them and almost knocks them down. Most of them are in their 80's and so that is not a good thing!
The dog is a medium sized boxer and he just has too much energy. I wish that I could take some of that energy and use it on myself because I could really get a lot done.
We have a dog that is 13 and she just looks at him, like can you stop bothering me. Once in awhile, she will let out a growl, like if you don't back off I will tell you who's boss, and he will usually run off and leave her alone.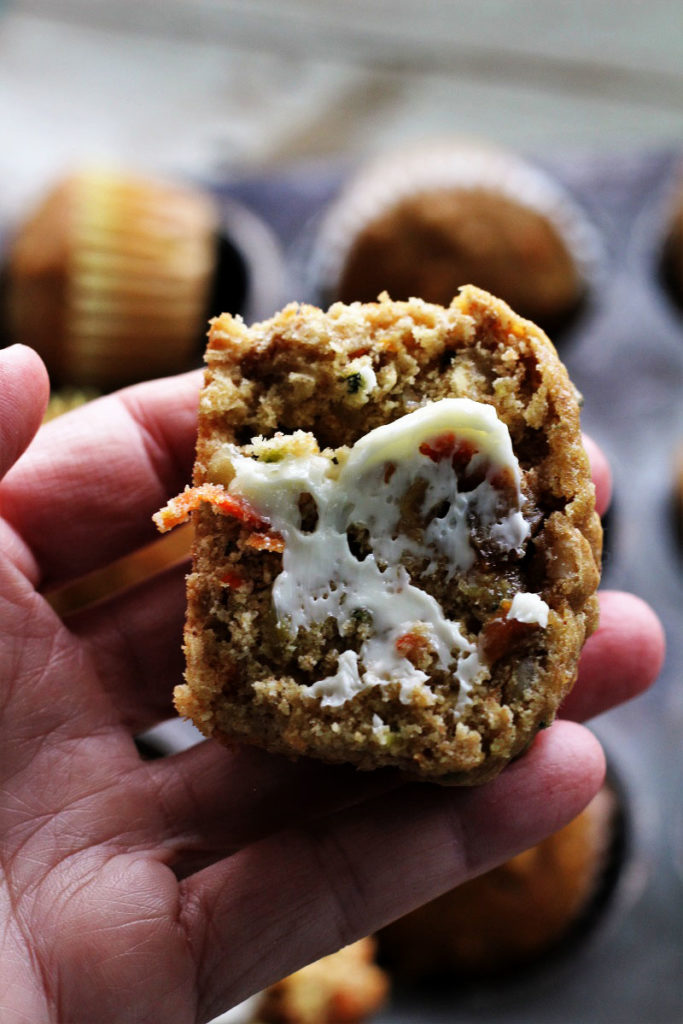 It will soon be Father's Day! What special treats and food will you be making? I don't really remember doing anything too special when I was growing up for Father's Day.
But I do try to make a little nicer dinner for my hubby, especially since he is always so good to make an amazing Mother's Day dinner for me.
Do you remember what I got for Mother's Day? The motorcycle helmet. I am not complaining. I just told him that I would get him a nice quilt kit for Father's Day. Maybe a nice pink one. Right?
No he already got a new suit, and he told me that all he wants for Father's Day is a nap. Now how many of you can relate to that? Sometimes the best things in life are FREE!
Yield: 18 muffins
Zucchini Carrot Oatmeal Muffins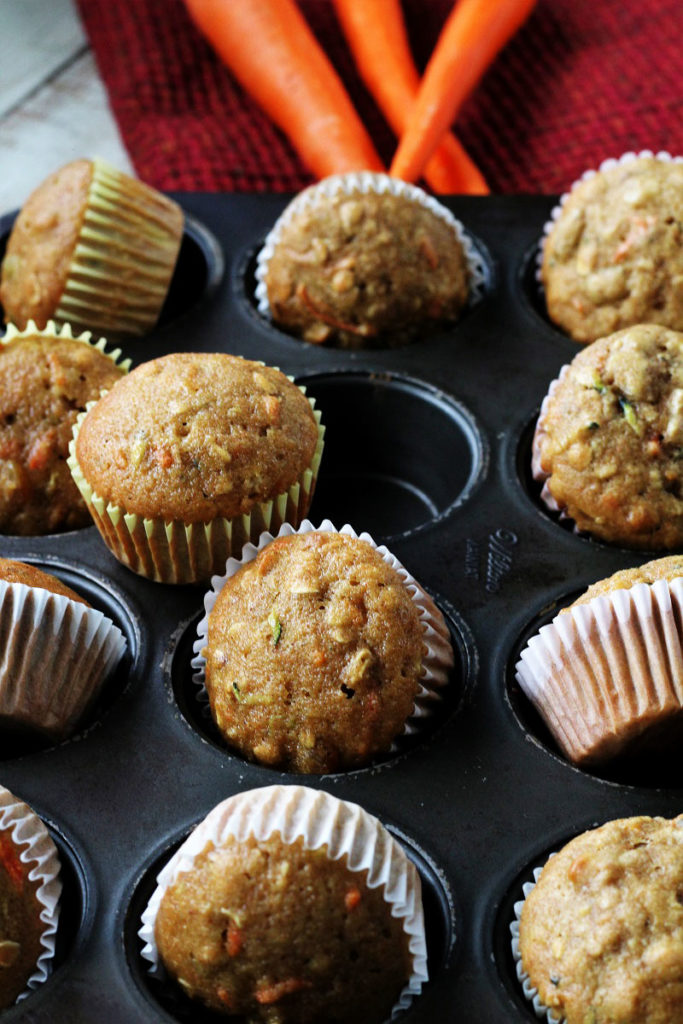 Prep Time 15 minutes

Cook Time 18 minutes

Total Time 33 minutes
Ingredients
1/2 cup vegetable or coconut oil
1/4 cup applesauce
1 1/2 cups sugar
3 large eggs
1 cup grated zucchini
1 cup grated carrots
1 1/4 cups all-purpose flour
1 1/4 cups whole wheat flour
1/2 cup old fashion oats
1 Tablespoon baking powder
1 1/2 tsp cinnamon
1/4 tsp nutmeg
1 tsp salt
1 cup golden or regular raisins (optional)
1/2 cup walnuts chopped (optional)
Instructions
Preheat oven to 375 degrees.
Line or spray a regular size muffin tin with non stick cooking spray.
In a medium sized mixing bowl, mix oil, applesauce, sugar, and eggs.
Stir in the zucchini and carrots.
Add flours, oats, baking powder, cinnamon, nutmeg, and salt.
Mix just until combined.
Gently fold in the raisins and walnuts.
Fill the muffin cups about 3/4 full and bake for 16 - 18 minutes.
Check with a cake tester or wooden pick and the pick should come out clean.
Cool in the muffin pan, or on a wire rack.
Store in an air tight container.
Nutrition Information
Yield
18
Serving Size
1

Amount Per Serving

Calories 208 Total Fat 4g Saturated Fat 1g Trans Fat 0g Unsaturated Fat 3g Cholesterol 31mg Sodium 230mg Carbohydrates 40g Fiber 2g Sugar 23g Protein 4g

This data was provided and calculated by Nutritionix