Mint dainties are the perfect last minute treat if you are in a hurry and do not have the time to bake something up. Take some Vanilla wafers and add some frosting and some melted mint chips on top. Even better, you can add some more chocolate on top.
I think it makes the mint dainties look amazing. You can either use a mini wafer or a regular size. I used the mini, because I love the small, pop-in-your mouth size. Also if you want to make them a little greener for St Patrick's Day, you can add some green food coloring to the frosting. I like it without so that the green chocolate shows up better.
So the other day, my son, his wife and his 1 1/2 year old went to the store. On the way home my grandson kept saying, "dad, dad, dad." My cute daughter-in-law said to him "hey baby, why don't you say mom"? He said "mom, dad, dad, dad". Then again she said, "what can mom help you with, say mom", and he said, "mom, want dad".
He is a funny little kid, and then he continued to say "dad"!!:) These little kids are so funny; they know what they want and you do not change their mind. And he is with his mom most of the time and he is truly a mommy's boy. When he is at grandma's house he says "mom"!
And so I hope that you enjoy this little recipe. I liked it because, just between you and me, I do not always have time to bake up a batch of cookies. And you can have these done in 30 minutes or less.
And I think they look very pretty. They look like you spent a lot of time on them. And they look so nice. If you wanted the chocolate to be a little greener, you can use white chips, green food coloring, and add a little mint to the chocolate.
Better yet, if you are having a special occasion, you can make any color that you want. They would be perfect for a baby shower, or a fun little birthday party. The sky is the limit with these fun little mint dainties. Enjoy!!



Yield: 4 dozen
Mint Dainties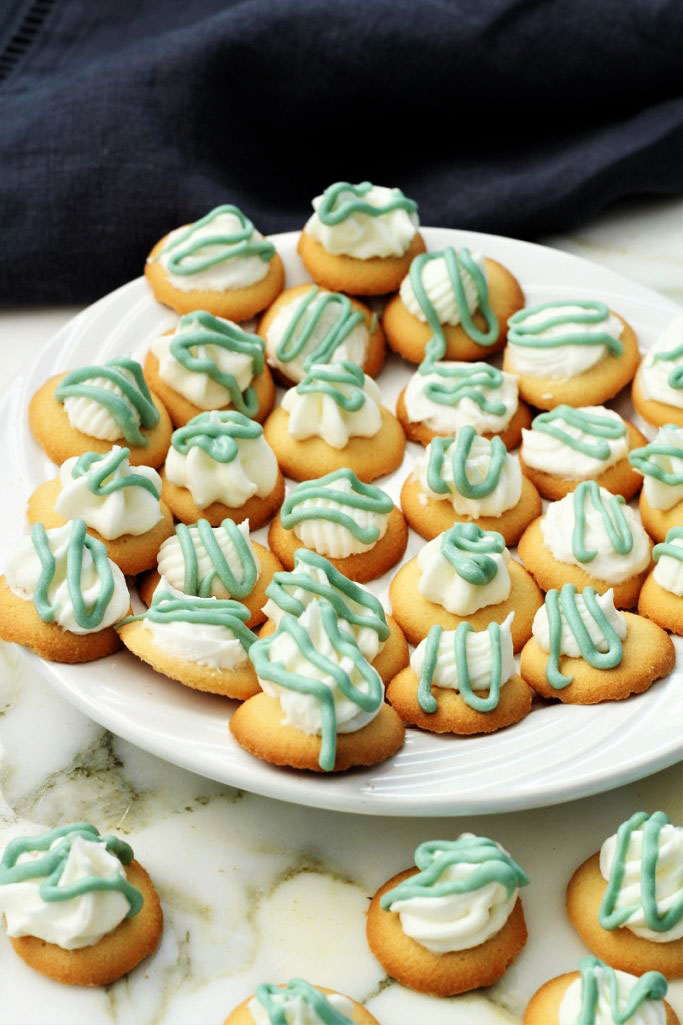 Prep Time 30 minutes

Total Time 30 minutes
Ingredients
Vanilla wafer cookies (mini or regular)
3 Tablespoons butter
2 cups confectioners sugar
1/2 teaspoon peppermint extract (green food color if you want)
2 - 3 Tablespoons milk
1/2 cup semisweet mint chocolate pieces
1 Tablespoons coconut oil
1/2 cup chocolate chips, semi sweet
1 Tablespoon coconut oil
Instructions
Combine butter, confectioners sugar, peppermint extract and enough milk so that the frosting will spread on the cookie nicely.
Frost the vanilla cookie with the frosting.
Melt both of the chocolates in separate bowls, with the coconut oil in the microwave on power level 5 for 2 - 3 minutes.
Place the different chocolates in a small baggie, snip off the corner and drizzle over the cookies.
You can use both chocolate or just the mint.