Creamy potato ham soup is so delicious and came together in about 30 minutes. I had some ham that was left over in the freezer from Easter that I needed to use up and this was perfect. I am always happy to use food that I have on hand.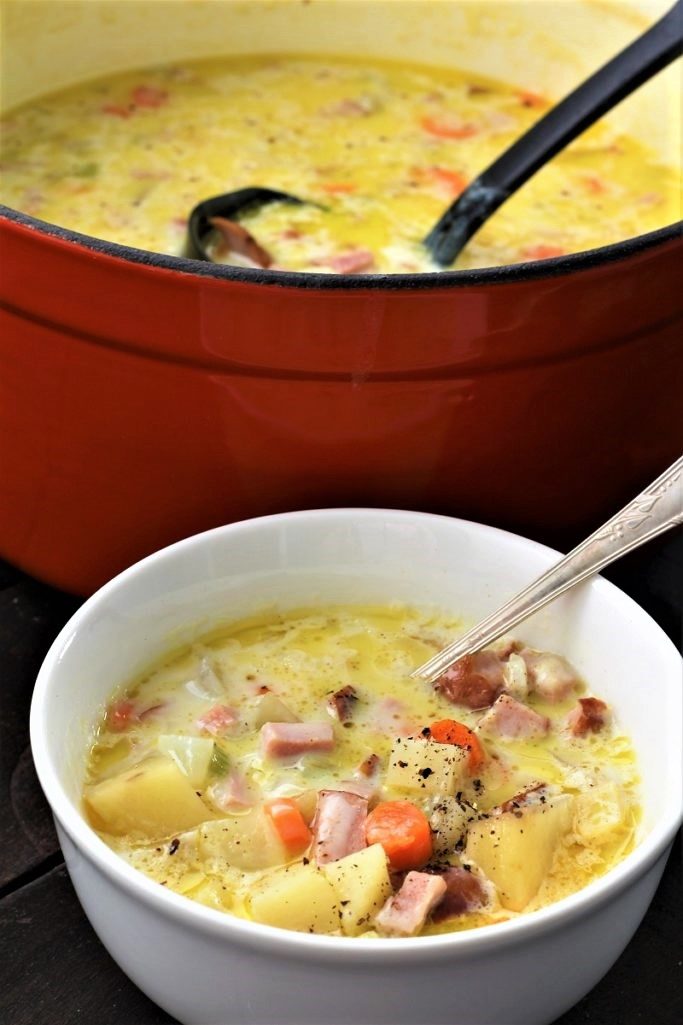 To be honest, sometimes when it is pouring rain outside like it was today, I use what I have. It was also a little cooler and so I decided that soup was perfect. And indeed it was. This has a nice creamy buttery taste with some ham, carrots and celery added to it.
Now I just wish that I had a loaf of my basic white bread to go with it. I'll bet you think that I have food just waiting to be eaten all of the time. Sometimes, I do, but sometimes just like at your house, I have no clue what to have for dinner!
Yep, now the cat is out of the bag and I have to confess. I am not the mom who has food every time you are starving. My mother-in-law sure was good at that and since it is her birthday, I have been thinking of her.
i miss her cooking and the amazing woman that she was. I felt that she died way too soon. 65 years old is pretty young and getting younger every year. My dad also died at 65. So this Memorial Day I celebrate our (my husband's and my wonderful parents) that sacrificed so much for us.
How we love them and we miss them and we hope that we are living our lives good enough that they would all be proud.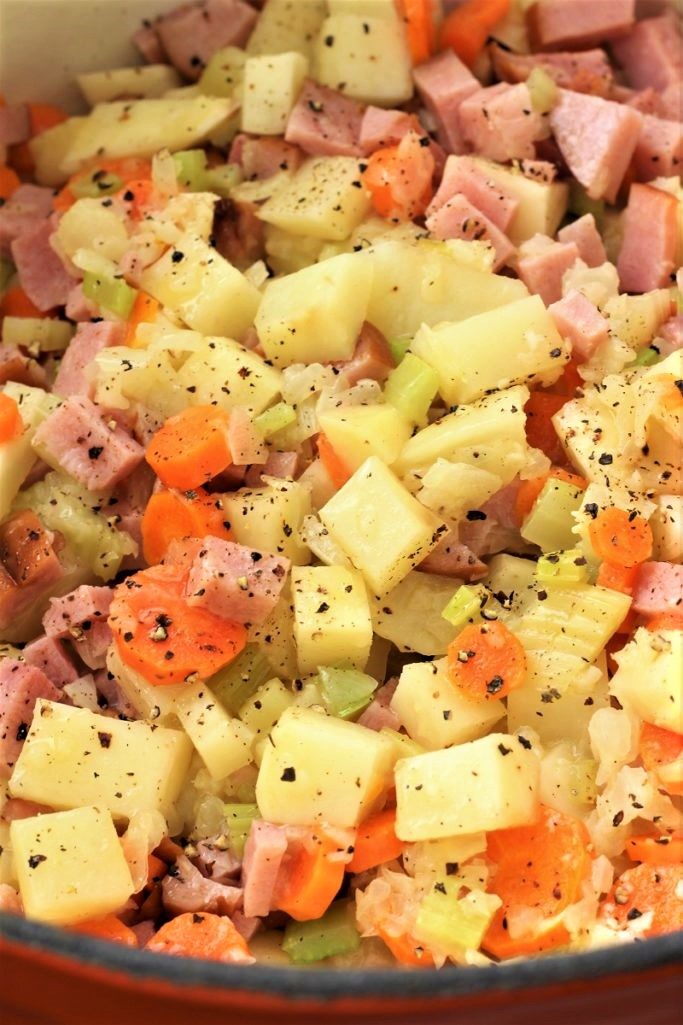 Does the Ham need to be cooked before adding it to this Creamy Potato Ham Soup?
Yes it does.
Are all hams already cooked?
The short answer is; if it is cured, smoked or baked, ham is considered "pre–cooked," and therefore, would not need to be cooked again. However, you can also buy fresh ham, and it would have to be cooked prior to adding it to the soup. You can identify if the ham has been processed by what the package says.
What are the Best Potatoes for this soup?
I use Russet potatoes for this recipe. Russets become soft and creamy during cooking, absorbing all the delicious flavors in the broth. Russets are also really starchy, which helps thicken the soup a little.
If you want firmer, chunkier cubes of potato that hold their shape during cooking, you can swap out the Russets for the same amount of red-skinned potatoes or Yukon golds.
How much salt should I use in Creamy Potato Ham Soup?
Potatoes tend to need salt to taste good. Ham has plenty of sodium. That is one of the reasons that potatoes and ham taste so good together.
The sodium content tends to vary for each ham, so you do need to taste and adjust for salt, every time. Also each person tends to like their food with different levels of salt. If the soup seems bland, add salt until it is no longer bland. If the soup is too salty for you, just add more potatoes.
Yield: 6-8 people
creamy potato ham soup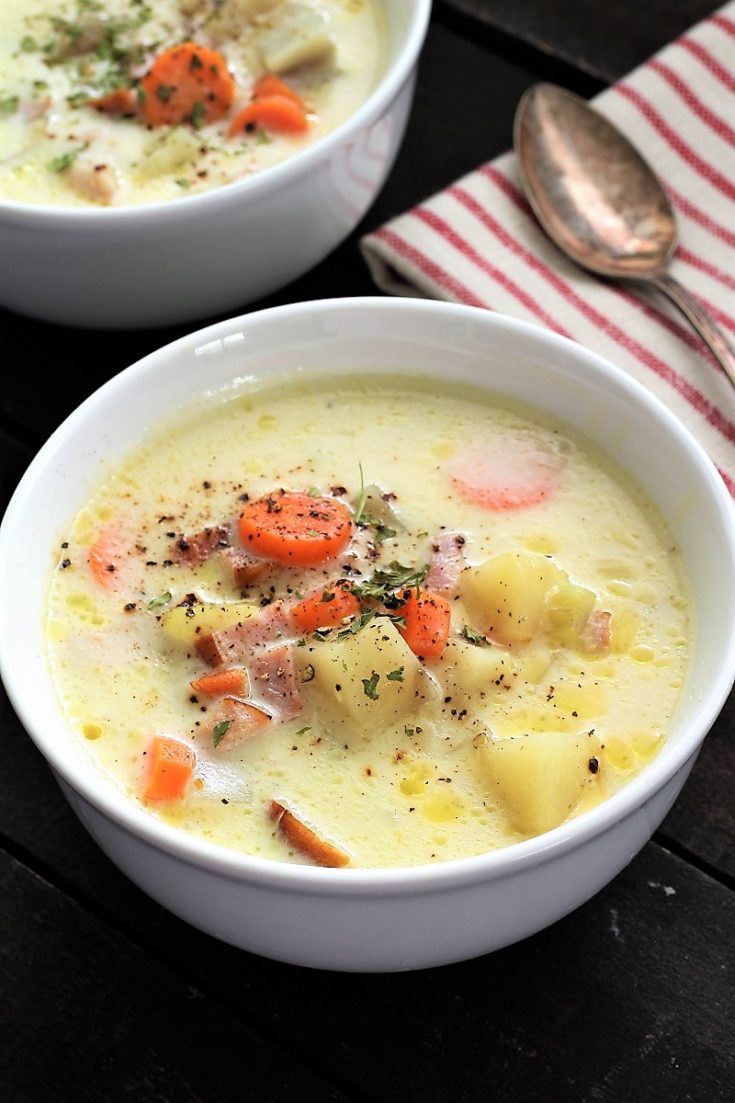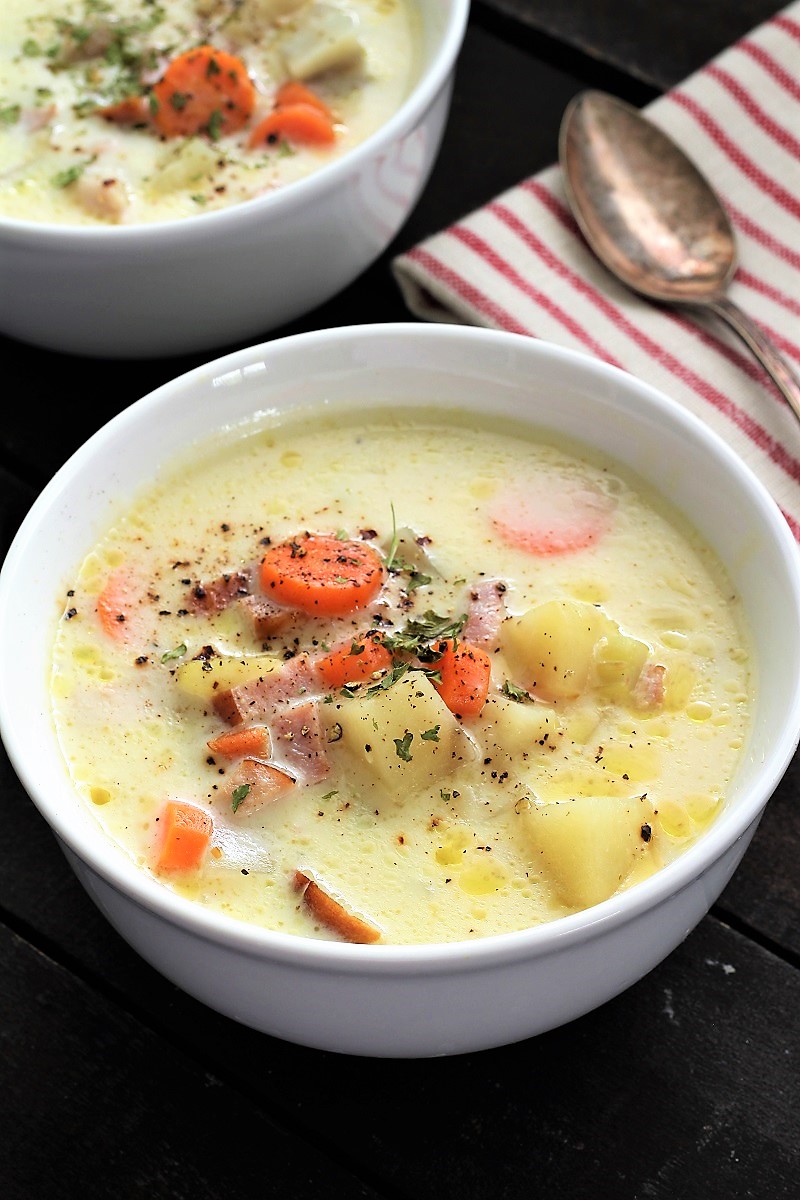 fantastic soup that is quick and easy to make!
Ingredients
1/3 cup unsalted butter
1 small onion, chopped
2 - 3 large carrots sliced (about 1/4" thick)
1/3 cup celery, chopped
2 1/2 - 3 cups potatoes, peeled and cubed
2 cloves garlic, minced
1 cup ham, cooked and cubed
1/4 cup all-purpose flour
2 cups chicken broth
2 teaspoons of chicken bouillon (I use better than bouillon)
3 cups milk, I used 2%
salt and pepper to taste
Instructions
In a large dutch oven or medium pan, add the 1/3 c butter.
Then saute the small onion, 2-3 large carrots, and 1/3 c celery for 4 - 5 minutes.
Then add the 2 1/2 - 3 c potatoes and the 1 c ham, stirring for another 2 - 3 minutes.
Add the 2 cloves garlic and saute for about 30 seconds.
Next add the 1/4 c flour, stirring until it is mixed in; the mixture will start to thicken.
Stir in the 2 c broth, and 2 t bouillon, and cook until the vegetables are nice and tender, about 10 minutes.
Reduce heat to low and add the 3 c milk stirring while it continues to thicken, this takes about 4 - 5 minutes.
Add salt and pepper to taste. about 1/2 teaspoon of salt (depends on the ham) and 1/4 teaspoon of pepper.
Nutrition Information
Yield
6
Serving Size
1
Amount Per Serving
Calories

418
Total Fat

14g
Saturated Fat

8g
Trans Fat

0g
Unsaturated Fat

5g
Cholesterol

53mg
Sodium

683mg
Carbohydrates

58g
Fiber

6g
Sugar

5g
Protein

16g
This data was provided and calculated by Nutritionix