Hamburger Hobo dinners are so easy to make, you can even have your kids help you make their own. You start by adding dry onion soup mix to ground beef. Then you will want to make four hamburger patties.
How do I make Hamburger Patties for Hamburger Hobo Dinners?
The best way I have found to make hamburger patties is to roll the hamburger into a ball and then place the hamburger ball onto a cutting board or wax paper, and then flatten the hamburger ball with the bottom of a glass.
Some important tips when making Hamburger Patties:
Keep the hamburger cold as much as possible
Do not overwork the hamburger; handle it as little as possible
Keep your hands and work area clean
Wash your hands and work area as soon as you are done making the Hamburger Patties
Making the Perfect Hamburger Patty:
Keep in mind that the higher the fat content of the meat, the more the hamburger patties will shrink as they cook.
It is a good idea to make the hamburger patties the same size so they cook at the same rate, avoiding undercooked large burgers and overcooked small burgers.
When you flatten the hamburger ball with the bottom of a glass, make sure to keep your edges a little thicker than the center and make sure that the edges don't have cracks between the meat, but that you have a solid uniform hamburger patty. Hamburger patties shrink as they cook, and this will help to keep the edges from breaking apart.
Cook the hamburger patties soon after making them. If you do want to prepare your patties ahead of time; stack your hamburger patties up with pieces of wax paper between each patty. Wrap the stack tightly in foil and refrigerate until ready to cook.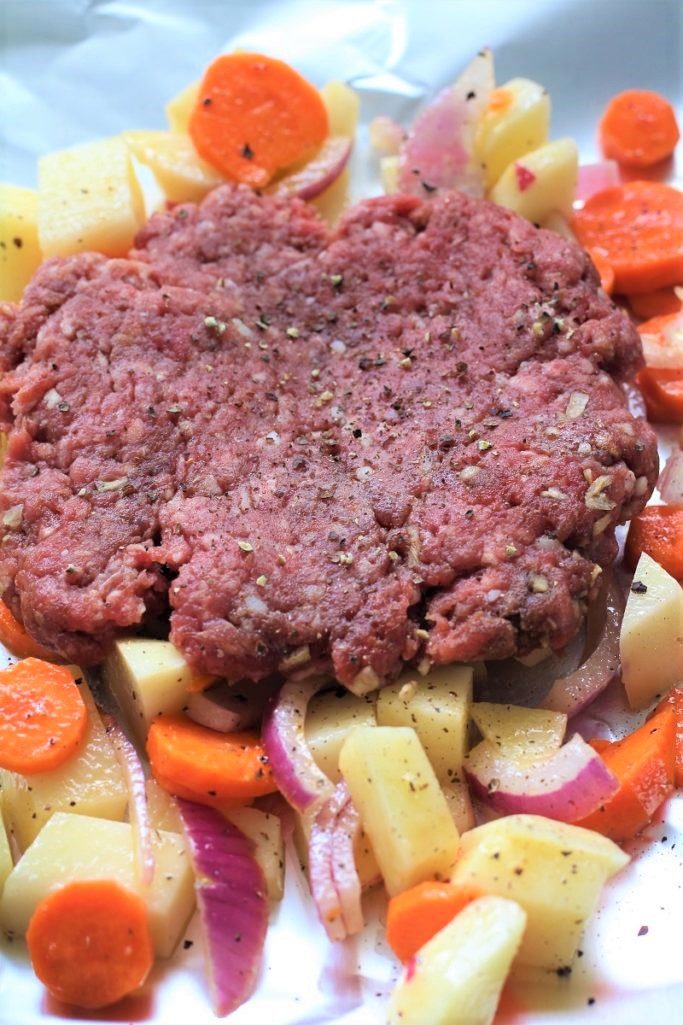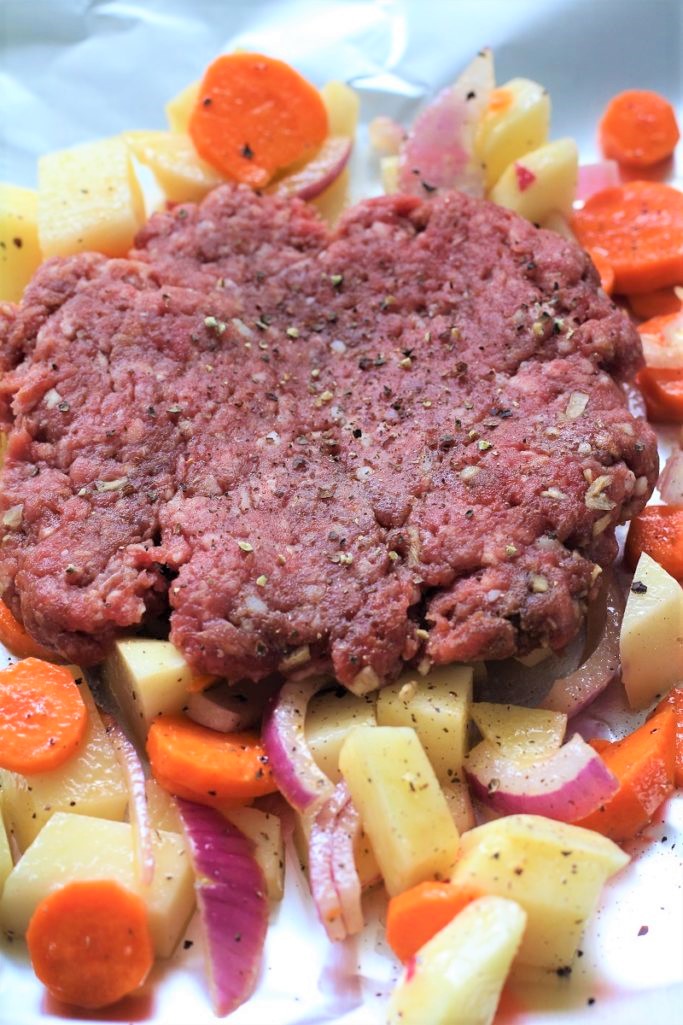 Chop up the vegetables and add either some olive oil or some avocado oil, and some garlic powder with a small amount of salt and pepper.
Then you top it off with some condensed soup, like cream of mushroom, cream of celery, or our favorite, which is cream of chicken. I had left over cream of chicken because we had Hawaiian Haystacks a few days before and so I used up the rest of the gravy. That is the reason that it had chicken in it, and the Hobo dinners turned out great!
You can use whatever creamy soup you like. You can also use any color of onion that you like and any potatoes that you choose. Red are just my favorite.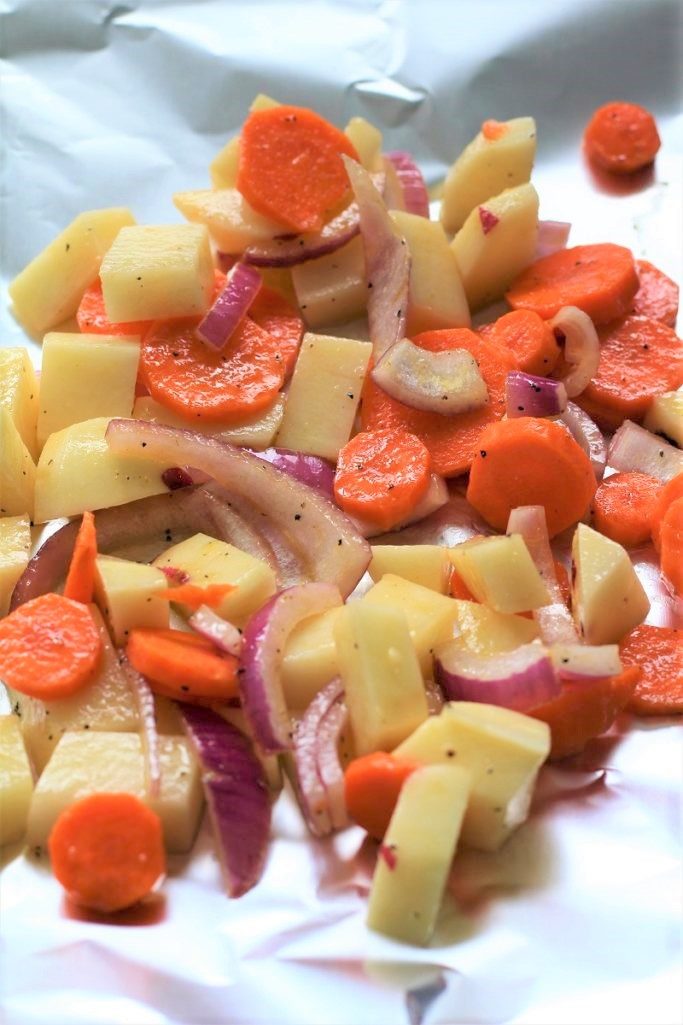 Yield: 4 people
Hamburger Hobo Dinners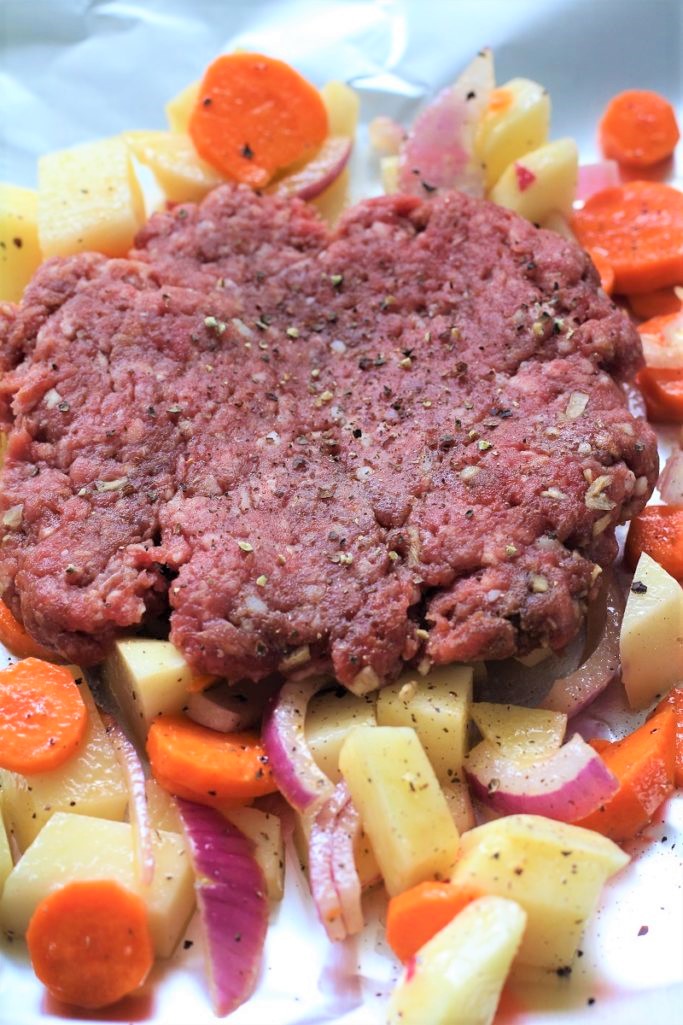 Prep Time 15 minutes

Cook Time 30 minutes

Total Time 45 minutes
Ingredients
1 pound lean ground beef
1/2 packet dry onion soup mix
3 - 4 medium red potatoes cubed and peeled
2 large carrots peeled and sliced
1/4 - 1/2 sliced purple onion
2 1/2 Tablespoons avocado or olive oil
1 teaspoon garlic powder
1/4 teaspoon salt
1/8 teaspoon pepper
condensed mushroom or chicken soup
Instructions
Preheat oven to 375 degrees F.
Combine 1 pound ground beef and 1/2 packet dry soup mix in a bowl. Form into four ground beef patties and set them aside.
In a medium bowl, combine 3 - 4 medium peeled and cubed potatoes, 2 large peeled and sliced carrots, 1/4 - 1/2 sliced onion, 2 1/2 Tablespoons oil, 1 teaspoon garlic powder, 1/4 teaspoon salt and 1/8 teaspoon pepper
Stir the mixture until it is well coated.
Place 4 pieces of aluminum foil (about 21" long each) on a hard surface, such as your counter top.
Divide the vegetables into fourths and place equal amounts on each piece of foil.
Place a beef patty on top of each packet.
Place 2 Tablespoons of condensed soup on top of each beef patty.
Roll the foil together and seal each packet.
Place the packets with the vegetables on the bottom of the packet, on a baking sheet.
Cook for 30 - 35 minutes or until the center of the patty reaches 160 degrees and the carrots and potatoes are tender when checked with a fork.
Nutrition Information
Yield
4
Serving Size
1

Amount Per Serving

Calories 529 Total Fat 19g Saturated Fat 6g Trans Fat 0g Unsaturated Fat 10g Cholesterol 105mg Sodium 950mg Carbohydrates 47g Net Carbohydrates 0g Fiber 6g Sugar 5g Sugar Alcohols 0g Protein 40g

This data was provided and calculated by Nutritionix