Easy Baked Beans have a short preparation time, and then you are able to just let them cook until it is time to serve them!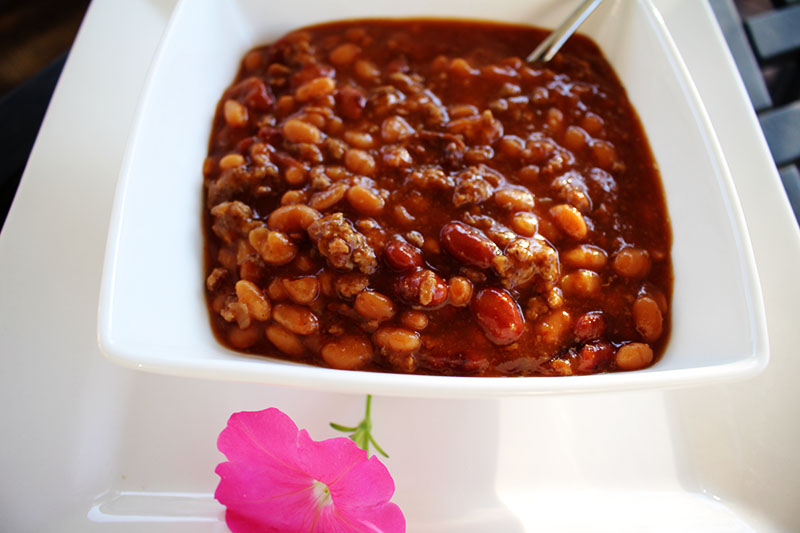 You will enjoy having these with some vegetables, or as a side dish with hamburgers.  These baked beans go great with most dishes.  They are very mild, so if you like them a little spicier, you will need to add some hot chili in place of the mild chili.  You might also enjoy having bacon in the baked beans as well.  If you do, you can fry some up and add a few pieces. Many people love bacon, so if you have a bacon lover around, go ahead and make them happy!  I personally am not a bacon lover and so I like to use hamburger.  You can do what is good for your taste. Make the baked beans with hamburger, bacon, or use both.  Most people like them anyway that you make them. One of the reasons that I like them so much is because they are so quick and easy.

Easy Baked Beans
Prep time:
Cook time:
Total time:
Ingredients
1 lb. ground beef (cooked and drained)
½ sautéed onion
2 (15 oz.) cans pork and beans
1 (15 oz.) can chili (mild)
½ cup brown sugar
1 tsp. dry mustard
½ cup barbecue sauce (any)
½ cup catsup
Instructions
Brown ground beef in a skillet. I also like to add salt and pepper for a little flavoring.
Sautee onion and add to the ground beef.
In a crock pot add pork and beans, chili, sugar, mustard, barbeque sauce and catsup.
Add ground beef and onions to mixture and stir altogether.
Cook on high for 1½ hours or low for 2½ hours.