Carrot cake, one of America's favorite cakes, or maybe it is one of America's favorite frostings! i know that it is mine; that's for sure. I do love the carrot cake too. Since today is my birthday, I decided to make my favorite cake. Yum, I just can't wait to eat it. I wish I could have all of you over and have one big birthday party! Just for the record, my husband and my girls called and asked if I was making my cake, or if my husband was, or if they needed to? Well, next year I am just going to let them do it. I think that sounds like a great idea. I didn't mind, because I wanted to see how fancy I could make it. I wasn't sure if I could do as good of a job as the bakery up the street, but I think that it turned out pretty amazing. Also, my husband said that there was no way that he could make as good of a birthday cake as the one that I made him. We are still just amazed at how good his Snickers Ice Cream Cake turned out.
I was trying to remember back on a few of my birthdays and I could remember when I was in High School, and my friends and I would have sleepovers. Those were great birthdays. Not the one where we had a candy fight and one of the pieces got me right under the eye. Yes, I had a bit of a black eye for a few days. Also we would play games half of the night. But, it was a lot of fun. I remember also that my family would usually do a birthday cake and ice cream. I can't really remember too many of my gifts. I will have to ask my kids their most memorable birthday.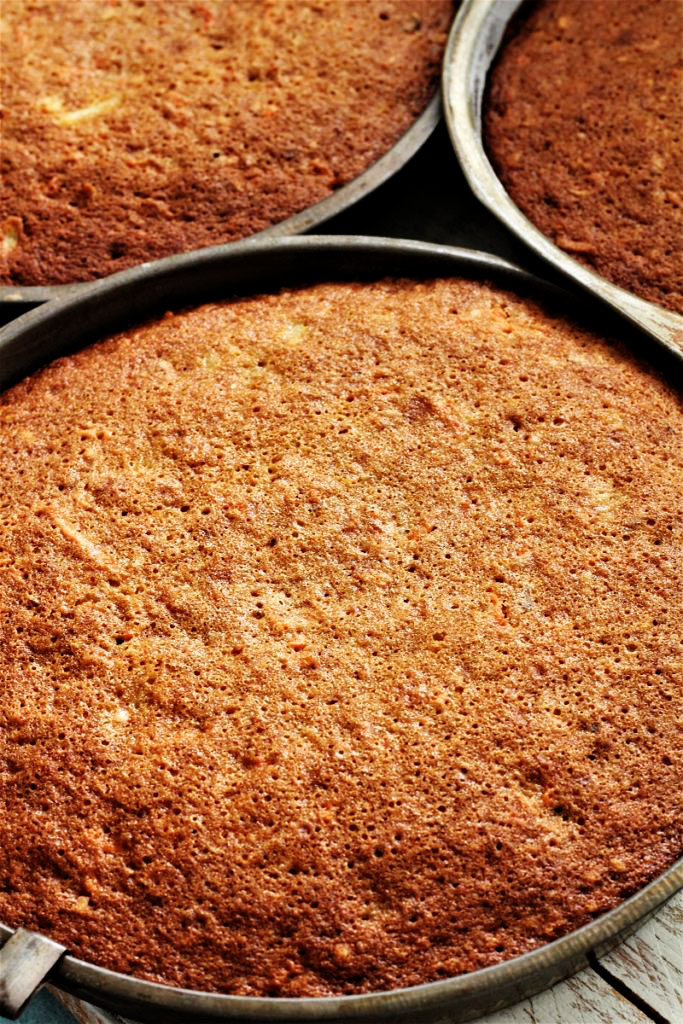 So I guess it's true that you really don't remember all the things that you get, but you do remember how you felt. Some of the words that come to mind are, joy, fun, and happy. What better gifts are there than those? So whenever you all have a birthday, I hope that they are fun, joyful and that you are happy. And one thing I just want to say to my sister is "Yes, I will save you a big piece of cake". I know that she likes carrot cake. And one more thing to make her happy (no raisins)!:)
Carrot Cake
Prep time:
Cook time:
Total time:
Ingredients
2 cups raw grated carrots
2 cups sugar
1½ cups oil (can use ¾ cup oil and ¾ cup apple sauce)
1 cup coconut
1 (20 ounce) can pineapple and juice (I used crushed)
3 eggs
2 Tablespoons orange juice concentrate
2 teaspoons vanilla
1 teaspoon coconut flavoring
3 cups flour
½ teaspoon salt
1 teaspoon cinnamon
2 teaspoons soda
1½ cups nuts (walnuts or pecans)
¾ cup raisins (optional)
Cream Cheese Frosting:
2 (8 ounce) packages cream cheese, softened
½ cup butter, softened
5 cups powdered sugar
1½ teaspoons vanilla
¼ teaspoon almond flavoring
Optional:Chopped pecans for decorating.
Instructions
Preheat the oven to 350 degrees. Grease and flour 3 9" round pans, or 1 9" X 13" pan.
Grate 2 cups of carrots. I do mine medium size.
In a large mixing bowl, put the carrots, sugar, oil, coconut, pineapple, eggs, orange juice concentrate, vanilla, and the coconut flavoring. Mix them just a bit.
Then add the flour, salt, cinnamon, soda and the nuts. (Add raisins if desired).
Mix well.
Place the batter into the pans that are greased and floured. I grease my pans with butter then sprinkle about 2 teaspoons of flour into the pans and mix it around. Dump the extra flour into the trash.
If using 3 round pans, divide the batter equally into the pans.
Bake the round pans for 30 - 35 minutes and the 9" X 13" pan for 55 - 60 minutes.
Cool completely and frost the cake.
Cream Cheese Frosting:
In a medium mixing bowl, beat the cream cheese and butter. Mix until blended.
Add the powdered sugar and blend together.
Add the vanilla and the almond flavoring.
Mix just until smooth and fluffy.
Do not over mix as the frosting will go too runny.
Frost and decorate as desired.