I enjoy making this Lion House Layered Salad for get togethers. There is just something about the way it layers up. It makes for a pretty salad and looks a little extra special. Or if you want, just make it for dinner, it does come together pretty quickly.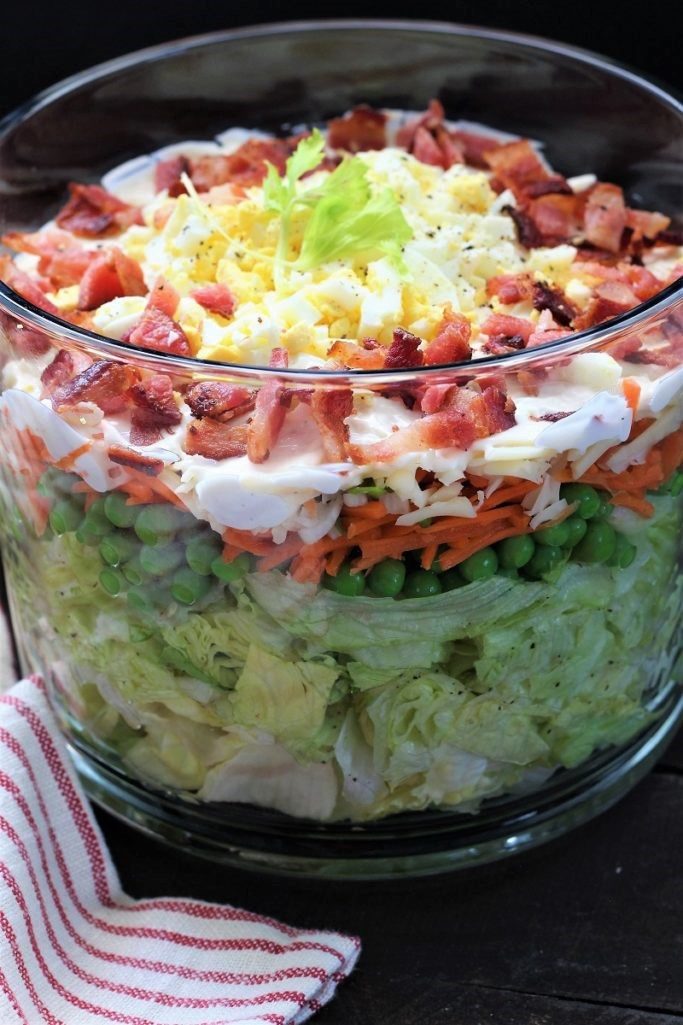 Can I Change up Some of the Ingredients in this Lion House Layered Salad?
I would not leave out any of the ingredients in this salad (unless you really don't care for some of them).
But you could add in some other ingredients if you wanted to.
Like we love sunflower seeds or grated carrots; chick peas are another one of my favorites.
You really can add anything that you enjoy as long as it won't make the lettuce go soggy.
Other Ingredients that you May Want to Try in this Salad:
And guess what, I just happen to have some fresh cucumbers so I think I will add them as well.
Also if you are not big on Swiss cheese, use whatever flavor you like!
And for just a little extra protein, I will add 3 crumbled boiled eggs.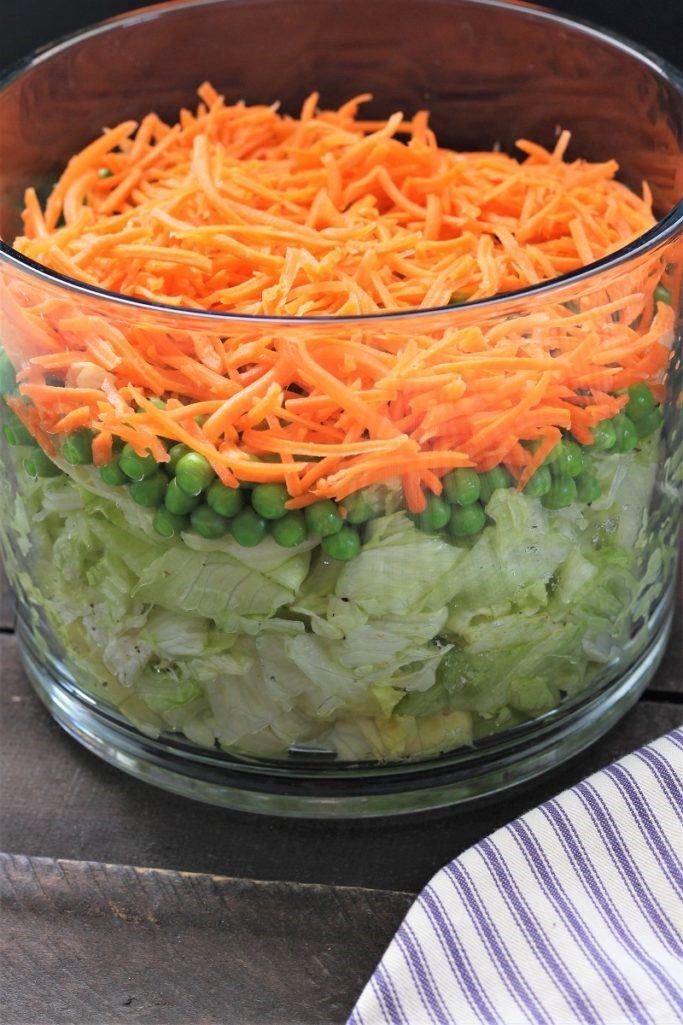 This looks like orange cheese, but it is grated carrots! 🙂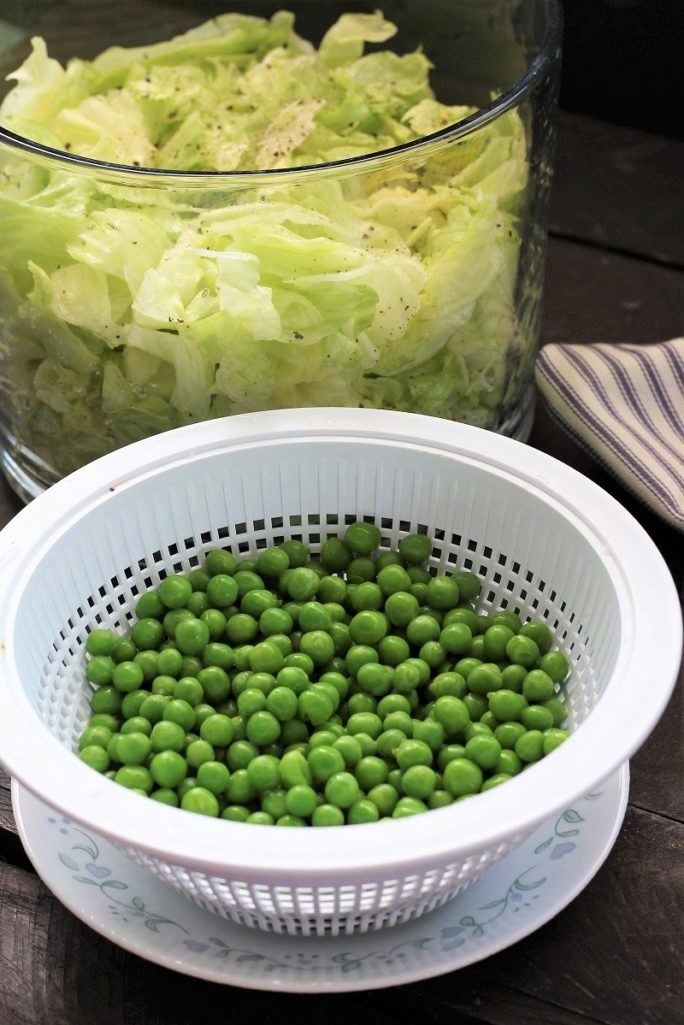 Links to More Really Good Salads:
Yield: 10 people
Lion House Layered Salad
Prep Time 20 minutes

Total Time 20 minutes
Ingredients
1 head Iceberg lettuce
3 strips bacon
1/2 bag (10 ounce) frozen peas
1/4 teaspoon sugar
1/2 teaspoon salt
1/4 teaspoon pepper
1/2 cup shredded Swiss cheese, or cut it into 2 1/2 " strips
1/2 cup chopped green onion
1/4 cup mayonnaise
1/4 cup salad dressing (we like ranch)
Instructions
Wash and pat dry the lettuce.
Dice and saute the bacon until it is crisp; drain on a paper towel.
Rinse the peas with hot water and allow them to drain.
Tear the lettuce into bite-size pieces and place them in a medium to large bowl.
Sprinkle with sugar, salt and pepper.
Add the peas, 1/2 cup shredded Swiss cheese, 1/2 cup chopped green onion, 1/4 cup mayonnaise, and 1/4 cup salad dressing.
The ingredients may be layered, if desired, with the mayonnaise and salad dressing mixed together and spread on the top.
Cover and refrigerate overnight.
Or chill, and gently mix together when ready to serve.
This also makes very nice individual salads.
Nutrition Information
Yield
10
Serving Size
1

Amount Per Serving

Calories 116Total Fat 10gSaturated Fat 2gTrans Fat 0gUnsaturated Fat 7gCholesterol 12mgSodium 263mgCarbohydrates 4gFiber 1gSugar 2gProtein 4g

This data was provided and calculated by Nutritionix