Sunflower Twinkie Cake! You will love the simplicity of making this cake and how cute it turns out. Twinkies and Hershey's kisses make a perfect sunflower. This is truly a fun cake and so simple to make. How about you have a friend day or a grandparent day, best aunt or uncle day and make a Twinkie cake.
Nothing says have a great day like a Sunflower Twinkie Cake. Have you ever gone into a store and the person that was waiting on you was so nice and friendly? Have you ever gone into a store and the person who waited on you was grumpy and rude?
I had a friend and she said that before she even goes to a store, she sends love to the store and the person that will wait on her. Sometimes if I am in a bad mood, it is like I attract the other people that are in bad moods.
I have a lady that I do her hair every other Friday and when she comes, I say "hello, how are you"? She always responds, " I am happy". I am always impressed at her amazing attitude. I tell her good for you, and she says "that is right, I want to be happy".
We do have a choice, we can choose to be happy or not. I try and remind myself every morning that I have choices today, happy or not. Some days are really hard, let me tell you. I am sure that you know.
This lady doesn't have the easiest life, Her husband has dialysis three times a week, and she has to take care of him. She is 83 years old and she is really amazing. She likes to ride 4-wheelers  and jet skis.
She tells me that she doesn't want to get old, that it just wouldn't be very fun to sit and rock back and forth in a chair. I hope that I can keep myself going, because some mornings, I could just lay in bed.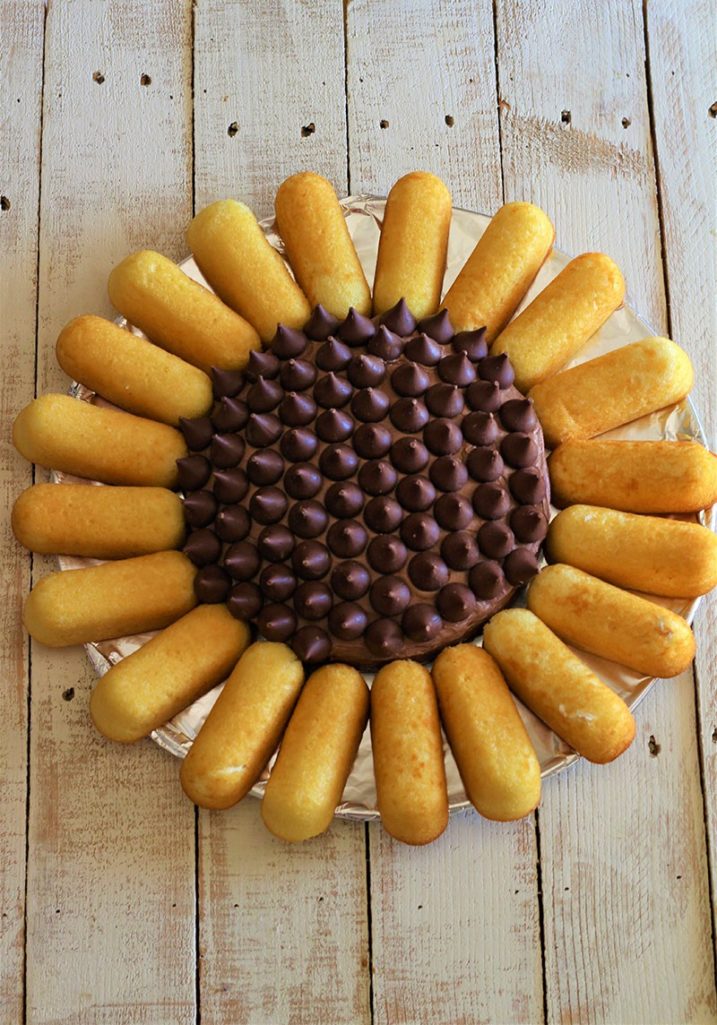 I asked myself today what is my reason for getting out of bed? I told myself, I think that one of the biggest reasons to get out of bed was so that I could work on the blog and be an example to my kids and grand kids. I don't want to be remembered as the grandma that stayed in bed all day.
I grew up in a family where I was the youngest of 8 children.  Our family had a tradition of having a birthday cake each year. Each of us looked forward to our birthday cake as our birthday drew near.  As the children got older, we started making the birthday cakes for our siblings and even our parents.
My mother loved plants and flowers of any kind. Her birthday was in September and the Sunflowers were in full bloom at her birthday time.  One of my nieces reminded me that I had made this cake for my mother's 75th birthday.
My mother absolutely loved it (and so did her grandchildren and great-grandchildren).  We are never too old or too young for a birthday cake and the love of being remembered on our birthday! Make a Sunflower Twinkie Cake for someone that you love today.
Tips and tricks:
1- Unwrap all of your Twinkies and kisses and then it makes it a lot easier to decorate the cake.
2- Save the second round cake by placing it in the freezer for a later day. Wrap in in saran wrap.

Sunflower Twinkie Cake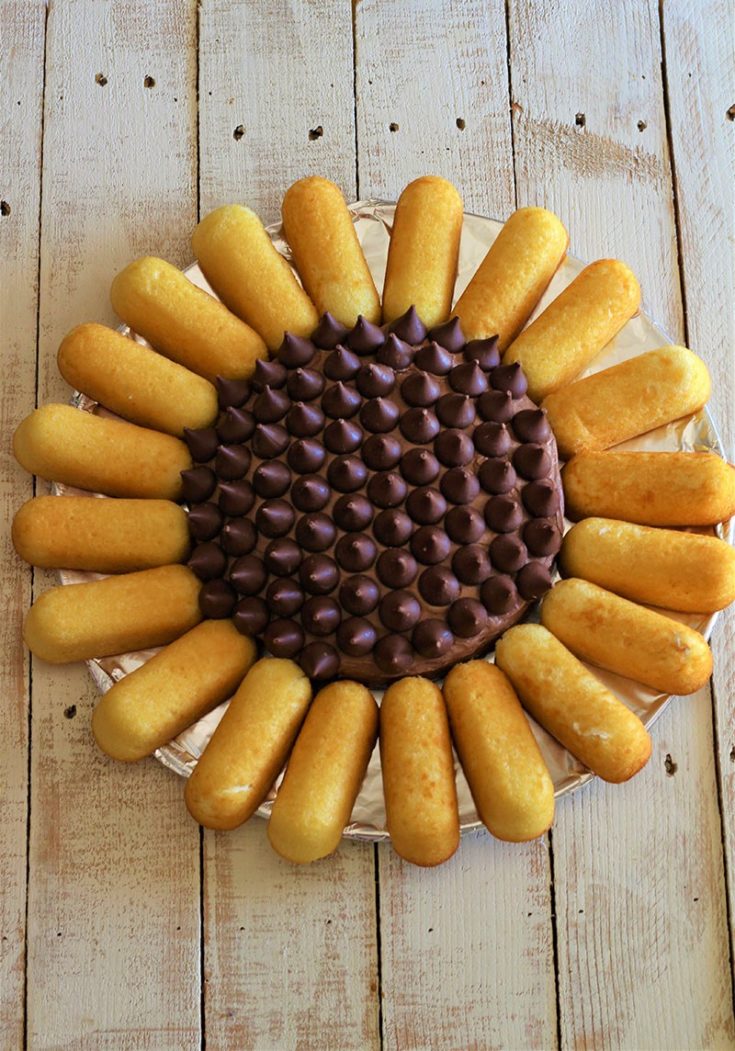 Prep Time 1 hour

Cook Time 25 minutes

Total Time 1 hour 25 minutes
Ingredients
Cake
1 8" round chocolate cake (I used a box)
Chocolate Frosting:
3 cups powdered sugar
1 cube butter softened
1/2 teaspoon almond extract or vanilla
5 - 6 Tablespoons milk
4 Tablespoons of Cocoa
2 Boxes of Twinkies unwrapped
1 bag of Hersey Kisses
Instructions
Cake
After making and cooling my cake, I took a pizza pan and covered it with aluminum foil.
Place cake in the center of the pan and frost. I usually put wax paper pieces just barely under the cake so that it won't get on the pan or foil.
Then put kisses all over the top of the cake so that the top is covered.
Place Twinkies around the outside of the cake.
Frosting:
Mix butter with a hand mixer.
Add powdered sugar, cocoa, milk and almond extract.
Mix until creamy.