Butterfinger Cookies are a fun snack for those times when you are looking for a little change from your chocolate chip cookies. We were having friends over for dinner and I wanted a yummy cookie after we ate.
So I quickly put together a batch of Butterfinger cookies and they were very good. They came out of the oven so nice and chewy, packed with flavor and just an amazing taste of peanut butter mixed with butterfingers. One word sums it all up – YUM!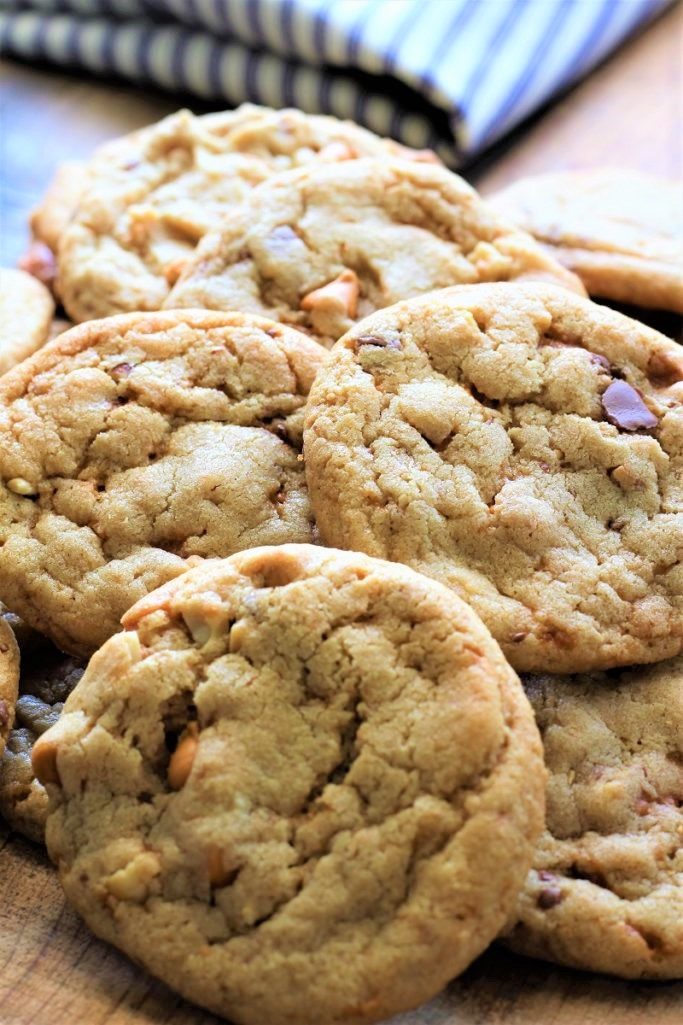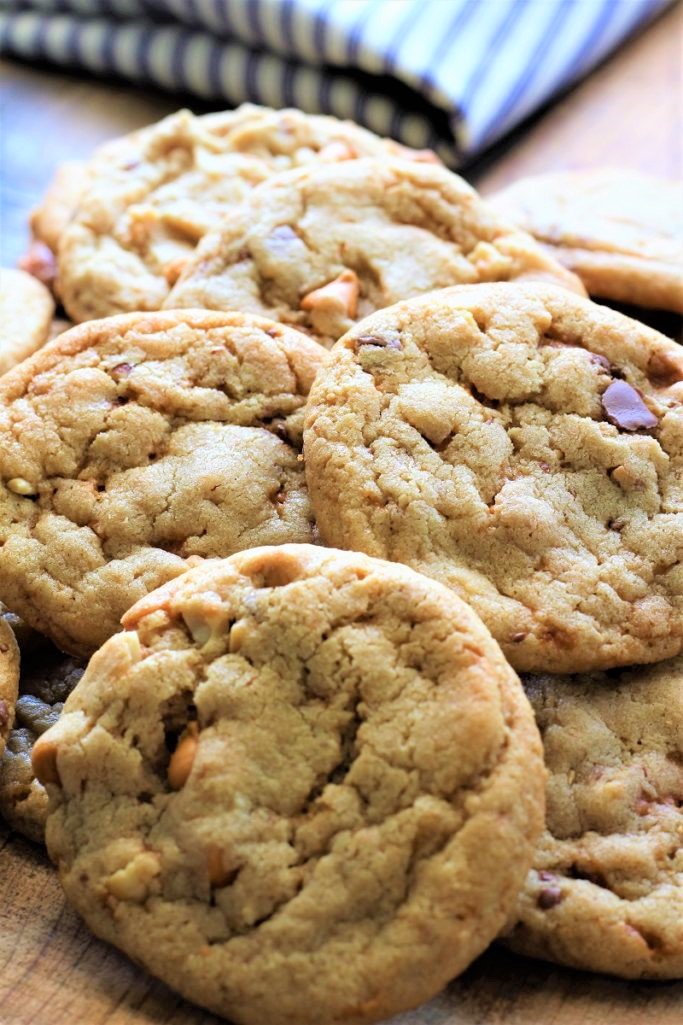 Butterfinger Cookies are a fun way to say hello to a new neighbor, or to take to work. I know as soon as I take these to work tomorrow, they are going to be gone. I don't know what it is about working, but it sure does make you hungry and feel like you need a snack.
Why do I need to Roll the Dough into Balls when Making Butterfinger Cookies?
In the picture below, I did not roll the dough into nice little balls and the ones on the right, I did. You can see that the cookies on the left do not look as nice as the ones on the right. If you want your cookies to look nice, then I suggest that you go ahead and put in the extra effort of rolling them.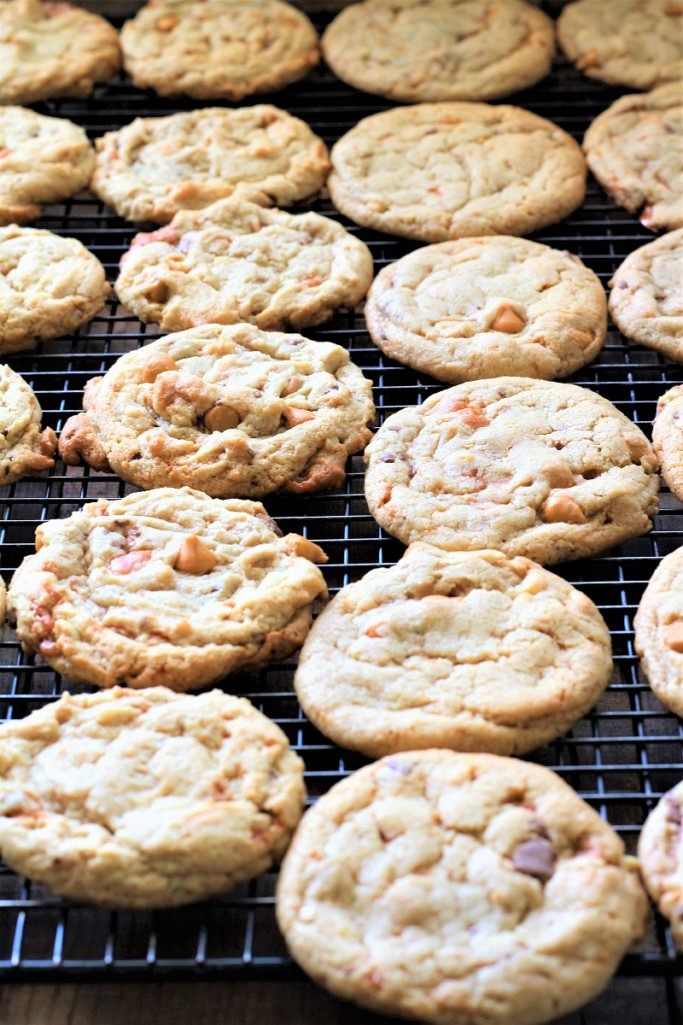 What does it mean to Fold Something into a Recipe?
This Butterfinger cookie recipe tells you to fold in the candy bar pieces and the butterscotch chips; that usually means to use a rubber spatula or a wooden spoon to very gently, but deliberately, mix in whatever you are adding. This is why you might find that cookie recipes suggest you fold in chocolate chips, nuts or other add-ins at the end of the mixing process; so that you do not over mix the batter.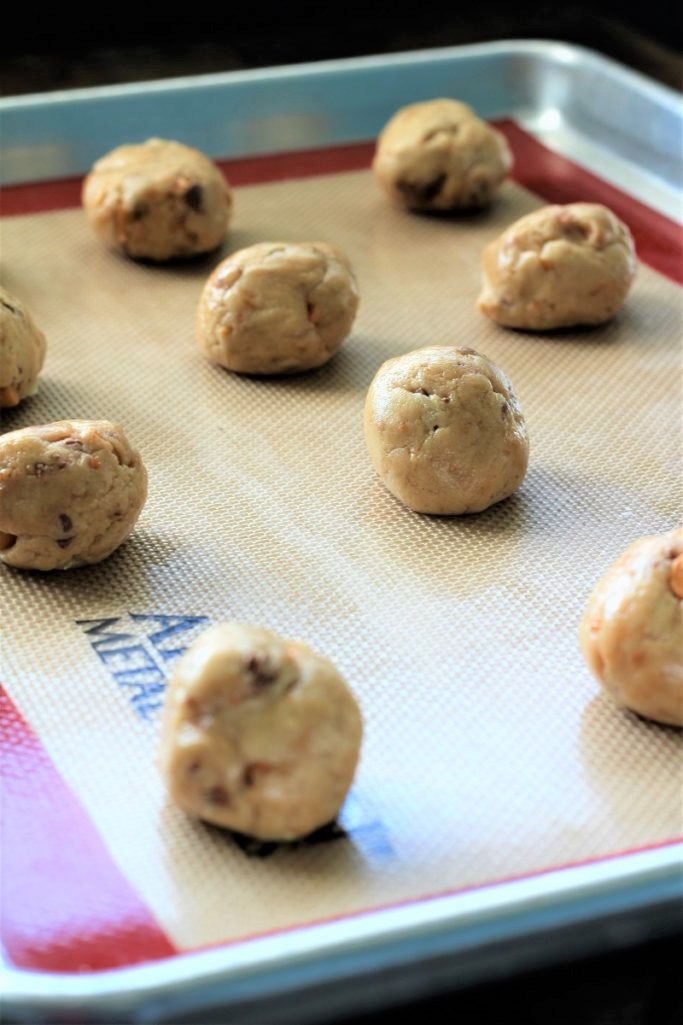 One other thing when I used that bakers mat, it did take about another 1 1/2 minutes to bake in the oven.
Here are some links to a Few More Cookie Recipes for you to Enjoy:
Yield: 2 dozen
Butterfinger Cookies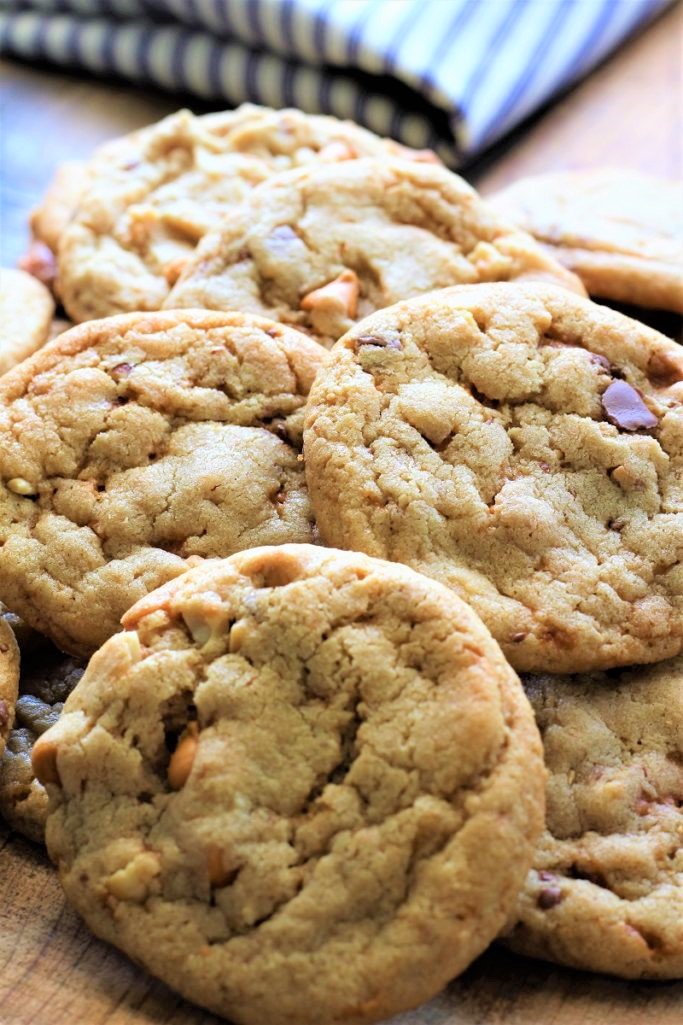 Prep Time 15 minutes

Cook Time 12 minutes

Total Time 27 minutes
Ingredients
1/2 cup butter, softened
2/3 cup sugar
2/3 cup packed brown sugar
2 large egg whites, room temperature
1 cup chunky peanut butter
1 1/2 teaspoons vanilla extract
1 1/2 cups all-purpose flour
1/2 teaspoon baking soda
1/4 teaspoon baking powder
1/4 teaspoon salt
5 mini butterfinger candy bars, chopped
1 cup butterscotch chips (optional)
Instructions
Preheat oven to 350 degrees.
Mix the 1/2 cup butter, 2/3 cup sugar, and 2/3 cup brown sugar until nice and fluffy.
Beat in the 2 egg whites.
Then add the 1 cup peanut butter and 1 1/2 teaspoons vanilla.
Add the 1 1/2 cups flour, 1/2 teaspoon baking soda, 1/4 teaspoon baking powder, and 1/4 teaspoon salt, mixing slowly and just to combine the mixture.
On a cutting board, cut the 5 mini candy bars into little squares. (Don't worry if they crumble, just add the crumbled part too).
Gently fold in the candy bar pieces and the 1 cup butterscotch chips.
Shape the dough into 1 1/2 inch balls and place 2 inches apart on greased baking sheets or a baking mat.
Bake until golden brown, 10-12 minutes.
Place on a wire wrack to cool.
Store in an air tight container.
Nutrition Information
Yield
24
Serving Size
1

Amount Per Serving

Calories 264 Total Fat 14g Saturated Fat 6g Trans Fat 0g Unsaturated Fat 6g Cholesterol 10mg Sodium 177mg Carbohydrates 33g Net Carbohydrates 0g Fiber 1g Sugar 22g Sugar Alcohols 0g Protein 5g

This data was provided and calculated by Nutritionix