Pumpkin cream cheese muffins are so moist and creamy! And since it is the last day of October, who can resist making these for those friendly little ghosts and goblins.
They are truly a treat. If you are not wanting them to be so sweet, just leave the streusel off, because they are still so yummy and tasty.
Add a bowl of chili for tonight and you are good to go. You will be so excited to try these muffins, they are for sure a big hit around my house.
You will have to let me know if you like the pumpkin cream cheese muffins with the streusel topping or without? I like it either way, I guess it depends on if I want a little extra sugar in my diet for the day.
Streusel is everyone's favorite part of most muffins. These pumpkin cream cheese muffins are fun with the cream cheese in the middle and so I just love them both ways.
Just out of curiosity, do your pumpkins grow legs in the night and walk off? I think that it is really interesting, I have lived in my home for 21 years and we have never had a pumpkin taken.
When we lived in our last home in a different town, people would take our pumpkins the night of Halloween and then you would find pumpkins all over the road the next morning!
I always threatened to get on the roof, with a bucket of water and catch the person who was doing it. I never got the chance and we moved. Besides that, it is not very warm the end of October! It was around 40 degrees last night and to get on top of the roof would be even colder. I decided that they could have my pumpkins. Lol.
The reason I ask about the pumpkins is because my daughter put 5 pumpkins on her porch and the next morning when her daughter who is 3 went outside, she asked her mom where the pumpkins were!
I had also taken her son and daughter to the pumpkin patch to pick a pumpkin and my grandson's pumpkin was pretty big! My granddaughter's was white. Well my grandson threw a fit and said "mom, don't put my pumpkin outside, someone might steal it"!
Good thing she didn't put it out there or my granddaughter's white one. Anyway, I guess we live in a non stealing pumpkin area and for that I say "Thank you neighbors for raising respectful kids"!
I hope everyone has a safe and wonderful Halloween. Don't forget to have those friends and family over for some yummy muffins!


Yield: 24 muffins
Pumpkin Cream Cheese Muffins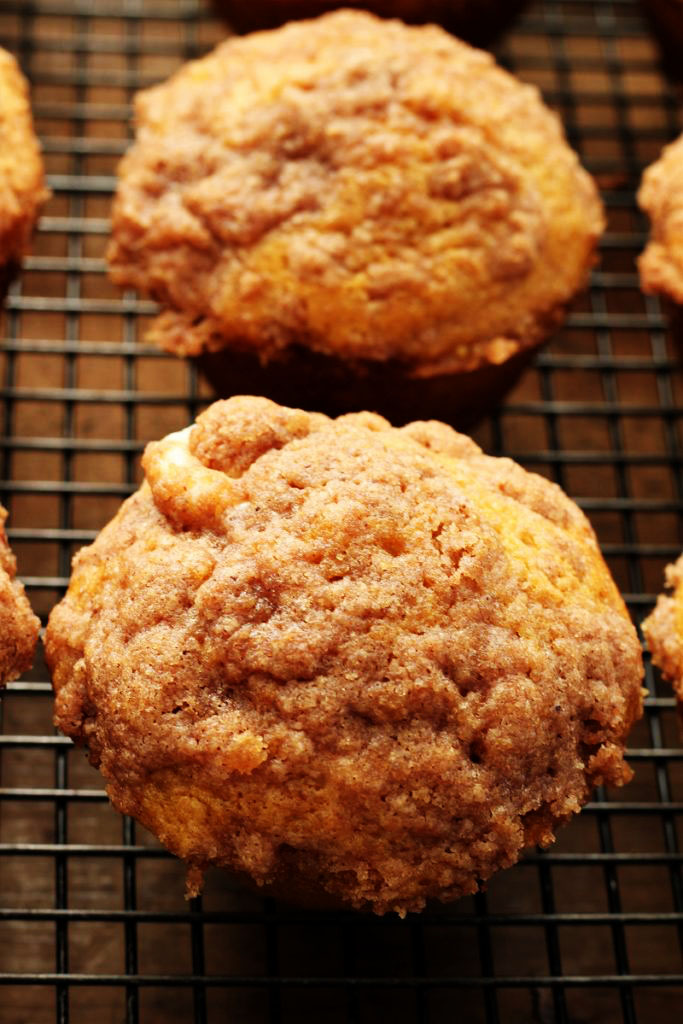 Prep Time 20 minutes

Cook Time 18 minutes

Total Time 38 minutes
Ingredients
2 cups sugar
4 large eggs
1 cup vegetable oil (I use 1/2 cup oil and 1/2 cup apple sauce)
1 (15 ounce) can pumpkin puree
1/4 cup buttermilk*
1 1/2 teaspoon cinnamon
1/2 teaspoon ginger
1/4 teaspoon cloves
1 tablespoon pumpkin pie spice*
1 teaspoon salt
1 teaspoon baking soda
3 cups all purpose flour
Filling:
1 (8 ounce) cream cheese, softened
3/4 cup powdered sugar
1/4 tsp vanilla
Streusel Topping:
1/2 cup all purpose flour
1/3 cup brown sugar
1 1/2 tsp cinnamon
4 tablespoons butter
Instructions
Filling:
For the filling, combine the cream cheese, powdered sugar and the vanilla. Mix until smooth. Then while you make the muffins, place the cream cheese mixture in the refrigerator.
Streusel:
In a small bowl, add the flour, sugar, cinnamon, and the butter; mix with a fork or a pastry blender, (used for making pie crust) until it is combined.
Muffins
In a large mixing bowl combine the sugar and eggs. Then add the oil/apple sauce, pumpkin and butter milk. On top of that mixture, add the cinnamon, ginger, cloves, pumpkin pie spice, salt, baking soda and flour. Mix just enough to combine the ingredients.
Grease 24 muffin cups or you can use muffin papers.
Place dough into the muffin pan filling the tin only until it is 1/4 of the way full, then add a teaspoon of cream cheese filling.
Place more of the muffin batter on top to make it 3/4 full.
Sprinkle some of the streusel on top of each muffin.
Bake in a preheated oven at 375 degrees.
*Buttermilk and Pumpkin Pie Spice
* For the buttermilk use regular milk and add a teaspoon of vinegar.
* Pumpkin pie spice. Combine 1 teaspoon cinnamon, 1/4 teaspoon nutmeg, 1/4 teaspoon cloves, and 1/2 teaspoon ginger. Mix and save any extra for another recipe.